There's no doubt that's there's a lot of hype surrounding Bitcoin at the moment, with various headlines hitting the newspapers & TV about amateur investors making millions with this new cryptocurrency…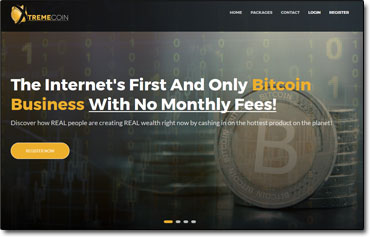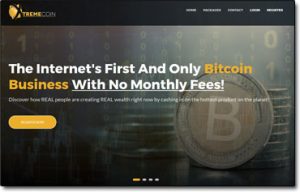 So now people are looking to jump on the bandwagon by getting involved with Bitcoin themselves in the hope of seeing similar riches, and as a result of all this hype, there have been several companies launching which are claiming that they have the answer for enabling you to see massive profits through Bitcoin.
One of the companies that has most recently launched is called Xtreme Coin & that's who I'm going to be taking a closer look at today in this review.
I aim to find out if the claims they make hold up, if they're actually a legit company & most importantly whether or not they can really help you make money.
Meaning if you've landed on this page because you're looking to find out more about Xtreme Coin then you're in luck as you're definitely in the right place to find out everything you need to know about the company. Plus it's also worth mentioning that I'm not an affiliate so you can rest assured that you'll be getting an honest review consisting of the truth (unlike many of the others which have been written by other members of Xtreme Coin).
What Is Xtreme Coin?   |   How Do You Make Money With It?   |   Should You Join?   |   A Better Alternative
What Is Xtreme Coin?
Xtreme Scheme is an unofficial Bitcoin investment scheme, however, quite worryingly they don't give a great deal about the company or person(s) behind the opportunity which is always a bit of a red flag when it comes to this sort of thing.
Whenever it comes to investing money, like me I'm sure you'd probably want to know who is actually going to be taking care of your funds & making sure they stay safe – but sadly the founders of Xtreme Coin don't seem to want to give any of this information out.
There's a good reason why they've decided to stay anonymous though – and that's because this type of scheme that they're operating isn't actually legal. It becomes blatant after a quick look through the website that it's nothing other than a classic Ponzi scheme whereby new investors are the ones paying off old investors.
Sure there is the opportunity to make money in this sort of thing if you get in first, but you must keep in mind that once new people stop coming in so does the money, meaning there's a VERY high chance of you being left out of pocket.
Oh and not to mention that you'd be breaking a law by getting yourself involved in something like this…
Despite their illegality though these schemes have become increasingly popular lately due to the promise of quick & easy money. It's easy to get drawn in, however over the past few months I've seen literally hundreds of these schemes launch & nearly all of them have collapsed shortly after.
So let's just pretend you don't care about losing money or breaking the law…
How Do You Make Money With Xtreme Coin?
In order to join & become a part of the Xtreme Coin scheme you'll be required to make an investment, and the amount you decide to invest will determine how much you'll potentially be able to get back (providing new people keep coming into the scheme).
Keep in mind that if you invest & nobody new joins the scheme after you, you will have lost all of your money.
The levels of investment are as follows:
Sapphire – 0.05 BTC
Pearl – 0.1 BTC
Ruby – 0.25 BTC
Emerald – 0.5 BTC
Diamond – 1 BTC
Blue Diamond – 4 BTC
Xtreme Diamond – 10 BTC
Then once you've made your investment you'll be put into what's called a "cycler", and to be more specific Xtreme Coin operate an eight-tier 2×2 matrix cycler.
This means that you'll be at the top, then there will be 2 positions below you, then 2 positions below them etc… And you'll have the opportunity to earn commissions through this pyramid-like shaped compensation plan once all of the spots have been filled below you. ?
The amount you will earn (if the spots get filled) will work out as 3x your initial investment – so if you join at Sapphire by investing 0.05 BTC you'll earn 0.15 BTC when the positions get filled and so on…
They also offer a yearly membership subscription called the Executive Club which costs 0.15 BTC to join (per year). As a member of the Executive Club you'll earn an additional 0.05 BTC when any of the people you refer to the scheme also go on to upgrade themselves to this membership.
This yearly membership makes it seem like the company is planning to be around for a while, but take it from me it won't be – these types of schemes have absolutely no longevity whatsoever. Even less so nowadays too because there are simply so many of them launching.
Should You Join Xtreme Coin? My Final Verdict
Absolutely not. It's clear to me that Xtreme Coin is nothing more than a Ponzi scheme which could not only see you losing money but could also see you getting yourself on the wrong side of the law.
Technically there is a potential that you could make money through such a scheme, but the chances of you losing money are so much greater. These schemes, in reality, are only developed to make the creators wealthy & once they see the level of new investors beginning to slow down they simply shut up shop & disappear…
That's why they don't publish any contact details on the website – so that they can leave without a trace (but with your money) and then simply proceed to open up another one under a different name shortly after to continue the scam again.
If you are eager to get involved with Bitcoin then stick to investing through reputable networks as opposed to trying out schemes like these that are promising easy riches (but be aware that you'll still be at risk of losing your money). In my personal opinion, there are much better (and less risky ways) to make extra money.
A Better Alternative
The sad truth is that unfortunately most of the programs promising to help you make money online are scams. I can say that confidently after exposing over 500+ of them here on this blog.
But the good news is that even though most of them are indeed scams, there are actually some very good programs in amongst them - some programs that can truly help you to earn money.
And out of all of the legit programs I've seen, the one I would recommend the most to anybody looking to get started online is Commission Academy. In my own opinion, that's the best place to start.
At Commission Academy, you'll be provided with everything you need (including the training & tools) to begin earning real money by promoting products or services for companies like Amazon online.
The best part is that there's literally no limit on the amount you can earn with it & the process is pretty simple which means that it's absolutely perfect for people that don't have much experience.
Some wealthy affiliates even earn as much as 5-figures per month... Or more!

I mean don't get me wrong, that kind of money won't just fall into your lap without doing any work... But the harder you're willing to work at it, the more you stand to earn with it.
So if you're looking to get started but don't know which route you should go down or which program you should join (and don't want to waste money on bogus things that don't actually work), then I'd highly recommend checking out Commission Academy first. You can learn more about it here.