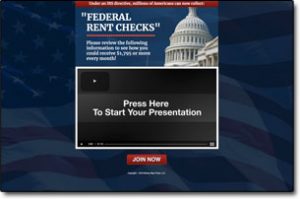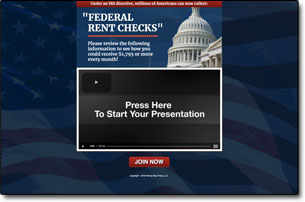 We often come across money making schemes talking something about secret government funds and checks and the idea of manipulating the vulnerabilities to pull out some share. But most of them bite the dust in the end. Federal Rent Checks is yet another money-making system that makes similar claims.
If you are interested in knowing the truth behind this seemingly promising system then you need to go through this Federal Rent Checks review to know if there is something real about it or if it is simply going to take from you whatever you already have at the moment instead.
This Federal Rent Checks scam review will walk you through the orientation of this opportunity and then it will disclose the secret behind this system before reaching the conclusive part of the review – scam or legit!
If you are too busy to go through the whole review then you are welcome to jump straight to our number 1 legitimate recommendation for making money which has been proven to work instead by clicking on the link below:
Go here to see my no.1 recommendation for making money online
(This 100% free training shares my exact strategy for making 5-figures per month)
Click Here To See My #1 Recommendation For Making Money
My full review of Federal Rent Checks continues below…
What Exactly Are Federal Rent Checks?
The creators never disclose the name behind this thing but they mention Money Map Press as the entity running Federal Rent Checks. They are basically offering a newsletter service to help the investor. It costs you $11 in in the beginning and then there is an annual fee of $39.
They present themselves as a government-run-program which certainly triggers suspicion from the word go. They say that the platform is going to serve you with a 4 figure check every week and all you need is to invest in their offices which they rented (as shown below):

This is strange, I mean government doesn't work like this. The promotional videos are talking something illusive. The testimonial they present is fake because they feature stock images. The video is pretty long, 51-minutes to be precise. The presenters claim that US citizens have the opportunity to collect over $1700 a month.
A Convincing Story!
Yes, it is! They have come up with a convincing story according to which the US citizens have been paying for the construction and upkeep of government building through taxes. They say that it is a disappointing fact because most of these buildings you have paid for are actually not even known to you.
Then they build the story to further trigger your emotions of regret by claiming that more than 100 federal agencies have to pay rent for each property they occupy and as per the law, they pay through government rent checks. This way, the Treasury Department is accumulating the money and by the end of this year, it is going to nearly $11.1 billion.
They try to make you believe that you can get your share back by investing with Federal Rent Checks. Let us now see if there is even a bit of truth in it…
Money Map Press – The Partner In Crime!
This is basically an investment agency and it promises to serve with financial advice. The website, however, mentions someone named Mike Ward as the owner or the director of the company. The presenter of the video on Federal Rent Checks is the same person whom you see on Money Map Press as well. He claims to be an author – a New York Times bestseller!
Well, Money Map Press is something that has been around for quite some time. Reviews on the internet about this company are mixed though – and as shown below they hold a consumer rating of just a mere 1.4 on the HighYa review website:
How Do Federal Rent Checks Work?
They introduce a 5-step process you need to follow in order to become eligible for receiving monthly checks.
They begin with the rent payments which the government agencies have to pay for the buildings they occupy.
On the other hand, they claim that the government has contracted scores of companies to serve as private agencies.
The ownership of the buildings belongs to the government and it transfers the rents directly to these companies serving as the private agencies.
The private agencies share these Federal Rent Checks to their investors/shareholders.
They invite you to sign up as the investor or shareholder and it only takes less than 10 minutes. Then they ask you to select the department you want to receive the checks from.
How Do You Receive Federal Rent Checks?
This is the point where Money Map Press jumps in. They ask you to join a program that costs $39 a year or you can also opt for a two-year subscription for $79.
Once you become a member, only then they tell you that you need to follow specific directions in order to receive monthly checks. Basically, they are slipping you deeper into a funnel.
The Truth Behind Federal Rent Checks
'Federal Rent Checks' is a wisely selected term because the government doesn't have any of such terms in its documentation. There are no real Federal Rent Checks at all. The information is altogether misleading.
If you watch the video again, it tells you that you only need to pay $11 but the reality is different. There is no reason why government or any agency will pay you $1700 a month against an $11 investment. They are in fact never going to pay back anything. This is a sales funnel and it has nothing to do with any government or semi-government agency.
My Verdict – Is Federal Rent Checks a Scam?
This Federal Rent Checks scam review is rather easy to reach a definite conclusion – in my opinion it is a MAJOR SCAM! The whole story doesn't make sense but they make it up to somehow to convince their visitors.
The information provided is completely fake. The testimonials are fake and they have used stock images to make things look real. In my opinion you should therefore definitely stay away from Federal Rent Checks!
But what if you are still wanting to boost your income & make something extra each month? Is there anything legit that can actually help you to do that? Well the good news is that yes, thankfully there is.
I've reviewed many programs & exposed many scams but there are indeed some legitimate ways that you can make good money online that actually work. One of my all-time favourites is something called affiliate marketing.
Affiliate marketing is actually the same way I make most of my own money online & I would definitely recommend it over investing as affiliate marketing doesn't carry anywhere near the same level of cost or risk. In fact you can actually get started with affiliate marketing for free over at Wealthy Affiliate.
But alongside that there are also these other great opportunities you can check out too.
Whatever you do though I just sincerely hope that my honest review of Federal Rent Checks here has given you a good insight into how it really works & why it's likely not as great as it is made out to be on the promotional website. Feel free to leave any further questions or comments you might have below as well. 🙂