At a glance, the Fix Monthly Income website (located at fixmonthlyincome.com) seems like the ideal work from home opportunity that could potentially provide you with job quitting income without a great deal of work.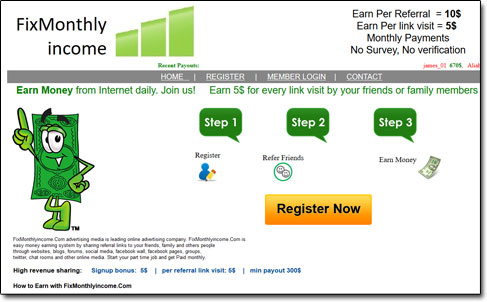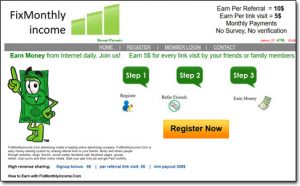 That's because they claim to pay outrageous sums of money just for sharing links & referring friends, but is it really legit? Or is Fix Monthly Income a scam that's just going to see you working for nothing?
Well, you've landed in the right place to find out as I've personally taken a closer look into it & in this honest Fix Monthly Income review I'll be uncovering everything you need to know.
What Is Fix Monthly Income?   |   How Does Fix Monthly Income Work?   |   The Truth   |   Avoiding Scams   |   Is Fix Monthly Income a Scam?   |   A Better Alternative
What Is Fix Monthly Income?
Fix Monthly Income claims to be the leading online advertising company and as a result, they say they're willing to pay you in return for generating traffic (visitors) through to their website where advertisers pay for advertising.
They claim that they'll then pass a chunk of the money they're paid from the advertising down to you, since it was you that actually brought the people there to see the adverts in the first place – however, the first problem is that there doesn't actually seem to be any advertisements on their website at all.

Yet despite this, they're still claiming to pay you a whopping $5 for every person that clicks on your link & an even more whopping $10 for every person that actually clicks on your link & signs up to Fix Monthly Income.
But if there are no advertisements which is where they claim the money is coming from, then where the heck is all this money coming from? It all looks very suspicious & off the bat it reminds me of the Cash 4 Invite scam that surfaced just the other week.
How Does Fix Monthly Income Work?
To be honest, the process is quite simple, in fact, there isn't a great deal to it at all. You sign up, get given a unique link & are then told to share the link & get as many people to click on it as you possibly can.

The more people that click on it the more money you earn – and if they then sign up to Fix Monthly Income themselves you'll get an additional $10 paid out to you on top of the money for the click.
You even get $10 credited to your account just for signing up, however, be aware that if you don't log into your account for a period of 30 days then all your earnings will be lost… A little bit harsh!
Apparently, Fix Monthly Income work with a panel of advertisers who pay for their advertising on their website & you're doing the job of driving visitors to these adverts, but it's clear that there are no adverts at all.
Here's How It Really Works…
It would be nice if the claims made by Fix Monthly Income were true, but sadly they're not. In reality, this website is nothing but a scam that's been designed to part you with your precious data.
I scoured the website high & low, there are no advertisements as they make out – and if there are then there's no way that advertisers would be paying such high amounts for advertising slots that nobody is going to see.
Basically, the creator of this website is merely trying to part you with your contact details so that he (or she) can then sell them onto other people who will then pitch you various other money-making scams.
Knowing that by signing up to Fix Monthly Income you are clearly interested in making extra money online the creator is basically building up a database of people interested in making money which he can then later sell for top dollar to people looking to push money-making scams to part you with your hard earned cash.
The withdrawal limit is set at a whopping $300 so that you're forced to recruit many others in the scheme before you find out that they don't really pay out any of the earnings like they promise.
By then though it's too late because they've already got more people into the scheme who will already be bringing more people into the scheme… The creator is laughing all the way to the bank.
Take a look at this report from the BBB: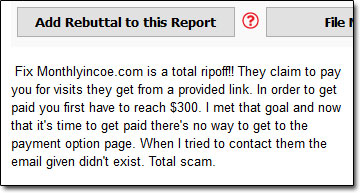 How To Avoid Scams Like These…
The fact that you landed on this review shows that you questioned the legitimacy of the Fix Monthly Income website & that's a good thing – you should always do your due diligence before signing up to an opportunity online.
But there are actually some legitimate websites that will pay you for getting people to click links, so how can tell you tell the genuine opportunities from the scams? Let me run through some tips…
Step 1 – Firstly you should question the amount they're willing to pay you. The easier the task, the less you should generally expect to be paid – and if you are being offered a substantial amount of money (like at Fix Monthly Income) then refer to step 2.
Step 2 – Secondly you should question where the money is coming from, for example, Fix Monthly Income claim to have advertisers yet there are no adverts displayed on the website. Also if the money is coming from other people who who are buying into the scheme (like we have seen at 50 Cent Freedom) then that's a no-no too.
Step 3 – Make sure the company provides clear details as to who is running the operation & where they are based. The creator of Fix Monthly Income has kept himself (or herself) hidden – a huge red flag.
You Might Also Like:
Is Fix Monthly Income a Scam?
It's clear to me that yes, in my opinion, Fix Monthly Income is nothing but a scam that's set out to part you with your personal data so that the creator can make himself (or herself) rich at your expense.
Whilst earnings do indeed accrue in your account as you get others to click on your link & sign up to the scheme, when it comes to withdrawal time you'll find that Fix Monthly Income will simply ignore your request.
The issue with this (aside from the obvious of them not paying you) is the fact that the minimum withdrawal limit is set at a whopping $300 meaning you'd have had to have introduced a whole bunch of people to the scheme before you find out they don't really pay – meaning essentially the creator has already got his (or her) use out of you & now others will be doing the dirty work.
As you can probably guess this program will be getting a huge thumbs down from me & I certainly won't be recommending it to you because it's clearly not a legitimate opportunity to make money online.
A Better Alternative
The sad truth is that unfortunately most of the programs promising to help you make money online are scams. I can say that confidently after exposing over 500+ of them here on this blog.
But the good news is that even though most of them are indeed scams, there are actually some very good programs in amongst them - some programs that can truly help you to earn money.
And out of all of the legit programs I've seen, the one I would recommend the most to anybody looking to get started online is Commission Academy. In my own opinion, that's the best place to start.
At Commission Academy, you'll be provided with everything you need (including the training & tools) to begin earning real money by promoting products or services for companies like Amazon online.
The best part is that there's literally no limit on the amount you can earn with it & the process is pretty simple which means that it's absolutely perfect for people that don't have much experience.
Some wealthy affiliates even earn as much as 5-figures per month... Or more!


I mean don't get me wrong, that kind of money won't just fall into your lap without doing any work... But the harder you're willing to work at it, the more you stand to earn with it.
So if you're looking to get started but don't know which route you should go down or which program you should join (and don't want to waste money on bogus things that don't actually work), then I'd highly recommend checking out Commission Academy first. You can learn more about it here.