In this review, I'm going to be taking a closer look at the 50 Cent Freedom system which claims to be an online opportunity that can enable you to turn a measly $0.50 into a whopping monthly income of $8256.30.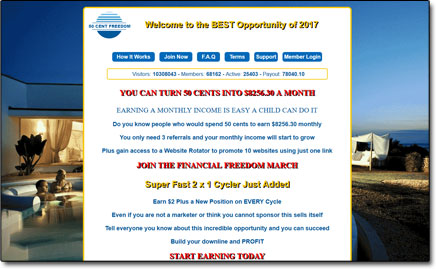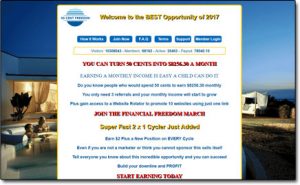 Allegedly, all you need to do is invest 50 cents & then refer 3 people into the program then after that you'll supposedly be on your way to riches… But is it actually legit? Or is 50 Cent Freedom a scam?
That's exactly what I'll be finding out right here in this 50 Cent Freedom review where I'll be uncovering what it's all about, how it actually works & whether or not you can make any money with it.
What Is 50 Cent Freedom?   |   How Does 50 Cent Freedom Work?   |   Is 50 Cent Freedom a Scam?   |   A Better Alternative
What Is 50 Cent Freedom?
The 50 Cent Freedom system is a multi-level marketing style program that claims to be the best online opportunity of 2017, though at a quick glance it actually just looks more like a pyramid scheme to me.
Upon landing on the website the first thing you're told is that through the opportunity you can turn a measly $0.50 into a whopping monthly income of $8256.30 which is an extremely bold claim indeed.
Under that, you're also told that all you need to do in order to start earning money through the program is simply refer 3 other people into it, which sounds an awful lot like a pyramid scheme if you ask me.
After reading through the FAQ page I discovered that 50 Cent Freedom is claiming to be some sort of advertising program through which people can promote their businesses, products, online opportunities & so on…
Basically, all you get for your 50 cents is access to what they call a "10 website rotator", which allows you to input 10 websites & in return you get given 1 unique link through which the 10 websites are rotated.
So let's say your promoting 10 different online opportunities – what they are saying is that rather than promoting 10 different links online you can combine then into 1 link & that they will be rotated, so whenever somebody clicks on your link they will be presented with a different opportunity from the 10 that you have inputted.
This might sound like quite a lucrative idea if you're new to online marketing, but let me tell you as somebody that's worked online for years that this is not a good marketing technique at all.
It looks to me that they've just made a poor attempt at putting some sort of product together (if you can call it that) to cover up their money-making scheme, but it's clear the emphasis is on recruiting.
How Does 50 Cent Freedom Work?
Whilst they do offer what they call a "10 website rotator" as I mentioned above, it's clear to me that the 50 Cent Freedom program puts a much heavier focus on it's recruiting opportunity than it's rotator.
So basically in order to make money with 50 Cent Freedom you'll be required to sign-up, deposit at least $0.50 & then refer other people into the opportunity telling them they'll be able to make money just like you.
When you buy into 50 Cent Freedom you'll be put into a 3×4 matrix, this basically means the compensation plan pays out over 4 levels & each person on each level has 3 people positioned below them.
The difference here with 50 Cent Freedom program is that the system doesn't work off one single matrix, instead, it uses 4 separate matrices & each has different required buy-in amounts.
So as an example you sign up & you will be placed on level 1 of the matrix with 3 positions below you. When you recruit 3 more people into the program the total earnings on level one will be $1.50.
The 50 Cent Freedom program automatically then moves you into the next level of the Matrix which has a buy-in amount of $1, but this matrix has 9 people positioned below you & therefore pays out $9 in total.
This re-investment & movement throughout the matrix continues until you have supposedly reached the total earnings payable through the program which they claim equates to $8256.30 as you can see below:

The big problem here is that whilst all this sounds good in theory it's next to impossible to achieve because it requires EVERY person that is brought in under you to also bring in 3 people like you too.
They make it sound easy by breaking it up into saying that you only need to bring 3 people into the program to make money, but the reality is that if everybody is paying in $0.50 then you need at least 16,514 people to come into the program underneath you to be able to make the promised payout of $8256.30.
Not so easy now right?
You Might Also Like:
Is 50 Cent Freedom a Scam?
It's clear to me that this is nothing more than a pyramid scheme relying on the money coming in from new investors to pay off the older investors in the program, therefore, yes, in my opinion, it's a scam.
Those that got in early might have made some money through the program but those coming into the program later will be unlikely to make a single cent through the opportunity as it will have likely "dried up".
The claim on the website is that you can invest $0.50 & make returns $8256.30 which as we figured out above requires a total number of 16,514 investors for somebody to actually earn that amount.
So interestingly the website has a member counter displayed on the homepage which shows 68170 registered members to date, meaning out of 68170 members only 4 have made the promised returns.
And you know who these people are? The creators of the program who are positioned at the very top of the pyramid! Ultimately this has been designed to make the creators wealthy at other peoples expense.
Therefore as you can imagine I will not be recommending this program to you because it's a total waste of time & whilst it could work in theory, not only is it illegal but it's also next to impossible.
A Better Alternative
The sad truth is that unfortunately most of the programs promising to help you make money online are scams. I can say that confidently after exposing over 500+ of them here on this blog.
But the good news is that even though most of them are indeed scams, there are actually some very good programs in amongst them - some programs that can truly help you to earn money.
And out of all of the legit programs I've seen, the one I would recommend the most to anybody looking to get started online is Commission Academy. In my own opinion, that's the best place to start.
At Commission Academy, you'll be provided with everything you need (including the training & tools) to begin earning real money by promoting products or services for companies like Amazon online.
The best part is that there's literally no limit on the amount you can earn with it & the process is pretty simple which means that it's absolutely perfect for people that don't have much experience.
Some wealthy affiliates even earn as much as 5-figures per month... Or more!

I mean don't get me wrong, that kind of money won't just fall into your lap without doing any work... But the harder you're willing to work at it, the more you stand to earn with it.
So if you're looking to get started but don't know which route you should go down or which program you should join (and don't want to waste money on bogus things that don't actually work), then I'd highly recommend checking out Commission Academy first. You can learn more about it here.