It's safe to say that there's been a LOT of negative rumours circulating about the Global Information Network, several of which claim that the company is nothing but a flat out scam…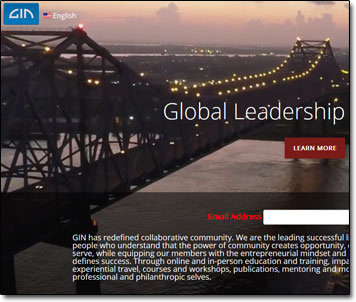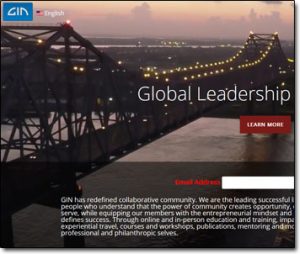 So I've decided to take a closer look at it myself to find out once & for all whether or not the company is actually legit.
And in this review of the Global Information Network, I'm going to be uncovering literally everything you need to know, leaving no stone unturned.
Meaning if you've been looking at getting involved with the opportunity then you've landed in exactly the right place to find out if it's actually going to be worth your while.
What Is The Global Information Network?   |   The Truth   |   Pyramid Scheme   |   Should You Join?   |   A Better Alternative
What Is The Global Information Network?
The Global Information Network, now known as GIN Evolve is a company that was launched way back in 1986 by a guy named Kevin Trudeau. Kevin is somebody you may actually have heard of as prior to launching the Global Information Network he sold several books on TV, with one of his most popular ones being "The Secret Cure They Don't Want You to Know About".
You may also recognize Kevin from various other publications too – he's featured in several, but not for his writing skills… Oh no, for the fact that's he apparently a massive con artist running a pyramid scheme (GIN).
If you haven't, let me bring a few to your attention:

Not good huh? So you can probably guess which direction this review is going to end up leading in before I even get started… But if you're interested in finding out exactly what it was Kevin was up to & how his scheme actually works then do keep reading…
Basically, Kevin Trudeau claimed he was a member of the super-wealthy's secret societies & that through these societies he was able to obtain all sorts of information – information "they didn't want you to know about".
His books were supposedly based on this information & it was also on this information that the Global Information Network (now GIN Evolve) was launched, which turned out to be a complete pyramid scheme.
GIN promised to teach it's members all sorts of different things, such as;
How to create wealth
How to invest & trade on the global financial markets
How to profit from real estate
How to obtain credit
How to open offshore bank accounts
How to pack up your life & move abroad
How to use the law of attraction to have or be anything you desire
And so on and so on…
The Global Information Network basically promised to give you all the information you ever needed to prosper in life & live a fulfilled, happy life. Naturally quite a lot of people were pretty interested…
However, all this information wasn't going to come free – in fact far from it. Kevin asked that if you wanted in on the Global Information Network you would need to make a $1,000 deposit… and then keep paying him a $150 membership fee for 24 months.
So in total, we're talking $3,600…
But Kevin made the deal sweeter because he not only promised members would get access to all the information they could ever need but they would also get paid a $10,000 bonus at the end of the 24 months.
He didn't really state where the money was coming from but many who got involved in the scheme believed that it was going to come through some sorts of investments he would be making with the money.
After all, he did claim to have all the investment knowledge that "they didn't want you to know"…
But Things Weren't Quite As They Seemed…
After 24 months passed by since those original investors had put their cash in the scheme, there didn't seem to be any sign of their promised $10,000 & naturally they began to question what was going on.
It later turned out that they were actually part of a pyramid scheme, whereby investors are made to rely on new investors coming into the company to pay their promised returns.
So when people were joining & paying their $1,000 (+$150 fees) this was being paid out to previous investors in the scheme, so to them it was a seemingly good deal.
However to the thousands who got in later the deal wasn't quite so sweet, because the lack of new investors meant that they weren't going to see a penny back from the scheme at all. They'd lost everything.
Regardless, GIN Is Still Operating To This Day…
Somehow, despite many regulators making several attempts to close the Global Information Network down it is still very much alive & active with new people actually still getting involved with the scheme.
And GIN doesn't seem to be shy in telling people how the scheme operates as on their website it clearly states the following:
This home based, internet business requires no inventory, no product selling, and no large up front cash investment or time commitment.
No product means cash gifting, which ultimately means a pyramid scheme… Yet they don't seem to care!
How does it work? You pay money to buy into GIN, then you sell GIN to other people & earn money when they pay money to buy into GIN… What do you get? You get to b a part of some sort of weird GIN cult through which members claim the company is the best thing since sliced bread.
You Might Also Like:
Should You Join GIN Evolve? My Final Verdict
There's absolutely no way on earth I could recommend this company to you. For a start, the founder is a convicted con artist who is currently serving 10 years in jail for parting people with their hard-earned cash & secondly the company is blatantly telling people that there's absolutely no product.
If you run a quick Google search on the company or its founder you'll see lots of sources stating that regulators are taking massive action to try & close this company down so, in my opinion, it's only a matter of time before it disappears off the radar.
If you're looking to make money online then this is absolutely not the right way to go about it, so be sure to stay away from this particular company because it'll only end up in you losing money.
If you want to learn how to make money online the real way then I recommend you look into something like affiliate marketing instead which is a completely legitimate method of building an income.
Affiliate marketing is actually the exact method I personally use to generate my own income online & I've been doing it full-time for the past 5 years or so, it's truly been a life-changer for me. You can learn how to get started by going through this free training here.
But anyway on that note hopefully you can see that the Global Information Network is not a legit company, and more importantly, I hope I was able to help you dodge it so that you could keep hold of your cash.
A Better Alternative
The sad truth is that unfortunately most of the programs promising to help you make money online are scams. I can say that confidently after exposing over 500+ of them here on this blog.
But the good news is that even though most of them are indeed scams, there are actually some very good programs in amongst them - some programs that can truly help you to earn money.
And out of all of the legit programs I've seen, the one I would recommend the most to anybody looking to get started online is Commission Academy. In my own opinion, that's the best place to start.
At Commission Academy, you'll be provided with everything you need (including the training & tools) to begin earning real money by promoting products or services for companies like Amazon online.
The best part is that there's literally no limit on the amount you can earn with it & the process is pretty simple which means that it's absolutely perfect for people that don't have much experience.
Some wealthy affiliates even earn as much as 5-figures per month... Or more!

I mean don't get me wrong, that kind of money won't just fall into your lap without doing any work... But the harder you're willing to work at it, the more you stand to earn with it.
So if you're looking to get started but don't know which route you should go down or which program you should join (and don't want to waste money on bogus things that don't actually work), then I'd highly recommend checking out Commission Academy first. You can learn more about it here.