The Home Cashflow Shortcut is a new system which promises to provide you with a way to "write your own paycheck" as it claims it can enable you to earn daily commissions using a supposedly "stupidly simple" online method.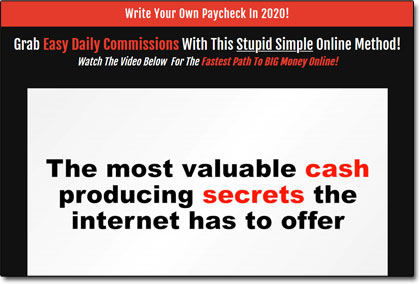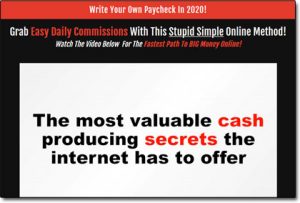 The website promoting it essentially leads you towards believing that you can just sign up & make money even if you're brand new as it states that it provides "the fastest path to big money online".
But before you can get started with it or find out how it works you're asked to hand over some of your own cash first which is a huge red flag.
So what's the deal?
Is it actually legit or is Home Cashflow Shortcut a scam system that you should just avoid?
Well, I'm glad that you came here to this Home Cashflow Shortcut review because I'm going to be sharing the REAL income statistics & you'll soon see why things aren't really as great as they're made out to be.
What Is Home Cashflow Shortcut?   |   How Does Home Cashflow Shortcut Work?   |   Is Home Cashflow Shortcut a Scam?   |   A Better Alternative
What Is Home Cashflow Shortcut?
As I briefly touched on above the Home Cashflow Shortcut system is a new system which has recently launched online and it essentially promises to provide a way for people to easily make lots of money online even if they're brand new & have never made so much as a single penny in the past.
The website promoting it literally says things like "write your own paycheck", "get easy daily commissions" & "fastest path to big money online" as shown below:

However other than hyping up the potential opportunity the website doesn't actually give too much away about how any of it actually works… Instead, in order to find that out, you're pressured into handing over your cash.
But that's a huge red flag in my opinion because that's a common tactic associated with many of the get-rich-quick scams that I expose.
The get-rich-quick scams often promise that you'll be able to make money really easily & fast, then they ask you for some of your money in order to get access & get started… But then they simply fail to deliver on their promises.
But is Home Cashflow Shortcut any different?
And if you really can earn so much money so easily from the comfort of your own home with this system then why isn't everybody using it? Why are people still stuck working at jobs they dislike for less money if it's truly so easy?
Well, the answer is because it's NOT as easy as it's made out to be… In fact whilst the Home Cashflow Shortcut isn't "technically" a scam the truth is that only around 2% of people who sign up actually make money with it.
The rest of the people that join just end up spending money rather than actually earning it & some people who join even go on to spend as much as $12,000 per year trying to make money through it…
Keep on reading & I'll prove those statistics to you below as I explain in greater detail how it all actually works…
How Does Home Cashflow Shortcut Work?
So as I touched on in the previous section of this review the Home Cashflow Shortcut website doesn't really give a great deal away as to how it works but it essentially tries to lead you into believing that you'll be getting some sort of "automated" way to begin making money.
The problem though is that couldn't be further from the truth.
You see the Home Cashflow Shortcut is actually part of something known as a high-ticket program – which basically means a program that sells expensive products, and these products are all training related products.
The products supposedly teach people how they can build profitable affiliate marketing businesses online but in my opinion, they're very expensive because they cost thousands of dollars & you can actually get what I believe to be better training for free over at Commission Academy.
Anyway, the idea is that you'll sign up to Home Cashflow Shortcut, then you'll purchase those expensive products & then those products will teach you how you can promote the same Home Cashflow Shortcut program onto others but this time being able to earn at their expense.
So, in short, it's basically a case of signing up to Home Cashflow Shortcut, spending money, then getting other people to sing up to Home Cashflow Shortcut just like you did… That's the process simplified.
And to be honest I'm gonna admit that's not a business model I really like because, in my opinion, it borders on being a pyramid scheme (which is illegal) since there doesn't seem to be a true focus on providing value… The main focus just seems to be on recruiting.
But anyway it doesn't really matter what I personally think because I did some digging and I got the FACTS as shown below:

I found an income disclaimer page on their website (which they had hidden at the very bottom) and it highlighted that less than 0.03% of people that join Home Cashflow Shortcut make more than $376 per year.
What's more, is that it also states the following:
The average partner spends between $3000 and $12,000 in expenses per year as they build their business.
Less than 2% earns sufficient commissions to cover the costs of the Home Cash Flow Shortcut products.
So, in short, it basically says that the majority of people ending up spending more than they ever make back.
Yet on the main website like I said at the start of this review it says that the method is "stupidly simple" and that you can "write your own paychecks"… So why are so few people actually making money with it?
Well, the answer is because they're basically telling lies on the website. They've hyped up the opportunity beyond belief to try & trick you into signing up so that the people behind it can earn at your expense… Not good.
Which brings me onto…
Is Home Cashflow Shortcut a Scam?
Well, it's not a scam as such since it is "technically" possible to make money with it however given that only 2% of the people who join actually manage to earn anything it's safe to say I won't be recommending it.
The reality is that whilst it's technically legit it's just another hyped-up system which has been built with the primary intention of getting you to hand over your cash so that the people behind it can earn at your expense.
It's not truly set out to help you make money at all because if it was then it would be more honest.
So with that in mind, I will be advising you to avoid the Home Cashflow Shortcut program because if you join it'll just likely result in you losing money rather than actually making it… And instead I'd recommend you stick with a legitimate program like Commission Academy which is free to join.
Or alternatively, you could check out one of these other great ways to make money online.
Whatever you decide to do though I just sincerely hope that my review of Home Cashflow Shortcut here has given you a good insight into how the system works & I hope it has helped you save your money.
Feel free to leave any questions or comments below if you happen to have any. 🙂
A Better Alternative
The sad truth is that unfortunately most of the programs promising to help you make money online are scams. I can say that confidently after exposing over 500+ of them here on this blog.
But the good news is that even though most of them are indeed scams, there are actually some very good programs in amongst them - some programs that can truly help you to earn money.
And out of all of the legit programs I've seen, the one I would recommend the most to anybody looking to get started online is Commission Academy. In my own opinion, that's the best place to start.
At Commission Academy, you'll be provided with everything you need (including the training & tools) to begin earning real money by promoting products or services for companies like Amazon online.
The best part is that there's literally no limit on the amount you can earn with it & the process is pretty simple which means that it's absolutely perfect for people that don't have much experience.
Some wealthy affiliates even earn as much as 5-figures per month... Or more!


I mean don't get me wrong, that kind of money won't just fall into your lap without doing any work... But the harder you're willing to work at it, the more you stand to earn with it.
So if you're looking to get started but don't know which route you should go down or which program you should join (and don't want to waste money on bogus things that don't actually work), then I'd highly recommend checking out Commission Academy first. You can learn more about it here.