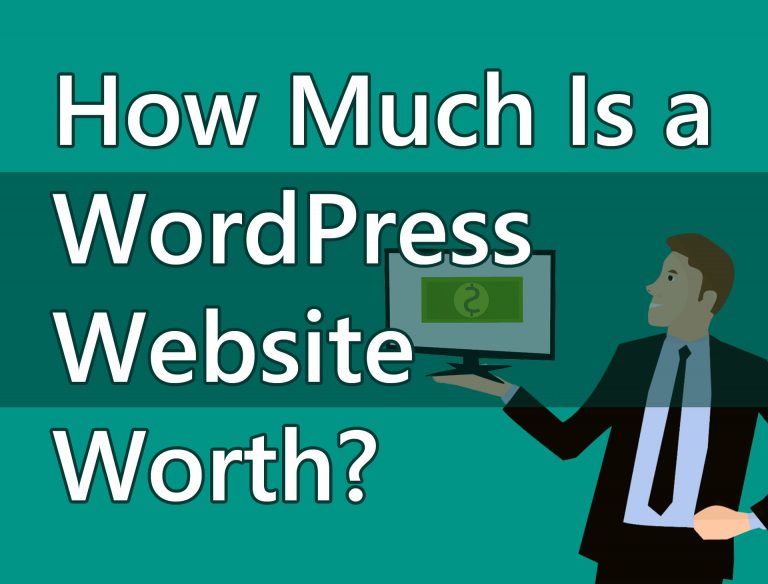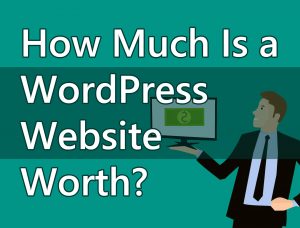 A few days ago I happened to have some spare time on my hands & I found myself wondering, how much is a WordPress website these days? So naturally, I decided to check it out.
I headed straight to some of the most popular website marketplaces & took a look at what prices other WordPress websites were selling for… And I actually found myself pretty shocked.
In fact, I found myself so shocked at the prices that I decided to take some time out to write a full blog post about it (and share some examples of the lucrative WordPress websites that I discovered).
So if you too have found yourself wondering how much a WordPress website is worth then be sure to read this post as it'll contain everything you need to know (including how you can easily build & sell a website for a quicky profit, too).
How Much Is a WordPress Website Worth?   |   What Makes a Website Valuable?   |   Examples of Valuable WordPress Sites   |   How To Sell a WordPress Website   |   How To Build a WordPress Website For Free   |   The Bottom Line
How Much Is a WordPress Website Worth?
Well, the amount of money a WordPress website is worth depends on a number of factors – but the good news is that a WordPress website doesn't have to be earning money, to be worth money.
Typically, these are the factors that a WordPress website's worth is dependant on:
How old the domain name is & how long the website has been online
How many posts & pages are on the website
The average word-count that each page & post contains
How good the quality of the content is on the website
Whether or not there are any subscribers to the website
How much engagement there is on the website
And of course, whether or not it actually earns any money
If the website is already earning money, then it is likely going to be worth a LOT more than a website that isn't already earning money… But that's not always the case.
In fact, I've seen some websites that were earning absolutely nothing, sell for 5-figures.
And the reason for that is because there's one additional factor that determines a website's worth that I didn't include in the list above.
That additional factor is what buyers are active at the time you actually list your website for sale… Because ultimately, as the saying goes, "something is only worth what someone is willing to pay for it".
This means that you could find that exactly the same website could sell for thousands more (or less) at a different point in time, purely because of a different group of buyers viewing it.
One person may see potential where another doesn't.
But to give you an idea of a ballpark figure of what's possible, here's an example…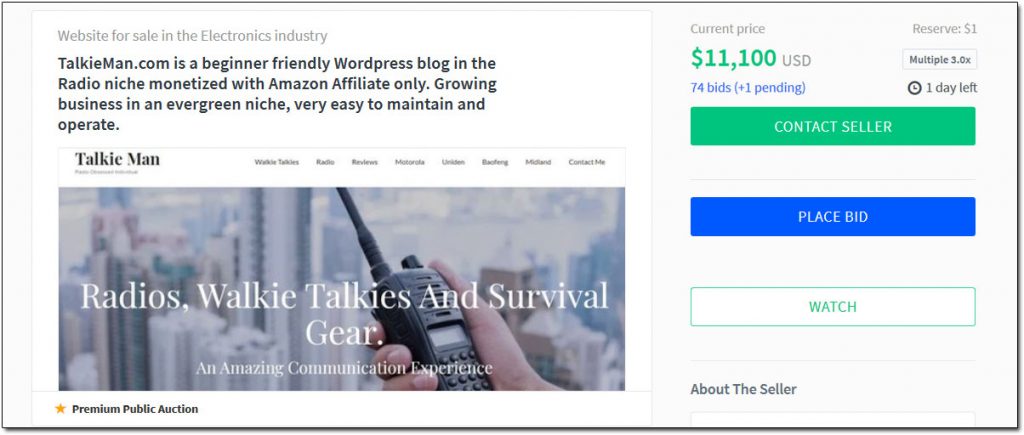 The image above shows an extremely simple WordPress website that I happened to come across being listed for sale on the website marketplace Flippa.
And in case you can't see it from the screenshot above, here's a closer view of the price it was up to when I noticed it:

Yep, that's right – a whopping $11,000… And what you also might notice is that the listing hadn't even ended. The website still had a whole extra day for buyers to place bids.
In the end, it ended up for selling for over $15,000.
Crazy, right?
But what's most crazy about it is that (no offence to the creator), this wasn't a "special" WordPress website by any means. It was actually just an extremely basic WordPress website.
The website was launched in May 2019 (1 year ago)
It has a mere 78 posts
Each post on average is around 1,200 words
It earns ~$313/mo through Amazon's affiliate program
And it's running the standard GeneratePress theme… Which is just further proof that your website really doesn't have to look amazing to succeed.
Which brings me onto my next point…
What Makes a WordPress Website Valuable?
Typically, when it comes to WordPress websites, the thing that makes them most valuable is their potential to earn. And the more high-quality content a website has, the higher it's potential will be.
You see, when you publish content on a WordPress website (or any website for that matter), search engines such as Google, Yahoo & Bing automatically detect it & list it within their results.
So as an example, if you wrote a WordPress post about what you believed to be the best cycling backpacks, then Google (and the other engines) would detect it & list it within their results as an option for people to click whenever they searched for something related to it.

This means that the website will begin receiving visitors, and once a website begins getting visitors, it gains the ability to make money because the person that owns it can promote things to that audience in return for commissions through affiliate marketing.
Or they could also sell their own products or charge advertisers a fee to display advertising to the audience.
Basically, in short, once a website begins getting visitors it opens up a whole bunch of different ways for the person that owns it to make money (and potentially a LOT of money, too).
So if a website is either already making money, or looks like it has the potential to make money, it will be valuable without a doubt… But "how" valuable depends on a couple of additional things.
These include things like how old the website is, because generally the older a website, the more trusted it is… And how high-quality the content on the website is, because search engines typically rank higher-quality content higher within their results (resulting in more people visiting the website & increasing the potential to make money).
So the higher the potential it has to make money & the more effort that you have put into it, the more valuable it will be.
Examples of Valuable WordPress Sites
Well, the first example of a valuable WordPress website is the one that I mentioned further above (just in case you happened to jump straight down to this section).
This super-simple WordPress website with less than 100 posts, each averaging around 1,200 words a piece ended up selling for in excess of $15,000 when the auction finally ended.
Take a look: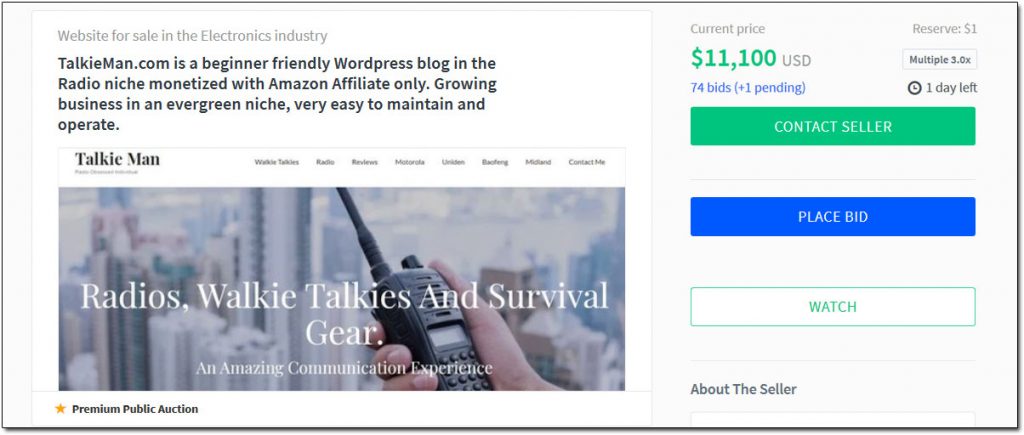 But that's by no means the only simple, valuable WordPress website. I've come across plenty more than that.
Another example if this WordPress website about vacuums which is actually less than a single-year-old, yet is still already up to a whopping $6,500 in bids:


And another one, this time about resetting mobile phones that's just 1 year old & already up to $5,000 on the listing with over 12 full days to go before it ends:


It's safe to say that WordPress websites can be very valuable indeed, in fact, I personally believe that a WordPress website is probably one of the best assets you can build.
And if you still need convincing, here are some more impressive examples:
How To Sell a WordPress Website
If the reason you came across this blog post was that you've already got a WordPress website & you're thinking about selling it, then you'll be glad to know that selling is a WordPress website is a pretty easy process.
All you need to do is simply list it for sale on an online marketplace and provide as much detail as possible (which should include verifiable income proof or traffic stats if your site's already established).
There are plenty of online marketplaces that you can sell a website via, but the one I would personally recommend (and the one that's most widely known) is Flippa.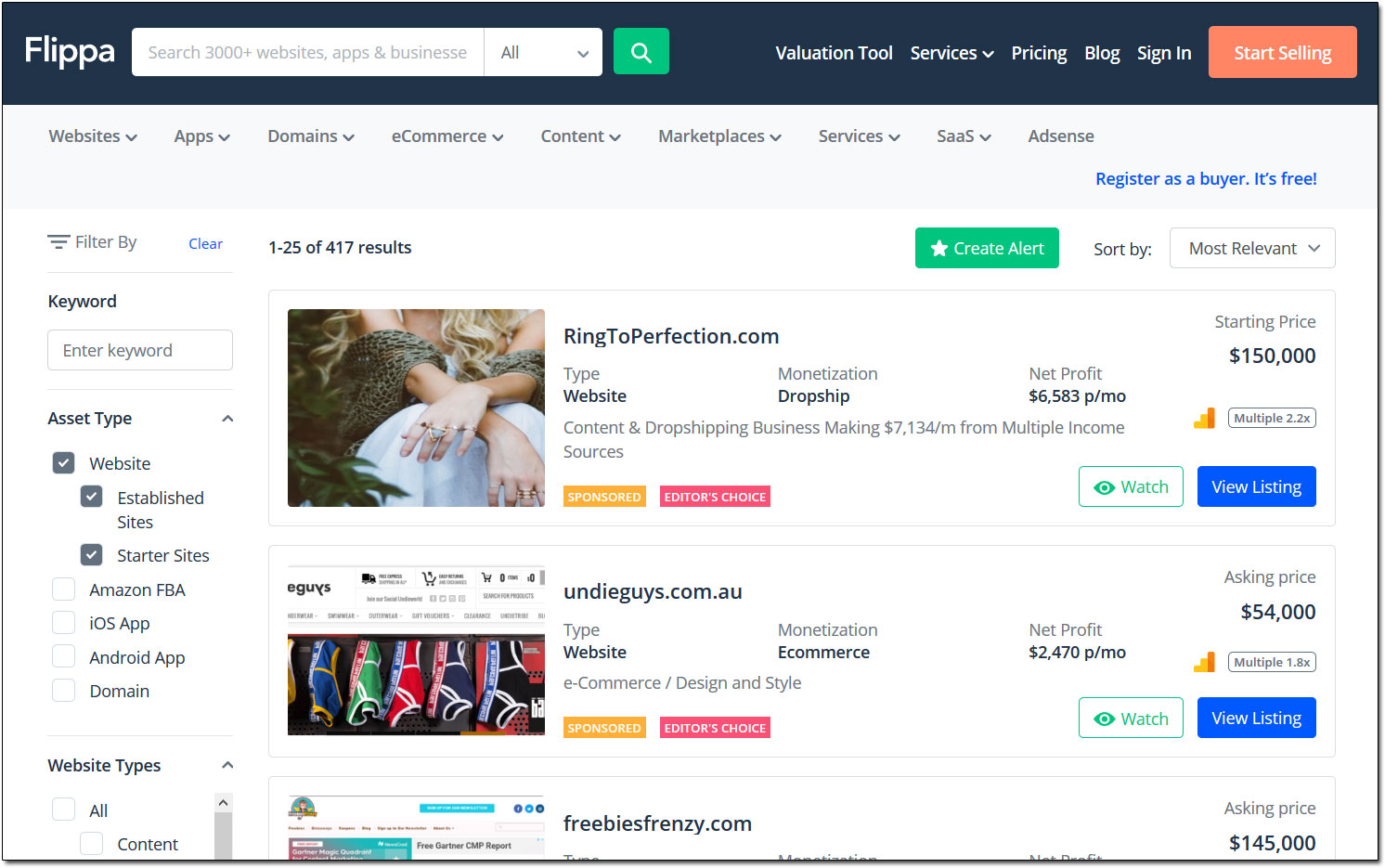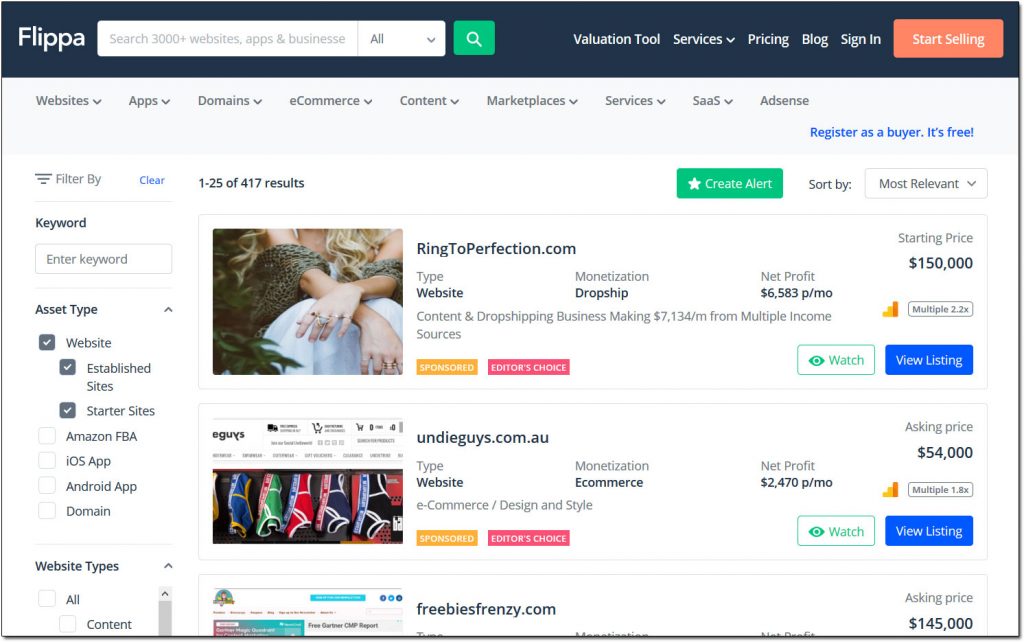 Flippa has been around for many years and I've personally used it myself in the past. It's not free to list a website for sale on Flippa, but they do have a huge audience of buyers & listing fees start at around just $15 so it's certainly affordable.
So if you're considering selling your WordPress website I'd highly recommend you list it on Flippa as that's probably the place where you'll find yourself receiving the most money for it.
Another good place alongside Flippa is a place named Empire Flippers – but that's a site that I can't vouch for personally as I've never actually used it myself, I've only heard good things from others.
You Might Also Like:
How To Build a WordPress Website For Free
If you don't yet have a WordPress website but have become interested in building one after seeing how much money they can potentially sell for then good news – you're in the right place.
I've put together a free step-by-step guide which explains how you can set up your very own WordPress website in as little as 5 minutes from now without paying so much as a single penny.
And don't worry, if you've never previously built a WordPress website in the past, you don't need to be tech-savvy. Nowadays, thanks to improvements in technology it's something that literally anybody can do.
So yes, that means you too can get a slice of the WordPress-profit-pie, even if you don't know the first thing about building WordPress websites. All you need to be able to do is follow simple step-by-step instructions.
If you'd like to go ahead & give it a try, you can check out my guide right here.
The Bottom Line
As far as I'm concerned, whether you plan to sell it or not, building a WordPress website is one of the best things you can be doing as it's essentially like owning your own online real estate.
The more content you add & the higher-quality the content you add to it, the more valuable of an asset it will become.
And whilst you could indeed potentially sell it for a lump-sum profit, you could also ultimately monetize it yourself through affiliate marketing & build a passive stream of income.
You see, once you have a website & begin receiving visitors to that website, you open up the opportunity to make money (and potentially lots of it, depending on the number of visitors).
All you need to do is simply monetize the visitors & you can do that quite easily through affiliate marketing which simply involves you promoting products to them (such as products from Amazon) in return for commissions that are paid out on successful sales.
So if they click through to your website & click on a product that you're promoting then make a purchase, you get paid a commission… Even if you happen to be sleeping at the time.
It's a fantastic way to earn money & it's also the exact same way that I personally make most of my own income online too which is why it holds the #1 spot on my list of the top ways to make money online.
But as this article's proven, even if you're not up to affiliate marketing or simply don't want to do it, you can quite easily "flip" a WordPress website for a profit to somebody that is.
In fact, I also wrote another blog post about somebody who had made $586,680 by doing exactly that… So if you're interested in selling WordPress websites for profit you might want to check it out.
But whatever you decide to do I just sincerely hope that my post here has given you a good insight into the potential of just how valuable WordPress websites can be… And if you have any additional questions or comments then, of course, don't hesitate to leave them below. 🙂