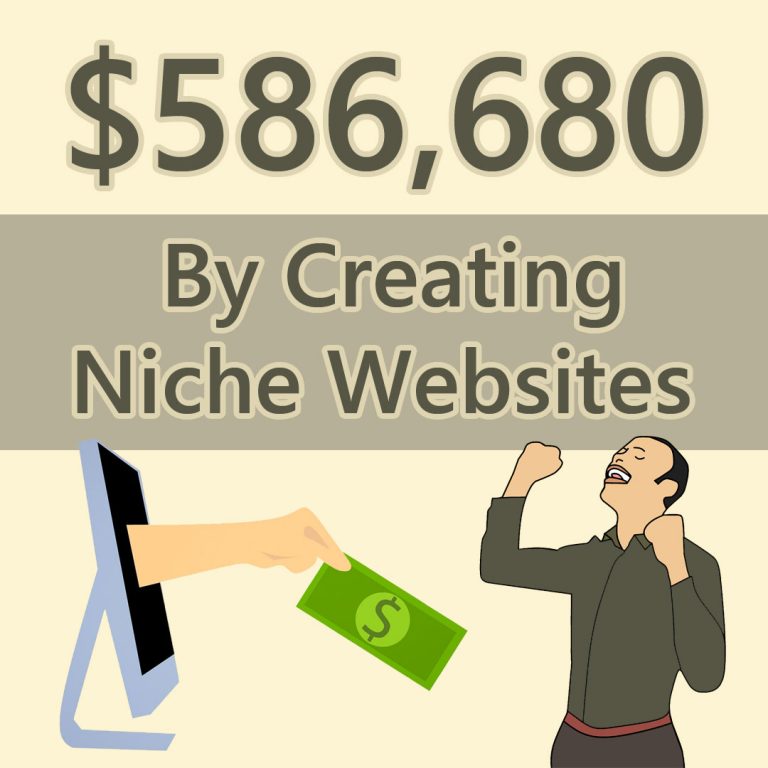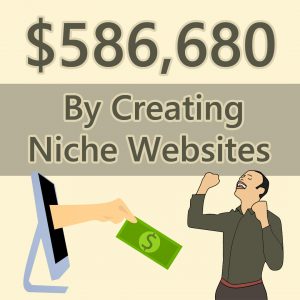 You might already know that you can make money by creating websites, but did you know that you can (quite easily) make as much as $586,680 just by creating small, simple, niche websites?
Chances are, you probably didn't… But the good news is that in this free guide, not only am I going to show you how it's done, but I'm also going to show you some rock-solid proof of earnings from the people that have done it.
So if you've ever had any interest in learning how to make money by creating websites (specifically niche affiliate websites) then be sure to stick around & read this post to the end as it'll contain everything you need to know.
Plus I'll be providing you with an awesome bonus that'll enable you to create your first websites for free… Yes, free! And don't worry, there are no catches whatsoever. Free really does mean free. 🙂
Let's dive in and get started…
What Is a Niche Affiliate Website?   |   How Do You Find Profitable Niche Ideas?   |   How To Make Money Creating Niche Websites   |   Why People Pay So Much For Niche Websites   |   Income Proof From People That Have Sold Their Websites   |   How To Create Your Own Website For Free   |   An Alternative Way To Earn With Niche Websites
What Is a Niche Affiliate Website?
First of all, an affiliate website is basically a website that promotes products or services for third-party companies (such as Amazon) in return for commissions that are paid out on successful sales.
So as an example, you could sign up as an affiliate of Amazon (which is free to do) and if you did, you'd get custom links to promote each of the products on the Amazon website.
The links would all be unique to you meaning that if somebody clicked to the products via your links & then went on to make a purchase, the purchase would be tracked back to you & you'd get paid a commission as a result.
It's a method of making money known as affiliate marketing & as you can probably tell, it's a pretty straight forward way to make money (which is why it's #1 on my list of top money-making methods).
But whether or not you're able to successfully make money with affiliate marketing depends primarily on one thing, which is how well you're able to promote your links… And that's where niche websites come into play.
A niche, in short, is basically a group of people that are looking for something specific – and a niche website, therefore, is basically a website specifically targeting whatever that group of people is looking for.
A few examples of niche ideas could include the following:
ways to improve your metabolism
help for hair loss
people over 50 looking to lose weight
low carb diets
dental care for dogs
In fact, I actually wrote a post not too long ago sharing some real-life examples of niche websites right here.
But basically, the idea with a niche website is that you create content specifically related to a certain targeted subject so that you can VERY easily promote relevant products to your audience.
You see, if you create a website about "general" things then it becomes difficult to figure out what the people visiting your website are actually interested in… But by creating a "niche" website, you know exactly what they're interested in – which means that the website will be much more likely to be highly profitable.
For example, if somebody is visiting a "help for hair loss" website, you know exactly what they want – they want a cure to stop their hair loss… So you can promote a product to help them as an affiliate & earn money in return when they purchase it.
Simple, right?
You Might Also Like:
How Do You Find Profitable Niche Ideas?
The first step in making money by creating niche affiliate websites is to actually find the profitable niche ideas themselves, but thankfully this is a LOT easier than you might think.
In fact, profitable niche ideas are literally everywhere. They're all around us.
And one of the easiest ways to find niche ideas is to simply take a look back through any recent purchases you've made (or thought about making) and ask yourself "could I build a niche website around that?".
More often than not, the answer is likely yes!
For example, I was once living in an apartment that didn't have a dryer & I was struggling to dry my clothes quickly indoors, so I went to the internet for help & came across heated clothes airers.
And right there, we have a new niche idea – "drying clothes indoors". It's very targeted & you know the exact problem that the people arriving at the website would be looking for help with (meaning you know the exact things to promote, to generate sales).
Then, there was a time that I decided to give up my smartphone (because I was wasting too much time on it)… But I still needed a way to contact people, so I went looking for a "dumb phone".
And boom, there's another niche idea – "alternatives to smartphones".
As I said, profitable niche ideas are literally all around us – and I'm sure as you're reading this post right now that some ideas are probably already started to pop into your head.
But if they're not – don't worry, because there's also another great way to find profitable niche ideas… And that's to simply leverage websites like Flippa to see what other niche websites are out there.
Flippa is an online marketplace for websites, but it also acts as a great tool for research because you can browse the websites that people are selling & see how they are performing.
Right now, for example, there are are several niche websites listed on Flippa such as:
tyre pressure gauges
hunting backpacks
Bluetooth car adapters
drawing pencils
beds for dogs
shaving creams for men
There is plenty of opportunity for money to be made in every niche area. There are billions of people online purchasing things every second of every hour of every day.
But that brings me onto the next point, regarding how to actually make money from niche websites.
How To Make Money Creating Niche Websites
There are a handful of ways to make money creating websites, one of which is to promote products as an affiliate as we've already touched on a few times throughout this post.
However, there's also another slightly "less mainstream" way to make money from websites & it's a way that could see you (quite easily) earning as much as $586,680.
It simply involves leveraging a process known as website flipping, which in short, is basically the process of building (or buying) a website & then selling it on for a profit.
You see, when it comes to affiliate marketing, everybody wants to see the profits, but very few people actually want to take the time out to build the website in the first place.
So because of this, there's a great opportunity to make a LOT of money if you are willing to create the websites on their behalf.
And the best part is that honestly, these types of niche affiliate websites can be set up in under 1 week & then later re-sold for literally thousands of dollars.
You don't even have to just take my word for it, either, because I can show you solid-proof & that's exactly what I'm going to do below.
The image below shows a website named Talkie Man that I recently came across for sale on Flippa: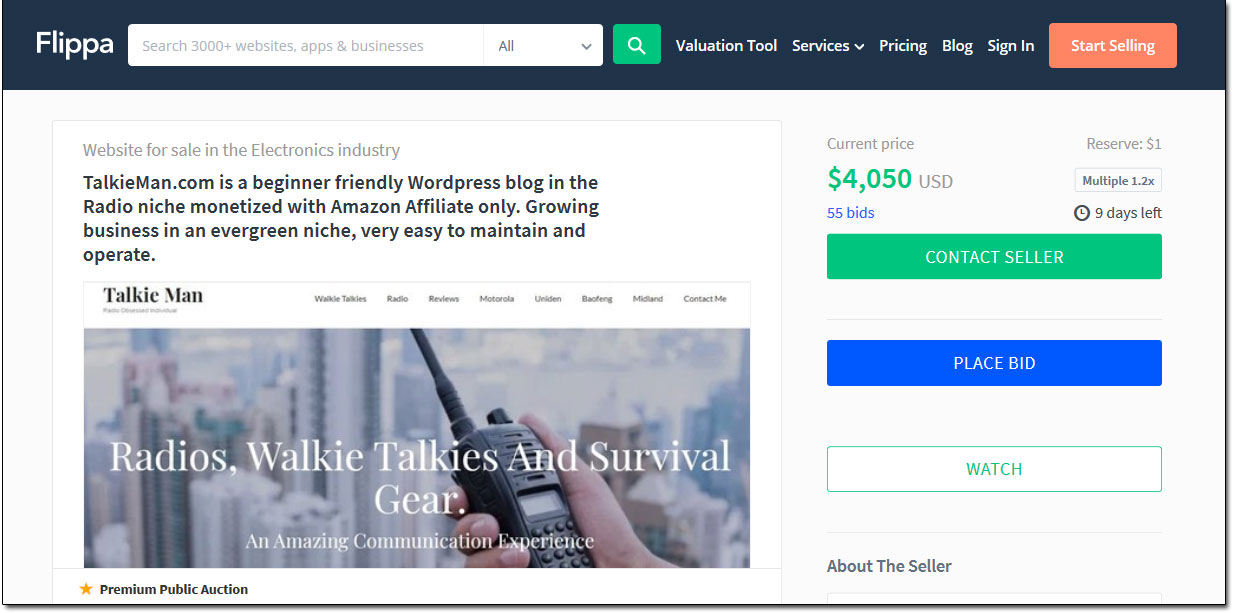 The website is as an extremely basic website that simply talks about (and promotes) walkie-talkies… Yet at the time I viewed it, it had 55 bids, was up to $4,050 and still had a whopping 9 days left before it sold.
Pretty cool, right?
But that's not even the coolest part…
The coolest part is that when I took a look at the profile of the person that's selling the website, I noticed that he had already earned $586,680 from selling similar, simple websites.
Take a look: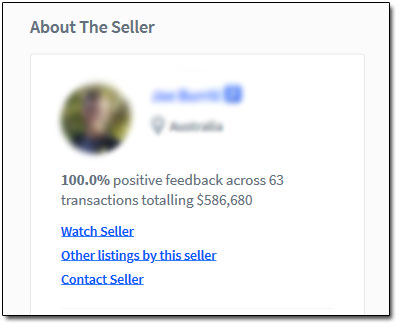 Oh and by the way, here's an update. The Talkie Man website is now up to $10,500 with 4 days still left on the listing:

So you can probably see the potential here with this, right?
And here's a recap of the super-simple process that it involves:
Think up a profitable niche affiliate idea
Create a website & add content related to the niche (such as product reviews)
Let the website mature for a little while (this will increase it's worth)
List it for sale on Flippa
Honestly, the process couldn't be easier – and it's something that I strongly believe literally anybody can do, especially with the help of my step-by-step guide for building a website.
But I know what you're probably thinking… Why are people paying so much money for these websites in the first place? So that's exactly what I'm going to touch on next.
Why People Pay So Much For Niche Websites
The reason people are willing to pay so much money for niche affiliate websites is that they can be leveraged to build a long-term passive & sustainable income.
You see, when you post content online (such as a page on a website), search engines such as Google, Yahoo & Bing automatically discover it & list it within their results.
So as an example, if you wrote a post outlining what you believed to be the best dog toothbrushes, then whenever somebody searched for something related to dog toothbrushes, your post would be shown as an option for them to click on.
Here's an example:

And once published that post will stay listed in the results forever – or at least for as long as the website remains active.
So this means that once the post is published & listed within the results (known as "indexed"), this means that a stream of visitors will begin coming through to the website.
The more posts, and the higher-quality the posts, the larger the stream of visitors will be.
And as soon as you have visitors coming to a website, you gain the opportunity to make money because you can promote products to them as an affiliate & earn commissions if they make a purchase.
Which is exactly what the creator of that "dog toothbrushes" page has done. Take a look: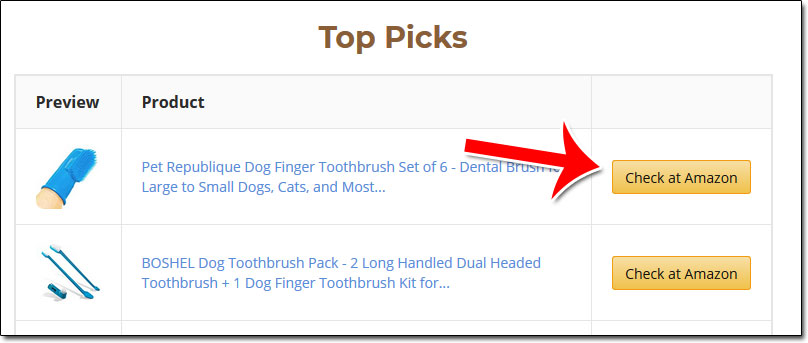 Each of the links next to the dog toothbrushes listed on that page takes the visitor to Amazon via the author's affiliate link… Which means that if you click them & make a purchase, he earns a commission at no additional cost to you.
And once the content is created and indexed, the creator will continue earning these types of commissions completely passively, even if he (or she) is laying fast-asleep in bed.
So that's the reason people are willing to buy these types of websites because if properly leveraged they can create an awful lot of money – all completely passively.
Yet even though they can provide a lot of earning-potential, many people still can't be bothered creating them… Instead they just want to pay money for them, and that's where you come in.
By being the one that creates them & sells them, you can cash in big-time.
Income Proof From People That Have Sold Their Websites
Well first off, there's the example that I included further above (in case you missed it) in which the very simple walkie-talkie website was selling for a whopping $10,500:

And take note, that still has 4 days left on its listing… It hasn't even ended yet.
But that's not the only site selling for big bucks.
In fact, one of my personal friends who I met at the Wealthy Affiliate super affiliate conference in Las Vegas earlier this year actually recently sold one of his niche websites for $30,000 too.
And before that, he sold another one for a whopping $40,000.
Take a look (and feel free to click the image to read his full blog post):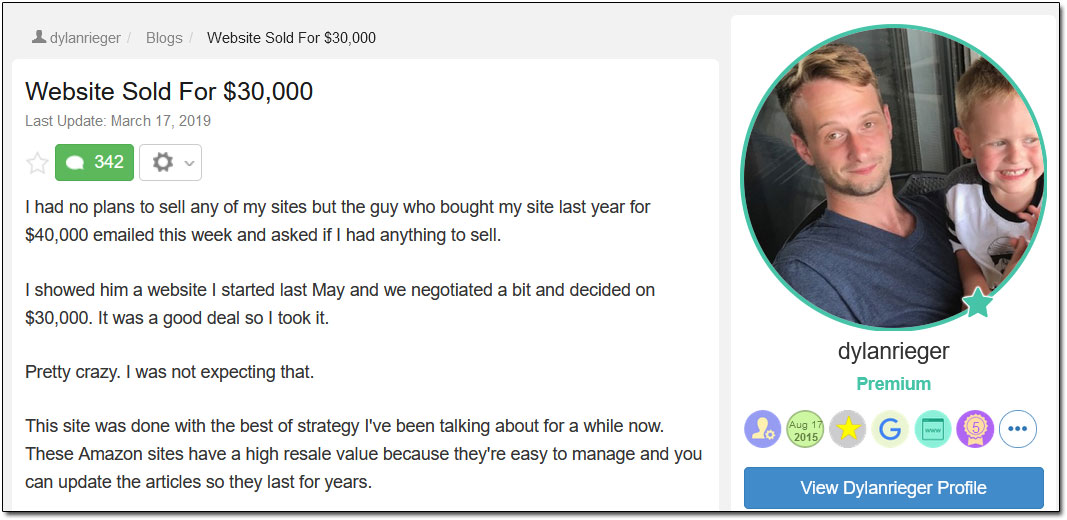 And here are some more currently active sites on Flippa:

That's right… A simple "raw food diet for pets" website selling for $705, with 23 days still left on the listing.
The potential here with this method of flipping sites & selling them for a profit really is crazy. It's easy to see now, how the original seller had earned $586,680 by doing this.
How To Create Your Own Website For Free
Not only is this method super powerful & super lucrative, but the best part is that it's actually really easy to get started with too… And you can even get started with it completely free.
I've put together a free step-by-step guide that explains how you can get access to additional training & create your very first niche website completely free of charge.
So when I said earlier than anybody can do this method, I truly mean it. Providing you can follow simple step-by-step instructions (which I'm sure you can), you can certainly find success with this method.
And alongside that guide on building a website, I've also put together an in-depth guide on affiliate marketing as well that explains exactly how it works & exactly how you can get started with it.
If you're interested in those, feel free to check them out below:
An Alternative Way To Earn With Niche Websites
Obviously you can create the websites and sell them (flip them) for a profit as we've talked about all the way throughout this post, but as an alternative to that, you could also simply hold onto the websites for yourself instead.
You see, creating websites & selling them for a profit is certainly a great way to make money in the short term, but the downside is that it doesn't have the potential to become passive.
If you want to keep making money with it, then you must keep building new websites to sell.
The good news, however, is that rather than sell the websites to others, you could simply just leverage them for yourself & promote affiliate products on them for yourself.
I mean, sure, the obvious downside here is that you won't get an immediate income as you might do by selling them… But over time your income could certainly grow if you keep adding new content to increase more visitors…
And eventually, it could even become completely passive.
But ultimately, there's also nothing stopping you from doing both. You could create some websites to sell, and you could create some for yourself to add to your very own "passive income collection".
That way you get the best of both worlds.
So if you're interested in learning how you can actually become an affiliate & earn money from the niche websites by promoting products as an affiliate, then I'd highly recommend you check out my free guide to affiliate marketing here before you go.
Or you could also check out my top-recommended affiliate marketing platform, Wealthy Affiliate, too.
But whatever you decide to do, I simply hope that my post here has given you a good insight into how you can make money creating websites & hopefully it's highlighted the amazing potential that's available.
If you still happen to have any questions then don't hesitate to leave them below. As always I'll do my best to respond to them & help you out as quickly as I can. 🙂