The Insider Profit System is an "invite-only" program that has allegedly been put together by a guy named Jeff Davis & it claims to provide it's members with a proven blueprint for financial success online.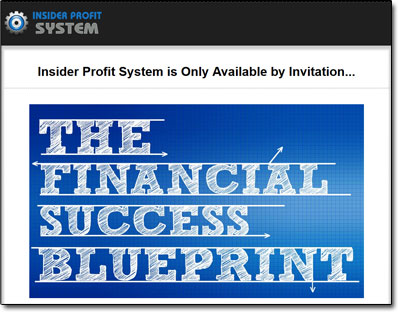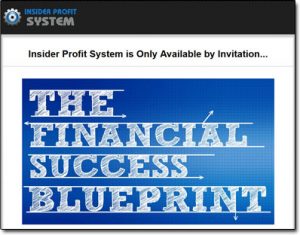 You're led to believe that even as a total newbie you'll be able to sign up to the program & begin making as much as $1,250 per day just by following 3 supposedly super-simple steps of training…
But is it actually legit or is the Insider Profit System a scam that'll just have you spending money rather than actually making it?
Thankfully you've landed in the right place to find out because I've taken a closer look into it & in this review, I'm going to be uncovering everything you need to know, including the real truth about how it all works & most importantly whether or not you can really make any money with it.
What Is The Insider Profit System?   |   How Does The Insider Profit System Work?   |   The Truth   |   Is The Insider Profit System a Scam?   |   A Better Alternative
What Is The Insider Profit System?
As I briefly touched on above the Insider Profit System is a 3 step training program that's allegedly been put together by a guy named Jeff Davis & it claims that it can enable you to earn as much as $1,250 per day, even if you have no experience whatsoever at making money online.

Jeff leads you to believe that you can just pretty much sign up & start making money on the very same day… But as you'll come to find out in this review in reality that's just not quite so true.
In fact, the truth is that this program will probably just result in you spending money rather than actually making it…
But like I say you'll soon see why in a moment when I show you how it all works.
How Does The Insider Profit System Work?
Basically the Insider Profit System is built around something called affiliate marketing & this is essentially what the "training" inside of Jeff's program teaches you… But there are a handful of problems with it.
And before I get onto the problems – just in case you don't know, affiliate marketing basically involves promoting 3rd party products or services online in return for commissions.
So, for example, you could sign up as an affiliate of Amazon & promote products from their website – then you'd get paid commissions if anybody happened to click through your promotions and purchase something.
I'll point out here that affiliate marketing itself is actually a very good & very profitable way to make money… In fact, it's the same way I personally make most of my money online & one of the best places to learn how to get started with it is a place called Wealthy Affiliate.
But yeah, back onto the problems with the Insider Profit System…
Basically whilst Jeff has based his system around a legitimate method of making money (affiliate marketing), the training he has put together is pretty darn basic & in reality, the sole reason he's put it together is just to make money from you…
I know you might be wondering how he's doing this since his system is "free" – but basically he's doing it by getting you to sign up to various different things that he's affiliated with himself so that he can earn commissions from you.
One of the things he asks you to sign up to is GetResponse – this will cost you $10/month, then he wants you to sign up to a ClickBank account too.
He specifically stresses NOT to sign up for the free GetResponse account because it's not good enough – and that if you already have an account he won't be able to use it… But this is nonsense, as I say he just wants you to pay money so he can earn at your expense.

And of course, he promises that after you've done so you'll be on your way to making money almost right away…
However, as you can probably now imagine that's just nonsense too.
You Might Also Like:
Here's How The Program Really Works…
After you've signed up to all of the various things Jeff asks you too (or should I say forces you too) you'll then be given access to the training & this is where you'll be left to find out how it all really works (and how it's nowhere near as easy as he claimed)…
Basically the whole thing is just geared around pushing the exact same program that you went through onto other people… So just like how you signed up to the Insider Profit System looking to make money, you'll be required to get others to sign up to it & this time around you'll be the one making money from their expense…
I mean that's bad enough as it is in my opinion (because it kinda resembles a pyramid scheme) – but to make matters worse the training that you're provided with is just super basic & it pushes you into using paid advertising which will likely see you losing a lot of money.
Don't get me wrong – paid advertising is a good way of generating traffic online, but it requires a huge budget and even as an expert it still involves a lot of trial & error which can be extremely costly, so as a newbie you'll just likely end up burning through your cash before you even manage to turn a profit.
Free traffic is a much better method to start out with, that way you can make mistakes without it costing you anything & that's why I recommend Commission Academy as a good place to learn as that's exactly what they teach.
Ultimately Jeff's Insider Profit System has been designed with the intention of making Jeff wealthy, not you…
Is The Insider Profit System a Scam?
Well, it's not really a scam as such since you do get access to some training… However, in my opinion, it's very misleading & as far as I'm concerned there's absolutely no way you'll make the kind of money Jeff promises you will.
Heck, you'd actually be lucky to make ANY money through his program…
Like I say the reality is that the system is geared towards making Jeff wealthy, not the members & therefore as a result I feel that if you do sign up to it you'll likely just find yourself disappointed with what you receive.
If you really want to get a good start with affiliate marketing then like I mentioned earlier in this review you should just go with a tried & tested program that's proven to help people succeed like Commission Academy instead.
So overall as you can imagine I won't be recommending Jeff's Insider Profit System because I just don't feel like you'll get any real value from it… Instead you'll probably just end up spending more money through it than you ever manage to make back.
But that's all I've got to say on his program because honestly there isn't really a great deal to it. I hope this review covered everything you needed to know but if you do happen to have any further questions or comments then don't hesitate to leave them below & I'll do my best to respond as quickly as possible.
A Better Alternative
The sad truth is that unfortunately most of the programs promising to help you make money online are scams. I can say that confidently after exposing over 500+ of them here on this blog.
But the good news is that even though most of them are indeed scams, there are actually some very good programs in amongst them - some programs that can truly help you to earn money.
And out of all of the legit programs I've seen, the one I would recommend the most to anybody looking to get started online is Commission Academy. In my own opinion, that's the best place to start.
At Commission Academy, you'll be provided with everything you need (including the training & tools) to begin earning real money by promoting products or services for companies like Amazon online.
The best part is that there's literally no limit on the amount you can earn with it & the process is pretty simple which means that it's absolutely perfect for people that don't have much experience.
Some wealthy affiliates even earn as much as 5-figures per month... Or more!

I mean don't get me wrong, that kind of money won't just fall into your lap without doing any work... But the harder you're willing to work at it, the more you stand to earn with it.
So if you're looking to get started but don't know which route you should go down or which program you should join (and don't want to waste money on bogus things that don't actually work), then I'd highly recommend checking out Commission Academy first. You can learn more about it here.