Lead Lightning calls itself a "commission-spitting machine" & claims to be the world's most powerful lead generation & money-grabbing system in existence.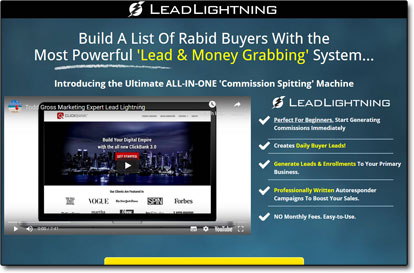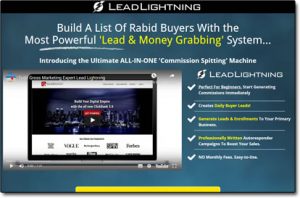 A pretty bold claim, right?
Plus it also claims that you can get full access for just $7.
No monthly fees, no additional fees – nothing… Just hand over a one-time fee of $7 & you can get access to the "world's most powerful lead generation system", allegedly.
So if like me you've come across the Lead Lightning marketing system, you're probably pretty sceptical about it.
Is Lead Lightning a scam? That was my first thought when I came across it – and so to find out I decided to take a closer look into it to see exactly how it works & whether or not it lives up to its bold claims.
In this Lead Lightning review, I'll be uncovering my findings, exposing the hidden costs (of hundreds of dollars) & determining whether or not it can really help you to make money.
What Is Lead Lightning?   |   How Does It Work?   |   Lead Lightning Affiliate Packages   |   The Compensation Plan   |   Is Lead Lightning a Scam?   |   A Better Alternative
What Exactly Is The Lead Lightning Marketing System?
The Lead Lighting marketing system is something can supposedly help you to generate a "buyer list", which is basically a list of email subscribers that have purchased something from you.
This is generally the best type of email list to own because not only do you know that the people on it are willing to hand over money to you, but also because they've handed over the money they're going to be much more engaged in your emails.
For example, if I signed up for a free service & started getting emails, chances are I'd ignore them.
If however I signed up to a service & made a payment to do so, then chances are that I'd open their emails to see what they have to say.
Make sense?
And on top of that, the Lead Lightning marketing system also boasts that it can enable you to start making commissions immediately.

Instant $6 commissions, that's what it claims.
So for a mere $7 sign-up fee, you can allegedly not only begin generating a buyer list but you can also start earning instant $6 commissions – and you're almost led to believe that it'll happen on autopilot.
Unfortunately, though it won't, and when you see how it really works in the next section you'll probably think twice about wanting to actually get involved with it.
How Does The Lead Lightning Marketing System Work?
Basically the Lead Lightning marketing system is a sales funnel primarily designed to sell none other than the Lead Lightning marketing system itself.
So the idea is that you'll buy-in for $7, then promote the same thing to others – earning $6 when they sign up…
But there's a catch.
The catch is that if you want to be able to earn commissions by promoting the Lead Lightning marketing system to others then you'll need to purchase one of their various different affiliate packages.
If you don't purchase one of those then you won't be able to earn from the Lead Lightning system – the only thing you'll be able to do is use the sales pages inside to promote your current business opportunity.
So you'll insert your business opportunity link, then you'll promote one of the sales pages inside of Lead Lightning & if somebody enters their details then they'll get added to your list & redirected to your business opportunity.
The problem with this though is that unless you force those people to purchase Lead Lightning first, they won't be "buyers" since they haven't actually purchased anything.
And why would you want them to purchase it if you're not going to earn from it?
This, therefore, means that in order to use the Lead Lightning system as advertised, you MUST purchase one of the additional affiliate packages.
Let's take a look at them then…
The Lead Lightning Affiliate Packages
In total there are 3 affiliate packages, Regular, Silver, Gold – and then on top of those, there are also 2 "upsell" packages which I'll run over below as well.
Regular Affiliate Membership
The Regular membership costs $7 & once an affiliate has purchased this they will then be able to earn $6 from any of the frontend sales they generate by referring people into Lead Lightning.
Silver Affiliate Membership
Despite the Lead Lightning marketing system repeatedly claiming on its home page that there are absolutely no monthly fees, the truth is there are as the Silver membership comes in at $29.97 a month.
At the Silver level affiliates can earn $6 on frontend sales & then a $15 monthly recurring commission from any Silver affiliate members they refer.
Despite Lead Lightning claiming in their income disclaimer that they pay on product sales & not recruiting (as shown below), it's quite clear here that they are indeed paying for recruiting, as they're paying commissions on affiliate members, which isn't a product.

Gold Affiliate Membership
The Gold affiliate membership costs $53.97 per month & this not only entitles members to earn $6 on the frontend sales, but it also enables them to earn $20/month from any sales of the Silver & Gold memberships they generate.
This means that it's therefore quite clear that push is on getting you to recruit people into Lead Lightning who are then going to recruit others – as the biggest commissions come from getting other people in who will also recruit others.
Kinda makes the whole thing start to resemble something like this: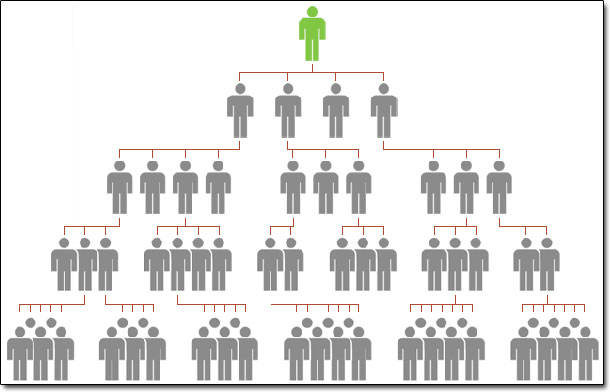 And as you'll see in just a second after I explain the additional "upsells" inside of Lead Lightning, things quickly get a lot worse.
First though, the upsells…
Lead Lightning Upsells
Alongside the affiliate memberships that you can promote & earn from, there are also 2 other additional upsells that you can earn from inside of Lead Lightning.
These are the Diamond membership & Platinum memberships.
The Diamond membership costs a 1-off fee of $147 & it simply gives the member the ability to earn $100 commissions by reselling the Diamond membership to other members.
The Platinum membership costs $497 & enables a member to earn $400 commissions by reselling the Platinum membership to other members.
Now the Lead Lightning marketing system operates a multi-level commission structure which means that on top of those direct commissions, you can also earn from the efforts of those you recruit beneath you.
And this is where things get pretty shady…
You Might Also Like:
The Lead Lightning Compensation Plan
The Lead Lightning system works on a "pay-to-play" style structure, meaning that in order to be eligible to earn commissions from "products" that you sell, you must have first personally purchased them.
And of course, I use the word "products" lightly because most of the commissions come from the affiliate membership, not the "product".
So as an example if you're a Gold member & you refer somebody who purchases both Silver & Gold, you will earn the commissions from both of those sales.
However, if you're a Silver member & you refer somebody who purchases Silver & Gold, then you will only earn commissions from the Silver membership & the Gold sale will be passed up to somebody above you.
This also applies to the "upsells" too. The only difference is that if you directly recruit somebody who makes a Platinum sale & you're also a Platinum member, $50 of their sale will be passed up to you.
And that brings me nicely onto…
Is Lead Lightning a Scam? My Final Thoughts
Well, ultimately this depends on your definition of a scam.
Is there the possibility that you can earn money with it? Yes, there is…
Is it likely that you'll make money with it? No, it's not (primarily down to the lack of high-quality training on how to actually promote it).
Is it legal? It's VERY questionable, to say the least, & in my opinion, it's not legal.
I firmly believe that if you join the Lead Lightning program you will probably just find yourself spending more money on purchasing things inside of the program & promoting it than you will ever manage to earn back.
Plus, in order to get the full potential out of the affiliate program, you will be required to spend well over $500+.
Should you have to pay $500+ just for the privilege of promoting something? No way! Being an affiliate should be free because by promoting the program/product/service you're already helping the owner.
If a program ever charges to participate in the affiliate program then I'd think twice about joining. It sounds suspicious.
So overall it's safe to say that I'm not going to be recommending the Lead Lightning marketing system because I believe that if you join you'll just end up losing money.
Instead, if you have a business opportunity that you want to promote, or if you don't but you want to learn how to start an online business I would simply advise that you just go through the training over at Commission Academy.
You don't need the "help" of a gimmicky system like Lead Lightning, you just need proper training & tools like those found at Commission Academy.
It's there that you'll learn how to effectively market things online & generate a sustainable stream of traffic that you can leverage to promote pretty much anything you can think of.
And unlike Lead Lightning which has a few questionable screenshotted testimonials, at least Commission Academy has been backed by genuine, proven success stories – like my own here.
But ultimately it's up to you what you decide to do & either way, I just hope that my review of Lead Lightning here has given you a good insight into how the whole thing really works.
If you have any further questions or comments then don't hesitate to leave them below. 🙂
A Better Alternative
The sad truth is that unfortunately most of the programs promising to help you make money online are scams. I can say that confidently after exposing over 500+ of them here on this blog.
But the good news is that even though most of them are indeed scams, there are actually some very good programs in amongst them - some programs that can truly help you to earn money.
And out of all of the legit programs I've seen, the one I would recommend the most to anybody looking to get started online is Commission Academy. In my own opinion, that's the best place to start.
At Commission Academy, you'll be provided with everything you need (including the training & tools) to begin earning real money by promoting products or services for companies like Amazon online.
The best part is that there's literally no limit on the amount you can earn with it & the process is pretty simple which means that it's absolutely perfect for people that don't have much experience.
Some wealthy affiliates even earn as much as 5-figures per month... Or more!


I mean don't get me wrong, that kind of money won't just fall into your lap without doing any work... But the harder you're willing to work at it, the more you stand to earn with it.
So if you're looking to get started but don't know which route you should go down or which program you should join (and don't want to waste money on bogus things that don't actually work), then I'd highly recommend checking out Commission Academy first. You can learn more about it here.