If you're someone who regularly plays the lottery, or even those who simply dream of hitting the jackpot, you may have come across Richard Lustig's "Lottery Maximizer" program.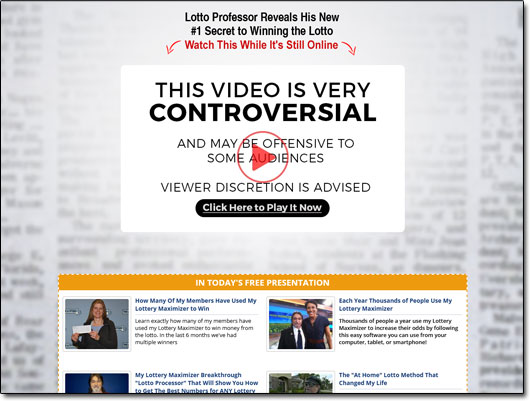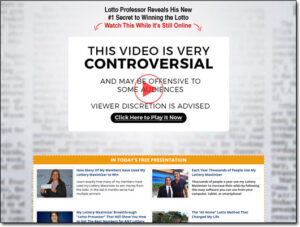 In recent years, the world of lottery systems has experienced a surge in popularity. The Richard Lustig-created Lottery Maximizer program has also gained popularity as a quick and simple way for people to increase their chances of winning the lottery.
However, with so many sceptics and scams in the industry, many wonder if the Lottery Maximizer is worth trying or if it is just another hoax.
In this review, we will delve into the Lottery Maximizer program to give you a comprehensive analysis of whether it is a scam or a legitimate app that's actually worth trying out.
By the end of this review, you will have a better understanding of what the Lottery Maximizer really is and whether it can help you improve your chances of winning the lottery.
What Is Lottery Maximizer?
Lottery Maximizer is a program developed by Richard Lustig, an American man who claims to have won the lottery seven times. The program is designed to increase one's chances of winning the lottery, and it works by analyzing past winning numbers in order to predict future winning combinations.
The program is essentially a software application that users can download and use on their computers or mobile devices. It's intended to provide users with a range of tools and resources that can help them improve their chances of winning the lottery.
Who Is Richard Lustig?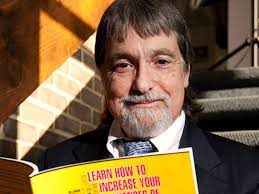 Richard Lustig was a well-known lottery winner who developed the Lottery Maximizer program.
At the time of his death in 2018, he was 67 years old, although he had won significant prizes from seven different state-run lottery games between 1993 and 2010.
These are Richard Lustig's seven lottery wins:
January 1993: $10,000 from a scratch-off ticket
August 1997: $13,696.03 from Florida Fantasy 5
June 2000: $3,594.66 from a scratch-off ticket
October 2001: $4,966 from a scratch-off ticket
January 2002: $842,152.91 from Florida Mega Money
November 2008: $73,658.06 from Florida Fantasy 5
August 2010: $98,992.92 from Florida Fantasy 5
In 1993, Richard won $10,000 from a scratch-off ticket game, his first victory. In 1997, he also won the Florida Fantasy Five-Game, which at the time was worth $13,000. In addition, Richard won thousands of dollars by playing other lottery games.
After finding great success in the lottery industry, he committed to assisting others and consequently branded a number of useful products under his name.
How Does Lottery Maximizer Work?
At its core, Lottery Maximizer is essentially a data analysis tool. It uses mathematical algorithms to analyze past lottery results and identify patterns while generating a list of potential winning combinations for users to play.
By analyzing past winning numbers, the program looks for commonalities and trends that may help users improve their selections. The program can be accessed online, and users simply need to input their preferred lottery game and the past winning numbers.
In addition to its predictive capabilities, Lottery Maximizer also offers users a range of educational resources and strategies for maximizing their chances of winning the lottery.
This includes tips on how to choose the right lottery games to play and how to avoid common mistakes that can reduce their chances of winning.
While it may sound too good to be true, there is no scientific evidence that this program works. Even Lustig himself has admitted that there is no guarantee that using Lottery Maximizer will help you win the lottery, as it may only increase your chance of winning.
Ultimately, the program is only a tool, and it is up to the user to make responsible and informed choices when playing the lottery.
What Can You Expect From Lottery Maximizer?
Lottery Maximizer, according to its creator, will enable users to learn about playing the lottery in a straightforward, step-by-step manner, covering all essential details.
Users will have lifetime access to use these techniques repeatedly to discover new ways to become financially independent, and by following the process-guided strategy outlined in the video instructions, they may significantly increase their chances of winning.
How Much Does Lottery Maximizer Cost & Is It Worth It?
One of the most important questions that people ask about Lottery Maximizer is how much it costs. Currently, the program is available on the official website for $97.
For many people, the idea of paying almost $100 for a lottery program may seem like a lot of money. However, the creators of the program claim that the strategies provided have helped many people win significant amounts.
The program also comes with a 60-day money-back guarantee, giving buyers a chance to test the software and decide if it's right for them.
But what about the upsells? According to various reviews and testimonials, there are a few additional offers that may come up after purchasing Lottery Maximizer. These upsells include:
The Official Lottery Maximizer User's Guide with Tips: $17
Scratch Off Secrets Exposed Digital Book: $37
Richard's Lottery Secrets Book: $47
It's worth noting that these add-ons are completely optional and do not affect the functionality of the base Lottery Maximizer program.
Now, the important question that needs to be asked is whether or not the lottery maximizer is really worth the investment. Despite the claims made by Richard Lustig and the creators of the program, there is no guarantee that any lottery system or formula can guarantee a win.
It's important to remember that lotteries are games of chance, and there is always a risk involved. However, what Lottery Maximizer does offer is a comprehensive and organized approach to playing the lottery.
So whether or not Lottery Maximizer is worth the investment depends on what you're looking for. If you're someone who is interested in playing the lottery and wants a comprehensive program to help you improve your odds, then it may be worth the investment.
However, if you're someone who is risk-averse and prefers not to spend money on games of chance, then this program may not be right for you.
Ultimately, it's up to individual users to weigh the benefits and potential drawbacks of this program and decide whether or not it's worth the investment.
Is Lottery Maximizer a Scam?
There has been much debate as to whether or not this product is a scam. So, the main question remains: is Lottery Maximizer a scam, or is it worth a try?
No, Lottery Maximizer isn't technically a scam, but it's also not a surefire way to make money online, as it's a game of chance.
One of the main criticisms of Lottery Maximizer is that it does not actually increase a person's chances of winning the lottery. Lotteries are based on random chance, and even with the best software, there is no guarantee of winning. No amount of software or analysis can change that fact.
Additionally, many experts in the field of statistics have debunked Lustig's claim that he has won the lottery multiple times due to his techniques.
Furthermore, the price of Lottery Maximizer is quite high, and there have been complaints from users who have not seen any improvement in their lottery winnings. Some users have claimed that the software does not even work at all.
In response to these criticisms, Lustig has stated that his product is not a scam but rather a tool to help people track their lottery numbers and make more informed decisions. However, many experts remain sceptical of Lustig's claims.
On the other hand, the program does have some benefits. The system seems to work by analyzing previous winning numbers and identifying patterns that increase your chances of winning the lottery. The tips provided by the program seem to have worked for Richard Lustig, and there are also some positive reviews online from users who have tried the system and won.
Overall, there is little evidence to support the idea that Lottery Maximizer is a legitimate way to increase one's chances of winning the lottery. While it may be helpful in tracking lottery numbers and making more informed decisions, there is no guarantee that it will lead to any significant increase in winnings.
In the end, those considering purchasing this product should do their research and proceed with caution, as it's crucial to keep in mind that gambling should be done responsibly, and players should never risk more than they can afford to lose.
Lottery Maximizer: Pros and Cons
Pros
It provides valuable statistical information.
Lottery Maximizer provides users with past winning numbers, hot and cold numbers, and statistical probabilities that can help inform lottery number selection.
Money-back guarantee.
The 60-day money-back guarantee provides users with a sense of security and eliminates the fear of losing money on a program that does not work. Moreover, it helps to build trust with potential users who may be sceptical about the program's effectiveness.
It claims to have a successful track record.
The program's creator, Richard Lustig, claims to have won the lottery seven times using his methods, which seems to add some credibility to the program.
It is easy to use.
Lottery Maximizer is user-friendly and accessible to anyone with an internet connection. The program provides clear instructions and requires no advanced technical knowledge.
Cons:
There is no guarantee of winning.
Lottery Maximizer cannot guarantee that users will win the lottery. While the program may increase the likelihood of winning, it is still a game of chance, and users may not see any return on their investment.
Cost.
Lottery Maximizer comes with a price tag of $97. While this may seem like a reasonable price for the promise of potentially winning millions, it can be a significant expense for many people.
Limited availability.
Lottery Maximizer is only available in select countries. This can be frustrating for those who are interested in the program but do not live in an eligible country.
You Might Also Like:
Final Thoughts
So, is Lottery Maximizer worth a try? The answer is a matter of personal opinion. While some people swear by the program and credit it with helping them win significant lottery prizes, others have been less impressed with its results.
First, it is important to note that Lottery Maximizer cannot make you a millionaire overnight, but it can help you choose numbers that may have a higher likelihood of being drawn.
Some people have reported success with the Lottery Maximizer program, while others have not, and on the other hand, there are also some sceptics who believe that Lottery Maximizer is nothing more than a scam.
Some people think that Richard Lustig is simply trying to make money off of hopeful lottery players by selling a program that has no real value.
While it is true that Lustig makes money from selling the program, there are testimonials from satisfied customers who have won with the help of Lottery Maximizer.
Ultimately, whether or not you decide to try the Lottery Maximizer program is up to you. If you are someone who plays the lottery often and wants to increase your chances of winning, then it may be worth giving the program a shot.
However, if you are sceptical or do not feel comfortable spending money on a program that may or may not work, then it may be best to stick with your current lottery-playing method.
It is important to keep in mind that winning the lottery is never a guarantee, and it is always important to gamble responsibly.
On the plus side, we may have the solution for you if you're looking for the finest approach to generating passive income online. You can learn more below…
A Better Alternative
The sad truth is that unfortunately most of the programs promising to help you make money online are scams. I can say that confidently after exposing over 500+ of them here on this blog.
But the good news is that even though most of them are indeed scams, there are actually some very good programs in amongst them - some programs that can truly help you to earn money.
And out of all of the legit programs I've seen, the one I would recommend the most to anybody looking to get started online is Commission Academy. In my own opinion, that's the best place to start.
At Commission Academy, you'll be provided with everything you need (including the training & tools) to begin earning real money by promoting products or services for companies like Amazon online.
The best part is that there's literally no limit on the amount you can earn with it & the process is pretty simple which means that it's absolutely perfect for people that don't have much experience.
Some wealthy affiliates even earn as much as 5-figures per month... Or more!

I mean don't get me wrong, that kind of money won't just fall into your lap without doing any work... But the harder you're willing to work at it, the more you stand to earn with it.
So if you're looking to get started but don't know which route you should go down or which program you should join (and don't want to waste money on bogus things that don't actually work), then I'd highly recommend checking out Commission Academy first. You can learn more about it here.