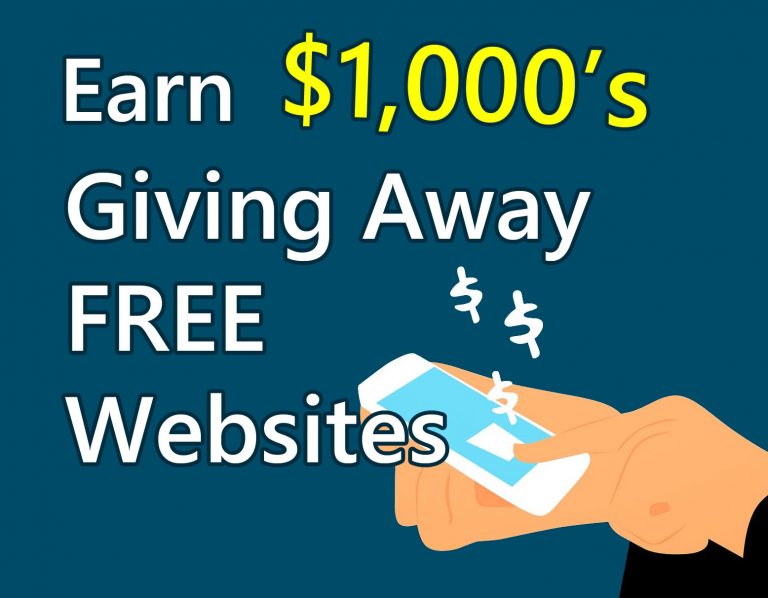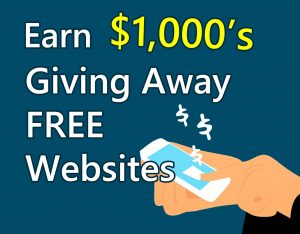 There aren't many easy ways to make lots of money online that are actually legitimate, but there is one, and it simply involves you giving away free websites in return for cash.
Yep, that's right – you can literally make money by giving away free websites (and lots of it, too).
But the best part about this method is that literally anybody can do it. You don't need any technical experience & you can even start earning from it within literally the next few hours.
It's one of the quickest & easiest legitimate ways to make lots of money online that I've ever come across & it's a method that I've personally generated $1,000's from in the past.
So if you're interested in learning how it works (and how you can begin making money from it for yourself) then be sure to stick around & read this post right through to the very end as it'll contain everything you need to know… Including the reason why most people don't even know about it.
How To Make Money Giving Away Free Websites   |   Why Most People Don't Know About This Method   |   How Much Can You Make Doing This?   |   The Bottom Line
How To Make Money Giving Away Free Websites
Honestly, this method is actually super simple & it leverages something called affiliate marketing (but it works a little differently to how affiliate marketing usually works).
You see, through affiliate marketing you're able to earn money by promoting products or services for companies online.
So as an example, you could sign up as an affiliate of Amazon & if you did, you'd be able to send people to their products through a special link (known as an affiliate link) which is unique to you.
This means that if anybody happened to click through your link & make a purchase, their purchase would be tracked back to you & you'd get paid a commission by Amazon as a result.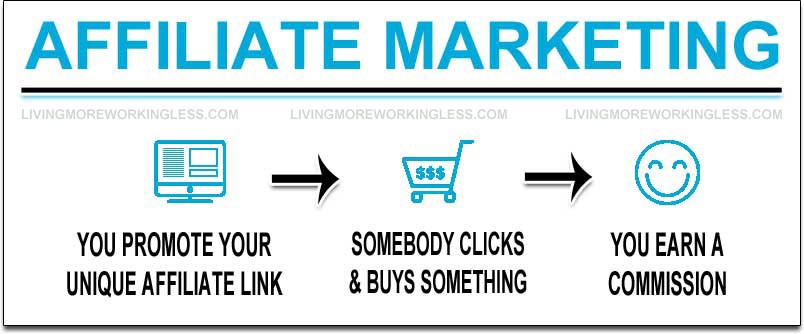 Simple, right?
But here's the deal – nowadays nearly every company that has an online presence also has an affiliate program through which you can promote their products or services for money.
And that includes web hosting companies, too.
So if you get somebody to sign up for web hosting, you'll get paid a commission (and typically a VERY large commission) as a result.
And guess what everybody who wants to have a website needs?
Web hosting!
Now, you can probably see where I'm going with this – but before I explain how you can actually make money (and lots of it) through this method, let's take a look at some of the average web hosting affiliate commission rates…
And that's just a very small amount of the thousands of web hosting companies out there, but hopefully, from that, you can see that web hosting companies are willing to pay a LOT for new customers.
Now, this is where you step in.
You see, most people think that you need to be a technical guru in order to set up a website & as a result, the majority of small businesses still don't have their own websites.
They think that they either need to be a tech guru or that they need to pay thousands to a tech guru to get them to do it for them… So instead, they just decide to stay "website-less".
However, nowadays you don't have to be a tech guru at all. In fact, most web companies have free website builders which literally enable you to set up a professional-looking website in just a few clicks.
So here's what you do…
1: Reach out to small businesses offering a "free website setup service" (sending leaflets is a great way to market the service)
2: When businesses inquire, mention that you'll handle the full setup of the website & that they just need to set up a web hosting account (the average small business web hosting costs only around $3/mo so they'll be sure to oblige)
3: Upon a business accepting your offer, tell them that you'll send the setup instructions via email & that as soon as they've created their account, you'll begin work on the website (include your affiliate link to the web hosting company in the email).
4: When they sign up via your affiliate link & hand over the login details, use the website builder tool to build them a website as promised (it will take less than 1 hour to set up once you get used to doing it)
Easy, right?
And in those 4 simple steps, here's what's happened:
A small business has received a "free website", and will be very grateful for your help
You have earned an affiliate commission, likely of an amount between $60 to $130
It's a complete win-win for everybody involved.
And of course, you can repeat this process over & over as much as you like. The more people you help to set up websites, the more money you will earn from web-hosting affiliate commissions.
Launch 10 new websites per day and you could literally earn over $1,000 per day.
The sky's the limit.
And if you'd like to go one step further to streamline the process so that you can squeeze in more websites per day, you could create your very own website offering your "free website" services.
That way, you don't need to send out any emails when you get new interested clients – instead, you can just direct interested businesses to the relevant page on your website which contains the instructions on how to set up their web-hosting (via your affiliate link, of course).
Plus, having your own website will make it look a lot more professional & it'll help you to snag a lot more clients, so it's highly recommended that you do set up your own website.
Why Most People Don't Know About This Method
The reason most people don't know about this method (in my opinion) is that it's one of those methods that is literally SO simple that it just ends up getting overlooked.
You can't make money that easily, can you?
Well, not usually, but in this particular instance, yes – you really can.
And I think another reason many people don't run with this method is that they're still stuck in the mindset of thinking that a website takes technical knowledge & time to setup.
But these days, it takes neither.
Thanks to web builders (like the one shown below) you can literally create a professional-looking website & have it live on the web with literally a click of the mouse.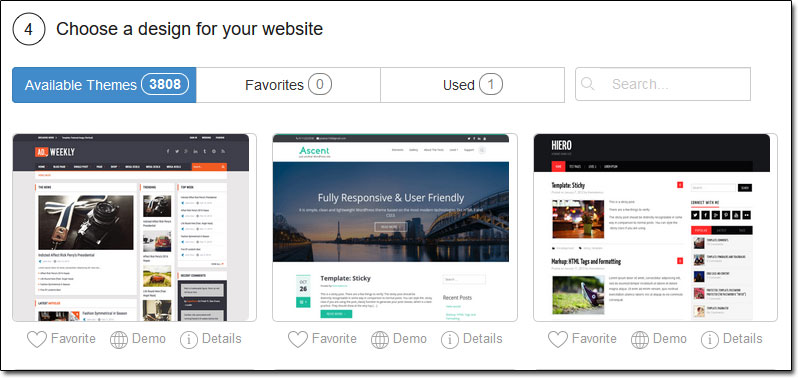 And to see proof of that, feel free to check out my step-by-step guide on building your own free website to see how easy it really is.
How Much Can You Make Doing This?
Honestly, there is absolutely no limit on the amount that you can earn by doing this. In fact, the more clients you begin getting, the higher the commissions you'll be able to earn.
You see, most web-hosting companies run performance-based programs, which means that the more customers you bring them, the higher they'll bump your commission rates up.
Here's an example of that from HostGator's affiliate program:

As you can see, from HostGator's calculations above if you send just 21 signups per month (which is less than 1 per day) you can earn a whopping $2,625.
And if you bump up that number to 5 per day, then at the rate of $125 per signup you'll be able to earn $19,375.
Crazy, right?
Especially for a method that's so simple for anybody to do.
The Bottom Line
There really aren't many easy ways to make lots of money online quickly, and most of the things that promise quick & easy money are nothing but scams… However, in this particular instance, with this particular method, you really can easily earn lots of money – and you can earn it relatively quickly, too.
But of course, it's not a method that will just see you earning money by doing nothing. You will still need to work hard & provide a good service. You will also need to initially market your services too.
However, overall the startup costs of doing this are very low & the potential rewards are extremely high… So if you're looking to make money online then it's certainly a fantastic method to try.
The only downside, in my opinion, is that it involves a lot of interaction with clients. They'll likely want to chat to you on the phone to ask about the service & chat to you about their requirements.
For many people, this won't be a problem – in fact, it may even be enjoyable… But many people are looking to work online because they want less interaction with others (maybe due to anxiety, etc) & so if you fall into that particular category, then it may not be so great.
The good news, however, is that if you are indeed looking for a method that involves less communication with people then traditional affiliate marketing would be the perfect fit.
Through traditional affiliate marketing, you can earn money without having to speak to anybody at all, which is why it's often a popular choice for people with issues such as anxiety, etc.
So if you'd like to learn more about that then I highly recommend that you either check out my free guide here or check out Wealthy Affiliate (which is my top-recommended training platform).
But whatever you decide to do, I just hope that you found my post here insightful & if you do indeed decide to pursue the method then I'd love to hear about how you get on with it so please do come back & leave a comment below.
And of course, if you happen to have any questions then feel free to ask those in the comments below too. 🙂