The Mercari app is a free downloadable app for Android & iPhone devices that supposedly enables you to buy & sell things easily from your smartphone. It also claims to be completely fee-free too.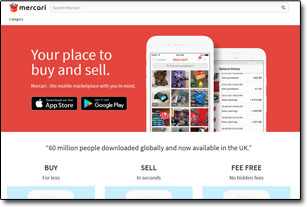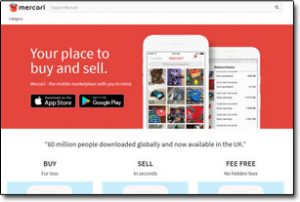 However whilst it initially sounds like a really good app that could help you earn some extra money or feed your shopping addiction, it's sadly received an awful lot of negative complaints online.
So is it legit? Or is the Mercari app a scam? And if it is legit is it really going to prove to be a worthwhile addition the list of apps on your smartphone?
Those are exactly the things I'm going to be uncovering in this Mercari review as I'm personally taking a closer look at it to find out what it's all about, whether or not it works & if you can really make money.
Meaning if you've been thinking about downloading the Mercari app then you can absolutely rest assured that you've landed in the right place to find out everything you need to know about it before you do.
What Is The Mercari App?   |   How Does Mercari Work?   |   The Problems   |   Is Mercari a Scam?   |   A Better Alternative
What Is The Mercari App?
As I touched on above the Mercari app is basically a free app for Android & iPhones that enables you (or supposedly enables you) to buy & sell things easily straight from your smartphone.
The app was created by a guy named Shintaro Yamada & it was first launched in Japan where it became extremely popular, then it later ventured into the US market & now it's opened itself up to the UK too.
The reason the app gathered a lot of interest was that unlike it's closest rivals it claimed to be completely fee-free. Meaning no fees to buy, list or even sell your items.
On top of that, the app even rewards you for being "better buyers & sellers" by giving you credits which can then be redeemed for discounts. That's something that was also quite revolutionary for this type of thing.
The app is quite similar to something called Depop which I believe to be bigger here in the UK (and definitely legit) – Mercari is basically the "Depop of Japan" as it's said to be the most popular app of it's kind over there.
But now as it's busting into the USA/UK markets it seems to be that it's trying to make waves over here too – only at the moment those ways seem to be pretty negative (more on that in a moment).
How Does Mercari Work?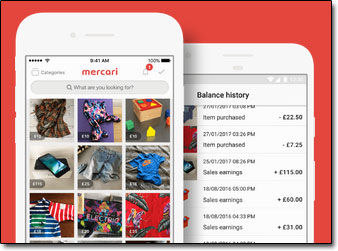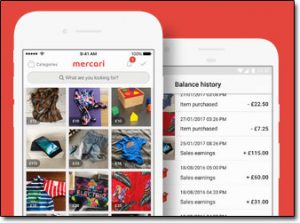 To be honest the Mercari app is very simple for both buyers & sellers. The first thing I want to make clear is that Mercari doesn't really have any restrictions when it comes to what you can sell – as long as it's legal pretty much anything goes, for example, electronics, fashion, vehicles, children's toys etc…
To list something for sale on Mercari all you need to do is launch the app, take a photo & a description & bam you're good to go. Once you've done that your item will go "live" on the app for people to view.
Then when somebody decides to purchase your item & makes a payment for it the Mercari app will notify you – from here you'll just need to print the postage label they create for you, stick it on the item & pop it in the mail.
Once the buyer receives the item he or she will then log into the app, confirm the item has been received & rate their experience buying from you. Providing they don't open a dispute the payment will be released straight into your account.
And finally, once you've been reviewed by the buyer you'll then also have the opportunity to go back into the app & leave a review for them too.
So as you can see the process really is straight forward, however, the important thing to note is that until the sale is complete (which is when the buyer leaves a review) Mercari will keep hold of the cash.
This offers the buyers a level of protection, but if also means that if a buyer takes his or her time in leaving a review then the seller will be waiting around for their payment to be released (pretty annoying).
The Problems With Mercari
I started this review by mentioning that I'd noticed several negative complaints online about the Mercari app & that's actually what initially spurred me on to put this review together, so you might be wondering what the problem is.
Basically, the issue is that whilst the Mercari app provides a legit platform for people to buy & sell things, sadly there doesn't seem to be much control over the transactions from Mercari's part & therefore lot's of scammers have started abusing the app.
The scammers using the app are taking advantage of both buyers & sellers. It's common for many of the items that are purchased through the Mercari app to turn out to be fakes or second-hand items listed as new.
And on the buying front, there's been many reports of people purchasing items only to then reverse the transaction once they've received the item leaving the seller with no item & no payment.
These types of things do happen on other platforms too but it seems the companies behind the other platforms take a lot more action to prevent it & to protect the users of the apps from such things.
In the instance of Mercari, I think the issue is that it seems like they don't really care and several of the users have said that Mercari hasn't responded to their claims in weeks despite them stating a 24 hour response time on their website.
Here are screenshots of just a couple of the user reviews found online: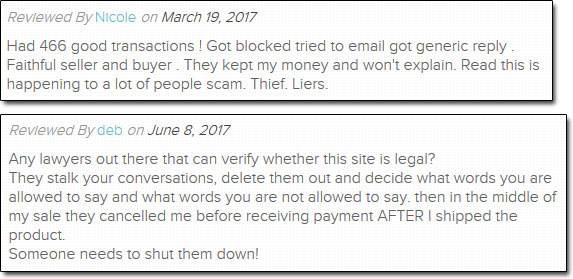 Is Mercari a Scam?
I don't believe Mercari to be a scam, I am confident they run a legitimate platform with good intentions – however, it is clear to me that a lot of scammers are using the Mercari app to take advantage of people.
The problem it seems is that whilst Mercari in itself is not a scam they appear to be doing very little to help protect buyers/sellers & are instead leaving them to merely sort it out between themselves.
Whilst the website & app both state that there is a buyer guarantee through which the buyer will be refunded if something goes wrong, this isn't very reassuring for the sellers as people are essentially taking advantage of this to get "free items" by claiming items have gone missing or haven't arrived as described.
The other thing is that Mercari actually state in their fine-print that they're not responsible for refunding any money to people or for arranging refunds, so ultimately be aware that if something does go wrong then they're not really there to help you. Instead as mentioned above they're going to push on you to sort it out between yourselves.
If there was more being done to protect & help both buyers & sellers then this would possibly be an app that I could recommend to you, but as it is at the moment I'd actually warn you away from it.
So sadly overall it's a thumbs down from me for Mercari – it's a good app with good intentions but sadly as it is at the moment with an apartment lack of moderation it's just not something I'd be willing to recommend.
A Better Alternative
The sad truth is that unfortunately most of the programs promising to help you make money online are scams. I can say that confidently after exposing over 500+ of them here on this blog.
But the good news is that even though most of them are indeed scams, there are actually some very good programs in amongst them - some programs that can truly help you to earn money.
And out of all of the legit programs I've seen, the one I would recommend the most to anybody looking to get started online is Commission Academy. In my own opinion, that's the best place to start.
At Commission Academy, you'll be provided with everything you need (including the training & tools) to begin earning real money by promoting products or services for companies like Amazon online.
The best part is that there's literally no limit on the amount you can earn with it & the process is pretty simple which means that it's absolutely perfect for people that don't have much experience.
Some wealthy affiliates even earn as much as 5-figures per month... Or more!

I mean don't get me wrong, that kind of money won't just fall into your lap without doing any work... But the harder you're willing to work at it, the more you stand to earn with it.
So if you're looking to get started but don't know which route you should go down or which program you should join (and don't want to waste money on bogus things that don't actually work), then I'd highly recommend checking out Commission Academy first. You can learn more about it here.