Whilst surfing the internet this morning I happened to stumble across a website named "My Commission Bootcamp" which promised that I could simply copy a "free trick" to begin making $500 per day from home.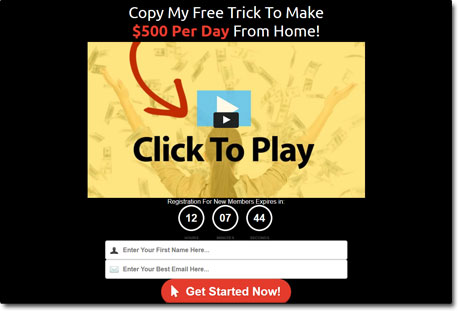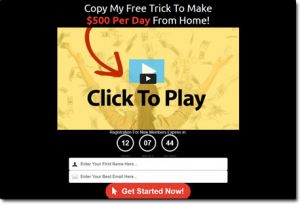 Obviously I was pretty sceptical about it since it's an extremely bold claim, but as I happen to own a make-money-online website I decided to take a closer look into it to see what it's all about.
So, can you really make $500 per day with My Commission Bootcamp as you're led to believe? Or is My Commission Bootcamp just a scam that's set out to simply part you with your cash?
Well, if that's what you've been trying to find out then you can rest assured that you've landed in the right place because in this My Commission Bootcamp review I'm going to be uncovering everything you need to know (including how it all really works) & of course whether or not you can really make any money with it.
What Is My Commission Bootcamp?   |   Who Is Behind It?   |   How Does My Commission Bootcamp Work?   |   The Red Flags   |   Is My Commission Bootcamp a Scam?   |   A Better Alternative
What Is My Commission Bootcamp?
My Commission Bootcamp is one of the latest "make money online" programs to surface promising to provide you with a stupidly easy way to make lots of cash online, even if you're just a beginner with absolutely no experience.
You're led to believe that all you need to do is simply sign up, activate the system & that with a mere 20 to 30 minutes of work per day you'll find yourself earning a whopping $500+ per day in commissions.
But no doubt I think you'll agree with me when I say that sounds a little too good to be true, right?
I mean if you could really earn so much money online so easily then why isn't everybody doing it? Why are people still stuck working at jobs they dislike for 8+ hours per day if they can just plug into My Commission Bootcamp & profit so easily instead?
The answer is because as you've probably guessed – it doesn't really work as promised.
In fact, as you'll soon discover in this My Commission Bootcamp review, the truth is that you'll be much more likely to find yourself simply spending money through My Commission Bootcamp as opposed to finding yourself actually earning it.
You'll see why as I explain in greater detail exactly how it all works below (and I'll also share a legitimate alternative instead), but first, let's take a closer look into who's actually behind it.
Who Is Behind My Commission Bootcamp?
Given that My Commission Bootcamp can supposedly see you earning $500 (or more) per day with just 20 to 30 minutes work you'd expect the founder of it to be pretty famous, right?
Well, the "creator" states his name in the My Commission Bootcamp sales video & the name he states is Chris Brant, so I decided to do some Googling to find out a bit more about him.
And guess what I found?
Absolutely nothing!
That's right – despite Chris being the founder of a system that can supposedly generate people $500 per day with just 20 to 30 minutes of work per day, there was nothing to be found about him online.
Instead, a search for Chris Brant just brought up results for a Dutch ice hockey player.
So with that in mind, it's clear to see that the My Commission Bootcamp system doesn't really work as promised otherwise there would be tons of positive reviews & even news reports about Chris… But instead, there's none.
And to be honest, the name Chris Brant is probably just a fictitious name that the real creator (or should I "scammer") has chosen to hide behind.  There's no way you can trust it.
But why would the creator want to hide behind a made-up name? Well, let's take a closer look into exactly how it all really works below & I think the reason will quickly become pretty clear to you.
How Does My Commission Bootcamp Work?
The "My Commission Bootcamp" website leads you towards believing that everything has been done-for-you & that you can therefore simply just plug-in & starting profiting with next to no work at all.
The problem, however, is that's not true.
If you sign up to My Commission Bootcamp you do get provided with an affiliate offer, which means that you can promote it & earn money if people happen to sign up to it…
But you'll still be 100% responsible for generating the traffic (the visitors) & that's arguably the most difficult part of online marketing – especially if you're brand new & don't know where to start.
Some other legitimate programs such as Commission Academy provide you with step-by-step training on how to generate traffic but the "My Commission Bootcamp" program offers next to no training at all.
That's because the creators of My Commission Bootcamp are not really interested in helping you to make money. They're just interested in earning themselves money at your expense by tricking you into signing up.
There is some good news, however, and that is the fact that it's sold through a third-party network named ClickBetter. This means that you may be eligible to get a refund if you've already purchased it.
ClickBetter offers a 60-day money-back guarantee on most purchases, but there are some restrictions – so if you've purchased it & want your money back, you could try contacting ClickBetter for a refund.
You Might Also Like:
The Red Flags
As somebody that's exposed over 500+ scams, it's pretty easy for me to spot red flags on a scam website like My Commission Bootcamp, but if you're new to making money online then I can appreciate it can be a little more difficult.
For that reason, I've decided to outline some of the red flags here so that you know what to look for when considering other potential online opportunities in the future.
1. Too Good To Be True
It's a simple rule of thumb, but if something sounds too good to be true – chances are, it is.
When you see income claims such as "easily make $500 per day", it's best to stop & think logically. Ask yourself, if this really worked – then why wouldn't everybody be doing it?
2. Unrelated News Clips
At the beginning of the "My Commission Bootcamp" sales video, you're presented with a variety of news clips that do mention working from home but never actually mention My Commission Bootcamp directly.
This is a common trick used by scammers. They pull news clips that talk about working from home in general & piece them together in a way to make you think that they're actually referring to the specific system in question.
If you believe it's been featured on the news, you're much more likely to believe it's legit… But My Commission Bootcamp has never actually been featured on the news (and you'll see that for yourself if you watch the clips again more closely).
3. Fake Scarcity
Sometimes, products or discounts do only appear for a limited amount of time & you have to take action "fast" if you wish to get a hold of them… But scammers quite often prey on this & use it to their advantage.
Scammers, like those behind the My Commission Bootcamp scam, create "fake scarcity" to trick you into acting fast when in actual fact there is no need to, to prevent you from doing your due diligence.
They know that if you were to look for My Commission Bootcamp reviews, you would discover that it's a scam… And so they claim that you need to "sign up quick" because their system will be taken down in just 24 hours.
The problem is that it's a lie. The "My Commission Bootcamp" website will be saying the same thing tomorrow, and the day after, and the day after that. It's all just part of the trick.
Don't rush into making a decision… Always look for reviews.
Is My Commission Bootcamp a Scam?
Yes, in my opinion, the "My Commission Bootcamp" system is a scam & the reason I say that is because I can see that it's clearly set out to part you with your cash, rather than to help you make it.
The founder (who likely isn't really named Chris Brant) hasn't set it up with any real intention of helping you & I can say that confidently as an experienced online marketer myself.
I mean yes, the method itself that it is loosely based around which is known as affiliate marketing is indeed legitimate, but the training provided via My Commission Bootcamp is complete junk.
So whilst you can make money through the method itself, the My Commission Bootcamp program will not really help you to actually get started. It'll just leave you feeling confused.
If you really want to get the best start with affiliate marketing I would simply suggest that you either check out my own free guide here or that you stick with a legitimate platform such as Commission Academy.
There are also other methods alongside affiliate marketing that you can earn money from as well which you can check out on my top picks page.
But whatever you decide to do, I just hope that my review of My Commission Bootcamp here has given you a good insight into what to expect from the program & why it should (in my opinion) be avoided.
Feel free to leave any comments or questions below.
A Better Alternative
The sad truth is that unfortunately most of the programs promising to help you make money online are scams. I can say that confidently after exposing over 500+ of them here on this blog.
But the good news is that even though most of them are indeed scams, there are actually some very good programs in amongst them - some programs that can truly help you to earn money.
And out of all of the legit programs I've seen, the one I would recommend the most to anybody looking to get started online is Commission Academy. In my own opinion, that's the best place to start.
At Commission Academy, you'll be provided with everything you need (including the training & tools) to begin earning real money by promoting products or services for companies like Amazon online.
The best part is that there's literally no limit on the amount you can earn with it & the process is pretty simple which means that it's absolutely perfect for people that don't have much experience.
Some wealthy affiliates even earn as much as 5-figures per month... Or more!


I mean don't get me wrong, that kind of money won't just fall into your lap without doing any work... But the harder you're willing to work at it, the more you stand to earn with it.
So if you're looking to get started but don't know which route you should go down or which program you should join (and don't want to waste money on bogus things that don't actually work), then I'd highly recommend checking out Commission Academy first. You can learn more about it here.