Now Lifestyle is a brand new company that's been put together by a guy named Joel Therien & whilst at the moment it hasn't yet gone fully live to the public, it's due to launch extremely soon and I can tell you that it's set to be huge.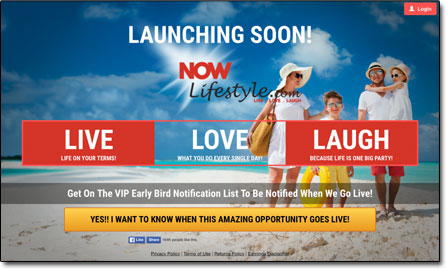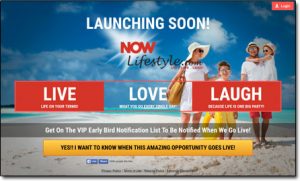 I don't generally do reviews of things before they've gone live but because of the sheer amount of interest & questions I've received about Now Lifestyle, I decided to make an exception.
So if you've come across Joel Therien's Now Lifestyle system & you're wondering whether or not you should get involved then rest assured you're definitely in the right place to find out.
In this review I'm going to be revealing everything there is to know about the brand new Now Lifestyle opportunity and I'm going to be letting you know if it's actually going to be worth your time and money.
What Is Now Lifestyle?   |   The Founder (Joel Therien)   |   The Products   |   Now Lifestyle Compensation Plan   |   Should You Join Now Lifestyle?   |   A Better Alternative
What Is Now Lifestyle?
I've got to admit that Now Lifestyle is quite an interesting product/opportunity as it seems to have made an attempt at merging a health & wellness opportunity into a make money online opportunity. The general concept of the product is to help you get fit & healthy whilst being able to make money online too.
Obviously, that sounds great in theory, I mean health & wealth is pretty much what life's all about. If you can achieve both those things then you're sure to live happily, but is the Now Lifestyle opportunity alone really going to provide the answer to achieving either of those things? Let's find out…
We'll Start With The Founder, Joel Therien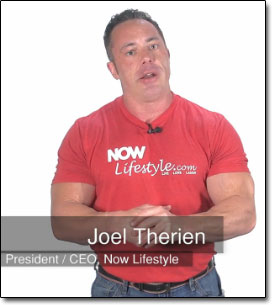 It's clear that Now Lifestyle is a network marketing opportunity and when it comes to network marketing one of the biggest factors that contribute towards a companies success is the leadership ability & experiences of the founder(s) who have put it together.
In this case, the founder is Joel Therien, so before we dive into discussing the actual opportunity itself let me go ahead & give you a bit of background on Joel.
Joel Therien is somebody you might have actually already have heard about prior to Now Lifestyle because he's launched several other companies prior to this one, the majority of which have also been networking marketing opportunities. It's safe to say that when it comes to network marketing, Joel has "been around the block".
In fact Joel's actually been in the network marketing game for around 18 years. He's had massive success throughout that time and he's undeniably a hard-working & great businessman. Some of his previous ventures include:
Host Then Profit (launched in 2011)
7 Minute Workout (launched in 2011)
Pure Leverage (launched in 2013)
Got Back Up (launched in 2015)
He's also the President & CEO of a company named Global Virtual Opportunities Inc (or GVO for short) which seems to be one of his most successful ventures. GVO provides various different tools & services to internet marketers such as web hosting, backup solutions & autoresponders.
So not only has Joel had a lot of success, but he's had a lot of success across numerous industries too.
Basically, when it comes to business, Joel is the man! But on top of that (and I really don't know how he finds the time), he's also a very successful bodybuilder too. It only takes 1 look at him to figure that out.
So it's clear to see that Now Lifestyle has developed from what seems to be his 2 main interests – making money & keeping fit. He's bundled them together & is going to be making an attempt at packaging them both up into one "done-for-you" multi-niche offer.
What Are The Now Lifestyle Products?
At the moment with Now Lifestyle still being in its pre-enrollment stage most of the marketing material is more geared towards the money-making opportunity itself, which might leave you questioning what are the actual products?
So let me run you through exactly what Now Lifestyle has to offer because as you probably know the second biggest factor in determining a network marketing companies success is the quality of the products that they offer.
We'll start with the Health Niche products…
Health & Wellness Package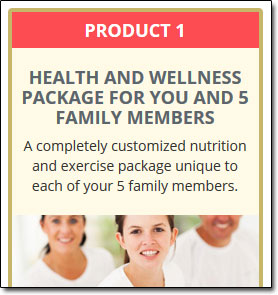 Now Lifestyle offers a complete health & wellness package which consists of a customized nutrition & exercise plan for the purchaser and also for up to 5 members of their family too. This is something that sounds pretty interesting, and I'm sure the additional "5 family member" allowance will be a great selling point.
The problem though is that this package seems to be similar to that which was offered in Joel's 7-minute workout program which he launched in 2011. You're told that through the use of high intensity, short-duration exercises you can see "massive" results by just training for 7 minutes per day, 3 days of the week.
Joel says that he personally uses this method but, to be honest I struggle to believe it… But then again I guess it would certainly explain how he finds the time to manage so many businesses and keep in such great shape, LOL.
However, I'm all for promoting health & wellness so even if this product is getting somebody moving for just an extra 21 minutes per week it's better than them doing nothing at all. That's the way I see it anyway.
Body Boss Home Workout System
The Body Boss Home Workout System is Now Lifestyles all-in-one trainer which enables you to do various different resistance training exercises in your home. It designed to be used in conjunction with the health & wellness package that they offer so if you want to see "true results" then you'll no doubt be pushed towards purchasing both of these packages.
Here's a picture of Joel demonstrating the Now Lifestyle Body Boss Home Workout System: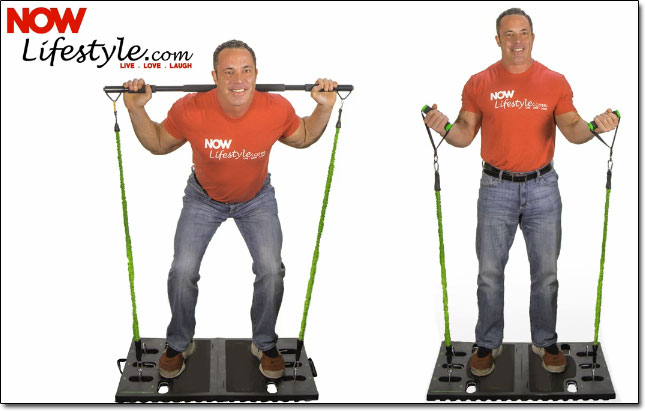 When I heard "home trainer" my initial thought was nooooooo, not another one! But I'm not going to lie, whilst I'm against 99% of all-in-one home-trainers this one does actually look like it's got some potential.
I had a friend who used to compete professionally in bodybuilding & he used to swear by those resistance bands. Obviously, he favoured the gym, but if he was ever travelling or staying away he used to always pack resistance bands to fit in a quick workout wherever he could.
I guess it's all going to boil down to the price of the product which hasn't yet been released. If it's costly then I'd probably give it a miss, but if it's reasonable then this could be a nice little product indeed.
I know for certain that the demand for these kinds of things is HUGE, people want "easy exercise" and these kinds of things provide the perfect answer (from a sales point of view).
And now for the Make Money Online niche products…
Professional Auto-Responder System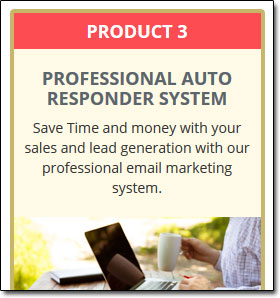 As I mentioned earlier, Joel Therien runs GVO which is a company that specialises in providing tools to internet marketers. When it comes to email marketing Joel is a genius, there are no 2 ways about it.
So naturally, Joel has incorporated an email marketing system into his Now Lifestyle opportunity & he's packaged it up as an additional product that you can purchase.
Basically what an autoresponder does is it simply follows up with your leads by sending out automated emails to them reminding them about the products. So you'll refer somebody to Now Lifestyle, they'll enter their email to find out more & when they do they'll be put onto your autoresponder email list. From here on they'll start getting periodic emails about the product until they either decide to purchase or unsubscribe.
Whilst an autoresponder might sound cool if you've never heard of one before, they're not the be-all & end-all. There's plenty of companies that provide them & generally they'll only set you back around $15 to $30 per month (depending on how many people you have subscribed to your email list).
Again this one all boils down to the cost – it could be sweet if it's cheap, but if it's not then there's plenty of alternatives out there that people can use instead.
Massive Traffic Co-Op
Now Lifestyle calls it a "massive" traffic co-op, I personally couldn't tell you how big it is. Basically, a traffic co-op is somewhere you go to purchase visitors, it's kind of like doing marketing the lazy way.
Rather than learn a skill such as Facebook ads marketing or Instagram marketing, you're generally just buying traffic from people who've already mastered it. The problem is though you're generally buying the traffic at a premium price which means it's quite often difficult to make profits on traffic coming out of a co-op.
I personally don't really like traffic co-ops, but that's not to say they don't work. Some people find massive success from traffic co-ops, but generally, it's rare – it's all down to the quality of the visitors & how much of a premium is actually being added. If Joel provides high-quality traffic at a low price then it could work out nicely, if not then it's just going to burn a hole in your pocket.
When it comes to traffic (visitors) it comes back to the good old saying…
Give a man a fish and you feed him for a day; teach a man to fish and you feed him for a lifetime.
So that's the products covered, now it's time for the part you're probably most interested in…
You Might Also Like:
The Now Lifestyle Compensation Plan Explained…
I actually very nearly joined Now Lifestyle myself, well, that was until I discovered the compensation plan…
Don't get me wrong I didn't pass up on joining because the compensation plan was bad, it actually looks like it could be quite lucrative. The reason I decided not to join was that it was so confusing! I can imagine that if I was promoting this opportunity half my time would be taken up trying to actually explain the compensation plan to the new members of my team. I ain't got time 4 that!
So, let me try and explain how it works… As simply as I can…
Commission Payout Part 1
This part of the compensation plan claims to pay out 100% commissions, and whilst that's true in a sense, it's not really quite as luxurious as it sounds.
The promise of 100% commissions leads you to believe that if you sell something you're going to get paid the full amount for the sale (AKA 100%)… However, this is not the case.
You'll actually only get paid a 50% on the sales YOU make, but then you'll get paid a 50% commission on any of the sales that your direct referrals make. They've added these two commissions to give a total of 100%, but ultimately you're getting 50% per sale.
Don't get me wrong, if you bring somebody in and they go on to sell a lot of product then a 50% commission is definitely going to prove to be pretty lucrative for you. However you & I both know how network marketing works, it's hard enough to get people to join let alone duplicate.
Commission Payout Part 2
Alongside the initial commission structure which we've just discussed above, they also run a binary commission structure too. This is where things start to get a little bit (I mean a LOT) confusing.
Basically, you'll sign up to Now Lifestyle & you'll gain a place in their binary compensation plan.
Then, you must enrol two people underneath you. One person will be placed on your left leg & the other will be placed on your right leg as shown below: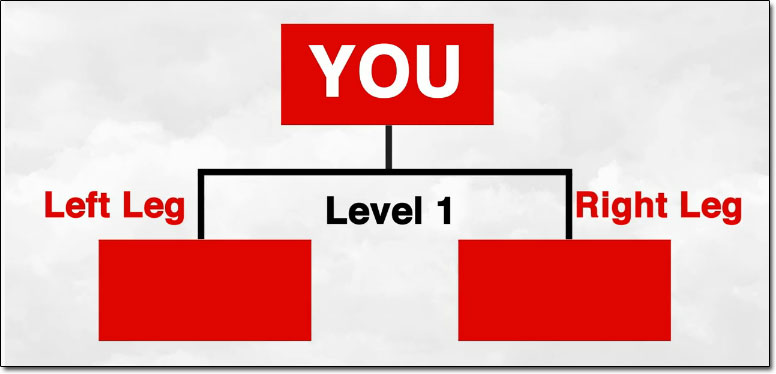 Now it's important to mention that to qualify to earn commissions from this part of the compensation plan there are two things that you MUST do which are:
You must maintain a distributor of the Now Lifestyle system (which means you must keep paying your monthly fee)
You must have 1 active personally referred member in both legs at all times
You must enrol at least 1 new member per month, up to 6 personally referred members
So, once you get 6 active members in your tree with a 1/3 or 2/3 balance on either side something called a cycle will occur. For each cycle that occurs, you will get the opportunity to earn up to $20 in commissions.
Whilst binary compensation plans are super confusing, the benefit is that they pay the same commission rate infinite levels deep. This means that you'll earn the exact same commission amount from those you personally refer as you would on those who have been referred thousands of levels below you in your tree.
The downside, however, is that there are a lot of criteria that you must meet to remain active which can be difficult & frustrating for a newcomer.
Here's a visual example of the Now Lifestyle compensation plan taken directly from their website:

Hopefully, that helps you get a better understanding as to how the binary compensation plan actually works.
Should You Join Now Lifestyle?
Well to be honest since the company hasn't gone fully live yet & the price points of the products themselves haven't been released it's too early to give a final verdict just yet. The promising thing is that Now Lifestyle has genuine products in place & the company is backed by a strong industry leader. If anybody can make it work then I'm sure Joel Therien can.
However, personally due to the complexity of the compensation plan I decided to pass up on this opportunity. That could potentially turn out to be have been a mistake but only time will tell… And hey, you win some you lose some.
Plus the other reason I decided not to promote this opportunity is that, well, I don't really know who I'd be promoting it too? Am I to promote Now Lifestyle to people who are looking to make money or am I to promote it to people who are looking to get fit? At the moment it's hard to tell who the real target market will be and that will be revealed when the full website launches & we get to see the marketing material. In the meantime, I'm just going to sit-tight & keep a close eye on it.
One thing's for certain though and that's the fact that Now Lifestyle is certainly not a scam. It's a genuine opportunity for those who are looking to either boost their fitness or build their own home-based businesses.
Kudos to Joel for coming up with the idea, it looks like he's clearly put a lot of hard work into the company & I do genuinely wish him the best of success in his venture.
It'll be interesting to see how it pans out & I'll surely be updating my review as soon as the company officially launches. I do hope for now though that I was able to provide you with all the information you needed. 🙂
If you have any comments or questions be sure to leave them below.
A Better Alternative
The sad truth is that unfortunately most of the programs promising to help you make money online are scams. I can say that confidently after exposing over 500+ of them here on this blog.
But the good news is that even though most of them are indeed scams, there are actually some very good programs in amongst them - some programs that can truly help you to earn money.
And out of all of the legit programs I've seen, the one I would recommend the most to anybody looking to get started online is Commission Academy. In my own opinion, that's the best place to start.
At Commission Academy, you'll be provided with everything you need (including the training & tools) to begin earning real money by promoting products or services for companies like Amazon online.
The best part is that there's literally no limit on the amount you can earn with it & the process is pretty simple which means that it's absolutely perfect for people that don't have much experience.
Some wealthy affiliates even earn as much as 5-figures per month... Or more!

I mean don't get me wrong, that kind of money won't just fall into your lap without doing any work... But the harder you're willing to work at it, the more you stand to earn with it.
So if you're looking to get started but don't know which route you should go down or which program you should join (and don't want to waste money on bogus things that don't actually work), then I'd highly recommend checking out Commission Academy first. You can learn more about it here.