OptinMonster has long been referred to as the best lead generation tool – especially for creating email capturing exit-intent popups & the like… But with all of the new tools on the market (such as Thrive Leads & LeadPages etc), is OptinMonster really still the best opt–ion? (see what I did there?)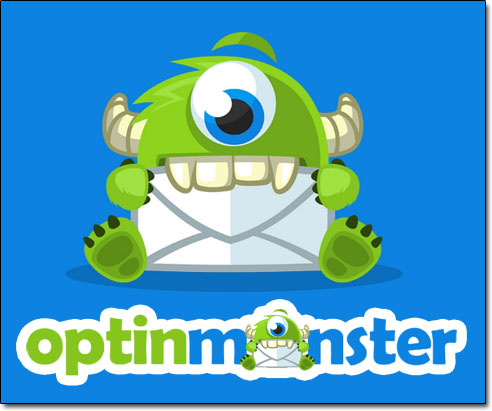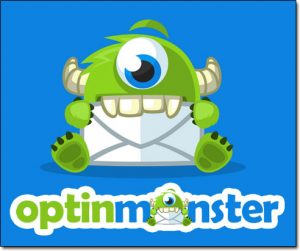 If that's what you've been trying to figure out then you can rest assured that you've landed in exactly the right place because in this detailed OptinMonster review I'm going to be uncovering literally everything there is you need to know.
Plus I'll also be giving you my brutally honest opinion on what I happen to think of OptinMonster in terms of generating leads & increasing conversions.
Quick Navigation
I'll be honest & tell you that this is gonna probably end up being a super lengthy review (as I'm aiming to leave no stone unturned!)… So to make things easier for you I've put together some quick links below so that you can easily jump straight to the specific info that you came here looking for…
What Is OptinMonster?
In short, OptinMonster is basically a tool that enables you to collect leads (or collect more leads) from your blog, website, or landing page etc through the use of various different "attention-grabbing" opt-in forms… So whether you want to collect names, emails, phone numbers, addresses… Whatever… Essentially that's what you can do with OptinMonster.
But why would you want to do that?
Well, I assume that if you're reading this OptinMonster review & looking into trying out OptinMonster you likely already have a good idea as to what are the benefits are of collecting leads… However, just in case you don't…
The main idea behind collecting leads is basically that it gives you the opportunity to follow up with people in the event that they either don't end up making a purchase or the event that they do make a purchase but you want to sell them more stuff.
So essentially by collecting leads you can increase conversions & thus, in turn, generate more revenue.
However, there's a bit of a catch 22 here… Because if you send people directly through to an offer, more people with see the offer… But if you require them to enter some details first, the reality is that many people will exit the page rather than enter those details… So whilst you might be collecting leads, less people overall will actually be seeing the offer.
Therefore this means that if you do go down the route of collecting leads & following up with people (which is massively advisable because if you don't, you'll be leaving a lot of money on the table), then it's vital that you make sure you generate as many leads as possible…. And that's where OptinMonster comes in.
OptinMonster basically provides a whole host of innovative & "tactical" ways for you to grab your readers/visitors attention & encourage them to enter their details to "find out more" or to show interest in something… And then providing consent is given you can then use these details to follow up with them & increase your sales.
Which brings me onto my next point…

What Can You Do With OptinMonster?
To be frank, you can do a heck a lot with OptinMonster – and I will indeed touch on all of the different things that you can do here in this review, but first I want to touch on my personal favourite 3 uses…
1. Delayed Opt-In Forms
So a visitor lands on your website, they're engaged in your content – but they're so engaged in your content that they're not really taking much action in terms of clicking ads, or opting in via any of the traditional routes… So what can you do?
The answer is you can create a delayed opt-in form that will trigger upon a certain parameter (such as the user spending X time on the page or the user scrolling X far).
Then once the user hits this trigger the opt-in form will display over the page in overlay form & shift the users focus from the content directly onto the opt-in form, giving you maximum opportunity to convert them into a subscriber.
For example (as shown below) I have one personally set up here on my blog so that when a user scrolls X far, an overlay appears asking what they're interested in X. If they are, they can click it & go there… But if they're not they can easily close it & continue reading.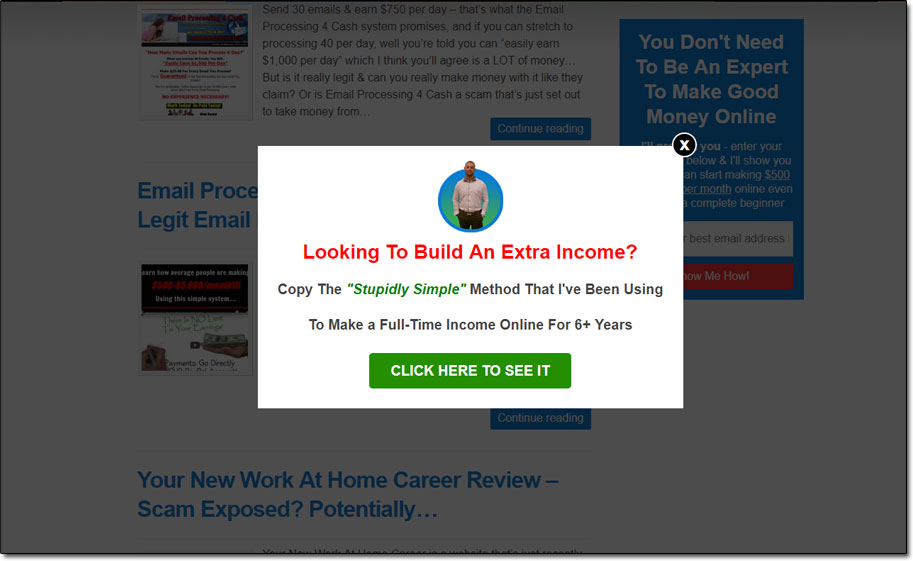 This works through a technique which is often referred to as a "pattern interrupt" & it's a very powerful technique for increasing conversions indeed.
Annoying? Maybe to some degree (the key is to minimize that with relevance)… But effective? YES for sure.
2. Exit-Intent Opt-In Forms
A visitor is about to leave your website or blog without doing anything… Gahhhhhhhhhh…. A webmasters worst nightmare!! If only we could get EVERY visitor to our website to do something… We'd all be millionaires.
But sadly whilst it seems like such an easy task in theory, in practice it's actually stupidly difficult… And websites will always have people leaving without doing anything no matter how many tricks or tactics they employ…
But one sure-fire way you can get more people to do something at least is to integrate what's known as an exit-intent opt-in form, which basically triggers as soon as the visitor goes to leave the page.
So the second they whip their mouse cursor over to the "close tab" button, boom, via OptinMonster you get the opportunity to use an exit-intent form to do your utmost best to re-grab their attention & convert them to a lead.
A quick, attention-grabbing "BEFORE YOU GO" (as shown below) is the usual approach… But you can essentially use the form as you please to do whatever you think will best convince them to stick around & convert.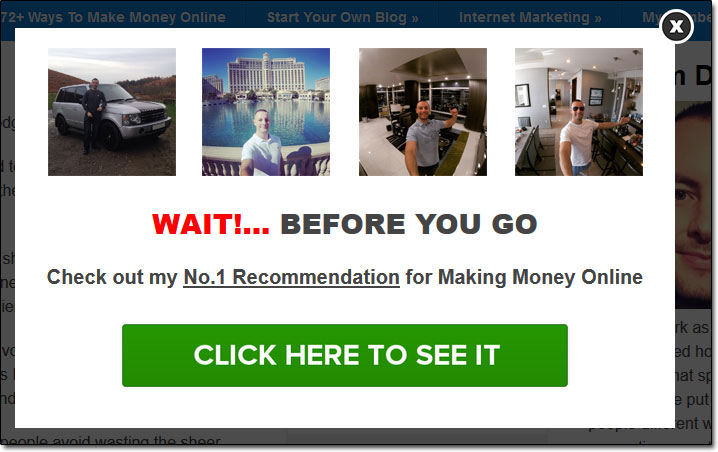 As you can likely imagine this works wonders… And annoying? Again, maybe… But heck those folks where gonna leave your website anyway!
3. MonsterLink Opt-In Forms
I LOVE MonsterLinks & they're absolutely fantastic for creating 2-step manually triggered opt-in forms which can dramatically increase your conversions through the use of a small "commitment".
Basically OptinMonster's MonsterLinks essentially enable you to link anything so that once clicked it will trigger an overlay style opt-in form… And a good example of this would be a "download now" button that then pops up a form asking for the user's email address.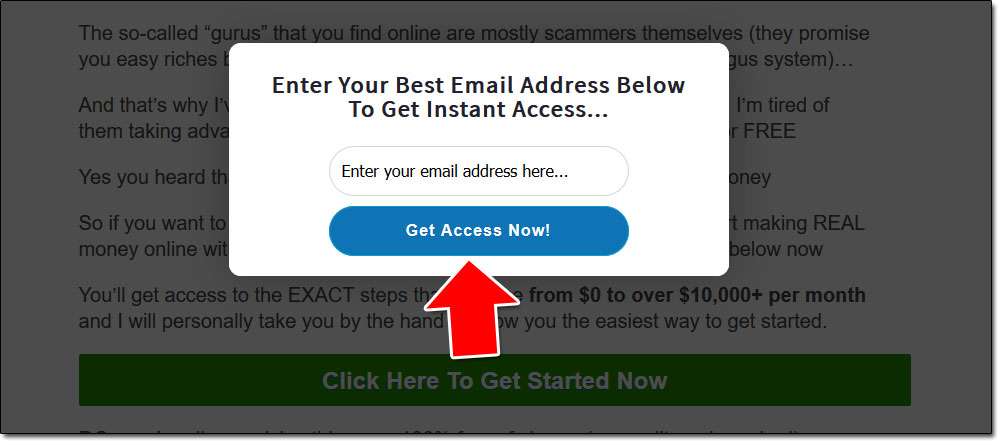 You see this works in quite a clever way, through the use of "commitment" like I mentioned above… You see if you sent a user to a page that simply said: "enter your email to download this"… Chances are they wouldn't…
However if you sent them to a page that had all of the details of the download & a download now button, chances are they're gonna hit that download button because they're of course expecting to get the download… But wallah, they get presented with an opt-in form instead.
However this time around, because they've already committed to clicking, they will be much more likely to think "oh what the heck" and proceed to enter their details in order to gain access.
It sounds crazy, but it's true – and even though a mere click as being a commitment sounds stupid, you have to realize that in terms of marketing getting somebody to click is a big deal… So in actual fact it's a pretty big commitment.
Annoying? No not really, a little frustrating maybe but due to them being manually triggered MonsterLinks are pretty darn good on the user experience front.
And of Course, Traditional Opt-In Forms…
In-line forms (opt-in forms inside of content), sidebar forms, slide-in forms, content locking forms, floating bar forms… You can do all of that other good stuff with OptinMonster too.
Now don't get me wrong, I'm not knocking any of those alternative forms that I just mentioned – they're all really good ways of generating leads (and I also use many of them on this blog as well)… But the delayed forms, exit-intent & MonsterLinks are simply just my personal favourites.
Anyway, that brings me onto the next point…

Building Forms In OptinMonster
Now I'm not gonna lie here, as great as OptinMonster is (and always has been), one thing that always frustrated me about it was the editor that you used to actually build the forms with. Basically, in short, it sucked.
As a result I ended up trying Thrive Leads instead after hearing great things about that… But long story short (I'll explain more it later in the review), for me, personally Thrive Leads turned out to be a total utter waste of money.
However thankfully upon returning to OptinMonster recently in 2018 I noticed that they had launched a brand new editor – and oh my, what an amazing improvement… Thank goodness!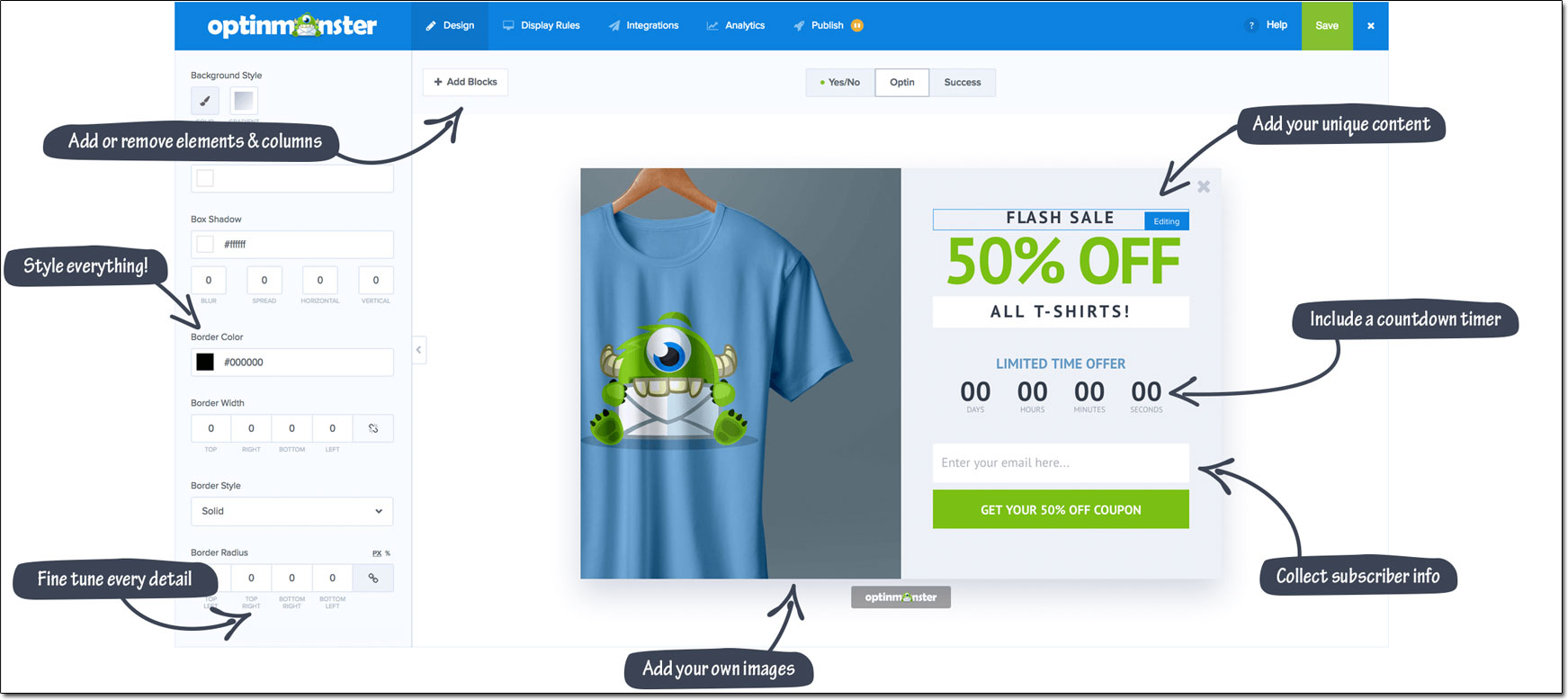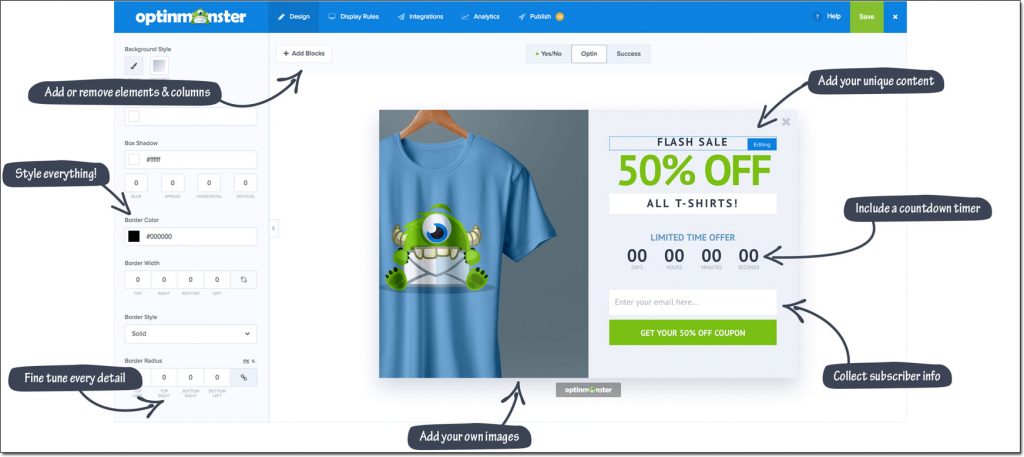 Whereas once upon a time building forms in OptinMonster was a freaking chore like you wouldn't believe, now it is much, much easier… And it is much more "drag and drop" style in the new version too.
One thing I would enjoy seeing though is an undo button (and if it does exist in there I don't know why the heck I haven't been able to find it)… But yeah, no undo button is kinda lame (and frustrating!).
Other than that though like I say the new editor is much, much better – it is exactly that – new, so I imagine they are frequently working on updating & improving it… Which might explain the undo button situation.
But basically building a form is now super simple – even if you're brand new & have limited technical know-how.
Choose a template – use the drag 'n' drop editor to add/remove elements – edit the content as necessary – choose the lead integration – set up the trigger… And boom, you're good to go.
Then to install it on your site you can either use the WordPress plugin, or simply copy the HTML code & add it the good old fashioned way.
And going all geeky on you here, the big benefit you have with OptinMonster is you can restrict the opt-ins loaded on a per-page basis… This means you don't end up with unnecessary JavaScript that's loading opt-ins on pages where they're not gonna appear… Which massively helps towards site-loading times (especially if you have a lot of opt-ins).
So if site speed is your thing (which it 100% should be if you're interested in conversions), then OptinMonster is VERY good on that front.
Also if you want to take your form building to the next level, with OptinMonster you can do that too – you don't have to feel locked into using their drag 'n' drop editor… Instead, you can select their "Canvas" template which basically enables you to directly edit the full HTML of the opt-in, giving you complete freedom to create whatever the heck you like.
Anyway, building forms brings me to my next point… Because I recently ran into a problem which ended up in me (for the first time) having to contact OptinMonster support, and that was an experience for sure!
OptinMonster Support
Whenever you find yourself looking into tools like OptinMonster one of the things you rarely take into consideration when selecting which ones best is the support that they offer… Well, I do anyway… Instead, I just look at what the tools can do, what they can't do etc…
But anyway, recently (for the first time ever) I found myself needing to contact OptinMonster support – and I was crazy impressed, which is the sole reason I've decided to include it in this review.
I mean normally I can get away without contacting support & fix things myself as I'm pretty tech-savvy & I've learned a lot of code over the years… But anyway long story short I was trying to create a MonsterLink & I couldn't for the life of me get it to display, so I opened a support ticket to get some help.
Anyway, as I mentioned at the start of this review I'm an OptinMonster Pro member & so after submitting the ticket, I noticed on the confirmation email that apparently Pro members get priority support… Which felt good… But just pointing that out as it could have potentially had a bearing on the level of support I received.
Regardless though I got support and I got it fast, and within the shortest time ever my opt-in was performing as it should… But the support person was super helpful & I mean super helpful.
So my problem got sorted fast, and it got sorted efficiently. Whereas when it comes to Thrive Leads as much as they tried to help, unfortunately, in the long run, my problem didn't get solved at all (again more on that later in this review).
Anyway like I say being a Pro member I got priority support so maybe that had something to do with it, but either way that does bring me onto the cost…

How Much Does OptinMonster Cost?
No doubt a lot of you reading this review & considering OptinMonster will likely be worried about the cost. I remember I was too when I first looked into & nobody likes spending money… Plus the truth is OptinMonster (and other similar tools) are pretty costly.
BUT… and this is a big but… OptinMonster has given me the best ROI of any tool I've ever purchased… Hands down.
So rather than focus on the cost, it is important when looking into a tool like OptinMonster which is focused on increasing sales, to shift your focus from cost onto the return that it will bring to your business.
How much is 1 extra sale a month to you worth? What if you were able to increase current conversions by 5%? 10%? 20%? or more…? All of that is entirely achievable (and likely achievable) with OptinMonster.
But anyway, the cost…
Their basic plan billed annually costs $9 per month. Truthfully that's peanuts for this type of tool – especially when you have the likes of LeadPages which starts at $25 per month (paid annually) & ClickFunnels which costs $97 per month.
However… You do not want the basic plan! The reason I say this is because the basic plan doesn't come with the exit-intent technology, and trust me, you 100% want that as that's one of the biggest conversion boosters there is.
So at the very least, you should go for the Plus plan which comes in at just $19/mo (paid annually). Still pretty cheap to be honest.
Once again though there are some limitations here – with the big one being that Plus only caters for sites receiving up to 15,000 monthly page views… Any more than that and you'll need Pro.
But come on, if you're getting more than 15,000 page views per month then you can sure as heck afford to invest in Pro which costs $29/mo (paid annually)… And if you can't, then you definitely need OptinMonster to help convert those 15,000+ views into more sales because your current conversion must suck!!
Pro also comes with some awesome extra benefits as well as just the increased page views though… It comes with the option to remove branding, the option to do on-site retargeting, geo-location targeting & cart abandonment (which is huge).
Then finally there's Growth – which is more for the big boys who are running multiple sites (like agencies etc). That comes in at $49/mo, but it's likely more than you'll ever need if you're just running the 1 site.
So in short, realistically I would say the cost of OptinMonster is $29/mo – because Pro is definitely going to be the package you want (if you're truly serious about increasing conversions!).
The OptinMonster Alternatives
The truth is there are an awful lot of OptinMonster alternatives out there & I would be lying if I said I'd tried them all first hand… In fact, I think anyone would be because there's simply so many… But what I can tell you is that I sure as heck tried a lot of most of the "big name" alternatives at least…
And in my personal opinion, none of them come close to OptinMonster in terms of value & flexibility. Sure, some provide more stuff – but those that do cost a LOT more… And similarly, there are actually some free alternatives, but do they provide anywhere near the functionality that OptinMonster does? Heck no!
So, in my opinion, OptinMonster is a happy medium of cost & functionality – and for everything I've ever needed to do in terms of opt-in stuff, OptinMonster has given me the ability to do it (therefore no complaints at all).
Though there was once a time when OptinMonster didn't provide the ability to create MonsterLinks, and so I was having to run both LeadPages & OptinMonster together (hence my Leadpages VS OptinMonster post)… But now OptinMonster DO enable you to create MonsterLinks, so as a result, I've since cancelled LeadPages because I no longer need it.
But one of the other alternatives I tried as I've already mentioned several times throughout this review was Thrive Leads… And I'm not gonna lie I had pretty high hopes about Thrive Leads & assumed that it may lead to me cancelling OptinMonster altogether after all these years… But oh how wrong I was.
For me personally, Thrive Leads absolutely sucked – and it turned out to be one of the biggest wastes of money I've ever made. I know that sounds harsh, and I'm sure there are some people that think the world of Thrive Leads (in fact I personally know a few) but no, for me it was absolutely terrible.
Firstly, in case you don't know, Thrive Leads is a self-hosted option… Meaning it integrates with a WordPress installation. So depending on what theme you're running you can run into big problems… Which is exactly what happened with me… And did I want to change my theme just so I could get a few opt-ins working? Heck no… It should be the other way around.
So yeah, I had BIG problems with Thrive Leads working with my theme… And I also had big problems with the editor – for some reason, it would just keep glitching out me almost every time I used it.
Anyway, I persisted (due to stubbornness of spending money on it) and I managed to create a few landing pages with it. But Thrive (when I used it) was pretty heavy… Meaning those pages were slowwwwww & as a result conversion sucked.
Then, to top it all off – I found that you couldn't create both a delayed opt-in form & an exit-intent on the same page. Instead, you had to pick either one or the other… Like whattttt?? Come on!
Now I don't know if any of that has been updated since I last used it (which was last year) but to be honest after all the problems I had with it I just totally lost interest with it & stuck with OptinMonster… And now that they've upgraded their builder tool I'm really glad I did, because for me personally OptinMonster (touch wood) has been much more reliable over the years… And much faster too.
So in terms of OptinMonster alternatives – stop looking for them, choose OptinMonster – you won't regret it.
Is OptinMonster Worth It?
OptinMonster is freaking awesome & if you're serious about increasing your website's conversions (which you totally should be) then yes, it is 100% worth it for sure there's absolutely no doubt in my mind about that.
I mean sure there are plenty of alternatives which might "do the job" or "get you somewhere close" but the truth is that when it comes to conversions you can't just fool around with this sort of stuff… After all, it's the lifeblood of your business.
OptinMonster is easy, fast, and powerful… Plus it is excellent value for money. I mean I appreciate if you're just starting out then the cost (or any cost) can seem daunting… But as I mentioned earlier in this review, OptinMonster alone has given me one of the best ROI's of any tool I've ever purchased.
The stuff just flat-out works, the templates are proven to convert, and the "trigger" technology such as scroll-trigger, time-delay, exit-intent is by the far the best out of all of the alternatives that I've tried.
And stupidly I just realized all the way down here that I didn't even mention tracking (like how could I forget that??), but yeah – OptinMonster's tracking is out of this world too. Straight up easy Google Analytics implementation… Job done… And on every plan from Plus up you get A/B testing as standard too.
So yes, OptinMonster is worth it – and to answer the big question at the very start of this review, is OptinMonster still the best lead generation tool (even out of all the alternatives) in my opinion the answer to that is yes as well.
As far as I'm concerned OptinMonster is 100% the best value for money lead generation tool there is on the market today & I would highly recommend it to anybody who owns a website or blog & collects leads. Big thumbs up from me. 👍
So hopefully if you were considering trying it out you found this review useful, but of course, if you do happen to still have any further questions or comments about it then feel free to leave them below & I'll get back to you as soon as I can.