You might have heard about this guy already, Brendan Mace, the founder of the Project Profit Academy. There are so many Project Profit Academy reviews on the internet and arguably many of them are unreliable as well because an army of their outsourced reviewers are trying to trick the readers.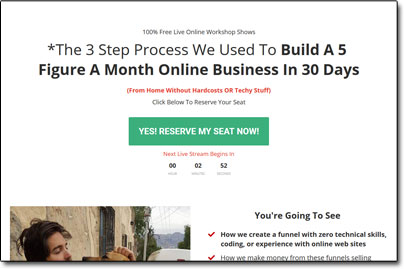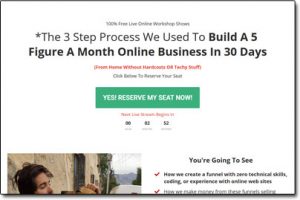 The problem with the existing Project Profit Academy scam reviews is that they are trying to promote this program just to earn commissions & not giving the full truth. They insert affiliate links hoping that their readers will click and join the program.
In this Project Profit Academy review, you will read what is really true about this platform and we will talk about the important facts you need to consider before paying them anything. We will tell you how exactly Project Profit Academy works and what actually this system is.
What Is Project Profit Academy?   |   How Does Project Profit Academy Work?   |   Is Project Profit Academy a Scam?   |   A Better Alternative
What Is Project Profit Academy?
Project Profit Academy is the product of Brendan Mace's mind. Basically it a platform based on affiliate promotions. They offer commissions against successful affiliate sales you manage to make.
Brendan claims that you could become the next Brendon Mace with the help of this training program. But the reality is much different. This program is actually designed to make Brendan even richer. Yes, you earn commissions but Brendan actually owns the product so he will always be 1 step ahead of you.
I think this disclaimer found on their website says it all:

The price of the Project Profit Academy is also through the roof too. You can either buy via a one-time fee that is $1,997 or a couple of partial payments, $1,100 each. At such high prices, even if you are only looking to earn commissions, it is a very tough undertaking. It isn't easy to convince anybody to buy an online training course at such a high cost.
On the other hand, paid reviewers or promoters argue that you don't need to make hundreds of sales. You earn $1,000 for each successful subscription. And this is what pushes the cost of the program to an extent where everyone has to think a dozen times before buying it.
Another problem is that the competition is high. Suppose you bought this program and now look forward to promoting it, you will have to do something extraordinary to achieve high ranking on search engines.
Perhaps, the only way is to go for paid advertisements. And this fact becomes obvious when you get to know that even the top-performing promoters of the Project Profit Academy are mainly generating sales via paid ads but they also have written various fake reviews praising this program and they appear on top of Google results.
The content of this affiliate training program, in my opinion, is not good enough to justify its pricing. This simply is a system that smilingly forces you to promote this platform and forget about anything else.
In my opinion, it would be a much better idea to just join a proven, legitimate platform like Commission Academy which has been around for decades & produced hundreds if not thousands of stories of huge success over the years.
But in case you're dead set on Project Profit Academy let's take a closer look into how it actually works…
How Does Project Profit Academy Work?
Brendan himself is basically the most successful Warrior Plus marketer. The inspiration was already there and it helped him to come up with his own flagship training program, the Project Profit Academy. He claims that this program is a ready-made profit funnel for anybody interested in earning affiliate commissions.
This program is based on the autoresponder tool which keeps sending one email per day to a mailing list. But the high price is the real problem. Selling a digital product at such a price which doesn't even have a refund policy, seems virtually impossible.
One thing is impressive about Project Profit Academy. If you struggle to generate $24,000 in the first 90 days, Brendan with the help of his team will steady the ship for you. But this is what they claim! The truth is, they pretend to help you but if it doesn't work, they simply back off.
There is no guarantee that Brendan or his team is going to generate sales for you. And why should they? You want to earn commissions and if you can't sell and look for help, why would Brendan's team help you? Otherwise, everybody could just do nothing, and let his team do the work.
Brendan has been a successful digital marketer and he has made millions over the years but it doesn't mean that he has a magic stick that fixes flaws of your marketing strategy.
In addition, you don't need to buy such expensive offers if you already are good at digital marketing If you already know the tricks, you can sell something you own. You could create your own digital product, for instance, a blogging course, SEO course, Facebook and YouTube ad training course, or even a simple freelance content writing course. After all, at the end of the day, it is all about your marketing skills. Why not use your skills to work like a boss?
Is Project Profit Academy a Scam?
Project Profit Academy is not a scam but it demands too much. The fee is high, there is no money-back policy, and there is no guarantee of success. To generate the anticipated results, this thing, in particular, requires outstanding marketing strategies, and highly well-targeted ad campaigns. It demands more investment. The decision is yours!
As far as I'm concerned there are much better, cheaper alternatives available – and even alternatives that you can get started with for free, such as Commission Academy.
The training over at Commission Academy can help you yield the same (if not better) results without a doubt & the other added benefit is that at Wealthy Affiliate you also get the tools you need to see success too. Those are missing from the Project Profit Academy.
Instead, if you decided you wish to pursue the methods taught by Brendan in the Project Profit Academy training you would have to purchase additional third-party tools (such as web hosting, landing page creators etc) which could quite easily set you back hundreds of dollars more per month.
And again all that without any guarantee of profit…
So like I say I think the better option, in my opinion, would be to join Commission Academy. It has been around for much longer, gives you access to all of the tools you need, including training & a community… Plus it is backed by proven stories of success.
Or alternatively, there are also these other great ways to make money online.
But for what you get inside of the Project Profit Academy program it is just too expensive in my opinion & I believe it has been priced primarily with affiliate commissions in mind rather than priced on the actual value it provides. A shame really.
Regardless though I hope you found my review of Project Profit Academy here useful & hopefully it gives you a good insight into what you can actually expect from the program & whether or not it is truly worth it. Feel free to leave any further questions or comments below if you happen to have any. 🙂
A Better Alternative
The sad truth is that unfortunately most of the programs promising to help you make money online are scams. I can say that confidently after exposing over 500+ of them here on this blog.
But the good news is that even though most of them are indeed scams, there are actually some very good programs in amongst them - some programs that can truly help you to earn money.
And out of all of the legit programs I've seen, the one I would recommend the most to anybody looking to get started online is Commission Academy. In my own opinion, that's the best place to start.
At Commission Academy, you'll be provided with everything you need (including the training & tools) to begin earning real money by promoting products or services for companies like Amazon online.
The best part is that there's literally no limit on the amount you can earn with it & the process is pretty simple which means that it's absolutely perfect for people that don't have much experience.
Some wealthy affiliates even earn as much as 5-figures per month... Or more!

I mean don't get me wrong, that kind of money won't just fall into your lap without doing any work... But the harder you're willing to work at it, the more you stand to earn with it.
So if you're looking to get started but don't know which route you should go down or which program you should join (and don't want to waste money on bogus things that don't actually work), then I'd highly recommend checking out Commission Academy first. You can learn more about it here.