Lately, I've been taking a closer look at the various different network marketing opportunities & today it's the turn of Pure Haven Essentials.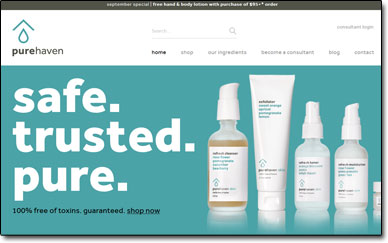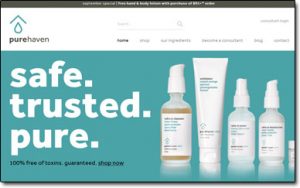 In this Pure Haven Essentials review, I'm going to sharing everything you need to know about the company, if it's actually legit & whether or not it's going to be worth your while joining their business opportunity.
And it's worth pointing out that I'm not an affiliate – so if you've come across Pure Haven Essentials & have been thinking about getting involved you can rest assured you've landed in exactly the right place to find out everything you need to know.
What Is Pure Haven Essentials?   |   What Are The Products?   |   The Compensation Plan   |   The Scam Rumours   |   Should You Join?   |   A Better Alternative
What Is Pure Haven Essentials?
Pure Haven Essentials is a health & wellness network marketing company that was officially launched in February of 2015 by a lady named Ava Anderson, who was formerly the CEO of a company named Ava Anderson Non-Toxic.
As the name suggests Ava's mission is to provide consumers with health & wellness products that are free of toxins, however, it's a little ironic that her previous company Ava Anderson Non-Toxic decided to close because of claims their products were in fact toxic.
Ava went on to blame the manufacturers of her products at the time stating that she was unaware about the issue, but regardless it looks like she has made the decision to relaunch the company under a different name to escape the negative rumours surrounding her past venture.
She's also decided to keep her name away from this particular venture too – as if you take a look on the Pure Haven Essentials website you won't see any mention of Ava Anderson… Probably a good thing if you're considering getting involved with the opportunity I guess.
So have things changed & are we now looking at a potentially good opportunity? Let's take a look…
What Are The Products?
Pure Haven offers an entirely organic product line & as mentioned above each of their products is claimed to be entirely free of toxins. Their products mainly consist of things like essentials for your skin, hair, body, baby & even pets… Along with some makeup products & pumps/sprayers.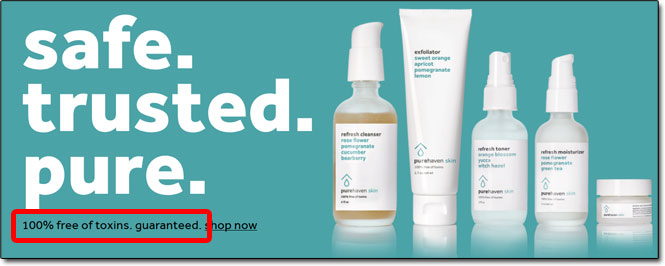 It's fair to say that these types of products are generally the most common ones you'll come across when it comes to network marketing opportunities & there are lots of other MLM's producing similar things. I actually just recently reviewed a similar company named Motives Cosmetics.
Whilst their products do seem to have several positive reviews online, the problem I see is that in my opinion, they are massively overpriced though this is not unusual for a network marketing company.
As an example of cost, an "essential oil bundle" consisting of 4 different oils will set you back a whopping $64.95. They do sell quite a few lower priced items too but the general theme is that they definitely seem to be higher priced than they are if purchased through their non-MLM competitors.
The good thing though is that their products are able to be purchased directly through the website without being forced to go through a distributor. This is always a big positive for me because it shows the company really cares about retail sales too as opposed to focusing everything onto the business opportunity which could potentially lean it towards becoming a pyramid scheme.
The Pure Haven Essential's Compensation Plan
Being a network marketing company Pure Haven Essential gives you the ability to join as a consultant & earn extra money by selling the products yourself through home parties.
You also have the opportunity to then recruit other people into the scheme under you & you'll be able to earn additional commissions if they too then go on to sell products through their own parties.
To get started with the opportunity the first thing you'll have to do is purchase the Pure Haven Essential Business Kit which will set you back $99. The kit comes with everything you need (including a few products) to get you started with your business & it is a mandatory requirement that you purchase this kit to join as a consultant.
Once you've got the kit you'll be able to host your own home parties & you'll earn up to 50% commissions on any of the sales you personally make. The amount of commission you'll be paid depends on the sale volume that you generate as shown below:
Sell less than $1,000 in a month – 30% commissions
Sell over $1,000 in a month – 35% commissions
Sell over $2,000 in a month – 40% commissions
Sell lover $3,000 in a month – 45% commissions
Sell over $4,000 in a month – 50% commissions
It's worth mentioning though that to qualify to earn anything at all through the compensation plan you must sell at least $300 of product per month. If you don't hit that target you won't earn any money.
You'll also be able to earn commissions of between 2% & 7% on sales made by your downline (the people you recruit into the business who go on to sell the products themselves). The commission amount & the number of tiers you can earn on will depend on your rank within the company which is determined by your personal sales volume.
Are The Pure Haven Essential Scam Rumours True?
I've noticed in a lot of the other reviews that people have come out & said Pure Haven Essential is a scam company, but that's usually because they're simply trying to slate the company to get you to join their opportunity instead.
It's kinda hard to know who to trust these days!
So whilst I personally don't believe the Pure Haven Essential scam rumours are true, there are a few reasons why I feel you might not want to join this particular company & I'll share them in my conclusion in a moment.
But one thing you probably want to be made aware of is that only very few people who join Pure Haven Essentials actually manage to find success. It seems to me that the only people finding true success with the company are the experienced marketers who got in early & have been able to build massive downlines.
These days it seems like the business has dried up a little bit & if you're a newcomer then you will probably struggle getting started with the opportunity, in fact, you might not even make any money at all.
You Might Also Like:
Should You Join Pure Haven Essential? My Verdict
To be honest whilst I don't believe Pure Haven Essentials is a scam I don't like recommending network marketing companies to people because very few that join them ever manage to find success. In my opinion, there are much better (and free) ways to make money, like this one for example.
Plus I feel there are some big problems with Pure Haven Essential – such as the fact that it's been launched by Ava Anderson who was previously accused of having toxic ingredients in her supposedly "non-toxic" products. I feel like people will find it hard to trust Pure Haven & as a consultant it could be therefore hard to make sales.
Then there's the price of the products – I personally wouldn't purchase them because I feel like they're overpriced, and if I wouldn't buy them myself then I wouldn't expect other people too either… Not without a hard sell at least.
So those are the reasons why I won't be recommending Pure Haven Essential to you today, but just to reiterate I don't believe it's a scam. In fact, as far as network marketing companies go I happen to think it's pretty legit.
A Better Alternative
The sad truth is that unfortunately most of the programs promising to help you make money online are scams. I can say that confidently after exposing over 500+ of them here on this blog.
But the good news is that even though most of them are indeed scams, there are actually some very good programs in amongst them - some programs that can truly help you to earn money.
And out of all of the legit programs I've seen, the one I would recommend the most to anybody looking to get started online is Commission Academy. In my own opinion, that's the best place to start.
At Commission Academy, you'll be provided with everything you need (including the training & tools) to begin earning real money by promoting products or services for companies like Amazon online.
The best part is that there's literally no limit on the amount you can earn with it & the process is pretty simple which means that it's absolutely perfect for people that don't have much experience.
Some wealthy affiliates even earn as much as 5-figures per month... Or more!

I mean don't get me wrong, that kind of money won't just fall into your lap without doing any work... But the harder you're willing to work at it, the more you stand to earn with it.
So if you're looking to get started but don't know which route you should go down or which program you should join (and don't want to waste money on bogus things that don't actually work), then I'd highly recommend checking out Commission Academy first. You can learn more about it here.