Jamie Lewis has just launched a new program named Repeat Payments & he claims that through it you'll get access to some software which will allegedly provide you with what he calls "orphaned buyer traffic".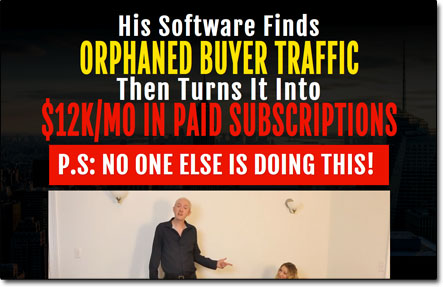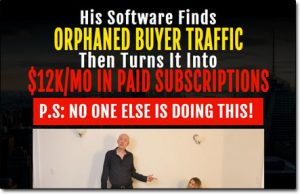 You're led to believe that you can then use this "orphaned buyer traffic" in order to earn recurring affiliate commissions & he basically portrays the idea that you can do all of this almost on complete autopilot.
So ultimately he's giving you the idea that you can just sign up, use his software & then begin earning repeat payments (hence the name of his program).
But is it really legit? Or is the Repeat Payments software a scam?
Well, I'm really glad that you came here to this Repeat Payments review before you signed up to it because I can immediately tell you that whilst it does kinda work, it's nowhere near as great as it's made out to be.
What Is Repeat Payments?   |   How Does Repeat Payments Work?   |   The Problems   |   Is Repeat Payments a Scam?   |   A Better Alternative
What Exactly Is Repeat Payments?
You've probably already noticed that Jamie Lewis doesn't really go into any specific detail about his Repeat Payments software on the sales page & instead he just pushes you towards signing up to find out more.
But you don't want to hand over money when you don't know exactly how something works, right?
All Jamie mentions is that it has something to do with what he calls "orphaned buyer traffic", but you're probably thinking what the heck is orphaned buyer traffic and how can it make you money?

Well basically after taking a closer look into the program I found out that when he is saying orphaned buyer traffic what he is talking about is traffic (visitors) that are still trying to access domain names which have expired.
So the Repeat Payments program is all about purchasing expired domain names in the hope that there is still traffic (visitors) attempting to access them which you can then send to affiliate offers for commissions.
In theory, it sounds like a fairly good idea & it sounds like something that may work, however, in reality, I can immediately tell you that it's nowhere near as great as it seems.
In fact, the truth is that you'll probably just end up spending more money through the Repeats Program than you ever manage to make back (especially since the program actually costs over $900 in total).
Instead, it'll likely just be Jamie Lewis himself who ends up earning from the program & he'll simply be doing that at your expense.
You'll see why as I explain in greater detail below exactly how it all really works…
How Does The Repeat Payments Software Work?
So as I touched on the previous section of this review, the idea is that you'll be finding expired domain names which still have traffic potential & you'll then be using those domains to redirect traffic through to affiliate offers.
Jamie specifically states that you should promote affiliate offers with recurring commissions too & that's why he's named his software Repeat Payments because he claims that's what it'll provide you with.
And I'll admit that yes, in theory, the method could seem like it might potentially work…
For example, let's say somebody used to own a website & it was really popular & was shared all over social media, but then for whatever reason, they gave up on it & let the domain expire… People could still be trying to click through to that website.
If the domain was expired they'd just be taken to a blank page or a promotion from the domain registrar, but the idea is that you can then buy the domain & redirect them through to an offer of your choice.
In Reality, There Are Some Problems…
The first problem is that traffic to expired sites drys up VERY quickly, regardless of how popular the website is… And I can tell you that from first-hand experience after having several hugely popular sites which I later closed.
The second problem is that it would be very difficult to find expired domains which have both traffic still arriving at them AND traffic that is actually targeted to the offer you want to promote.
Jamie's software claims it can help you with that, but in reality not only are those domains few & far between, but they're also very expensive.
You see domain registrars aren't stupid – they price the domains they own based on popularity etc… So if a domain is still getting traffic coming to it even after expiring it is likely going to be pretty darn expensive (potentially thousands of dollars).
The third problem is that most affiliate networks or companies with affiliate programs require you to have a properly established website in order to work with them… It's not often they all just redirected domains.
And lastly, as I mentioned a little earlier in this review the Repeat Payments program is actually pretty darn expensive because after paying the initial fee of $19.97 you'll be left to discover that there's around $900 in additional upsells inside.
Unless you purchase the upsells you'll be limited on what you can do with the software because it comes with restrictions… So the $19.97 basically only provides you with access to a "taster" of the software.
Which brings me onto…
My Verdict – Is Repeat Payments a Scam?
Well, it's not a scam as such since it is actually based around a legitimate method which could potentially see you earning money, however, in my opinion, it is extremely misleading & I won't be recommending it.
For example, you're told that the software costs just $19.97 but in reality that just gets you "taster access" and instead if you want to unlock the restrictions of it & get access to all of the other content you'll need to pay around $900.
Plus even if you pay the $900 there is still no guarantee that you'll actually earn any money & to stand any chance of earning you'll still need to spend even more cash on a bunch of expired domains.
It's one of those things which boils down to "if it was that easy, everybody would be doing it"… And they're not – because it's NOT as easy as Jamie Lewis claims that it is in his sales video for the Repeat Payments system.
Instead, if you truly want to earn good money with affiliate marketing you should stop looking for shortcuts or tricks & instead just stick with a proven program like Commission Academy which will show you how to properly earn.
Or alternatively, you could try another method of earning altogether.
But whatever you decide to do I just hope that my review of the Repeat Payments software here has given you a good idea of what you can expect from the program & I also hope that it has helped you to save some cash.
If you still have any further questions or comments though then, of course, don't hesitate to leave them below. 🙂
A Better Alternative
The sad truth is that unfortunately most of the programs promising to help you make money online are scams. I can say that confidently after exposing over 500+ of them here on this blog.
But the good news is that even though most of them are indeed scams, there are actually some very good programs in amongst them - some programs that can truly help you to earn money.
And out of all of the legit programs I've seen, the one I would recommend the most to anybody looking to get started online is Commission Academy. In my own opinion, that's the best place to start.
At Commission Academy, you'll be provided with everything you need (including the training & tools) to begin earning real money by promoting products or services for companies like Amazon online.
The best part is that there's literally no limit on the amount you can earn with it & the process is pretty simple which means that it's absolutely perfect for people that don't have much experience.
Some wealthy affiliates even earn as much as 5-figures per month... Or more!

I mean don't get me wrong, that kind of money won't just fall into your lap without doing any work... But the harder you're willing to work at it, the more you stand to earn with it.
So if you're looking to get started but don't know which route you should go down or which program you should join (and don't want to waste money on bogus things that don't actually work), then I'd highly recommend checking out Commission Academy first. You can learn more about it here.