Simple WiFi Profits is the name of a newly launched affiliate marketing training program which has been put together by two online marketers named Chris & Andrew.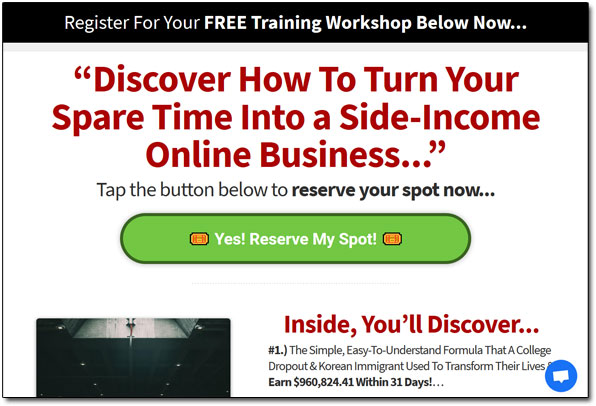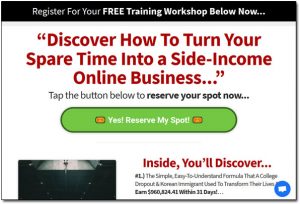 The program promises to provide you with everything you need to "turn your spare time into a side-income online business" & you're led to believe that other members are already earning hundreds of thousands of dollars…
But is Simple WiFi Profits legit? Or is it just yet another scam that should be avoided?
Well, the good news is that you've landed in exactly the right place to find out because in this Simple WiFi Profits review I'll be uncovering everything you need to know.
That includes how it all works, how much it costs & what you can expect to get if you were to actually go ahead & sign up.
What Is Simple WiFi Profits?   |   How Does Simple WiFi Profits Work?   |   What Are The Costs?   |   Is Simple WiFi Profits a Scam?   |   The Bottom Line   |   A Better Alternative
What Is Simple WiFi Profits?
Simple WiFi Profits is essentially a step-by-step (or "chapter by chapter") training program that teaches people how to make money online by using a combination of affiliate marketing & Facebook advertising.
Now, in case you don't already know – affiliate marketing simply involves you promoting products or services on behalf of third-party companies & getting paid commissions in return for any sales you happen to generate.
It's a pretty straight forward method for making money online & it's certainly very powerful which is why it's always held the #1 spot on my list of top ways to make money online.
However, whether or not you find success with affiliate marketing depends primarily on 2 things.
The first thing it depends on is yourself – because in order to stand any chance of success with affiliate marketing you must be prepared to learn & put in some serious work.
But on top of that, it also depends on the quality of the training material that you have access to. If you have great training, then you are obviously going to be much more likely to succeed.
Up until now, I've always recommended Commission Academy as my #1 place to get started with affiliate marketing… But could Simple WiFi Profits provide better & quicker results?
The creators, Chris & Andrew certainly boast that it can, but given the fact that I've exposed over 500+ scams right here on this blog, it's quite clear that not all claims can be trusted.
So in order to find out if it can really help you to make lots of money quickly & easily like it claims it can let's take a closer look into exactly how it works & what you actually get in return for your cash.
You Might Also Like:
How Does Simple WiFi Profits Work?
Ultimately, the Simple WiFi Profits program is designed to enable you to "copy" Chris & Andrew's success in promoting weight loss products as an affiliate, or at least that's what they claim… But that's typically a red flag.
You see, as mentioned in the previous section of this Simple WiFi Profits review, affiliate marketing takes real, hard work – there are no two ways about it & certainly no "shortcuts".
So whenever I see people claiming that you can just "copy" their success & begin making lots of money really quickly & easily, I instantly begin suspecting the program of being a scam.
In this particular instance, thankfully I can tell you that the program isn't a scam (it actually provides really good training), but I do have to stress that the sales pitch is extremely hyped-up.
When the guys say that you can "copy" their success, what they simply mean is that you'll be given access to the same sales pages that they used & same adverts to place on Facebook.
But this raises another concern…
The material that you'll be given access to is the exact same material that every other member of the program will be given access to as well.
So how will your ads stand out if everybody is using the exact same ones?
In short, the answer is that they won't.
But anyway, those are my immediate concerns that I wanted to raise. Alongside that "done-for-you" material they also provide you with access to 7 chapters of training which is laid out as follows: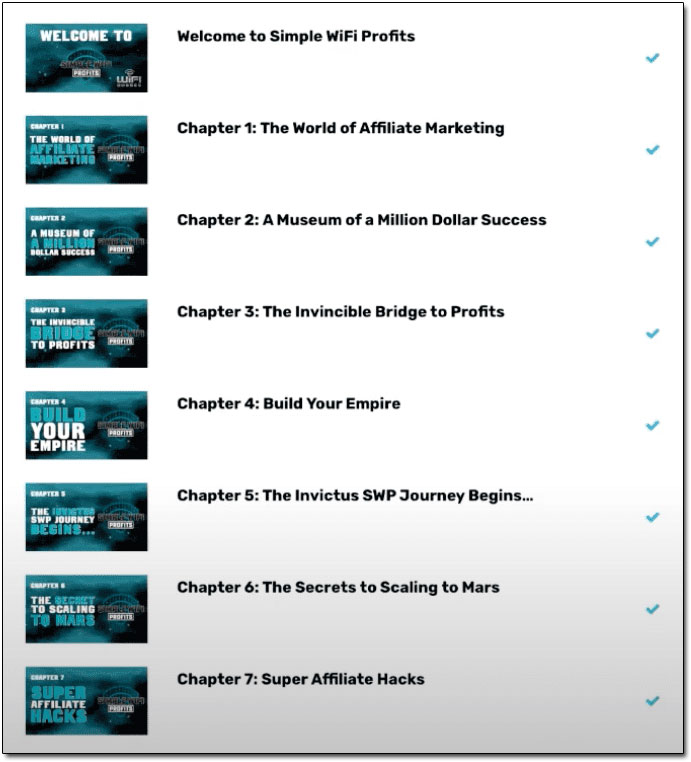 An explanation of what exactly each chapter entails is listed below;
Chapter 1
The first chapter primarily serves as a general introduction to affiliate marketing, explaining what it is, how it works & how you can find products to promote as an affiliate.
It covers similar things to what I covered in my own free guide here, but it also goes into talking about specific affiliate networks & explaining how you can determine a good network from a bad one.
Hint: One of the best places to find products to promote as an affiliate is Commission Academy's affiliate program finder. One single search there searches for products across several networks at once.
Chapter 2
In this chapter, you'll begin to learn the actual process of earning through something known as a "funnel". The funnel involves warming up potential prospects, capturing email addresses, promoting products & then following up with them if they don't happen to purchase.
Chapter 3
Chapter 3 is where you take what you learned in chapter 2 & begin putting it into action. You'll begin creating your pages to promote & the guys will show you how to create a good "flow" in order to maximize leads & sales.
You'll also learn how to set up your own website, which is something that many other training programs fail to touch on. Realistically, having your own website is vital for seeing success online.
Chapter 4
It's in this chapter that you'll move on to learning how to actually advertise your funnel & drive traffic (visitors) to it by placing advertisements on Facebook.
You'll learn how Facebook ads work, how to set up your ads, how to run ads cost-effectively & how to scale your ads if you manage to create a profitable campaign.
Chapter 5
Chapter 5 pretty much involves putting what you learned in chapter 4 into action. You'll be walked through the Facebook ads process again, only this time you'll be creating your very own ad.
Chapter 6
This chapter is all about finding narrowing down your ads to find the ones that are performing best & then figuring out how you can scale those specific ads by using techniques such as retargeting.
Chapter 7
Chapter 7, the final chapter of the Simple WiFi Profits training, basically just acts as a recap of the other 6 chapters & provides some extra minor additional tips & tricks.
What Are The Costs?
The Simple WiFi Profits training is high quality & well put together, there's no doubt about it – but when I came across the actual costs, I nearly spat out my coffee onto my keyboard. 😳
The reason for that is because it costs a whopping $1,497, or $577 per month if paid in 3 monthly instalments… And that's literally just for the training. It doesn't even include any of the tools or ads.
When you factor in the tools that you'll need to purchase on top of the training, as well as the cost of running the advertisements, it'll cost around an additional $150 per week… So that's an additional $600 per month & there's still absolutely no guarantee that you'll actually manage to find a profitable campaign & make any money.
Crazy!
Especially when you compare it against a program like Commission Academy which provides more training, access to a community, all of the required tools & no requirement to spend on advertising, all for just $49/mo.
I think there's a clear winner.
I mean sure, the training inside of Simple WiFi Profits may indeed be good, but as far as I'm concerned there's simply no way that it can justify its whopping price tag of $1,497.
No wonder the guys behind it, Chris  & Andrew, are both rich. They'll be laughing all the way to the bank.
Is Simple WiFi Profits a Scam?
It's not a scam, but at the same time, I am certainly not going to be recommending it because I strongly believe that the majority of people buying into it will just end up finding themselves spending more than they ever actually manage to make back.
As far as I'm concerned the costs are just WAY too high, and it's a shame really because the guys behind it have actually put together some pretty good training. At a lower price (<$100) it could have been a decent purchase.
But as it is, there's just no way I can recommend it because there are just much more "sensible" alternatives out there like Commission Academy that ultimately gives you access to more stuff, for less money.
Once again, however, I'll make it absolutely clear that it's not a scam. If you do hand over your cash & buy into it you do indeed get provided with actual training & you could indeed make money as a result, but there's no guarantee.
In short, t's not a scam, it's just an expensive risk.
The Bottom Line – Is Simple WiFi Profits Worth It?
In my opinion, no… And it's a shame to have to come to that conclusion really but even though the training is good, there's just no way I can recommend such an expensive program.
It's blatantly overpriced, there's no doubt about it.
I mean the reality here is that if you could really be bothered, you can find all of the information elsewhere online for free. You're just paying an extortionate premium for the 2 guys to lay the information out in a step-by-step format.
So if you really want to make money with affiliate marketing, my advice to you would be to either just leverage free information which is easily found via Google or alternatively you could leverage a much cheaper step-by-step platform like Commission Academy instead.
And if you're totally new to affiliate marketing, you can even check out my very own free guide right here.
But whatever you decide to do I just hope that my honest Simple WiFi Profits review here has given you a good insight into how the program really works & what you can expect from it.
If you happen to have any further questions then don't hesitate to leave them below. 🙂
A Better Alternative
The sad truth is that unfortunately most of the programs promising to help you make money online are scams. I can say that confidently after exposing over 500+ of them here on this blog.
But the good news is that even though most of them are indeed scams, there are actually some very good programs in amongst them - some programs that can truly help you to earn money.
And out of all of the legit programs I've seen, the one I would recommend the most to anybody looking to get started online is Commission Academy. In my own opinion, that's the best place to start.
At Commission Academy, you'll be provided with everything you need (including the training & tools) to begin earning real money by promoting products or services for companies like Amazon online.
The best part is that there's literally no limit on the amount you can earn with it & the process is pretty simple which means that it's absolutely perfect for people that don't have much experience.
Some wealthy affiliates even earn as much as 5-figures per month... Or more!

I mean don't get me wrong, that kind of money won't just fall into your lap without doing any work... But the harder you're willing to work at it, the more you stand to earn with it.
So if you're looking to get started but don't know which route you should go down or which program you should join (and don't want to waste money on bogus things that don't actually work), then I'd highly recommend checking out Commission Academy first. You can learn more about it here.