Starting a business is no easy task. Between developing a product or service, building a website, and managing marketing campaigns, it's a wonder how any entrepreneur has time to sleep.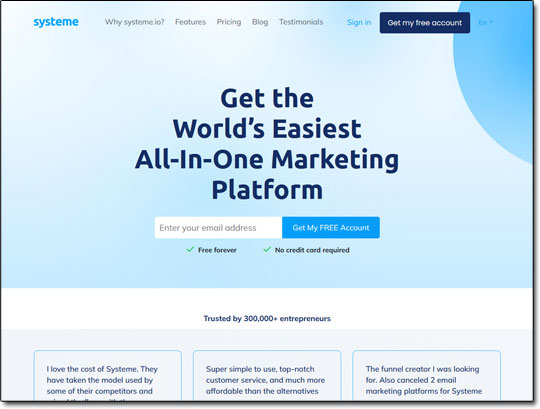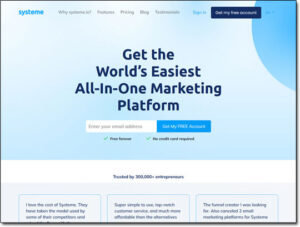 When it comes to finding a platform to help you streamline your online business, you want to make sure you choose a service that actually delivers on its promises. With so many options available, it can be daunting to make a decision.
That's where Systeme.io comes in—an all-in-one platform designed to streamline business operations and make life easier for the modern entrepreneur.
But is this all-in-one platform worth it? In this review, we'll be taking a closer look at Systeme.io, examining its features, benefits, and drawbacks.
So, if you're an ambitious entrepreneur looking to simplify your workload, hold onto your seats; this could be a game-changer!
What Is Systeme.io?
Systeme.io is an all-in-one digital marketing platform designed to help entrepreneurs and small business owners build and grow their online businesses.
Aurelien Amacker, a well-known online marketer and businessman who has been active in the industry for more than a decade, founded this platform.
It offers a wide range of features, including website builders, email marketing tools, membership sites, sales funnels, webinars, affiliate marketing, and much more.
When the company's founder realized he couldn't grow his existing online coaching business, he created Systeme.io. Because he needed to use so many software programs to run his business, he was constantly behind. Systeme.io was formed from his desire to create a centralized space with ready access to all the tools he required.
At the moment, eight distinct languages are currently supported, which include: French, English, Spanish, Portuguese, Russian, Dutch, Italian, and German.
Overall, Systeme.io is an excellent platform for entrepreneurs and small business owners looking to establish a strong online presence.
With its all-in-one features and intuitive interface, it provides users with an affordable and comprehensive solution that is easy to use and effective in achieving their business goals.
Who Is Systeme.io Best For?
Systeme.io is a comprehensive, all-in-one solution designed for entrepreneurs, small business owners, and digital marketers who are looking for an advanced and user-friendly platform.
Aurelien Amacker, the founder of Systeme.io, recognized the need for a simplified but powerful marketing automation platform and created Systeme.io to help business owners streamline their marketing efforts and increase their revenue.
So who is Systeme.io best for? The answer is simple: Systeme.io is perfect for anyone who wants to launch an online business. Whether you are just starting out or are already established in online business, Systeme.io has a lot to offer.
The platform is particularly beneficial for entrepreneurs and small business owners who don't have a lot of technical expertise or resources to create high-quality sales funnels and marketing campaigns. With Systeme.io's intuitive interface, anyone can build professional-looking landing pages, sales pages, and checkout pages with ease.
Moreover, the platform comes with a range of automation features that allow users to save time and effort on repetitive tasks. For example, systeme.io enables users to automate email campaigns, lead generation, and even affiliate marketing.
This feature means that entrepreneurs and small business owners can focus on building relationships with their customers and growing their businesses rather than spending hours manually sending out emails to subscribers.
In addition, Systeme.io is an excellent solution for digital marketers who are looking for a one-stop shop to manage their online business. The platform combines email marketing, funnel building, and affiliate management, which means marketers can manage all of their campaigns in one place. It also offers advanced features like A/B testing and behavioural analytics, making it easier to optimize campaigns for better conversions.
Finally, Systeme.io is an ideal solution for coaches, course creators, and other sellers of information products. The platform comes with a range of features optimized for these businesses, including membership sites, course creation tools, and even a built-in webinar platform. These features make it easy to sell and deliver online courses and coaching programs, all from a single platform.
Systeme.io is a robust and user-friendly platform that offers a wide range of features and benefits to entrepreneurs, small business owners, digital marketers, and information product sellers alike.
If you are looking to build and grow your online business without the hassle and complexity of managing multiple tools and platforms, Systeme.io is the perfect solution for you.
Systeme.io Features
One of the standout features of Systeme.io is its versatility, as it offers an impressive range of tools to support various aspects of your business. From email marketing to website building all the way to online course creation, Systeme.io has got you covered.
This comprehensive approach to business software is a major selling point, as it minimizes the need for additional external tools and streamlines operations for businesses of all sizes.
Moving forward in this review, we will delve deeper into each of Systeme.io's features, examining how they can help businesses increase productivity and take their operations to the next level.
But before that, pricing is an important consideration for any business tool. In the next section, we will take a closer look at Systeme.io's pricing options and how they stack up against the competition.
Affiliate Program Management
Analytics and Reporting
Blogging
Business Automation
Contact Management
ECommerce Integrations
Email Marketing
Evergreen Webinars
Drop-Shipping
Sales Funnels
Sell Products
Membership Sites
Online Courses
Payment Processing
Website Builder
Affiliate Program Management
One of the key features of Systeme.io is its affiliate program management. Systeme.io makes it simple to set up an affiliate program to market your product or service and monitor its progress.
This feature allows businesses to create and manage their own affiliate programs, where they can pay their partners a commission for promoting their products or services.
With Systeme.io's affiliate program management, users can easily customize their affiliate program, set commission rates, track affiliate performance, and payout commissions.
There's an integrated affiliate management tool that streamlines the process. It does this by associating subscriber IDs with email addresses. Then, if a subscriber is successful in reselling the goods or service, they will receive a commission.
The first step is to go to the Product/Sales section of your dashboard and click on 'My affiliate program' to set up your first affiliate program.
Then go to the affiliate program settings after clicking the "My affiliate program" option. Setting up your commission rate, minimum payout amount, and linking your PayPal or TransferWise account are all part of the configuration process.
TransferWise and PayPal are used to make the actual cashouts. By modifying the affiliate program parameters, commissions can be paid automatically.
You can use Systeme.io to manage your product's affiliate program efficiently. With just a few clicks, you can customize your affiliate program's structure, commissions, affiliate link management, and more.
It is also possible to customize affiliate commissions for both the first and second tiers of affiliate marketing.
Analytics and Reporting
Systeme.io's analytics and reporting features provide valuable insights into a business's online performance. With Systeme.io's built-in analytics, users can track their website traffic, sales, email open rates, click-through rates, and other important metrics that help businesses understand their audience and optimize their marketing efforts.
The platform offers detailed, real-time reports that make it easy for business owners to identify their successes and shortcomings. The software also provides analytics and useful insights.
Users can monitor vital statistics, including the rate at which their visitors convert and the effectiveness of their email marketing campaigns.
Blogging
Blogging is made easy with Systeme.io. The platform provides users with an easy-to-use blogging tool that allows them to write and publish blog posts directly from their dashboard.
With additional features like SEO optimization, RSS feeds, and post scheduling, users can build a strong online presence and attract more visitors to their website.
A blog is a great way to interact with your readers. You can host your blog on Systeme.io and not have to worry about the technical aspects of it. Its user-friendly design makes it ideal for inexperienced bloggers looking for a streamlined set of features.
You can use a blog to announce the release of a new product or just to expand on the information already available about an existing offering. In addition, a well-written blog can help your marketing efforts succeed.
You can get a free domain name from Systeme.io. A custom domain is an option for your blog but is not required. In just a few simple steps, you can have your own blog up and running.
The platform's pop-up builder, search engine optimization, and image gallery make it easy to design posts that rank well for both keywords and visuals. As an added bonus, systeme.io's drag-and-drop editor makes formatting a breeze.
Business Automation
Systeme.io also provides an efficient business automation tool that enables users to focus on other important aspects of their business while automating repetitive tasks.
Through this feature, users can streamline their workflow, manage their resources, and save time to grow their businesses. This is a crucial part of what makes Systeme.io so powerful.
The software also has automated email marketing sequences that can be triggered. Launching a business online, communicating with customers, collecting leads, managing projects, selling products, and more can all be automated using this platform.
All of Systeme.io's functionalities, from beginning to end, can be automated with its help. With just a few mouse clicks, you can automate tedious tasks like onboarding, list building, and subscription management.
Systeme.io provides a suite of marketing automation features that, among other things, allow you to set your email correspondence on autopilot.
You may monitor client behaviour and tailor membership packages and email promotions based on certain criteria. Systeme.io allows you to automate your whole business process, which can help your company grow without bounds.
Contact Management
The contact management feature of Systeme.io allows users to manage their subscribers, leads, and customers easily. Through this feature, users can segment, tag, and organize their contacts, create email campaigns, and track the performance of their email marketing activities.
If your company serves hundreds or thousands of customers, keeping track of their unique needs can be a daunting task. With Systeme.io, you can centralize all your data pertaining to clients and other interested parties.
This function enables you to keep tabs on your customers, study their buying habits, and predict what they might do next. You may manage your client information with the help of Systeme.io.
Having all of a business's client information in one central location makes for efficient database management. This aids businesses in adjusting their practices and fixing specific problems.
Systeme.io also includes tools for handling leads and contacts. The contacts page is where you can look at your whole list of contacts, upload a CSV file of contacts, or manually add contacts and tags.
When you click on a contact, you may see additional information about them, such as their email address, name, location, tags, and more.
ECommerce Integrations
E-commerce integrations are a key feature of Systeme.io, enabling users to create an online store effortlessly. Systeme.io integrates with various payment gateway providers and shipping carriers, making it easy for users to sell and ship their products worldwide.
Many useful eCommerce tools are already integrated into Systeme.io, allowing you to focus on running your business. Using the funnel's order page templates, you may sell anything from physical goods to subscription services to packaged deals.
With its built-in coupon engine, order management tools, upsells, downsells, and more, the platform allows you to sell any type of good, digital or physical, straight to your customers.
The platform allows for trial periods, recurring payments, and the integration of payment channels such as Stripe and PayPal. Systeme also accepts both one-time payments and recurring subscriptions.
Email Marketing
Email marketing is made easy with Systeme.io's email marketing tool, which allows users to create and send newsletters, promotional emails, and automated campaigns.
Systeme.io recognizes the significance of emails by providing built-in email marketing tools. Even on the free account, you may use their email marketing tool to send an unlimited number of emails to your subscribers.
The email marketing tool on Systeme.io allows you to set up hundreds of email sequences that can be used over the course of several days. In addition, the platform is fully automated; with just a click of a button, you may have emails sent to a targeted group.
This feature also comes with a range of pre-made templates that you can customize to suit your needs, as well as a drag-and-drop email editor that makes it easy to create professional-looking email messages and personalized campaign targeting, which help users increase their open rates and conversions.
It also promotes easy communication with your audience and keeps them engaged with your brand. The Systeme.io email marketing platform facilitates the distribution of customized emails and the acquisition of new newsletter subscribers.
The email editor supports both one-time broadcasts and email libraries for use in automation campaigns. You may streamline your marketing efforts by connecting your Systeme.io email list to your website and sales funnel.
Email addresses gathered across many pages and built-in opt-in forms can be labelled for improved segmentation. The contact management system stores information about subscribers, such as how they signed up, the sales funnel they went through, and any products they've bought.
This is one of the most important functions of a comprehensive marketing system, and it's something every Internet business owner should be on the lookout for.
Evergreen Webinars
With Systeme.io's evergreen webinars feature, users can create and automate webinars that run on autopilot. This feature comes with scheduling, registration pages, replay pages, and other customizable features that make it easy for users to launch a successful webinar campaign.
In terms of marketing, webinars are unparalleled. Users can create timeless webinars with the aid of Systeme.io. Using systeme.io's webinar, you can both inform your target market and attract potential customers.
Webinars like these can serve as effective marketing tools that consistently bring in new customers and business leads. By using webinar funnels, one can increase sales and income. It helps establish credibility, which is essential for any web-based company.
To make a webinar, go to the dashboard's Funnels section and select the "Create" button. After naming your funnel, select the option to "Run an Evergreen Webinar."
Systeme.io manages registration and distribution for the webinars, so you can then decide how you want your webinars to be conducted.
With Systeme.io, you can easily build, and host webinars with only a few clicks, and everything is presented in a simple layout for your convenience. You can also host an unlimited number of webinars while centralizing the registration, assessment, and delivery processes.
Dropshipping
Dropshipping is a type of retail fulfilment in which you, the retailer, do not keep an inventory of the products you offer. It is made accessible with Systeme.io's integrated solution, which lets users manage and fulfil orders with ease.
Dropshipping businesses, like any other online store, need marketing and sales channels that bring in customers and help them make a profit. This is when Systeme.io comes in handy.
This platform is unique in that it facilitates product sales without the need for the seller to manufacture any goods. You collect customer payments and arrange for the original vendor or manufacturer to send the goods straight to the end users.
You can use the site to either sell your own inventory or become a drop-shipper. Even if you don't have a physical product to sell, you can still reach your target market with systeme.io.
Everything necessary to run a successful drop-shipping business is included in Systeme.io. With this feature, you can sell products online without signing up for a separate eCommerce service.
You may also track customers who make a purchase on your platform and then use that data to upsell them on additional products.
Sales Funnels
Another key feature of Systeme.io is its sales funnel builder. This feature allows you to easily create a series of landing pages, upsell pages, and thank-you pages that are designed to guide customers through the sales process.
Once you have an idea of the kind of funnel you want to create, you can start working with a premade template. The next step is to customize the pages as needed, either starting from scratch or selecting one of the many available, pre-made templates.
With drag-and-drop funnel builders, customizable templates, and detailed analytics, users can create funnels that convert and track their performance. You may connect your sales funnels to your email list, membership sites, and payment gateways.
It enables users to create high-converting sales funnels that guide visitors toward a specific conversion goal, such as a purchase, newsletter signup, webinar registration, etc.
The drag-and-drop page builder in sales funnels is great for people who don't know how to code. Using a series of linked pages, you can build a comprehensive sales funnel from start to finish, giving you a bird's-eye view of the site as a whole.
Multiple versions of a page can be created and tested to determine the best approach. Using A/B testing, users can compare two or more opt-in variations.
Membership Sites
Systeme.io also provides an advanced membership site builder that allows you to easily create and manage membership sites for your online business that provide recurring revenue.
The platform's membership site feature provides users with customizable templates, member management and access control, recurring payment integration, and additional features that help users manage and grow their membership-based businesses.
Using Systeme.io, you can make a membership site and provide your users with access to protected material, courses, or services. Payment processing and subscription management utilities are also part of the membership site.
The membership site builder provides a range of pre-made templates that you can customize to suit your needs, or you can create your own custom membership site from scratch. Using the tools provided by Systeme.io, you can whip up a membership site in no time.
The site can be modified from the ground up, or you can use one of the many accessible pre-made templates. The platform handles and automates everything related to membership, including signups, payments, and course access, so all you have to do is construct the membership website.
When a subscriber decides to pause or terminate their service, access is immediately revoked. PayPal, Stripe, and a variety of major credit and debit cards are all viable options for integrating payments.
A completely functional membership site may be created with systeme.io and its drag-and-drop builder in a matter of minutes. The layout of the membership portal is also well thought out and simple to navigate.
Online Courses
One of the most popular features of Systeme.io is its online course creation tool. With this tool, you can easily create engaging and interactive online courses that are perfect for teaching a wide range of topics, including business, marketing, personal development, and more.
Systeme.io makes it simple to launch and monetize online courses, just like any other revenue-generating online venture. Using the Systeme.io course builder, you can create and publish your own online course with ease.
The course creation tool provides a drag-and-drop interface that makes it easy to add videos, images, audio files, quizzes, and other elements to your course content.
Systeme.io is also a popular tool for creating online courses, course bundles, and lectures in educational institutions.
Payment Processing
Systeme.io's payment processing capabilities are also one of its important features. With Systeme.io, users can easily process payments from their customers without having to resort to third-party payment processors.
Systeme.io supports a variety of payment gateways, including PayPal and Stripe, making it easy for entrepreneurs and business owners to securely process payments online.
This feature is ideal for small businesses that want to track their sales closely to determine which products are selling and which are not.
Stripe, PayPal, and five more of the most widely used payment processors are all supported by Systeme.io. Their website allows for safe and simple online payment processing. So now it's less of a hassle to sell anything on your website.
Website Builder
Lastly, Systeme.io is a site builder that simplifies the process of making a website. Using systeme.io's editor, you can have a fully operational website up and running in a matter of minutes.
Systeme.io's website builder feature provides users with an intuitive drag-and-drop editor that lets them create professional-looking websites without any coding or design experience.
You don't need to know how to code to make use of their intuitive drag-and-drop editor. A variety of pre-made layouts are available for use as a starting point for your own unique design.
With customizable templates, responsive designs, and SEO optimization, users can build a solid online presence and attract more visitors to their websites.
When you have a fully functional website, you may add functionality like email marketing, payment gateways, etc. This way, you won't have to navigate between different programs or tabs on your browser to do anything.
Systeme.io Pricing
One important aspect to consider when choosing Systeme.io is its pricing. The platform offers a range of pricing plans that cater to the differing needs and budgets of businesses and entrepreneurs.
The plans are divided into monthly and yearly options, each with its own set of features and benefits. You can test out Systeme.io at no cost forever with the forever free plan and then choose from one of three paid options if you're ready to commit.
Let's take a closer look at the pricing structure of Systeme.io and what each plan offers.
Pricing for Monthly Plans
Free Plan – Free for life
Startup – Starts from $27 per month
Webinar – Starts from $47 per month
Unlimited – Starts from $97 per month
Pricing for Yearly Plans
Free Plan – Free for life
Startup – Starts from $228 per year
Webinar – Starts from $396 per year
Unlimited – Starts from $828 per year
All plans include the following:
Unlimited file storage
Unlimited emailing
Online support
Affiliate programs
No transaction fees
Unlimited membership site members
E-commerce shop tools like A/B testing and upsells
Payment platform integration with PayPal and Stripe
Blogs
Sales funnels
Systeme.io offers four pricing plans for its users: Free Plan, Startup, Webinar, and Unlimited. The free plan requires no fee and lasts a lifetime. However, it has limited features and may not be suitable for businesses that require advanced features.
The free trial provides access to most features, allowing you to test them out risk-free. To sign up for the free trial, no payment information of any kind is required.
For starting out, the free plan is all you need. With the free plan, you may construct three different sales funnels, create a website for a course website, communicate with up to two thousand subscribers via email, maintain a blog, and do much more.
This free package, however, does not include any webinars, free migration, or a personal kickstart consultation with an expert.
If your business is expanding rapidly, you may want to consider the startup plan, which provides storage for up to 5,000 contacts. This plan is perfect for small businesses that have just started out.
The Startup plan starts at $27 per month and offers more advanced features such as sales funnel templates, email marketing automation, and the ability to sell up to five courses. In addition to the free plan's features, the Startup plan grants you access to ten sales funnels, five blogs, and five courses.
Systeme.io's premium offering is the webinar plan. This package offers unlimited access to almost all features. The webinar plan, starting at $47 per month, includes all the features of the startup plan plus additional features like hosting webinars and creating automated webinars.
Webinars are an excellent way to market your products and services and promote brand awareness. This plan is suitable for businesses that have an audience that can be educated on their products and services through webinars.
The Unlimited plan is the most comprehensive plan, starting at $97 per month, and offers unlimited products to sell to unlimited members and unlimited bandwidth. This plan is ideal for established businesses with high traffic and multiple products.
With this plan, businesses have access to all the features of Systeme.io, including the most advanced marketing automation tools. Also, the unlimited plan has some perks that the regular one doesn't. Free migration and personalized kickstart coaching are just two of the unique benefits offered here.
Only the Unlimited plan includes access to evergreen webinars. There is a cap of 10 webinars with the webinar subscription, but there is no cap whatsoever with the unlimited plan.
Besides the monthly pricing plans, Systeme.io also offers yearly plans. The yearly plans offer a discounted rate, making them an excellent option for businesses that want to save money. With the yearly plans, users can save up to 30% compared to the monthly plans.
The limits placed on each plan are the primary differentiator between them. More expensive plans provide you access to a wider range of features, including contact lists, sales funnels, blogs, automation, membership sites, and custom domains.
The only plan that includes "unlimited" features is the Unlimited one. It's also the only one that includes a personalized kickstart coaching session.
Overall, Systeme.io offers a range of pricing plans that cater to small startups and established businesses alike. Choosing the right plan depends on your business's size, the products and services you offer, and the audience you wish to target.
Systeme.io Pros & Cons
Pros of Systeme.io
All-in-one solution.
Systeme.io is an all-in-one platform. It offers a comprehensive range of tools for online businesses. This saves you money, time, and hassle by not having to manage multiple tools.
With Systeme.io, you can do away with the hassle of keeping track of multiple accounts. The platform also has a user-friendly and intuitive interface with drag-and-drop features that make it easy to navigate.
It's a positive for the tool's reputation that it includes such useful features, as users can access and manage all of their necessary software from a single, unified interface.
Among the most comprehensive feature sets we've seen, Systeme truly is an all-in-one solution.
User-friendly interface.
Systeme.io is designed with a simple and intuitive interface, making it easy for users to navigate and use the features. This is especially useful for non-tech-savvy individuals who want to create their own websites without learning to code.
Anyone can use this platform, regardless of their level of technical expertise, and it offers a wide range of user-friendly features and tools that enable startup and SMB owners to quickly and easily establish and expand their online presence.
Affordable pricing
Systeme.io offers a variety of pricing plans that are affordable, especially for small businesses and entrepreneurs. The pricing plans include all the necessary features needed to build and grow an online business.
Systeme.io's flexible pricing structure makes it possible for entrepreneurs and SMB owners of any financial background to use the platform.
Users can test out the service without spending any money by signing up for the free plan. The free plan contains a ton of perks and is free forever.
Responsive customer support
Systeme.io has a responsive customer support team that is available 24/7 to help customers with their queries and issues.
Its resources and customer support team are top-notch. Even for those on the free plan, there is a customer service team available around the clock to answer questions and provide guidance.
Cons of Systeme.io
Unfortunately, Systeme.io has a few cons worth exploring.
Limited customization options
Although Systeme.io has a wide range of customizable templates, the degree of customization is limited compared to other website builders. This leaves much to be desired in terms of customization.
This also presents a challenge for users who have strict design needs or who want to develop a truly unique website. Because of a shortage of design elements, the drag-and-drop editor makes it difficult to create unique websites.
The platform's lack of design versatility makes creating unique, personalized pages a challenge for users.
Limited integrations
Unlike other marketing tools, Systeme.io has limited integrations with third-party software. This may be a disadvantage for businesses that need integration with specific tools. Due to the lack of some third-party integrations, its use may be limited.
Systeme.io integrates with popular applications like Zapier and Stripe, but it falls short when compared to other all-in-one solutions in terms of the number of tools it supports.
Limited E-commerce features
One of the main cons is its limited e-commerce features. Systeme.io does have some eCommerce capability, but it is not nearly as robust as competing all-in-one platforms.
While you can use the platform to sell digital products, it offers little support for physical goods as compared to other platforms. Users who want to set up a more sophisticated online store may find this limiting.
Additionally, the e-commerce system lacks essential features. Hence, if you plan to sell physical products, you may need to seek other alternatives, such as Shopify.
Potentially overwhelming.
Another disadvantage of Systeme.io is that it can be overwhelming for new users at first. Users have complained that the platform is overly complex, with too many features crammed into one interface.
Systeme.io has so many options that it can be difficult for new users to know where to start. The platform is packed with multiple features and options that may be challenging to navigate for beginners.
One may need to take time to learn and understand how the system works to optimize its full potential.
The evergreen webinar is only available on the Unlimited plan.
Finally, the evergreen webinar feature is only available with the unlimited plan, which is relatively expensive. Although a great quality for many, the cost may be a barrier for some users on a tight budget.
Overall, Systeme.io is a great platform with a lot of benefits for online businesses. However, one should consider the limitations and weigh them against their unique needs before deciding whether or not to use the platform.
Is Systeme.io Worth It?
Systeme.io provides a range of features for businesses to create and manage funnels, landing pages, email campaigns, and membership sites.
Along with these features, Systeme.io also provides several other features like automation tools, webinar hosting, and payment integrations to offer a comprehensive solution for businesses of all sizes. With these features offered by Systeme.io, the question arises: is it really worth it?
The platform offers three different pricing plans for businesses of different sizes and requirements, starting at just $27 per month. This pricing structure makes it an affordable option for businesses, especially those that are just starting.
Even if you're new to the platform, you can quickly start building your funnel, landing pages, and email campaigns in a matter of minutes. You do not require coding experience to use Systeme.io, making it accessible and user-friendly for beginners.
Furthermore, Systeme.io offers excellent customer support. The platform has an extensive knowledge base on the website, where users can find answers to several frequently asked questions. If you are facing trouble, you can also contact their support team via email or live chat on their website.
Systeme.io is a fantastic platform for businesses that want to streamline their online operations, create excellent landing pages, and create sales funnels to generate more leads and sales.
It is affordable, user-friendly, and offers businesses all the necessary tools to make it easy to scale their online businesses. If you're considering investing in an online business platform, Systeme.io is undoubtedly worth checking out.
You Might Also Like:
Final Thoughts
Systeme.io is a powerful online platform that is quickly gaining popularity among entrepreneurs, online business owners, and digital marketers.
It provides a highly integrated system, which means users can quickly move between different features, such as switching from email marketing to landing pages. This helps to save time and effort, and users do not need to invest in multiple tools to get their work done.
However, there are also some areas where Systeme.io could be improved. For instance, the platform lacks some of the advanced features that some users may require, such as complex automation workflows or detailed analytics. Additionally, some users may require more advanced customization options for their marketing materials.
Overall, we believe that Systeme.io is an excellent platform for entrepreneurs who want a simple and effective marketing solution. It is an affordable choice, offering a wide range of features that cater to the needs of both beginners and experienced users.
While there may be some limitations for users who require more advanced options, Systeme.io is a solid business solution that more than delivers on its promises.
A Better Alternative
The sad truth is that unfortunately most of the programs promising to help you make money online are scams. I can say that confidently after exposing over 500+ of them here on this blog.
But the good news is that even though most of them are indeed scams, there are actually some very good programs in amongst them - some programs that can truly help you to earn money.
And out of all of the legit programs I've seen, the one I would recommend the most to anybody looking to get started online is Commission Academy. In my own opinion, that's the best place to start.
At Commission Academy, you'll be provided with everything you need (including the training & tools) to begin earning real money by promoting products or services for companies like Amazon online.
The best part is that there's literally no limit on the amount you can earn with it & the process is pretty simple which means that it's absolutely perfect for people that don't have much experience.
Some wealthy affiliates even earn as much as 5-figures per month... Or more!

I mean don't get me wrong, that kind of money won't just fall into your lap without doing any work... But the harder you're willing to work at it, the more you stand to earn with it.
So if you're looking to get started but don't know which route you should go down or which program you should join (and don't want to waste money on bogus things that don't actually work), then I'd highly recommend checking out Commission Academy first. You can learn more about it here.