In this review I'm going to be taking a look at Tai Lopez's latest program named the Entrepreneur Starter Kit or ESK for short which claims it can teach you how you can start your own business in just 8 weeks or less with only 15 minutes of your time being required each day over the duration of the course.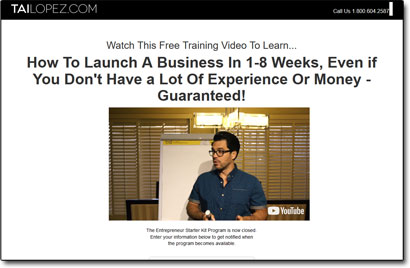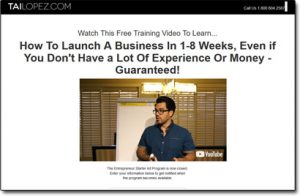 I think you'll agree that Tai's definitely making a very bold claim so is it actually legit or is the Entrepreneur Starter Kit a scam that's merely out to part you with your hard earned cash? And how the heck's it even supposed to work?
Those are exactly the things I'll be uncovering right here in this Entrepreneur Starter Kit review – meaning if you've been thinking about getting started with it then you can rest assured that you've landed in the right place to find out everything you need to know about it (and Tai Lopez himself) before you do.
And it's worth pointing out before I get started that I'm not affiliated with this program in any way shape or form so you'll be reading an honest review as opposed to some biased nonsense that's been put together by an affiliate who's only really interested in getting you to signup so that they can earn themselves a commission at your expense.
What Is The Entrepreneur Starter Kit?   |   How Does It Work?   |   The Costs   |   Is The Entrepreneur Starter Kit a Scam?   |   A Better Alternative
What Is The Entrepreneur Starter Kit?
As I briefly touched on above the Entrepreneur Starter Kit or ESK for short is Tai Lopez's latest money-making program through which he claims he can teach you how you can start your own business in under 8 weeks, even by investing just 15 minutes of your time per day.
Tai stresses the fact that he believes in order to live "the good life" as he calls it you need to have multiple streams of income – which many people typically don't have, and he wants to help them acquire them.
So if you're willing to give him just 15 minutes of your time per day he claims his step-by-step ESK program will be able to teach how you can start your very own business even if you have little money or experience.
He also claims that his training is the most up-to-date business training available & that it beats the competition hands down because it's been published by somebody with real-world experience in starting & growing a business.
Throughout the course you'll learn things like:
What kind of business will actually be best for you
How you can then actually start the business
How you can fix your current situation & build multiple streams of income
And the course is mobile friendly which means he's made it accessible for pretty much everybody – providing you've got a phone & access to the internet then you can follow his 8-week daily course.
How Does The Entrepreneur Starter Kit Work?
The course itself is pretty simple – you'll be given access to training which in its entirety will last an 8 week period, and each day you can choose how much of the course you want to digest.
So you can choose to invest just the recommended minimum of 15 minutes of your time if you like, or alternatively you can get things moving quicker by spending more time going through the material.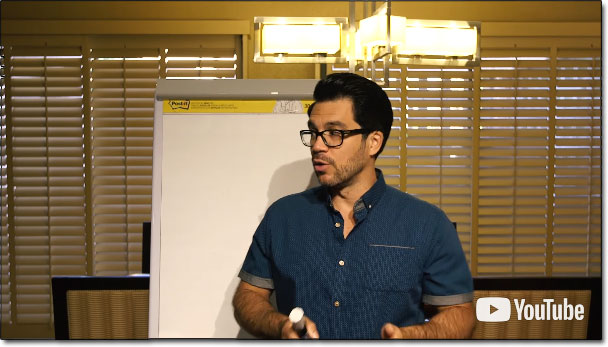 The course has a heavy focus on helping you figure out three things – your strengths, weaknesses & trends. Then it talks about how you can capitalize on these to make money by solving problems.
As an example last year Tai Lopez started a program named the Social Media Marketing Agency which taught people how to manage social media for small businesses & it made him multiple millions.
He claims though that making the money was actually quite simple, he just used the same method that he teaches through the ESK & that it broke down to 3 simple things which were:
His strengths: public speaking (making videos)
Weaknesses: small businesses who struggle with social media
Trends: get paid to help business owners with their marketing
So from figuring out just 3 simple things he then went on to solve a problem & made multiple millions as a result. Though whilst it seems easy on the surface it's clear that a lot of work definitely went into his program.
But it's also clear that if you're willing to put in the work then Tai Lopez certainly knows his stuff & I'm confident that his ESK program will certainly be able to help you find success, or at least get closer to it.
How Much Does The Entrepreneur Starter Kit Cost?
Prior to launching the program Tai Lopez said that he ran a poll asking people how much they'd charge for access to the course & the top 2 answers were $25,000 & $10,000 which obviously is pretty steep.
Thankfully Tai didn't decide to roll with these prices, instead he decided to put the program on sale for $997 which I think you'll agree is still quite a lot of money but it's certainly more reasonable.
You can pay for the program in full or alternatively you can choose to opt for a payment plan in which the cost will be split up into 4 equal monthly payments slightly lessening the impact on your wallet.
However at the moment the Entrepreneur Starter Kit is currently closed for new members, instead if you want to get access to it you'll have to sign to Tai's email list through which you'll be notified when new slots become available.
ESK Bonuses…
To sweeten the deal of signing up into the ESK program (and justify the rather hefty $997 price tag) Tai has decided to throw in some additional bonuses for those who decide to buy into the program.
The bonuses you'll get are as follows:
Access to a private Facebook group – nothing too exciting but it will give you the ability to meet like-minded people & chat with other members who are going through the ESK program. Tai claims to normally charge $4,000 to access this group so in that sense, yes it's a bonus – but to be honest there's no way I'd be paying $4,000 per year to join a Facebook group (or believe that it could ever be worth it – just my opinion).
1 free ticket to a Tai Lopez event – tickets to Tai's events usually cost $100 to $500 but if you buy into the ESK program you'll be given one for free, though it doesn't include travel or expenses – just the entry ticket.
10 free business ideas – if you happen to struggle coming up with ideas as to what kind of business you want to start then you'll be glad to know that Tai's including 10 proven ideas which include things like selling clothes, building apps & consultancy businesses.
Is The Entrepreneur Starter Kit a Scam?
It's definitely not a scam – you do get a lot of value given to you through the Entrepreneur Starter Kit program & it's good that's been designed in a way to be broken down into 15 minute daily bite-size chunks.
However the only quibble I have with it is that at $997 it's pretty expensive – but at least Tai Lopez does offer a 60 day money-back guarantee on the program so you do have the opportunity to get your money back if you find you don't like it or it's not for you.
Though Tai Lopez is a guy that definitely knows what he's talking about & there's no doubt that "he's been there & done that" so as you progress through the program you can rest assured you're getting good advice.
Therefore overall I'm going to be giving this program a thumbs up – yes it's expensive, but you're getting good advice & it's laid out in an easy to digest format with some golden nuggets dropped along the way.
A Better Alternative
The sad truth is that unfortunately most of the programs promising to help you make money online are scams. I can say that confidently after exposing over 500+ of them here on this blog.
But the good news is that even though most of them are indeed scams, there are actually some very good programs in amongst them - some programs that can truly help you to earn money.
And out of all of the legit programs I've seen, the one I would recommend the most to anybody looking to get started online is Commission Academy. In my own opinion, that's the best place to start.
At Commission Academy, you'll be provided with everything you need (including the training & tools) to begin earning real money by promoting products or services for companies like Amazon online.
The best part is that there's literally no limit on the amount you can earn with it & the process is pretty simple which means that it's absolutely perfect for people that don't have much experience.
Some wealthy affiliates even earn as much as 5-figures per month... Or more!

I mean don't get me wrong, that kind of money won't just fall into your lap without doing any work... But the harder you're willing to work at it, the more you stand to earn with it.
So if you're looking to get started but don't know which route you should go down or which program you should join (and don't want to waste money on bogus things that don't actually work), then I'd highly recommend checking out Commission Academy first. You can learn more about it here.