The Cryptex (alternatively known as crypt.EX) calls itself a "Smart Investing System" & promises to provide its visitors with a fast & effective way to get rich.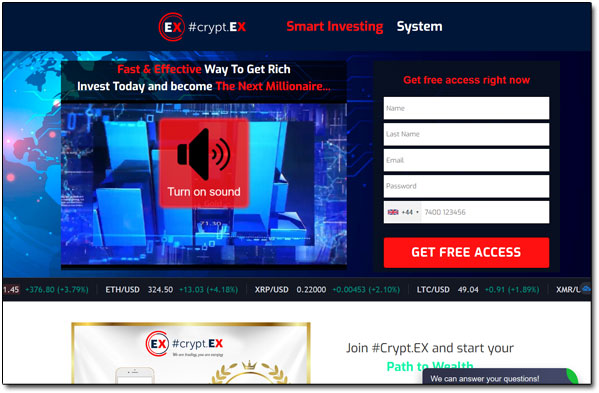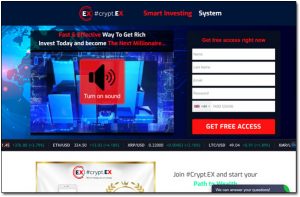 All you need to do, according to the creators, is simply make a deposit & activate the system to have it begin making profitable trades for you entirely on your behalf.
But is it actually legit? Or is Cryptex a scam?
Well, the good news is that you've landed in the right place to find out because in this Cryptex review I'll be uncovering everything you need to know, including how it all really works.
What Is Cryptex?   |   How Does Cryptex Work?   |   The Red Flags   |   Is Cryptex a Scam?   |   A Better Alternative
What Is Cryptex?
As I briefly touched on above, Cryptex claims to be an app that can allegedly provide you with "fast & effective way to get rich" as it is supposedly able to trade cryptocurrency profitably entirely on your behalf.
It even claims to have won the 2019 award for "best mobile banking app", as shown below: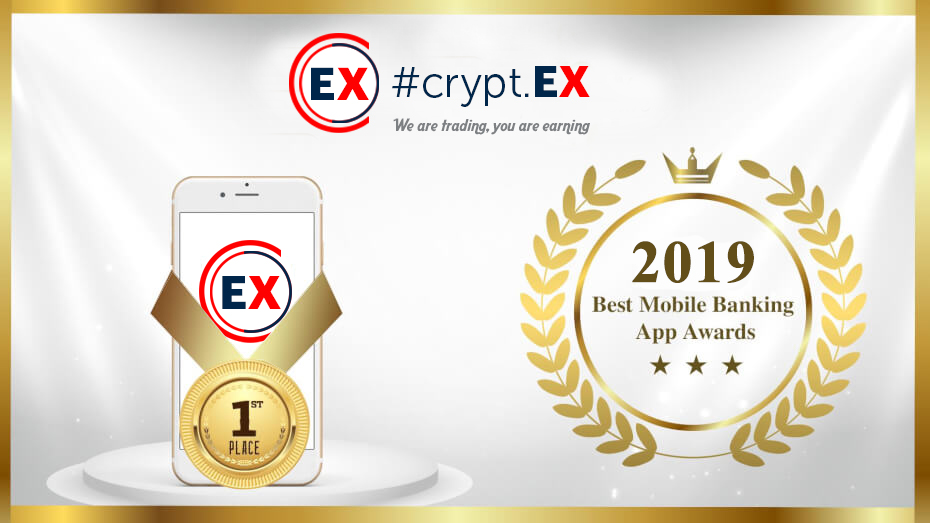 And on top of that, it claims to have been featured in various high-profile publications such as Forbes, the Financial Times & TIME magazine.
But the leads me to ask 1 pressing question…
If it really has had all of those features & it really does work as promised, then why isn't everybody using it?
Why, if the Cryptex app can really generate people money so easily, are people still working at jobs that they dislike for less money instead?
The answer is because, unfortunately, it doesn't really work as promised. In fact, Cryptex (or crypt.EX as it's alternatively known) is nothing more than a Russian-based scam.
You'll see why & get to learn how it really works below…
You Might Also Like:
How Does Cryptex Work?
Cryptex portrays itself as being an automated trading system. You're led to believe that you just need to sign up, make a deposit with the broker that they recommend & then activate the system to begin making money.
What they don't tell you, however, is that they're actually affiliated with the broker that they recommend to you.
This means that if you sign up & make a deposit, then they get paid a commission at your expense.
Now, normally that wouldn't be too bad. It's a method of earning known as affiliate marketing & it's perfectly legitimate to earn commissions in such a way online.
However, in this instance, it is bad because the broker that they're recommending to you is what's known as a binary options broker, which is very different from a normal broker.
Through a binary options broker, you don't actually invest in anything, you simply place "bets" on whether you think the value of something will go up or down over a short period of time (usually under 60 seconds).
And the reason this is bad is that this means that the binary broker only earns money when you LOSE money since if you win, they have to pay your winnings out of their own pockets.
So couple that fact with the fact that the broker is affiliated with Cryptex, and ask yourself – why?
Why would a broker than only makes money when you lose money, pay commissions to the creator of an app that's supposedly guaranteed to make you win?
The answer is that they wouldn't – because if they did & the app really worked, it would put them out of business overnight.
So this, therefore, makes it quite clear that the Cryptex is actually a scam & that the broker & the creator of the Cryptex app are actually both in cahoots on it together.
The brokers know that it's designed to make you lose, not win & that's the real reason they're paying the creator commissions for getting you to sign up & use it.
What's worse, however, is the fact that upon depositing, you do actually get provided with access to the Cryptex "app" as promised – but the app itself is a complete fraud.
The app has been designed to make you believe that you're making profitable trades when you're actually making nothing but losses, in an effort to encourage you to make additional deposits so that they can earn further commissions from you.
This means that you could end up depositing literally thousands of dollars of dollars before you finally manage to figure out that the whole thing is actually nothing but a scam.
The Red Flags
First of all, if something sounds too good to be true then 9 times out of 10 it's because it is too good to be true. Cryptex, or crypt.EX, is definitely too good to be true.
Secondly, there is NO mention whatsoever of Cryptex or crypt.EX in any of the mobile banking app award listings, despite it claiming to have won the 2019 "best mobile banking app" award.
On top of that, it hasn't really been featured in any of the high-profile publications it claims to have been on its website (such as Forbes, TIMES magazine, etc) either.
The phone number listed on the Cryptex website (+44203 1296514) is also associated with other scam websites too, according to a quick Google search.
And finally, despite claiming to be based out of London, the stock-price ticket on the Cryptex system website links to a Russian version of the Trading View platform, which suggests links to Russia.
So it's safe to say that there's a LOT of red flags when it comes to the Cryptex scam – including the fact that the website doesn't even hold or display any regulatory license, which is a requirement by law for any investment-related websites to display.
You should never, ever invest via an unlicensed website because if you do, you'll have very little to no protection at all in the event that anything happens to go wrong.
Is Cryptex a Scam?
Yes, there's no doubt about it – Cryptex (or crypt.EX as it alternatively calls itself) is definitely a scam. The whole thing is just a ploy to trick you into signing up with a shady binary options broker, who's also in cahoots on the scam too.
If you do indeed sign up & deposit money then you will get access to the trading app as promised, but the app is nothing more than a fraud.
The app has been designed to make you believe that you are generating profits when you are actually making nothing but losses so that you'll deposit even more money.
And all the while, the creators of the Cryptex scam will be earning commissions at your expense.
So with that in mind, it's safe to say that the Cryptex scam should definitely be avoided & instead if you truly want to make good money online I'd suggest you stick with a legitimate alternative.
One of the best alternatives, in my opinion, is something called affiliate marketing which simply involves you earning money by promoting products or services online.
Affiliate marketing is actually the same way I personally make most of my own income online & it's my top pick for anybody that's new & looking to get started as it's very beginner-friendly.
But whatever you decide to do, I just sincerely hope that my Cryptex review here has given you a good insight into how the whole thing really works & I hope it has helped you to avoid it.
If you do happen to have any further questions or comments then don't hesitate to leave them below. As always I'll do my best to respond back to you as quickly as I can. 🙂
A Better Alternative
The sad truth is that unfortunately most of the programs promising to help you make money online are scams. I can say that confidently after exposing over 500+ of them here on this blog.
But the good news is that even though most of them are indeed scams, there are actually some very good programs in amongst them - some programs that can truly help you to earn money.
And out of all of the legit programs I've seen, the one I would recommend the most to anybody looking to get started online is Commission Academy. In my own opinion, that's the best place to start.
At Commission Academy, you'll be provided with everything you need (including the training & tools) to begin earning real money by promoting products or services for companies like Amazon online.
The best part is that there's literally no limit on the amount you can earn with it & the process is pretty simple which means that it's absolutely perfect for people that don't have much experience.
Some wealthy affiliates even earn as much as 5-figures per month... Or more!


I mean don't get me wrong, that kind of money won't just fall into your lap without doing any work... But the harder you're willing to work at it, the more you stand to earn with it.
So if you're looking to get started but don't know which route you should go down or which program you should join (and don't want to waste money on bogus things that don't actually work), then I'd highly recommend checking out Commission Academy first. You can learn more about it here.