Trunited claims to be a socialized commerce website & claims it can help you earn extra money by shopping online through the Trunited website or by sharing the Trunited opportunity with your friends.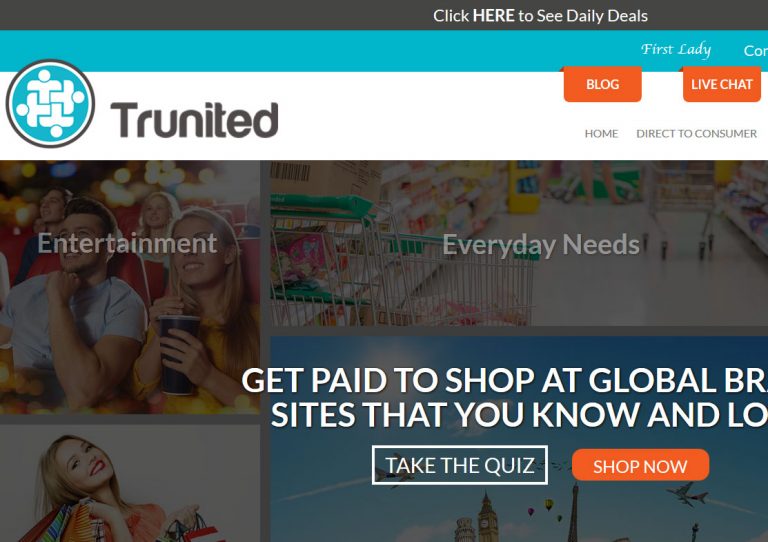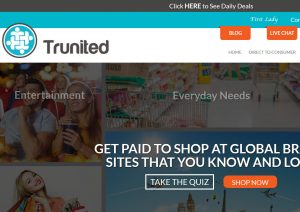 Some people have even claimed to be making around $5,000+ per month from Trunited which has lead to many people questioning its legitimacy. So, what's the truth?
Is it actually legit or is Trunited a scam?
I've taken a closer look & I'm going to be revealing all the details here in this honest Trunited review.
What Is Trunited?   |   The Trunited Business Opportunity   |   Is Trunited a Scam?   |   A Better Alternative
What Is Trunited?
Trunited is basically a cashback website, which means by using their service you can earn rewards for shopping online – all you need to do is access the stores you'd like to shop at through the Trunited website as opposing to visiting them directly & you'll be provided with various rewards for each of your purchases.
The reason they're able to pay you these rewards is that they're affiliated with all of the companies that are listed on their site – so basically when you shop via theirs links they get paid a commission & they pass a part of this commission down to you in the form of rewards.
The rewards are paid to you in what Trunited call "Profit Points" – these points basically accrue in your account as you shop & can later be redeemed for cash or gift cards once you reach a certain threshold.
Some of the offers I've seen listed on their website pay up to as much as 70% in Profit Points, but typically on your "normal shop" (shopping at the websites you would usually visit without using Trunited) the average you'll expect to see is around 2% to 10% unless you're specifically going out of your way to chase the best deals.
It's still not too bad though I think you'll agree.
However technically you can't make money with this part of Trunited's program, you can only save money – but alongside this cashback scheme Trunited does also offer another opportunity through which you can earn some money too…
Which brings me onto my next point…
The Trunited Business Opportunity
Over the past year, Trunited has seen some pretty solid growth & the reason for that is because attached to their cashback scheme they also offer a network marketing style business opportunity through which you can earn money by referring other people to the website.
Now usually I'm totally against network marketing companies because 9 times out of 10 they're generally nothing more than well-disguised pyramid schemes, however, in the case of Trunited it's not actually all that bad.
Basically, Trunited will pay you a percentage of the Profit Points that are earned by any of the members that you bring to the website & then if those members also go on to refer people to Trunited then you'll be able to earn a percentage of the profit points earned by the members referred by them too…
Hopefully, that makes sense?
So essentially Trunited gives you the opportunity to earn from multiple levels of referrals – so whereas most other companies will only pay you a percentage of the points earned by members you personally refer, Trunited will pay you a percentage earned by your referrals AND your referrals' referrals too.
Theoretically, this compensation plan could be quite lucrative, but sadly most of the people that join Trunited won't go on to refer other people or if they do they will only refer a handful of people & not really enough to make you kind of substantial income.
On top of that, whilst Trunited does actually provide a fairly good cashback service sadly many of the people who join never really get round to using it – so you'll find that even though you might refer a lot of people very few of them will actually become properly active.
So whilst the opportunity sounds good in theory sadly it's not quite as good in practice.
I do believe that there probably will be some people earning as much as $5,000 per month from this opportunity but I suspect that these people will have gotten in early & will have had some sort of platform (such as a shopping blog) through which they could quickly recruit a lot of people.
The chances are that if you join the opportunity now then whilst you can definitely make some money, I think that the money you'll see as a result of promoting Trunited probably won't be all that great.
Maybe a few dollars extra per month or a couple of hundred if you really work on heavily promoting it – but I wouldn't expect to see anything life-changing from it because I think that ship has sailed.
You Might Also Like:
Is Trunited a Scam?
I think that a lot of the Trunited scam rumours have surfaced due to people that had signed up to the business opportunity boasting about how much money you could make (and giving quite ridiculous figures of income)…
But after personally looking into it I don't believe it's a scam – it seems to be a legitimate company that does what they say they do, reward you for shopping online via their website.
In terms of the cashback side of things, I think there are better alternatives out there with one of them being the Ibotta App (if you have a smartphone) – but if you feel like you have a lot of friends who may be interested in also earning cashback then the Trunited referral opportunity may prove to be fairly lucrative for you (though probably won't provide you with any life-changing income as many of the other members promoting it might promise).
At the end of the day though it's free to join which means that ultimately there isn't really any risk in trying it out – so I think in this instance it's just a case of "giving it a go" & trying it out to see how much you're able to earn on your monthly shop.
Some people might be able to earn more through Ibotta, some people might earn more through Trunited – it all depends on where you shop because each website lists different companies & offer different bonuses (but both are legit).
So overall it's a thumbs up for Trunited for me – and it's probably one of the first network marketing style companies I've actually recommended because in this instance you're not being forced into buying junk products that you don't really need like you are with many of the other MLM style companies (which in my opinion are borderline pyramid schemes).
A Better Alternative
The sad truth is that unfortunately most of the programs promising to help you make money online are scams. I can say that confidently after exposing over 500+ of them here on this blog.
But the good news is that even though most of them are indeed scams, there are actually some very good programs in amongst them - some programs that can truly help you to earn money.
And out of all of the legit programs I've seen, the one I would recommend the most to anybody looking to get started online is Commission Academy. In my own opinion, that's the best place to start.
At Commission Academy, you'll be provided with everything you need (including the training & tools) to begin earning real money by promoting products or services for companies like Amazon online.
The best part is that there's literally no limit on the amount you can earn with it & the process is pretty simple which means that it's absolutely perfect for people that don't have much experience.
Some wealthy affiliates even earn as much as 5-figures per month... Or more!

I mean don't get me wrong, that kind of money won't just fall into your lap without doing any work... But the harder you're willing to work at it, the more you stand to earn with it.
So if you're looking to get started but don't know which route you should go down or which program you should join (and don't want to waste money on bogus things that don't actually work), then I'd highly recommend checking out Commission Academy first. You can learn more about it here.