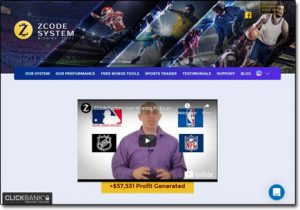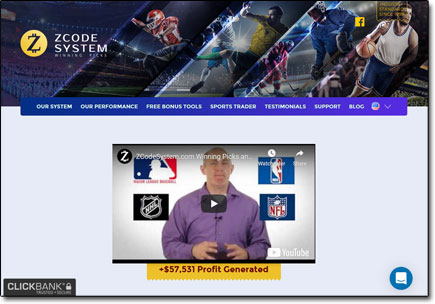 The Z Code System, according to the claims on its website, is a promising betting-suite that serves you with worthy tips to help you win big on a variety of sports including Hockey, Basketball, NFL, Soccer, and more. Basically, the term System is confusing here because Z Code is more of a community where sports geeks justify their predictions.
If you love sports and are thinking about reliable statistics to place bets that are less risky, then the Z Code System might grab your attention. The platform features 100s of sports geeks ready to reveal their predictions but the question is, can you rely on these predictions?
This Z Code System scam review will reveal the truth to help you decide whether or not to join this platform…
In this Z Code System review we are going to tell what exactly this system is, how it actually works and if it is a legitimate entity or just another trick. If however you are just looking to go straight to something that is already proven to be legit then you can check out our number 1 recommendation below:
Go here to see my no.1 recommendation for making money online
(This 100% free training shares my exact strategy for making 5-figures per month)
Click Here To See My #1 Recommendation For Making Money
What Exactly is Z Code System?
The encouraging fact is that the Z Code System has been around for a couple of decades. It was introduced in 1999 and was known as one of the most popular systems on the internet.
This system basically follows a simple pattern, no complexities whatsoever. You join the platform, log in, and access scores of video tutorials which guide you on how to use this platform.
The video tutorials serve you with an orientation of the Z Code System. They guide you about different Z Code features, tools, and betting advice. They talk about sensible betting and paper trading, the good thing is that the videos don't exaggerate things beyond logic.
Most of the video tutorials on other websites tend to advertise the system by making full use of whatever lies they can tell. That's not the case with the Z Code System.
Price Plans
The homepage comes with exciting content highlighting various tools, offers, and also the price plan. Here it is:
$198 per month (You can cancel whenever you want)
The Early Bird Discount Offer serves you with 15% OFF. The discount code is EARLYBIRD15OFF (You can use only between the dates mentioned)
60-Days Money Back Guarantee
How Does Z Code System Work?
Once you are in, you have a couple of options:
1. Expert Picks
Expert Picks are the tips from the sports geeks who, according to what the website claims, have been consistently good at making predictions on scores and outcomes.
These experts have been ranked, from 1 to 30 to let you have an idea who is doing best at any given moment. You are free to select any tipster you want, just click on it and you will be served with a forum-like page. This page features posts from the tipster's picks for the day. These picks are the matches along with their odd/stakes.
You can comment or post your questions as well. This is why we call it more of a gaming/betting community instead of an automated system.
You are free to also post your own favourite picks and suggestions. This is not all we have on this website. Let's now move on to the other option you have…
2. Automated Systems
This section doesn't involve manual influence. This is an automated betting system that serves you with trends, statistics, and data. The good thing is that the system breaks down the information into different sections, season-wise, selection-wise, and time-wise. You also get a history of different selections.
The system also shows profit generated during a particular day or time slot. But you need to be careful at this point. These number, for instance, $100k profit is basically based on large stakes, for instance, $500 and $1500 or more.
Yes, the system shows graphics as well where you can easily see that the profit lines are impressive and consistent. The platform features 170 automated systems and you can choose any of them.
VIP Picks Area
Here you come across all major US Sports along with the tips from the experts. There are also comments on the previous-day events. According to the authors of the Z Code System, it is not a wise move to try betting on more number of sports at a time.
They are of the view that betting on more number of sports at one time is the quickest way to fall apart. They recommend having a good look at the matches of the day and trends before making a decision. Emotions can run you into trouble so you need not overrun by the rush of blood.
Tools
There are some good tools to help you out. Let's have a quick look:
Contests
The website hosts different contests which allow you to compete for prize money by performing well on various bets.
Almanac
You can create a customized betting system with the help of this tool which serves you with 11 years of data you can use for back-testing.
Fantasy
This tool allows you to generate a fantasy line-up and also comes with the links to major sports-fantasy-sites.
My Verdict – Is Z Code System a Scam
Arriving at a Z Code System scam verdict is pretty straightforward for the reason that this platform doesn't trick you with exaggerative talks. The best part is that the experts are real and the platform itself is a reliable name that has been serving since 1999.
As far as the recommendation is concerned, it is totally up to you. If you are into sports and you can spend enough time following the matches, analysis, and predictions, then you can think of seeking help from the Z Code System.
Remember, every new match is different and what we have noticed over the years is that sports are always unpredictable. No guru on Earth has ever managed to write the script for a major event that could match the actual outcome.
In addition, betting is all about being calm, avoiding adrenaline rush, and logical thinking. You need to be good at statistics and numbers. Yes, the information, data, and graphics help you a lot, on top of that, there are experts with a credible history. If you think betting is something that attracts you all the time then Z Code System is something you can trust.
However in my opinion I will admit that I believe there are still better alternative ways of making money available, such as affiliate marketing for example which is the same way I personally make most of my own money online.
The reason I say I believe affiliate marketing is better is because it doesn't involve putting your money at risk like sports betting does. Plus with affiliate marketing you can build up a totally uncapped income that even has the potential to become passive.
If you'd like to learn more about affiliate marketing or get started with it you can also do so for free over at Wealthy Affiliate.
And alongside affiliate marketing there are also still many other legit ways to build a good income online which you can check out on my top picks page here.
Whatever you decide to do though I just sincerely hope that my review of the Z Code System here has given you a good insight into how it really works & has helped you to determine if it is really right for you or not. Feel free to leave any comments or questions below.