According to Devon Brown the creator of the 12 Minute Affiliate system if you can order pizza then you can make money online with the 12 Minute Affiliate system because it's allegedly just as easy…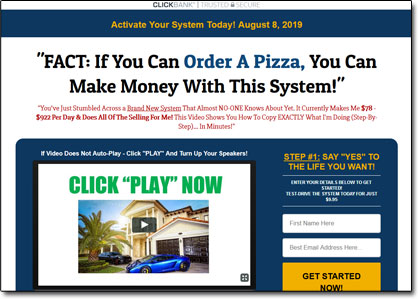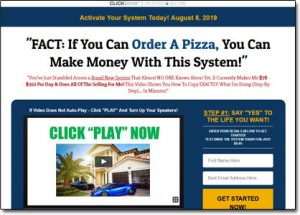 But is it really that easy to make money with Devon's system, or is the 12 Minute Affiliate system a scam that you should just avoid?
Well what I can tell you right from the off is that things are nowhere near as easy as Devon makes out & as you read my honest review you'll soon see why you'll likely just want to save your money instead.
What Is 12 Minute Affiliate?   |   How Does 12 Minute Affiliate Work?   |   The Costs   |   Does It Contain Anything Special?   |   Is 12 Minute Affiliate a Scam?   |   A Better Alternative
What Is 12 Minute Affiliate?
Basically in short the 12 Minute Affiliate system is a newly launched system that portrays the idea that it can see you beginning to earn good money online through something called affiliate marketing within just a mere 12 minutes…
So you're essentially led to believe that you can just sign up, follow some simple steps & begin profiting right from the very same day that you get started…
However I can tell you right from the off that's NOT the truth.
I mean yes, affiliate marketing in itself is legitimate and it is technically possible that you might earn some money as a result of following the training inside of the 12 Minute Affiliate system…
But the truth is that in reality the 12 Minute Affiliate system has been built primarily to make it's creator money as opposed to you, so the likelihood if you join it is that you'll just end up spending more than you ever actually make.
The reason for that is because whilst the method & training is legit, there is actually only a very small amount of training & in order to access more you keep having to spend more & more money (as you'll soon see).
Besides, there are proven & legitimate places where you can get started for free with affiliate marketing anyway, such as Commission Academy (which is actually one of my all time top recommended programs).
But in case you still have interest in the 12 Minute Affiliate system & are still considering trying it out, let me explain in greater detail how it all works so that you can see for yourself why it's likely not a good idea to join…
How Does 12 Minute Affiliate Work?
Okay so as mentioned in the previous section of this review the 12 Minute Affiliate system is based around something called affiliate marketing, which is actually a legitimate way for making good money online.
In fact affiliate marketing is the same way I personally make most of my own money online.
It basically consists of you connecting people with the products that they're looking for online & then getting paid commissions in return.
So as an example you could become an affiliate of a company like Amazon, which would mean you'd get a special link to share any of the products found on their website & this link would be tracked back to you…
So if you shared it & somebody clicked on it then made a purchase, you'd earn a commission for referring them.
Make sense? The image below might help you understand it a little better: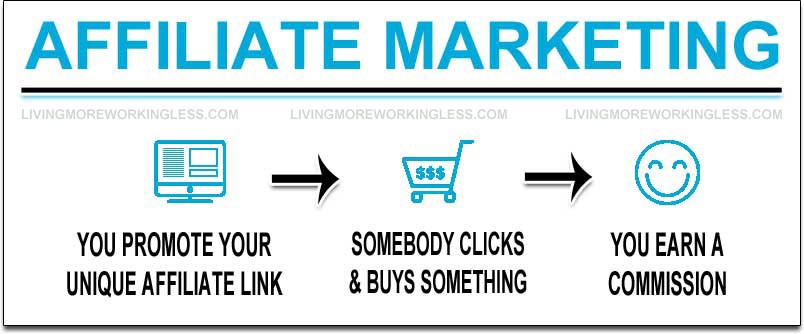 So the problem is not with affiliate marketing, it lies with the 12 Minute Affiliate system… The problem is that the 12 Minute Affiliate system is a training program, but in my opinion it doesn't provide very good training.
Plus as you'll soon see it is a pretty darn expensive program too because there are many, many upsells inside meaning you'll have to keep spending more & more money to continue with the program.
And there's no need to do that when you can sign up to other legit programs like Commission Academy for free.
The other problem though is the 12 Minute Affiliate system essentially lies to you because it leads you towards believing that you'll be able to begin making money right away which just 100% isn't going to happen.

Yes affiliate marketing is legitimate, yes it's a very good way to make money – but in order to succeed with it you'll have to give it time & effort as with anything in life.
You see the internet certainly provides many ways to make money but it is not magical & none of those ways are going to see you making lots of money really quickly like the 12 Minute Affiliate system claims it will.
If there was something like that which existed then everybody would be using it, nobody would be left working a job & the world would be in crisis.
The reason the 12 Minute Affiliate system makes everything seem so simple is because like I mentioned at the start of this review the whole thing is primarily geared towards making its creator wealthy, not you, so he just wants as many people to sign up as possible (which is why he makes it sound really quick & easy).
And when you see the true costs involved below you'll soon see how he's really just trying to line his own pockets…
The True Cost of 12 Minute Affiliate
At just a mere cost of $9.95 you may be thinking of trying the 12 Minute Affiliate system out regardless as to what you read in this review, however I want to point out that the advertised cost of $9.95 is NOT the true cost.
The $9.95 fee that Devon Brown wants to charge actually only gets you access to a 14 day trial of the first part of the system – from there after those 14 days you will be required to pay $47 per month AND hundreds of dollars more to get access to the remaining parts.
The reason I know that is because the 12 Minute Affiliate system itself has an affiliate program meaning people can sign up & promote it to others & on their affiliate information page they show you details about the upsells inside (so you know what commissions you can earn).
Just take a look at the shocking number of costly upsells below: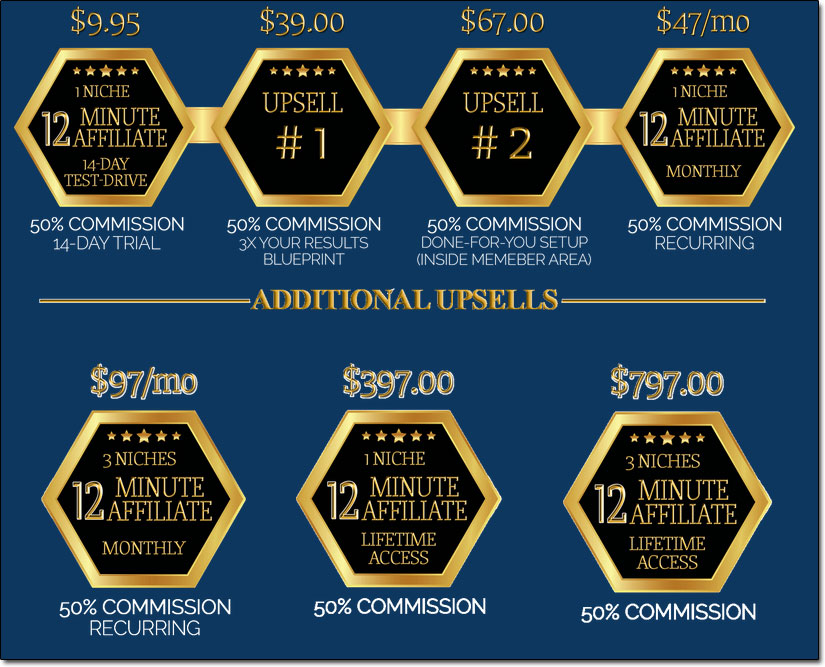 The program could end up costing you over $797 which is quite clearly a HUGE jump from the initially advertised small fee of just $9.95.
So with misleading tactics like that there is simply no way I would ever recommend the 12 Minute Affiliate system to you, not even if it was jam packed with legitimate training because there are other places where you can get much more for MUCH less – like Wealthy Affiliate.
You Might Also Like:
But Does The 12 Minute Affiliate System Contain Anything Special?
In short, no, not really…
I mean sure, if the 12 Minute Affiliate System really did contain some sort of secret method that could actually see you earning affiliate commissions within a mere 12 minutes of getting started then I might say it was worth the cost, but it doesn't.
In fact the 12 Minute Affiliate system honestly couldn't be more basic.
The steps it teaches, in short are as follows;
Create a ClickBank account
Buy an email marketing tool
Create a capture page & connect it to email marketing service
Start buying solo ad traffic to get visitors
Send affiliate offers to anybody that enters their email (using the email marketing tool)
But there are just SO many problems with this…
Firstly, this method is pretty darn complex for a newcomer. I mean yes, email marketing is certainly very powerful but I was years into my affiliate marketing journey before I started playing around with it.
If I had to handle everything else AND do email marketing when I was first just starting out I probably would have given up due to sheer overwhelm.
Then there's the fact that the 12 Minute Affiliate system is all geared around buying traffic (visitors) rather than teaching you how to get them for free. Heck it's even difficult for experts to see good results with paid traffic, let alone newbies.
Plus when you're playing with paid traffic you need to a huge budget (thousands of dollars) so that you can get through the testing stage – and not to mention that solo ads (which is what's taught through the 12 Minute Affiliate system) is literally the worst form of paid advertising ever.
So yeah in short the 12 Minute Affiliate system really doesn't contain anything special whatsoever & if you join it then all it will see you do is burn through your cash & struggle to get any results.
Which brings me onto…
 Is 12 Minute Affiliate a Scam?
Well technically no, it's not a scam because it does actually provide you with "some" training in return your money – even though in my opinion the training will not really actually help you to make any money.
However with that being said, even though it's "technically" not a scam there is no way I will be recommending it to you because if you join then I know that you will just find yourself losing money, not making it – and you could be losing LOTS too due to how costly it gets.
The real truth as I've said a few times throughout this review is that the whole thing has been setup with the primary intention of making its creator rich, not you, and it's quite clear to see through the training provided that he doesn't really care about your success whatsoever.
And like I've also said, there are other proven places where you can actually get started for free, such as Commission Academy.
It's at Commission Academy that you'll be much more likely to see success as their training is flat-out proven to work, plus you get access to a whole community of people should you happen to get stuck anything.
And alongside that there are also these other great alternatives for making too.
But whatever you decide to do I just hope that my review of the 12 Minute Affiliate system here has given you a good insight into how it really works & I hope that it has helped you to save some money. Feel free to leave any questions or comments below. 🙂
A Better Alternative
The sad truth is that unfortunately most of the programs promising to help you make money online are scams. I can say that confidently after exposing over 500+ of them here on this blog.
But the good news is that even though most of them are indeed scams, there are actually some very good programs in amongst them - some programs that can truly help you to earn money.
And out of all of the legit programs I've seen, the one I would recommend the most to anybody looking to get started online is Commission Academy. In my own opinion, that's the best place to start.
At Commission Academy, you'll be provided with everything you need (including the training & tools) to begin earning real money by promoting products or services for companies like Amazon online.
The best part is that there's literally no limit on the amount you can earn with it & the process is pretty simple which means that it's absolutely perfect for people that don't have much experience.
Some wealthy affiliates even earn as much as 5-figures per month... Or more!

I mean don't get me wrong, that kind of money won't just fall into your lap without doing any work... But the harder you're willing to work at it, the more you stand to earn with it.
So if you're looking to get started but don't know which route you should go down or which program you should join (and don't want to waste money on bogus things that don't actually work), then I'd highly recommend checking out Commission Academy first. You can learn more about it here.