Usually, whenever I see a program or system promising to provide you with a quick way to make $1K per day I will almost immediately assume it's going to be a scam, but the 1K A Day Fast Track program is different.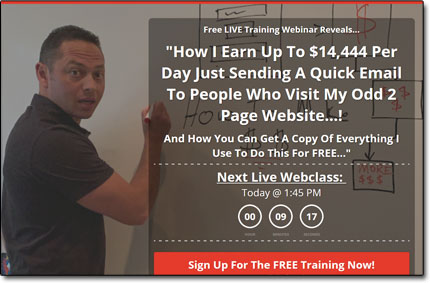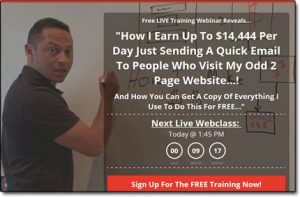 The reason I say it's different is because it hasn't simply been created by some marketer who's chosen to hide behind a fake alias… It's been created by Merlin Holmes, an expert at affiliate marketing.
He's been in the game for over 15 years & has personally generated over $150 million (crazy, I know).
So you might also be wondering what the deal is… Is 1K A Day Fast Track actually legit?
Well, in my opinion, yes, but also no…
You see whilst Merlin Holmes is legit & his training is legit (and actually pretty good), as far as I'm concerned his bold income claims are still pretty hyped-up & won't reflect the actual earnings of the typical purchaser.
Don't get me wrong, it's definitely possible to find yourself earning good money after following his training, however when you consider the costs involved I personally believe there are some better alternatives.
You'll see a breakdown of the good & the bad though right here in my 1K A Day Fast Track Review…
Oh, & before I dive in I'll point out that I'm NOT affiliated with Merlin's program which means that you can rest assured you'll be getting an honest, unbiased review – not a review written by somebody that's just looking to get you to sign up for a commission.
The Basics   |   How Does It Work?   |   The Good Things About It   |   The Big Problem   |   More Problems   |   An Alternative For Greater Long-Term Success   |   Is 1K A Day Fast Track a Scam?
1K A Day Fast Track Review – The Basics
As I mentioned at the beginning of this review, Merlin Holmes (the creator of 1K A Day Fast Track) is an expert at affiliate marketing & so that was probably a giveaway as to what the program is all about.
If it wasn't, it's about affiliate marketing – and I'll point out here that affiliate marketing is indeed a great way to earn money online.
It involves a simple process of connecting people with the products or services that they're looking for & getting paid commissions in return… Plus the amount you can earn with it is completely uncapped.
The harder you work (or the smarter you work), the more you can earn – so it's definitely possible to earn as much as $1K a day.
But can you earn $1K a day fast? Well, that's the question, and that's the claim that made me pretty darn skeptical about the whole thing.
You see, if you're already an expert then maybe you'd be able to earn that kind of money relatively quickly – but as a newcomer, you've got to appreciate that you're always going to have a learning curve.
I mean, if everybody could just sign up, follow some steps & find themselves earning $1K a day "fast", then everybody would be doing it right? And they're not… So there has to be an issue somewhere.
Nevertheless, we've got to give Merlin a chance – after he has earned over $150 million in revenue which is a pretty impressive feat.
So let's take a closer look into his newly launched program to see what it's all actually about & what you get inside…
How Does 1K A Day Fast Track Work?
Essentially the 1K A Day Fast Track program is a 6-week course that is geared around teaching promoting products as an affiliate by using a combination of email marketing and paid traffic to build the email list.
Merlin outlines the steps as follows: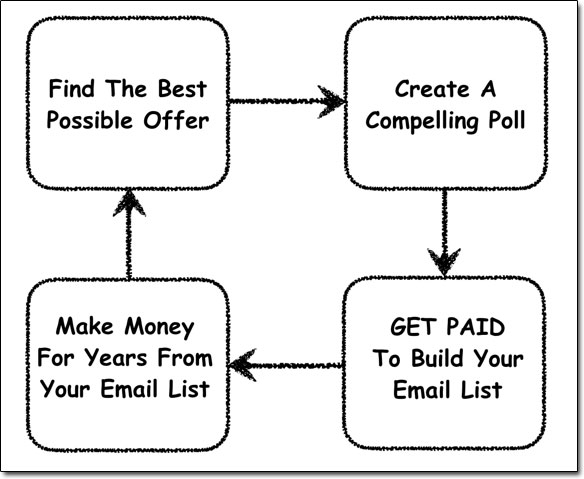 However the whole "get paid to build your email list" isn't entirely true. After delving into his 1K A Day Fast Track program a little further I quickly discovered that no one is going to be directly paying you for building your list.
He simply claims that because he's going to be showing you a cheaper traffic source, you'll be able to get into profit faster meaning you'll (hopefully) be earning from the leads you generate… Thus "getting paid to build your list".
The problem though is that the traffic source is cheaper because the traffic is coming from 2nd tier ad platforms.
Here's a description of advertising tiers from PropellerAds to give you a better idea of what that means:

In short, this means that yes, the traffic may be cheaper, but it's cheaper because the people that you're advertising to will be less likely to be able to purchase whatever it is that you're offering.
So how it actually works, in reality, looks more like this:
Find an offer to promote as an affiliate
Create a poll with a question related to the offer
Use paid traffic to advertise the poll to a Tier 2 audience
Upon answering the poll visitors will be asked to enter their email
Subscribers are added to your list if they submit their email
You then promote your offers to the list that you build
Overall it's nothing really new or revolutionary… In fact, apart from the "poll" approach, it's pretty much the exact same thing that almost every other "make money online" program teaches, only admittedly Merlin Holmes' training is higher quality.
Would I spend $997 on it?
Personally no, and that's because I believe there to be a big problem with it which I'll explain in a moment.
Before I explain the problem though I'll firstly run over the positives…
The Good Things About 1K A Day Fast Track
The training is put together by a genuine, expert & successful affiliate marketer.
The training is high-quality & touches on various subjects like headline writing, product selection & what software to use.
You could certainly go on to make money as a result of following the training.
You can (supposedly) get your money back if you don't like it.
You can access a 90 minutes free webinar before you purchase the program to get a "taster" of what's involved.
The Big Problem…
The big problem, in my opinion, is that the program has a focus around paid traffic & I strongly believe that's not a good route for a newcomer to take because it always involves a lot of trial & error.
Trial & error, of course, isn't a bad thing in itself, but with paid traffic (paid advertising) that trial & error costs real money – and potentially lots of it.
In fact over all of the years I've been working online, I don't think I've ever seen so much as one single newcomer go on to find sustainable success by going down the route of paid traffic.
More often than not the newcomers I've seen going down the route of paid traffic just end up spending money rather than actually making it.
As far as I'm concerned it doesn't matter what expert is showing you how to do things because even the experts have to go through the same trial & error. Every day other advertisers are placing different bids for their ads so it's a continuous battle of testing & refining.
If you're an expert, sure you can test & refine effectively, but if you're just starting out then it's unrealistic to handle all of that & actually find success.
You can't just get a profitable campaign handed to you, it's simply not possible because of all the external variables that are constantly changing.
So yes, the 1K A Day Fast Track program may certainly be based on a legitimate method & contain high-quality training but overall, if you're a newcomer I just really don't think it'll be the "gamechanger" it's made out to be.
You Might Also Like:
The Other Problems…
Another problem is that at $997 it's pretty costly, but it's not only that – it's that the fee of $997 doesn't actually include everything you need to get started. That solely includes the training videos.
If you wish to actually take action on any of the training you'll need to purchase a domain name (around $15/year), ClickFunnels (starts at $97/month) and also an email marketing tool (likely around $20/month).
Then there's the fact that the claims are simply way over-hyped. Yes, it's possible to make $1,000 per day with affiliate marketing and some people do manage it, but the typical purchaser likely isn't going to see anything anywhere near those results.
And certainly not in just 6 weeks…
The Alternative For Greater Long-Term Success
In my opinion, also an expert affiliate marketer, I would suggest starting out using free traffic methods rather than paid traffic methods – that way you can play around with things without wasting money.
Makes sense, right?
So rather than paying for advertising, you could simply go down the route of optimizing content to rank in search engines like Google. Then, once it does get ranked you'll get a consistent stream of visitors through to your pages (for free).
The other good thing about going down this route is that it's long-lasting.
You see, if you rely on paid advertising & one day you stop advertising or you struggle to keep your campaign profitable, your business takes a hit & your income could literally go to zero overnight.
With the alternative method of content creation though you're building for the long-term because once your content is out there, it's out there for good – meaning you'll get a long-lasting stream of consistent visitors, even if you take some time off.
And once you've got this stream of traffic you can send it to your affiliate offers & play around with it as you like without having to worry about potentially wasting thousands of dollars.
So if that route sounds better to you, then I'd recommend you check out the training over at Commission Academy because that's exactly what they teach you how to do, which in my opinion is certainly better.
Is 1K A Day Fast Track a Scam? My Verdict
No, the program isn't a scam by any means. It's a legitimate training program that teaches you how to set up paid advertising campaigns, build email lists & promote products as an affiliate.
The problem though is simply that in my opinion, it doesn't teach the best method for newcomers to begin with. Instead, it teaches a method which could actually see newcomers losing a LOT of money.
Plus because the method relies on paid advertising, it requires a lot of start-up investment. You'll need at least a good few thousand dollars lying around that you can afford to burn through if you want to stand any chance of seeing success.
Like I said in the previous section of this review I believe there to be a better alternative for getting started which involves producing content & getting it ranked in search engines to generate free, long-term traffic.
That's a method that if you'd like to, you can learn more about at Commission Academy.
But if you're already an experienced marketer & you're simply looking for some tips on paid advertising then I won't discredit the 1K A Day Fast Track program as it could certainly help you out.
Plus there's also the upside that you can get your money back if you decide the course isn't for you.
But you don't have to only listen to my opinion – I've included some additional reviews below so that you can get a broader view on it by listening to what some other online marketers have to say.