Have you come across the 50k A Week system? It's a system launched by a guy named Josh Harris who claims that it can provide it's members with access to automated software capable of generating profits of $50,000 per week through binary options trading – a pretty bold claim don't cha think?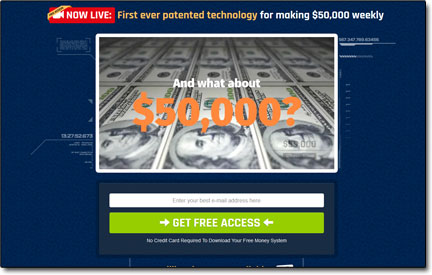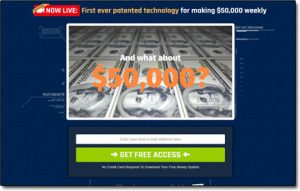 So is it legit or is the 50K A Week system a scam that's simply set out to part you with your hard-earned cash? And if it is legit then how the heck is it supposed to work & can you really make 50k per week?
Those are the exact things I'm going to be finding out in this 50k A Week review so if you've been thinking about trying it out then you can rest assured that you've landed in the right place to find out everything you need to know about it before you do.
And don't worry, unlike many of the other reviewers who've written about this system I'm not affiliated with it which means you'll be getting an actual honest review rather than some biased nonsense that's been put together by somebody who's only really interested in getting you to sign up with it so that they can earn a commission at your expense.
What Is 50k a Week?   |   How Does 50k a Week Work?   |   The Truth   |   Is 50k a Week a Scam?   |   A Better Alternative
What Is The 50k A Week System?
As I touched on above the 50k A Week system is an automated binary system which has been created by a guy named Josh Harris that is supposedly capable of generating you whopping profits of $50,000 per week.
Josh claims that he used to be a poor guy but that during his time at university he started a placement at a company that later went bankrupt who were working on a genius algorithm for trading on the stock exchange.
Whilst Josh was apparently disappointed at the fact that the company had gone bankrupt he decided to take it upon himself to continue with the algorithm & put it to good use to break out of his financial situation.
He says that it took him 3 years but he was finally able to finish the software & that he now has developed a program that can generate automated profits of $50,000 from the stock exchange using this "genius algorithm".
And Josh also says that because he understands what it's like to be broke he wants to help other people escape their situations too, so as a result he's decided to give away the software completely free (but there's a catch – more on that in a moment).
How Does The 50k A Week System Work?
Josh claims that the software is developed like artificial brainpower & that it analyses all of the movements on the movements & can predict a winning trade with the probably of 99.9996%.
So ultimately what Josh is saying is that the system will pretty much pick a winning trade every single time…
And when it comes to binary options which is basically betting on whether the value goes up or down, that's like being able to determine whether or not a coin is going to land on heads or tails… a pretty bold claim!
But it's not the first time we've seen a system or person come out & make claims like this – in fact it was quite rife a couple of years ago with several binary options systems launching all of which said similar things, but sadly none of them turned out to be true.
In fact the majority of the binary systems that launched actually turned to be nothing but scams, take the Tesler App for example which claimed people could make $237 per hour but in reality lost on every trade.
That particular system saw millions of people losing the majority of their life-savings, and it wasn't the only one, there was hundreds if not thousands launching every month which is why I ended up having to write a dedicated post helping people get their money back from binary options scams.
So Is The 50K A Week System Any Different?
Sadly it's not. Whilst it would be nice if the claims this system made were true unfortunately none of them are, as this is yet another binary options scam that's set to do nothing other than part you with your cash.
The person you're led to believe is the creator, Josh Harris, doesn't exist. Instead, this system has actually been put together by an online marketer named Daniel Mightystorm who's NOT a trading expert.
I was able to find that out when I looked at the YouTube video & noticed it had been uploaded by a guy named Daniel & not Josh. Further investigating then concluded that Daniel was indeed the creator & that Josh was just a fake name he'd used to cover his own identity throughout the promotion of the system.
Obviously I then became curious as to why Daniel would want to hide his identity & why he would create this fake character instead so I decided to carry on doing my digging & here's what I found…
This Is How It Really Works…
Whilst the 50K A Week system is supposedly free what you will notice is that in order to get access to the system you are forced to make a deposit through their recommended broker – and not just any broker, you are literally forced to deposit with the broker that they pick for you.
They claim that they've picked a specific broker that works best with their system but it's not true – they've picked this particular broker because Daniel (the real creator) is affiliated with them & he gets paid hefty commissions whenever he gets somebody to sign up with them & make a deposit.
Now think about this – baring in mind binary options brokers only make money when people LOSE money do you really think they would be paying somebody who had created a system that guarantees profitable trades?
Of course not – it would be ludicrous because this would send the brokers out of business, so if anything they would be trying to shut him down not paying to encourage him to get more people to sign up with them.
The reason they are paying him is that the system doesn't actually work as promised – the system is nothing more than fake ploy to encourage you to make your deposit so that Daniel can earn a commission.
You see Daniel is not silly – he knows that most people are aware that binary options is VERY risky & that usually they'd be very unlikely to make a deposit. However, if he can just make them believe for one second that they'll be guaranteed to profit then boom he's got them – and he can now make a commission at their expense.
Once you actually make your deposit & get access to the system this is where you'll then find out that it doesn't work as promised. Whereas the video claimed 99.9996% of trades would win you'll find that you'll be lucky if you even manage to get a single one to win.
Oh and if you think you'll be able to get a refund or withdraw your funds think again – the brokers themselves are part of a scam so they'll do whatever they can to keep hold of your cash.
You Might Also Like:
Is 50K A Week a Scam?
It's clear to me that this system is definitely a scam – all you're fed is lies & it's been designed with the pure intention of making the creator rich at your expense by tricking you into making a deposit.
Once you actually get inside the system & start the trading you'll realize that it doesn't work as promised at all, instead of making non-stop winning trades like you were led to believe you'll just see your account balance quickly depleting.
But this is only where the scam is just beginning because the brokers will then call you up in an attempt to encourage you to deposit even more funds by claiming that there was some sort of error the first time around & that the next time you'll definitely be able to profit. Some of the brokers have even been known to manipulate the figures to make it seem like you're profiting only to then later block your withdrawal.
Ultimately it is nothing more than a ploy designed to part you with your hard-earned cash & sadly it's no different to any of the other binary options scams that I've seen come before it – just another scam.
So it's going to be getting a huge thumbs down from me & I certainly won't be recommending this system to you, in fact, I'll actually be advising that you stay away from it because it's definitely not legit.
A Better Alternative
The sad truth is that unfortunately most of the programs promising to help you make money online are scams. I can say that confidently after exposing over 500+ of them here on this blog.
But the good news is that even though most of them are indeed scams, there are actually some very good programs in amongst them - some programs that can truly help you to earn money.
And out of all of the legit programs I've seen, the one I would recommend the most to anybody looking to get started online is Commission Academy. In my own opinion, that's the best place to start.
At Commission Academy, you'll be provided with everything you need (including the training & tools) to begin earning real money by promoting products or services for companies like Amazon online.
The best part is that there's literally no limit on the amount you can earn with it & the process is pretty simple which means that it's absolutely perfect for people that don't have much experience.
Some wealthy affiliates even earn as much as 5-figures per month... Or more!

I mean don't get me wrong, that kind of money won't just fall into your lap without doing any work... But the harder you're willing to work at it, the more you stand to earn with it.
So if you're looking to get started but don't know which route you should go down or which program you should join (and don't want to waste money on bogus things that don't actually work), then I'd highly recommend checking out Commission Academy first. You can learn more about it here.