Imagine if you could download a piece of software, activate it & then begin earning $237 per hour on complete autopilot?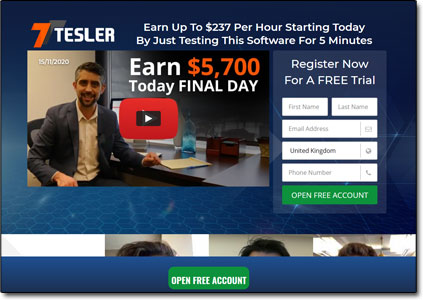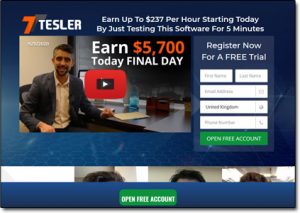 Well, that's what the new Tesler trading app claims it can enable you to do.
According to the website promoting it, you simply need to "test the software for 5 minutes" & then afterwards, you'll find yourself generating an entirely automated income of $5,700+ per day.
But is it really legit? Or is the Tesler trading app a scam?
The good news is that you've landed in exactly the right place to find out because in this review I'll be uncovering everything you need to know, including how it all really works.
What Is The Tesler Trading App?   |   How Does The Tesler App Work?   |   The Risks   |   The Red Flags   |   Is The Tesler Trading System a Scam?   |   A Better Alternative
What Is The Tesler Trading App?
In short, the Tesler trading app portrays itself as providing a way for you to easily generate hundreds of dollars per hour without having to lift so much as a single finger.
You're led to believe that the app has been built around a proven-formula for winning trades & that all you need to do to begin profiting is simply make a deposit & then activate it.
From there, the app will supposedly begin making the trades on your behalf & begin earning you an income entirely on autopilot.
But I can tell you right from the off that's a load of nonsense.
In fact, the Tesler trading app is nothing but a scam… And I can say that so confidently because I've actually exposed this exact same type of trading scam several times before.
The people who are behind these scams simply keep on launching their "systems" and "apps" under new names in an attempt to escape the negative reviews so that they can continue tricking people into joining.
"Tesler" is just the latest name for the system, but the system itself is no different (as you'll soon see in this Tesler review). Some of its previous names include things such as Bitcoin Revolution, Bitcoin Cycle & Prime Advantage.
And you don't have to "just take my word for it" when I say that it's a scam. Instead, keep on reading & I'll explain exactly how it all really works (or should I say how it doesn't work) below.
How Does The Tesler App Work?
You're led to believe that profiting with the Tesler app involves a really straight-forward process. You just need to sign up, make a deposit with the recommended broker & then activate the system to begin making money.

Easy, right?
But there are 2 very important things that the Tesler website fails to mention & when these 2 things are combined, they literally prove that the system cannot physically work as promised.
So what are the 2 things they fail to mention?
Well, the first one is that they are actually affiliated with the broker that they advise you to deposit with. This means that if you sign up & make a deposit via their website, they get paid a commission.
And the second thing that they fail to mention is that the broker is a binary options broker. This is the bit that proves it's a scam.
You see, binary options brokers work differently to normal brokers.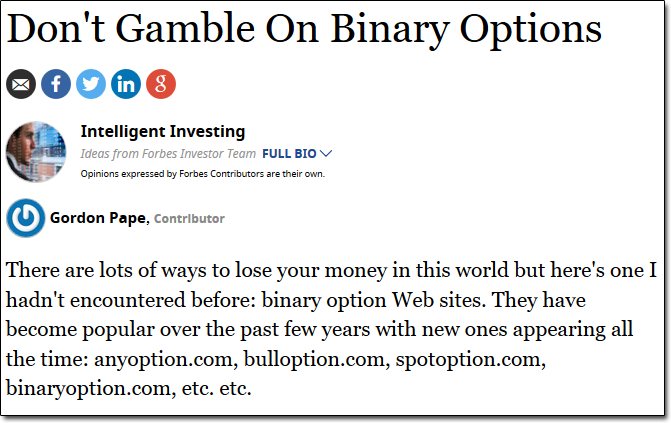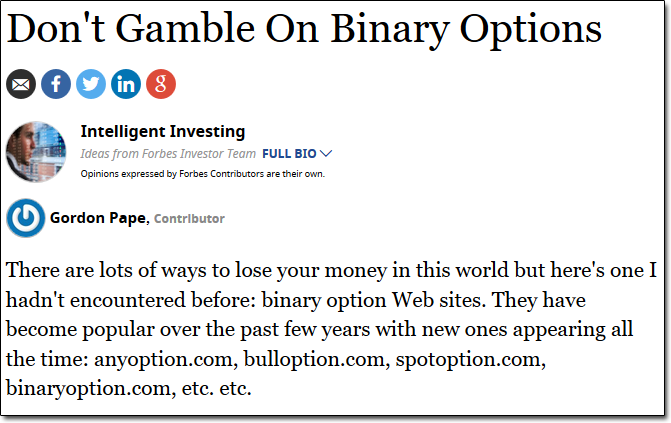 Through a binary options broker, you don't actually invest in anything. Instead, you simply place bets on whether you think the value of something will rise or fall over a set period of time (usually under 60 seconds).
If you guess right (which is very, very unlikely) then the broker returns your bet & gives you a small bonus… But if you guess wrong, then the broker takes your entire bet from you.
The important part here is that if you win, the broker pays you out of their own pockets – meaning they do not want you to win.
So with that in mind, ask yourself this…
Why would a broker (that loses money if you win money) be paying commissions to the creator of a "guaranteed winning app" like the Tesler app for getting you to sign up with them?
The answer is because they know that the app doesn't really work as promised & that instead it's actually been designed to make you LOSE money (and lots of it, too).
The broker & the creator of the Tesler scam are both in cahoots together.
The Risks
The Tesler scam (and the other similar scams that came before it) catch people out by portraying themselves as being "risk-free".
They lead you to believe that you can simply make a deposit with the recommended broker & try the system out. They make you feel like you can simply withdraw your money if it turns out not to work as promised.
However, what they fail to tell you is that both themselves & the broker are in on the scam together. This means that once you've deposited the money to get started, you will not be able to get it back.
Worse, is the fact that the system also falsifies your profits to encourage you to deposit even more money again & again.
So once you've deposited (which I don't recommend doing), the app will make you believe that you're actually generating profits, but it's essentially just a video game as it's not really connected to any live markets.
You'll simply be left to find out the hard way that the whole thing has been a scam when you finally attempt to make a withdrawal & realize that the broker either begins to make excuses or ignores your request completely.
And in some instances, the brokers have even gone on to scam more funds out of people by claiming that they need to pay a "taxation fee" (often of thousands of dollars) in order to process their withdrawal.
Pretty nasty stuff.
You Might Also Like:
The Red Flags
Obviously, when it comes to the Tesler scam, the primary red flag is that the entire thing simply sounds WAY too good to be true… And as the saying goes, "if something sounds too good to be true, it probably is".
In the instance of the Tesler app, it definitely is.
I mean think about it – if the app really worked then everybody would be using it. Who on earth would be left working at a job if they could generate $237 per hour on autopilot?
The world would be in crisis.
Alongside that, the Tesler app website features so-called "testimonials" but a quick Reverse Image Search on Google reveals that they're all fake. Take a look for yourself below:

And finally, the website offers absolutely no contact or ownership information whatsoever. Nor does it display any signs on licensing (which is a requirement by law for investment-related websites).
There is simply NO way you should deposit any money via the Tesler website.
Is The Tesler Trading System a Scam?
There's no doubt about it, the Tesler trading system is definitely a scam. The whole thing has been designed with the sole intention of tricking you into signing up with a scam binary options broker.
You should definitely avoid the Tesler system if you were considering joining & you should also avoid any other programs or systems that make similar extraordinary income claims like it.
You see, the truth is that you can make good money online, but you cannot make good money easily or fast. In order to make good money online, you must be prepared to put in some work.
The good news, however, is that if you are prepared to put in the work to make it happen then there are legitimate places such as Commission Academy where you can get started for free.
At Commission Academy, you'll learn step-by-step how you can begin making money from one of my highest recommended methods, affiliate marketing. It simply involves promoting products online & getting paid in return for doing so.
It's also the exact same way that I personally built an income online myself.
And alongside that, there are also various other options which you can check out on my top picks page.
But whatever you decide to do, I just hope that my Tesler review here proved to be helpful to you & most importantly, I hope that it helped to prevent you from losing any money.
If you have any further questions or comments then don't hesitate to leave them below.
A Better Alternative
The sad truth is that unfortunately most of the programs promising to help you make money online are scams. I can say that confidently after exposing over 500+ of them here on this blog.
But the good news is that even though most of them are indeed scams, there are actually some very good programs in amongst them - some programs that can truly help you to earn money.
And out of all of the legit programs I've seen, the one I would recommend the most to anybody looking to get started online is Commission Academy. In my own opinion, that's the best place to start.
At Commission Academy, you'll be provided with everything you need (including the training & tools) to begin earning real money by promoting products or services for companies like Amazon online.
The best part is that there's literally no limit on the amount you can earn with it & the process is pretty simple which means that it's absolutely perfect for people that don't have much experience.
Some wealthy affiliates even earn as much as 5-figures per month... Or more!

I mean don't get me wrong, that kind of money won't just fall into your lap without doing any work... But the harder you're willing to work at it, the more you stand to earn with it.
So if you're looking to get started but don't know which route you should go down or which program you should join (and don't want to waste money on bogus things that don't actually work), then I'd highly recommend checking out Commission Academy first. You can learn more about it here.