Bitcoin Cycle is the name of a newly launched system that's being promoted via various "news" websites & it promises to provide people with a really easy way to make lots of money online.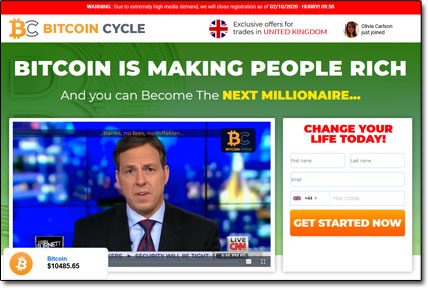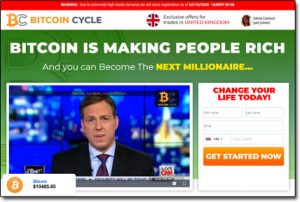 In fact, according to the title on the Bitcoin Cycle website, you're told that "Bitcoin is making people rich" and that "you can become the next millionaire".
But is it actually legit? Or is Bitcoin Cycle simply a scam?
Well, thankfully you've landed in the right place to find out because I've personally taken a closer look into it & in this honest Bitcoin Cycle review I'll be uncovering the truth about how it all really works.
What Is Bitcoin Cycle?   |   How Does Bitcoin Cycle Work?   |   The Red Flags   |   Fake News Promotions   |   Is Bitcoin Cycle a Scam?   |   A Better Alternative
What Is Bitcoin Cycle?
Bitcoin Cycle claims to be a free automated trading software that can trade Bitcoin profitably entirely on your behalf, giving you the ability to generate a consistent income all on complete autopilot.
The people behind it claim that it's laser-accurate, that it's built on superior technology, that it's won awards & that most importantly, it can enable you to generate millions through Bitcoin.
All you need to do, according to the software's creators (who suspiciously remain anonymous) is simply sign up, make a small deposit & then "activate" the system for it to begin generating you profits.
But could it really be so easy?
And if it could be, then why isn't everybody doing it? Why are there are people still working at jobs that they dislike for less money if they could simply sign up to Bitcoin Cycle & become a millionaire without any effort?
Well, the answer is because simply put, Bitcoin Cycle does NOT work as promised.
In fact, Bitcoin Cycle is actually just a re-hashed version of a scam that I've already several times in the past on this blog. I've previously seen it named Bitcoin Evolution, Bitcoin Millionaire Pro, Bitcoin Revolution & Bitcoin Union (among others).
You'll see what's really going on below as I explain in greater detail exactly how it all works.
How Does Bitcoin Cycle Work?
The idea is that you're supposed to be able to simply sign up to Bitcoin Cycle, make a deposit with the broker that they recommend to you & then activate the system to begin generating profits… But that's not how it works in practice.
You see, the creators of Bitcoin Cycle fail to tell you 2 very important things.
They fail to tell you that not only is the broker that they recommend to you a binary options broker, but it's also a binary options broker that they're affiliated with… And that in itself literally proves it's a scam.
The reason it proves it's a scam is that binary options brokers don't work like traditional brokers.
Instead of investing in things as you would with via normal broker, through a binary options broker you're actually just placing bets on whether you believe the value of something will go up or down over a certain period of time (usually under 60 seconds).
This means that in the unlikely instance you place a correct bet, the broker would have to pay your winnings out of their own pockets – meaning they technically lose money if you profit.
So it's quite clearly in their interest for you to lose money (and to lose as much of it as possible) because that's how they earn their money. They take your money when you lose it.
Now, with that in mind, ask yourself this…
Why would a broker that loses money when you make money, be paying commissions to the creator of a system that's guaranteed to make you win for getting you to sign up with them?
There's no way they would because such a system (if it existed) would put them out of business.
The REAL reason they're paying the creator of Bitcoin Cycle commissions is that they're actually both in cahoots on the scam together & they know that the software has been designed to make you lose, not win.
The Red Flags
When it comes to the Bitcoin Cycle scam, there are actually quite a lot of red flags. The first one is simply the fact that the whole thing sounds extremely too good to be true.
If something sounds too good to be true, it usually is.
But there are many more red flags alongside that, such as the fact that the Bitcoin Cycle website claims that the software has been featured on several high-profile websites such as CNN & Forbes, which simply isn't true.
In fact, Forbes actually published an article warning against the dangers of binary options trading: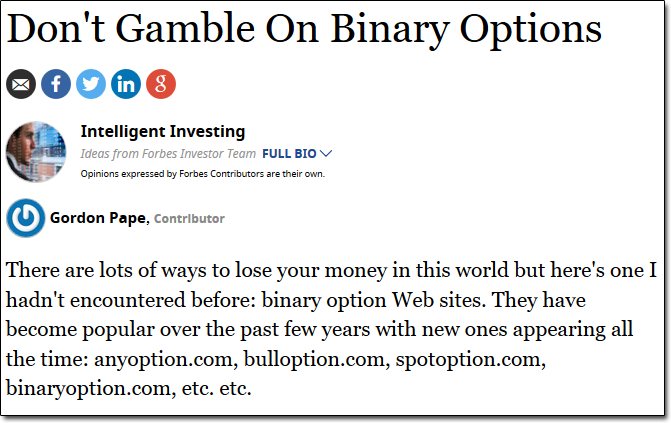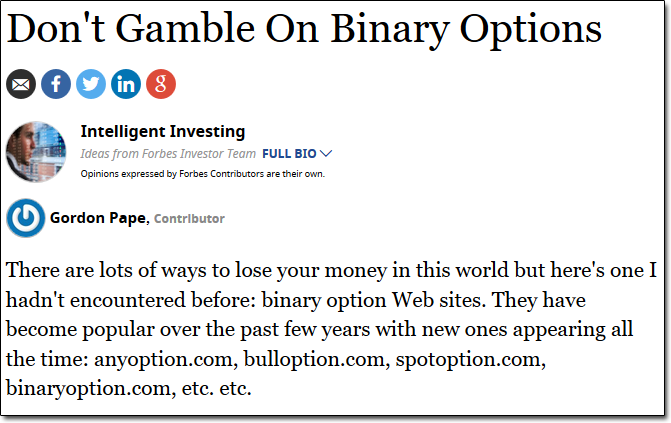 On top of that, Bitcoin Cycle shows several images alongside what it describes as being "real testimonials from users".
The problem is that they're all fake. The images have simply been pulled from stock photo websites, as shown below: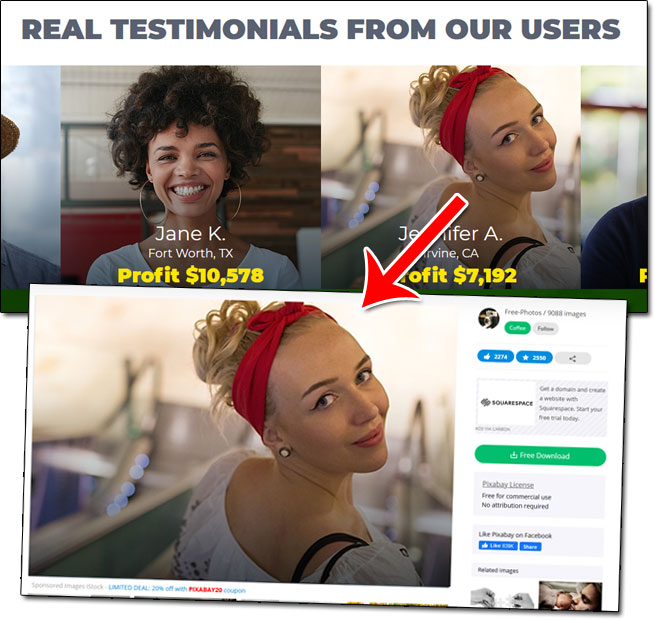 But then it gets even trickier because not only has the Bitcoin Cycle scam deployed these kinds of tactics on its own website, but the people behind it have also gone to the lengths of creating fake news websites to promote it, too.
You Might Also Like:
Fake News Promotions
It's likely that if you have come across the Bitcoin Cycle scam, you found it via what you believed to be a news website & that might have led you to believe that it may actually be legitimate.
The problem, however, is that the news websites promoting Bitcoin Cycle are all fake.
They've been set up with the sole intention of tricking you into thinking that it's been promoted via a real news website so that you'll be more likely to sign up since you are under the impression that it has been promoted by a trusted source.
As an example, here is the particular website that led me personally to Bitcoin Cycle: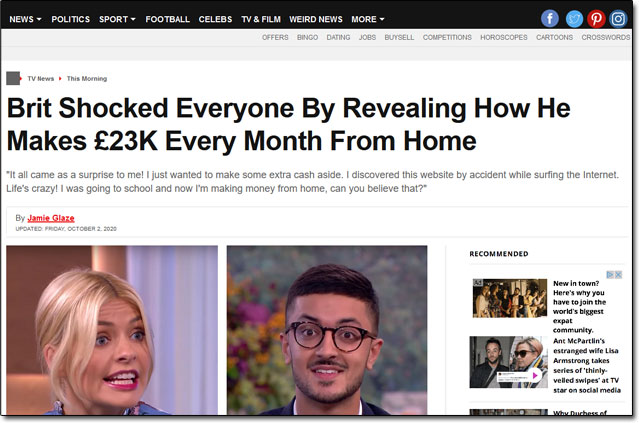 At a glance, it looks like a legitimate news website & it features a story claiming that a young man discovered the Bitcoin Cycle app & began making thousands from his own home.
But if we actually take a look at the address bar of the page, we can see it's a fake:
"newztopia" is not a real news website, and it has no other pages on it other than the one promoting Bitcoin Cycle.
Is Bitcoin Cycle a Scam?
Absolutely, there's no doubt about it. The Bitcoin Cycle app has been launched with the sole intention of tricking you into depositing with a binary options broker so that they can earn some commissions at your expense.
Once you do make your deposit, you'll be given access to the Bitcoin Cycle system as promised & it will indeed appear to be generating profits, but this is just further trickery to make you proceed to deposit even more money.
Then, when you finally attempt to withdraw your so-called profits you'll simply be left to discover the hard way that the whole thing is simply a scam & that both the broker & the creator of the Bitcoin Cycle app are in on it together.
So it's safe to say that it should be well avoided.
Instead, if you're still looking for a legitimate way to earn money online I would recommend that you take a look into affiliate marketing. It's through affiliate marketing that you'll be able to earn a good income without having to risk funds upfront.
Or alternatively, you could also check out the other options on my top picks page here.
But either way, whatever you decide to do I just sincerely hope that my Bitcoin Cycle review here has given you a good insight into how the whole thing really works & most importantly, I hope it's helped you to avoid it.
Feel free to leave any comments or questions below.
A Better Alternative
The sad truth is that unfortunately most of the programs promising to help you make money online are scams. I can say that confidently after exposing over 500+ of them here on this blog.
But the good news is that even though most of them are indeed scams, there are actually some very good programs in amongst them - some programs that can truly help you to earn money.
And out of all of the legit programs I've seen, the one I would recommend the most to anybody looking to get started online is Commission Academy. In my own opinion, that's the best place to start.
At Commission Academy, you'll be provided with everything you need (including the training & tools) to begin earning real money by promoting products or services for companies like Amazon online.
The best part is that there's literally no limit on the amount you can earn with it & the process is pretty simple which means that it's absolutely perfect for people that don't have much experience.
Some wealthy affiliates even earn as much as 5-figures per month... Or more!

I mean don't get me wrong, that kind of money won't just fall into your lap without doing any work... But the harder you're willing to work at it, the more you stand to earn with it.
So if you're looking to get started but don't know which route you should go down or which program you should join (and don't want to waste money on bogus things that don't actually work), then I'd highly recommend checking out Commission Academy first. You can learn more about it here.