The Bitcoin Millionaire Pro system claims that it can enable you to earn extreme profits through automated Bitcoin trading. You're led to believe that all you need to do is sign up, deposit & that the system will then begin making you money without you having to actually do anything.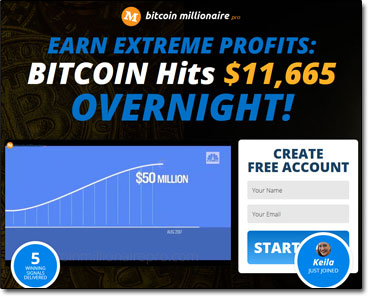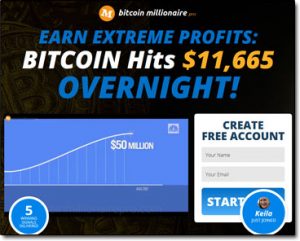 It might initially seem like a dream come true, but no doubt you'll be sceptical (and you have good reason to be)… So what's the deal?
Is it actually legit or is the Bitcoin Millionaire Pro system a scam that'll just see you losing money rather than making it?
Thankfully you've landed in exactly the right place to find out because I've taken a closer look into it all & in this review, I'll be uncovering everything you need to know including how it all works & whether or not you can really make money with it.
What Is Bitcoin Millionaire Pro?   |   How Does Bitcoin Millionaire Pro Work?   |   The Red Flags   |   Is Bitcoin Millionaire Pro a Scam?   |   A Better Alternative
What Is Bitcoin Millionaire Pro?
The Bitcoin Millionaire Pro system is a newly launched money-making opportunity that claims to have been put together by a group who call themselves the International Council for Bitcoin.
You're led to believe that this so-called "International Council for Bitcoin" consists of statisticians, data analysts, developers & that they've created a piece of software that can enable you to allegedly generate passive profits by automatically trading Bitcoin on your behalf.
So essentially the founders of the Bitcoin Millionaire Pro system claim that you can just sign up, make a small deposit, run the software & start making money without actually having to do anything.
They even claim that you don't need any trading experience or cryptocurrency knowledge at all…
And as I mentioned at the start of this review it might all initially sound like a dream come true, but don't go rushing into signing up just yet because as you'll soon see the Bitcoin Millionaire Pro system is nothing but a scam.
Rather than being set out to help you make money at it claims, the Bitcoin Millionaire Pro system has actually only been designed to take money from you in order to make its creator wealthy at your expense.
But obviously I don't expect you to just take my word for that. I appreciate you may have been really hoping that the system would work for you, so instead let me show you how it all works so you can see what's really going on…
How Does Bitcoin Millionaire Pro Work?
Basically the Bitcoin Millionaire Pro is nothing but a binary options scam. The whole website has been built just to trick you into depositing with the creator's "recommended" broker so that he can earn at a commission at your expense.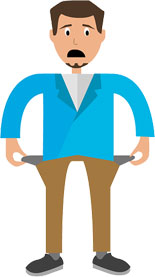 Then after depositing you'll be left to find out the hard way that the system doesn't actually work as promised. Instead of making you profits, you'll see that in reality, it makes nothing but losses.
And even if you manage to stop it before it entirely burns through your money then you'll quickly realize you face another problem. The "recommended" broker won't let you withdraw any of your cash.
The reason for that is because the brokers in on the same scam too – if you take a look at their website they're not even licensed, they're just crooks that are set out to part you with your hard-earned cash.
So if you ask for a withdrawal they'll either ignore your request or simply point blank refuse it.
The entire thing is a scam, but sadly many people get caught out by these things because they lull you into the false sense security of thinking that you'll be able to "just try it out"…
They want you to think that you'll just be able to deposit some money & then withdraw it again if it doesn't work as promised, but as I explained above that won't be the case… And that's how they scam you.
The Red Flags To Look Out For…
I've exposed literally hundreds of these types of binary options scams on this blog over the years & immediately upon landing on the Bitcoin Millionaire Pro website I was able to see that it was littered with red-flags & likely a scam.
I appreciate though that to the untrained eye it might not be so easy to spot a scam like this, so I figured I'd run through a handful of the red-flags here so that hopefully you will be more aware in the future.
1. Too Good To Be True
I'll start with the obvious one – the system & the claims made are simply too good to be true. The internet provides plenty of ways to make extra money but it's not magical & none of them are going to see you earning lot's of money with little to no work.
I mean come on, think about it – if something like this really existed (which it never will) then the world would be left in crisis as everyone would be quitting their jobs & living off their "automated millions" instead.
2. No Ownership Details or License
If a random person walked up to you in the street & said "hey, give me $250 and I'll give you $10,000 tomorrow" would you do it? Well you might do if he gave you his contact details, but without them, you certainly wouldn't… You'd likely never see him again.
So why would you be willing to invest money via a website that doesn't display any contact details? A website that just like the stranger could disappear never to be seen again after it's got your money.
On top of that, all websites operating within the investment industry must display details of their regulatory license on their site – and they must do this prominently. Surprise surprise the Bitcoin Millionaire Pro doesn't, meaning it's obviously got no license (since no legitimate company would make this mistake).
You should never, ever invest money into a company that doesn't provide both verifiable contact & license details.
3. Fake Scarcity
If you attempt to exit the Bitcoin Millionaire Pro website you get a pop-up window claiming that if you leave you'll forfeit your opportunity to get access to the system – but this just simply isn't true.

If you leave & come back surprise surprise the website's still there & you can still get access. The real reason they present this message is to try to stop you looking for reviews because they know that if you do, you'll likely find out it's a scam.
Is Bitcoin Millionaire Pro a Scam?
Yes, in my opinion, the Bitcoin Millionaire Pro system is a complete scam & it's not worth your time or money. Ultimately if you invest in it you will just end up losing everything rather than making anything.
The whole thing is totally been misleading & it's nothing but a ploy to trick you into depositing with the "recommended" broker so that the creator of the system can earn a commission at your expense.
And as I mentioned earlier in the review the "recommended" brokers are typically unlicensed meaning that you have next to no chance of getting your money back from them because they're in on the scam too.
Therefore overall I will not be recommending this system to you, instead I will be advising you to totally avoid it. If you really want to learn how to make money online then you should check out a proper program like Commission Academy instead – it's there that you'll learn the proper way to get started.
But anyway hopefully my review here gave you the insight into the system that you were looking for & more importantly I hope it helped save you some money. If you do happen to have any further questions or comments though then don't hesitate to leave them below.
A Better Alternative
The sad truth is that unfortunately most of the programs promising to help you make money online are scams. I can say that confidently after exposing over 500+ of them here on this blog.
But the good news is that even though most of them are indeed scams, there are actually some very good programs in amongst them - some programs that can truly help you to earn money.
And out of all of the legit programs I've seen, the one I would recommend the most to anybody looking to get started online is Commission Academy. In my own opinion, that's the best place to start.
At Commission Academy, you'll be provided with everything you need (including the training & tools) to begin earning real money by promoting products or services for companies like Amazon online.
The best part is that there's literally no limit on the amount you can earn with it & the process is pretty simple which means that it's absolutely perfect for people that don't have much experience.
Some wealthy affiliates even earn as much as 5-figures per month... Or more!

I mean don't get me wrong, that kind of money won't just fall into your lap without doing any work... But the harder you're willing to work at it, the more you stand to earn with it.
So if you're looking to get started but don't know which route you should go down or which program you should join (and don't want to waste money on bogus things that don't actually work), then I'd highly recommend checking out Commission Academy first. You can learn more about it here.