There's a lot of different systems making lot's of different bold claims online which means it can be hard to find the stuff that actually works in among all the… well… junk.
This time around it seems to be the turn for the 9 Min Comm system to bring its bold claim to the table, which is that it can supposedly "force you to make $233.37/day in affiliate commissions providing you can spare just 9 minutes to get set up".
To be honest, I'm not quite sure why they're looking to "force" you into making commissions – seems to be a peculiar choice of wording, but hey-ho… We'll roll with it.
And the bold claims don't stop there because…
Allegedly, you don't need any experience
You don't need a list
You don't need a budget
And you can be "up and running and banking profits in just 9 minutes"
It certainly sounds like the perfect product – I'm sure you'll agree… But does it really work or is it just yet another hyped up program which turns out to be full of BS?
Well, that's exactly what I intend to find out & share with you right here in this review – so if you're looking to find out if you can really make money with the 9 Min Comm system then rest assured you've landed in the right place to find out.
What Is The 9 Min Comm Method?   |   How Does The Method Work?   |   Can You Really Make Money?   |   My Final Verdict   |   A Better Alternative
What Is The 9 Min Comm Method?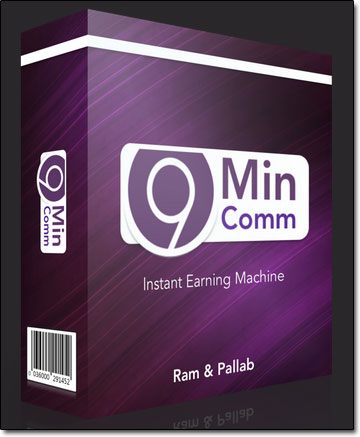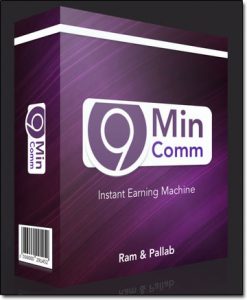 According to the website, the 9 Min Comm method is a tried & tested affiliate formula that will enable you to earn money from various networks with ease.
If you're not quite sure what affiliate marketing is it's basically where you get paid commissions for promoting other peoples products or services. As an example, Amazon runs an affiliate program and you can earn commissions by promoting any of the products found within their marketplace – though it appears to me that the 9 Min Comm system focuses heavily on promoting digital products such as those found on the likes of Clickbank & JVZoo.
Ultimately though you're going to be learning how to effectively promote affiliate products & make money, apparently even if you have zero experience.
There are already several other products which teach affiliate marketing, with one of the most popular being Wealthy Affiliate (which is free to join). Whilst the 9 Min Comm system may offer a proven method it's going to be pretty hard for them to come up with something better their already massively successful rivals…
But of course, I'm going to check it out & see if they've come up with the goods.
How Does The Method Work?
One thing that's made clear throughout the sales letter for the 9 Min Comm system is that it doesn't involve creating content, providing services, paid advertising or selling anything…
Which probably leaves you wondering just what exactly does it involve?
The answer is YouTube.
The 9 Min Comm system is focused on teaching you how to leverage YouTube to begin generating affiliate commissions by creating videos & learning a "secret trick" to get them to rank high up in the search results.
And it's structured in a way whereby it teaches 2 methods which they call the "Basic Model" and the "Advanced Model".
The basic model revolves around creating videos, publishing them to YouTube and sending visitors straight to affiliate offers.
The advanced model is more geared towards creating videos, capturing email address, building authority and then sending people to affiliate offers.
You can make money with both models, though by building authority through the advanced model you will be able to ultimately generate more commissions from your subscribers. This comes at an additional cost though as you will need to sign up for capture page providers, autoresponders etc…
Can You Really Make Money In 9 Mins?
Theoretically, you could – but the chances are you won't, at least not without an awful lot of prior preparation.
There are lot's of people making good money from YouTube & it certainly can start happening fairly quickly if you know what you're doing, but I think the idea of generating upwards of $200 per day in just 9 minutes is a little far-fetched.
Even with well-ranked YouTube videos (and lot's of them), it can still take a little while for commissions to start coming in, and I'm talking weeks/months.
So whilst I'm confident their method works – I feel it's being portrayed as being quite a lot easier & quicker than it actually is.
Ultimately affiliate marketing regardless of the methods you use is hard work & takes time.
You Might Also Like:
My Final Verdict
Well, the good thing about this system is there is actually some substance to it unlike the majority of the other systems that have launched lately promising the world but delivering nothing.
However whilst this is a fairly quality product in respect to YouTube marketing I do feel that the creators have let it down by over-hyping it which is a bit of a shame really because as a stand-alone YouTube marketing product it could have been pretty hot.
I have confidence in the methods taught through the 9 Min Comm system & I'm sure that as a result of following the training you would be able to generate commissions though there's a slim chance of them coming as quickly as they are promised.
I also believe that whilst the training is good, it's not necessarily the best starting point since it primarily focuses solely on YouTube marketing.
If you are specifically interested in learning how to rank videos on YouTube then this product could be a good punt – however, if you're brand new and just looking to get started with affiliate marketing I'd probably say that something like Wealthy Affiliate would be better suited as it will give you a broader overview on various methods.
So hopefully that gives you a good insight into what you can expect from the 9 Min Comm system & hopefully it's helped you figure out if it's truly a good fit for your specific needs. If you still happen to have any questions about it then don't hesitate to leave them below in the comments section & as always I'll do my best to respond back as quickly as possible.
A Better Alternative
The sad truth is that unfortunately most of the programs promising to help you make money online are scams. I can say that confidently after exposing over 500+ of them here on this blog.
But the good news is that even though most of them are indeed scams, there are actually some very good programs in amongst them - some programs that can truly help you to earn money.
And out of all of the legit programs I've seen, the one I would recommend the most to anybody looking to get started online is Commission Academy. In my own opinion, that's the best place to start.
At Commission Academy, you'll be provided with everything you need (including the training & tools) to begin earning real money by promoting products or services for companies like Amazon online.
The best part is that there's literally no limit on the amount you can earn with it & the process is pretty simple which means that it's absolutely perfect for people that don't have much experience.
Some wealthy affiliates even earn as much as 5-figures per month... Or more!


I mean don't get me wrong, that kind of money won't just fall into your lap without doing any work... But the harder you're willing to work at it, the more you stand to earn with it.
So if you're looking to get started but don't know which route you should go down or which program you should join (and don't want to waste money on bogus things that don't actually work), then I'd highly recommend checking out Commission Academy first. You can learn more about it here.