Chris Record introduces his new 90 Day CBD Challenge program and claims that this is the modern-day quick income-generating system. Have you heard about this before? If you have, you might have been waiting for an honest 90 Day CBD Challenge review. Well, here it comes…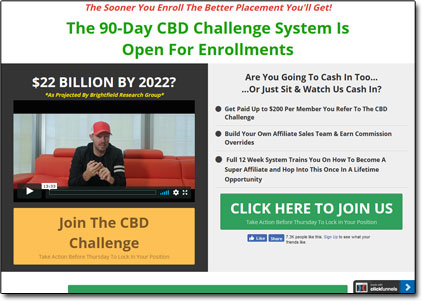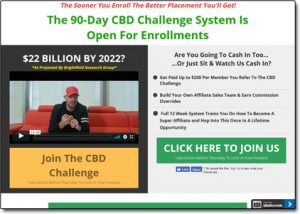 The hemp industry is flourishing and more and more people around the world, especially in America are on a high. But does this million-dollar industry offer something significant for everybody? That is the real question!
In this 90 Day CBD Challenge scam review, you'll get an insight into this system…
What Is The 90 Day CBD Challenge?   |   How Does The 90 Day CBD Challenge Work?   |   Is The 90 Day CBD Challenge a Scam?   |   A Better Alternative
What Is The 90 Day CBD Challenge?
Chris Record claims that this is a system that teaches you how to receive your cut from this million-dollar industry that is set to sweep across America and may be eyeing on invading other continents. As per the 2018 statistics, $591 million is the worth of CBD industry and it is going to multiply over the next few years.
Scores of websites are talking about and promoting the potential benefits of CBD extracts. We don't claim to be CBD experts but we are aware of the fact that most of these websites are manipulating public opinion by using unfinished and controversial research conclusions. Most of the claims about cancer, anxiety, and other treatments are exaggerated. They have mastered the art of converting Possibilities into Definite Conclusions…
The research is ongoing, the legislation is doing its best to keep things on track but these websites are quickly developing mass opinion in favour of CBD extracts.
The 90 Day CBD Challenge is basically a 3-month program. It teaches and encourages you to sell CBD extracts. They claim that CBD industry will be valued at somewhere around $22 billion by the year 2022. And they base their program on this assumption. They are trying to tell you that you can become a successful entrepreneur by trying your luck in the CBD industry.
Is There Anything Good About The 90 Day CBD Challenge?
A one week free trial is available for you to get an idea of what is going on. They promise to teach you how to start and establish your own CBD business. In addition, no coding skills are needed. The best news is that you don't have to worry about keeping the inventory.
What we understand from this is that 90 Day CBD Challenge is going to teach you about setting up a CBD website and then start trying your luck with affiliate programs. In simple words, this is going to be a promotional activity.
However there is already a VERY good affiliate training program in existence called Commission Academy, and so far over many years I haven't come across any program that has provided better tools or training… So if you are looking to promote CBD Oil online & earn from it then I am already very confident that Commission Academy will provide the better option with regards to helping you do that.
But nevertheless I'll continue looking into Chris Record's 90 Day CBD Challenge program just in case…
A Word About Chris Record – The Founder of 90 Day CBD Challenge
Chris Record is known for being the founder of this program and Peter Sorenson is the other name who might well be the partner in crime. They basically come from an internet marketing background. They actually own a couple of successful firms which they established throughout their promising careers. Both have come up with this new idea – 90 Day E-com Challenge – the record setting idea which awarded them with the largest ever monthly Shopify affiliate payout. There is no doubt about the expertise of these individuals. But is their knowledge and experience enough to inject the success by contributing to your monthly income?
Let's take a look into how it works to find out…
How Does The 90 Day CBD Challenge Work?
This is interesting and innovative. Every day, one new video pops up and stays for 90 days. Each of these videos features educational content. They teach you to set up your own CBD business to pull out your share from the million-dollar CBD hemp industry.
Each member is awarded 90 Day CBD Challenge Certificate after completing the 90 day challenge. The programs follow the structure/schedule below:
Week 1 – CBD Websites
Week 2 – Legislation and policies (legalities)
Week 3 – Knowledge of CBD
Week 4 – CBD Marketing
Week 5 – CBD Branding
Week 6 – CBD Advertising
Week 7 – CBD Monetizing
Week 8 – List Building
Week 9 – Email Marketing
Week 10 – CBD Technology
Week 11 – CBD Worldwide
Week 12 – CBD Dispensaries
In addition, there are bonus videos featuring the latest developments and trending news from CBD industry.
To unlock all the above-mentioned videos, you basically need to climb up the ladder to Executive Level (My Daily Choice). Once you reach the Executive Level, this is your chance to make big money.
The whole practice is based on education and training. This is by no means easy-coming money. You need to focus on the training, implantation of the right strategy, and some advertising skills. If someone says that you need not be good at coding, that is true. You can outsource professionals for that stuff. But you got to be good at advertising and promotion. In the end, this is all going to rely on your skills of affiliate marketing.
We think that the 90 Day CBD Challenge is good only for those who have the right experience and knowledge. This course is not going to turn just anyone into an expert marketer… However going back to what I said earlier in this review I still believe that if you are looking to get involved in the CBD Industry that the training/tools provided over at Wealthy Affiliate will set you up for better success.
Plus Wealthy Affiliate actually teaches you how to promote ANY products or services as an affiliate, not just CBD – so in my opinion it definitely provides the better option overall. But back onto the 90 Day CBD Challenge…
Is The 90 Day CBD Challenge a Scam?
We can easily conclude this 90 Day CBD Challenge scam review by saying that this is a legitimate program. The people behind this system are well known and have performed miracles as marketers…
But if you ask whether this program is going to help you earn at least 4 digits a month, the answer will entirely vary from person to person. It depends on your prior expertise.
Digital marketing is an art which takes some time to generate results. If you already are good at marketing, then this course will help you to integrate your skills with CBD industry. Yes, you can make a good income in this case!
If you are not good at marketing though then I wouldn't really recommend the 90 Day CBD Challenge program, instead as I mentioned previously in this review I would recommend Commission Academy which is more geared towards beginners & which also comes with the required tools.
Plus the other downside of Chris Record's 90 Day CBD Challenge program is that it's attached to a network marketing program called My Daily Choice and I generally don't recommend anybody gets involved with network marketing because the success rates are VERY low. Most people just end up spending more than they ever actually manage to make back.
So with that mind, I will say that the 90 Day CBD Challenge program is "okay" but I am not going to strongly recommend it & if you do sign up to it then I would definitely advise caution since it is associated with an MLM which are renowned for parting people with their cash.
You can also check out these other alternative ways of making money too before you go – but whatever you decide to do I just hope that my review of the 90 Day CBD Challenge here has given you a good insight into how it really works. Feel free to leave any further questions or comments below. 🙂
A Better Alternative
The sad truth is that unfortunately most of the programs promising to help you make money online are scams. I can say that confidently after exposing over 500+ of them here on this blog.
But the good news is that even though most of them are indeed scams, there are actually some very good programs in amongst them - some programs that can truly help you to earn money.
And out of all of the legit programs I've seen, the one I would recommend the most to anybody looking to get started online is Commission Academy. In my own opinion, that's the best place to start.
At Commission Academy, you'll be provided with everything you need (including the training & tools) to begin earning real money by promoting products or services for companies like Amazon online.
The best part is that there's literally no limit on the amount you can earn with it & the process is pretty simple which means that it's absolutely perfect for people that don't have much experience.
Some wealthy affiliates even earn as much as 5-figures per month... Or more!


I mean don't get me wrong, that kind of money won't just fall into your lap without doing any work... But the harder you're willing to work at it, the more you stand to earn with it.
So if you're looking to get started but don't know which route you should go down or which program you should join (and don't want to waste money on bogus things that don't actually work), then I'd highly recommend checking out Commission Academy first. You can learn more about it here.