The brand new Adsense Lab software has been launched by a self-proclaimed Adsense guru named Anirudh Baavra & it promises to provide you with a way to earn $4k per month with literally just 1 click.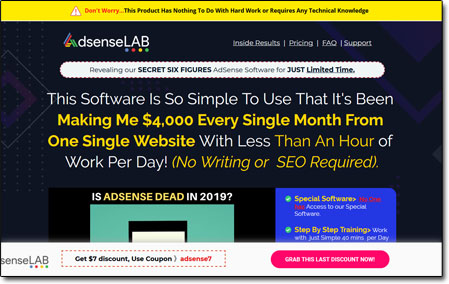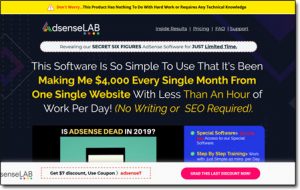 Anirudh Baavra claims that he has discovered a method which can see you earning in just 3 simple steps & he even claims that it doesn't matter if you're completely new to making money online… You can still allegedly make money with it (according to him).
But in order for you to get access to his Adsense Lab software he wants you to pay him a fee of $39 first… So, is his Adsense Lab software legit, or is it just another scam to avoid?
Well, I'm really glad that you came here to this Adsense Lab review before you signed up because I can immediately tell you right from the off that the whole thing is nowhere near as great as it's made out to be.
What Is The Adsense Lab Software?   |   How Does It Work?   |   The Problems   |   Is Adsense Lab a Scam?   |   A Better Alternative
What Exactly Is The Adsense Lab Software?
Basically the Adsense Lab software is supposed to be an automated software that'll provide you with a "done-for-you" way to earn from something called Google Adsense, which is an advertising platform run by Google.
In case you don't already know, Google Adsense pays people to place advertisements on their websites. Website owners who have the Adsense adverts on their websites can earn money each time they're viewed or clicked…
And basically the Adsense Lab software claims that it'll enable you to set up a profitable Adsense-earning website with literally just a single click.
Anirudh Baavra, the software's founder states on the sales page that you can begin earning in just 3 simple steps, even if you're completely brand new to earning money online as shown below:

Oh, and the system won't just generate you any old profit… Oh no, Anirudh claims that it'll generate you a whopping $4k per month… And he even states that you can use it multiple times to build up an income as large as you like.
But that's obviously an extremely bold claim…
I mean, if the Adsense Lab software can truly build you profitable sites that will earn you $4k per month from just 1 click & under 1 hours work per day then why isn't everybody using it?
Why are people still working at jobs they dislike if they could just pay $39 for Adsense Lab & earn more money without having to do as much?
And why is Anirudh Baavra charging people to access it? If the software really works as he claims then why doesn't he just use the software to make money for himself & give people access to it for free?
Well, the answer is because as you'll soon see for yourself below the whole thing doesn't really work as promised & instead of helping you to make money like it claims it will, it'll likely just see you losing money instead.
In reality, the only person that'll be making money from it is Anirudh Baavra himself & he'll be doing that at your expense as he's making his money from all the $39 fees that people are paying to try it out (only to later find it doesn't really work).
But you don't have to just take my word for it, instead keep on reading & I'll show you exactly how it all really works below…
How Does The Adsense Lab Software Work?
In short, whilst there is some substance to the Adsense Lab software (as you'll see) the whole program is in my opinion way overhyped & has just been designed to trick you into handing over your cash so that the software's creators can earn at your expense.
So how exactly does it work?
Well, basically the idea is that the Adsense Lab software will create a "viral game" for you which you can then embed into a website…

So after handing over the $39 you would pick a niche, have the software provide you with a game, then you would create a WordPress website where you'll embed the game & finally you'd place Adsense advertisements around the game.
The idea from there is to share the website you've created on social media & hope that the game goes viral… But there are some big problems that will in my opinion just flat-out prevent this method from working.
You Might Also Like:
The Problems With Adsense Lab
Well, first thing's first, if you don't already have an Adsense account you're definitely going to struggle to stand ANY chance whatsoever of making money with Adsense Labs because typically Google won't approve sites unless they're established with lots of high-quality content.
If you only have 1 page with a "viral game" (which is what Adsense Labs provides you with) then you're simply not going to get approved – and if you want to stand any chance of getting approved to see if it works then you're going to have to add lots of content.
So when the Adsense Labs sales page says that you don't need content, it's not true… You do (unless you already have an Adsense account).
Then on top of that, you have another problem, because even if you have an Adsense account or you get one you are still going to struggle because the game is not just going to go "viral" like you're led to believe.
The truth is that it's actually extremely difficult to make something go viral. If it was as easy as the creators of Adsense Lab make it out to be then everybody would be online millionaires – but it's not easy.
And the games you're provided with are just pre-made games, they're not "custom" or anything & so if they were going to go viral they would have done so already – because they already exist online.
So basically the whole program is just flawed as far as I'm concerned.
Yes, it does have some substance to it in the sense that you do actually get provided with a game & some training as promised, but even if you do everything you're told you're still going to be very unlikely to earn any money.
Instead, it'll just be the creators of the Adsense Lab software that'll be earning at your expense (and at the expense of any other people that sign up) which brings me onto…
My Verdict – Is Adsense Lab a Scam?
Well, I guess that depends on how you define a scam because yes, you do actually get provided with a game that you can embed into a website through the Adsense Labs program… But realistically it is built upon false promises.
As far as I'm concerned there is simply no way that you're going to find yourself earning $4k per month from the Adsense Labs program… Instead, you'll likely only end up spending money & it'll just be the creators of it that find themselves earning at your expense.
They've basically really hyped their program up to get you to hand over your cash but then once you do you'll just be left to find out the hard way that it doesn't really work as promised… So in my personal opinion yes, it is kind of a scam.
The truth is though that yes you can indeed make good money online from Adsense & from affiliate marketing, but there are no "shortcuts" to make it happen… If you really want to make it happen then you must be prepared to put in the work.
The good news though is that if you are prepared to put in the work then there are legitimate places that will actually help you get started the right way, such as Commission Academy for example.
And alongside that, there are also these other great ways that you can earn online too.
But whatever you decide to do I just hope that my honest review of Adsense Lab here has given you a good insight into what you can actually expect from the program & I hope it's helped you to save some money.
If you still happen to have any further questions or comments though then, of course, don't hesitate to leave them below. 🙂
A Better Alternative
The sad truth is that unfortunately most of the programs promising to help you make money online are scams. I can say that confidently after exposing over 500+ of them here on this blog.
But the good news is that even though most of them are indeed scams, there are actually some very good programs in amongst them - some programs that can truly help you to earn money.
And out of all of the legit programs I've seen, the one I would recommend the most to anybody looking to get started online is Commission Academy. In my own opinion, that's the best place to start.
At Commission Academy, you'll be provided with everything you need (including the training & tools) to begin earning real money by promoting products or services for companies like Amazon online.
The best part is that there's literally no limit on the amount you can earn with it & the process is pretty simple which means that it's absolutely perfect for people that don't have much experience.
Some wealthy affiliates even earn as much as 5-figures per month... Or more!


I mean don't get me wrong, that kind of money won't just fall into your lap without doing any work... But the harder you're willing to work at it, the more you stand to earn with it.
So if you're looking to get started but don't know which route you should go down or which program you should join (and don't want to waste money on bogus things that don't actually work), then I'd highly recommend checking out Commission Academy first. You can learn more about it here.