Brian Brewer's Affiliate Escape Plan promises to provide you with a way to "break free from desperation island" & "create a lifestyle-friendly business that you can be proud of".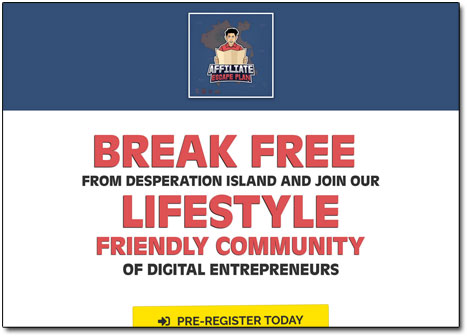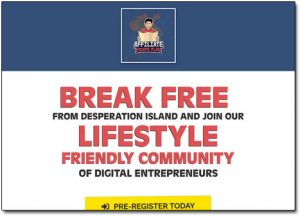 But the question is, is it actually legit?
And does Brian Brewer's training really provide enough value to help you begin making good money online or will it just be yet another course that leaves you scratching your head, feeling confused?
Well, the good news is that you've landed in exactly the right place to find out because I've taken a closer look into Brian Brewer's Affiliate Escape Plan & in this review, I'll be uncovering you need to know.
What Is The Affiliate Escape Plan?   |   Who Is Brian Brewer?   |   How Does Affiliate Escape Plan Work?   |   What Are The Costs?   |   Is The Affiliate Escape Plan a Scam?   |   My Final Verdict
What Is The Affiliate Escape Plan?
Affiliate Escape Plan is the name of a relatively new affiliate marketing training course that has been launched by a guy named Brian Brewer.
Brian claims that he has designed the course to help you escape the 9-5 by using affiliate marketing & that he will be teaching the exact same methods he personally uses to build his business.
So, essentially, you're led to believe that you'll be able to sign up to Affiliate Escape Plan & get access to a proven method for generating good money online through the method of affiliate marketing.
More importantly, enough money to say goodbye to your job.
And Brian claims that whilst he would usually charge $249 for his course, he is also going to give you the opportunity to get lifetime access to his course without having to make any payments whatsoever.

But I know what you're probably thinking… There has to be a catch, right?
And in a way it's true, there is a catch – but you'll be glad to know that it's only a little one.
I'll explain exactly what the so-called "catch" is in just a moment but first, let's take a closer look at Brian himself to find out a bit more about his background & what kind of success he's had for himself.
Who Is Brian Brewer?
Brian Brewer is an online marketer that I have to admit, I hadn't heard of until I discovered the Legendary Marketer program.
I discovered him when I was taking a look at the scoreboards inside of Legendary Marketer to see who the top-performing affiliates were. His name was shown regularly shown at the top of the leaderboards.
Here he is currently shown at position 3 for "Last 7 Days" and position 4 for "Last 30 Days":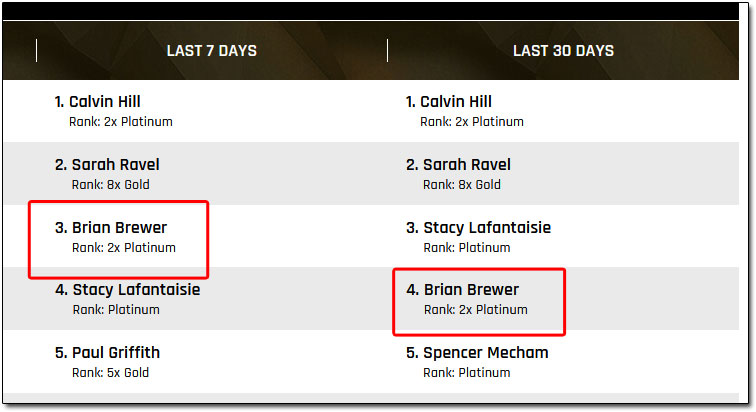 This means that he is one of the affiliates that is generating the most commissions through Legendary Marketer & if you look underneath his name you'll also see it says "2x Platinum".
This "2x Platinum" rank means that he's generated $200,000+ in commissions through Legendary Marketer alone… So I think it's pretty easy to say that Brian clearly knows his stuff.
Naturally, I then decided to take a look at what Brian was doing to promote Legendary Marketer & that's when I discovered he has several YouTube channels & affiliate training courses.
One of his training courses, as you know, is Affiliate Escape Plan.
But the important point here is that I was able to discover that Brian Brewer is a "real" person & that he is not some kind of scammer that hides away behind a fake alias.
In fact, Brian is quite the opposite – the thing I noticed first about him is that he actually publishes a lot of completely free & very helpful content through his YouTube channels.
So he's definitely a "real" dude & importantly, he's also a dude that seems to be genuinely interested in helping you to achieve success.
Now with that in mind, let's take a closer look at his course:
How Does Affiliate Escape Plan Work?
The Affiliate Escape Plan is a free step-by-step affiliate marketing training course that teaches you how you can build an online business by promoting products or services for third-party companies.
More specifically, Brian teaches you how you can build an audience on platforms such as YouTube & TikTok & how you can promote relevant offers/products to them & get them to convert.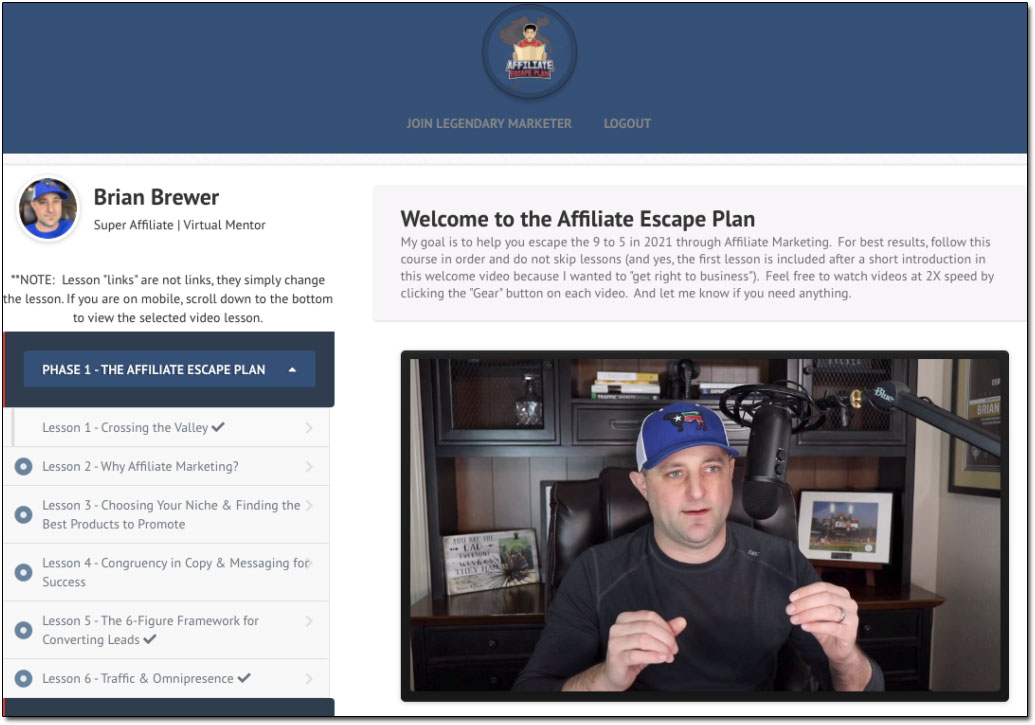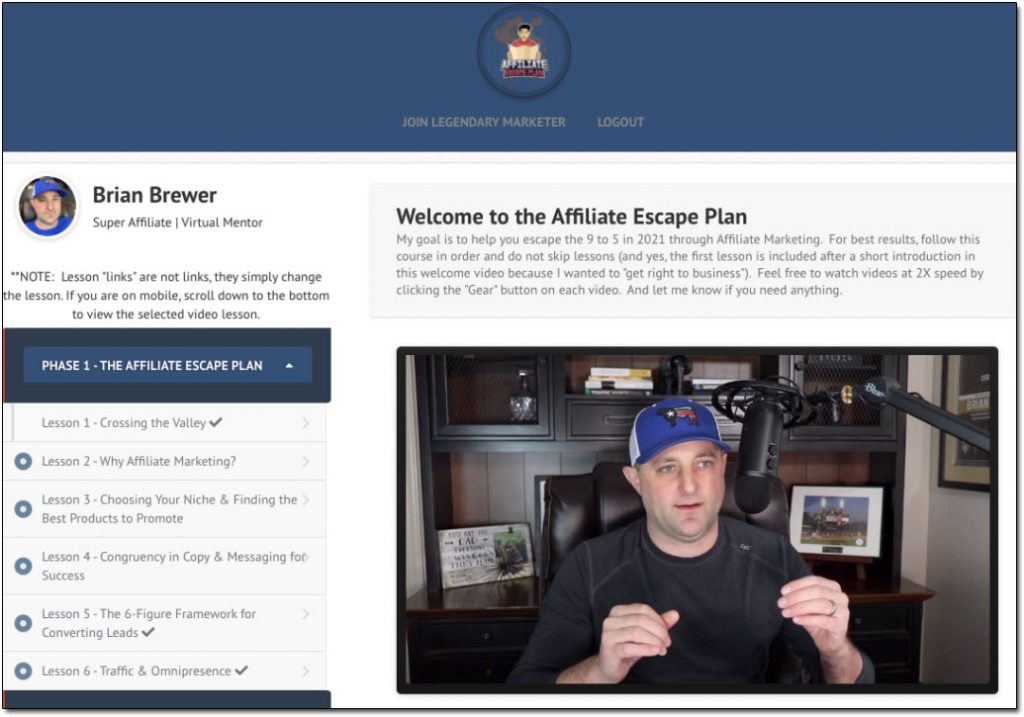 His training, in short, covers the following topics:
Getting into the right mindset
Finding a niche (and products related to the niche)
Creating bridge pages (to warm prospects up to your offers)
Leveraging YouTube/TikTok to generate traffic
Piecing it all together & convert the traffic into sales
And I'm gonna admit (even as the creator of my own free affiliate marketing training course), that Brian's course is pretty darn good.
In fact, no, his course is REALLY good… Especially considering it really is 100% free.
But I know what you're probably thinking. What's the catch?
Well, I mentioned earlier in this Affiliate Escape Plan review that there is indeed a "little catch" & it's just that basically, the Affiliate Escape Plan is what Brian uses to funnel people into Legendary Marketer.
So as a learner going through the Affiliate Escape Plan course you can at some point expect that you will be pushed (gently) towards buying into the Legendary Marketer program for additional training.
But that's not really a bad thing at all because Legendary Marketer also provides pretty darn good training too.
In fact, I myself also promote Legendary Marketer as an additional training option through my own course so I can completely resonate with exact what Brian is doing.
And joining Legendary Marketer is entirely optional… So if you really don't want to splash out $7 then you could indeed just enjoy all of the free material that Brian has put together in his Affiliate Escape Plan program.
But I'd definitely say Legendary Marketer is worth the money, so it's definitely worth checking out.
What Are The Costs?
Brian claims that the normal price of his program is $249 but you can get access for free.
Personally, I don't believe that his program ever has been (or ever will be) $249. I mean don't get me wrong, I wouldn't be mad if I paid $249 for it… I actually believe it is worth that amount of money.
But what I am saying is that I believe that is just a marketing gimmick & that you'll always be able to access Brian's course for free.
Either way, right now at the time of writing this review it is completely free & other than the gentle nudge into the paid Legendary Marketer course, completely free really does mean exactly that.
And for free, it is definitely VERY good value.
Brian has really created quite an awesome little course & honestly, the content he's put out there in the course blows most of the other paid courses that I review completely out of the water.
You Might Also Like:
Is The Affiliate Escape Plan a Scam?
Definitely not. In fact, I actually kinda hate using the word "scam" alongside legitimate programs like the Affiliate Escape Plan but I have to do it because I know people will be asking the question.
Brian Brewer's Affiliate Escape Plan is legit.
Not only that but Brian Brewer's Affiliate Escape is also completely free. So if you sign up for his course you will not be disappointed. In fact, you'll likely be quite shocked at the value.
I personally would not be mad even if I paid the advertised $249 for his course.
In terms of the "catch", yes, Brian does recommend a paid third-party course throughout his training (Legendary Marketer) but joining is entirely optional so his course still remains 100% free.
And as I mentioned previously in this review, Legendary Marketer gets a thumbs up from me too.
My Final Verdict
If you're a new or struggling affiliate marketer then I would highly recommend that you do go ahead & check out Brian's Affiliate Escape Plan training course. It's 100% free and super insightful.
Also, if you're an experienced marketer that hasn't yet managed to crack the YouTube & TikTok platforms but would like to, I believe you'll even find his training insightful as well.
So yeah, in short, the Affiliate Escape Plan gets a thumbs up from me & it's clear that Brian knows his stuff.
He's generated over $200,000 with Legendary Marketer alone & I have no doubt he's replicated those results in other programs too.
The best part is that Brian is literally laying down the exact method that he personally uses to generate those results meaning that if you really take action there'll be nothing stopping you from doing the same.
My advice? Check it out. It's free, so you've nothing to lose.
And hey, if you're interested in more free affiliate marketing training then be sure to check out my own course, Commission Academy, too. I'm pretty sure you'll find that one really useful as well.
Anyway, I hope this Affiliate Escape Plan review helped you out & you found the information useful. Feel free to leave any comments or questions below, I'd love to hear your thoughts.