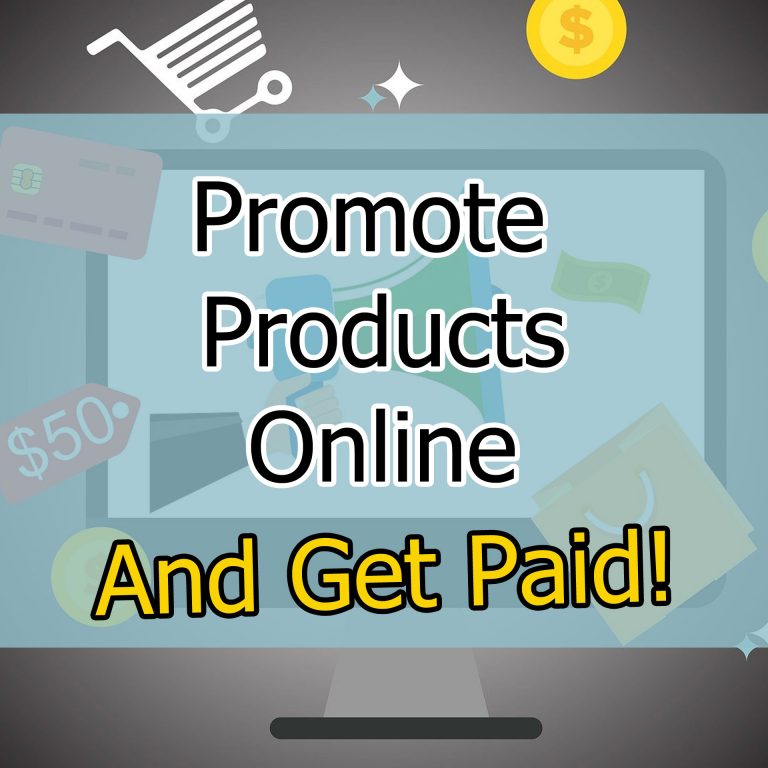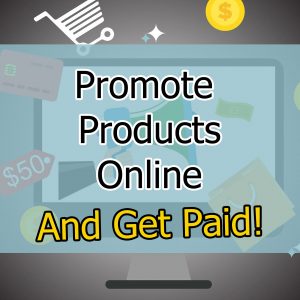 For at least the past 7+ years, I've been earning a living exclusively from the internet by simply connecting people with the products or services that they're looking for online…
And this website right here is one example of where I do exactly that.
It's a method known as affiliate marketing & after reviewing literally hundreds of different ways to earn money here on my blog I firmly believe it to be one of the easiest & most lucrative methods to exist.
The best part, however, is that it's SUPER simple & and it requires next to no startup cost whatsoever, making it the absolute perfect choice for beginners looking to get started online.
That's one of the main reasons as to why I've crowned it my #1 recommendation.
But How Exactly Does It Work?
As I touched on above, the best part about affiliate marketing is that it's truly super simple… And it's so simple in fact that it can actually be broken down into a really basic 3-step process.

I'll dive deeper into each step below so that you can get a better of understanding of how it all actually works (and I'll also explain how you can begin earning with this even if you're totally new):
Step 1 – Create Content
The first thing you need to do is create content online, and this could be anything from a simple Facebook post or YouTube video right through to an in-depth product review.
By creating content online you give yourself (or your content, rather) the opportunity to be "found" & the more content that you create, the larger that opportunity typically becomes.
Step 2 – Attract Visitors
As mentioned in the previous step, once you've created content online you give yourself (or your content) the opportunity to be "found", and this is what enables you to begin attracting visitors.
A good example would be with a product review.
If you were to write & publish a product review online, as I typically do, then the search engines (such as Google & Bing) would automatically detect it & list it within their results whenever somebody searched for something related to it.
This means that if somebody then clicked on your link in the results & came to read your content, you'd have attracted a visitor… And the more content you publish, the more visitors you can attract.
Which brings us on to the exciting part…
Step 3 – Earn Revenue
Once you begin attracting visitors to your content you gain the ability to promote things to them as an affiliate & earn money if they happen to click through your links & make a purchase.
So, going back to the product review example… If I wrote a review about a program that I'd tried & enjoyed (such as Commission Academy), I could recommend it & include an affiliate link in my review promoting it.
This would mean that if somebody happened to go via my link & sign up, then at no extra cost to them whatsoever I would be paid a commission in return from Commission Academy.
Pretty simple, right?
And likewise, if I reviewed a program that I didn't really like or that I felt was a scam, I could simply say "hey don't waste your time or money signing up to this, check out one of my recommended alternatives instead"… And once again suggest Commission Academy, or another alternative altogether.
That way you get to literally help people AND earn money at the same time.
And what could be better than that?
A Live Example To Illustrate The Process
Let's say I'm thinking about buying a robot vacuum, but before I do, I want to know if it will work in the dark.
Naturally, I head to Google & I run a search for "can a robot vacuum work in the dark".
Here's the top result that I'm provided with:

I click through to the website & I discover a helpful article the covers my query, as shown below: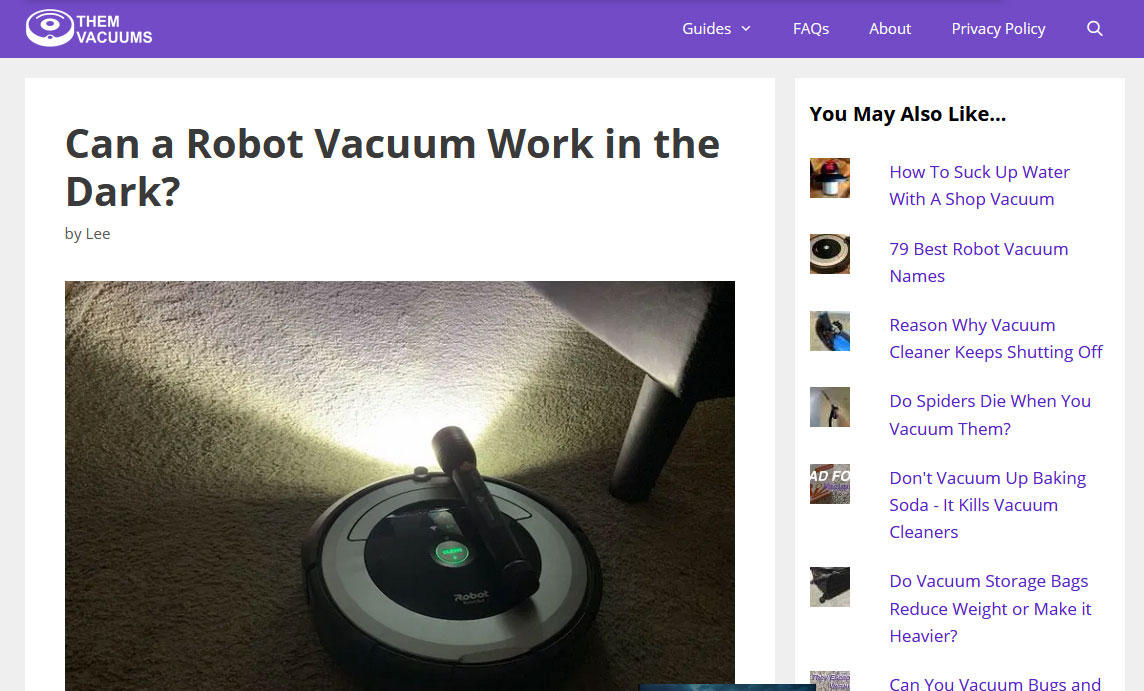 And then, at the very end of the post I'm provided with affiliate links to "shop related products", as highlighted below: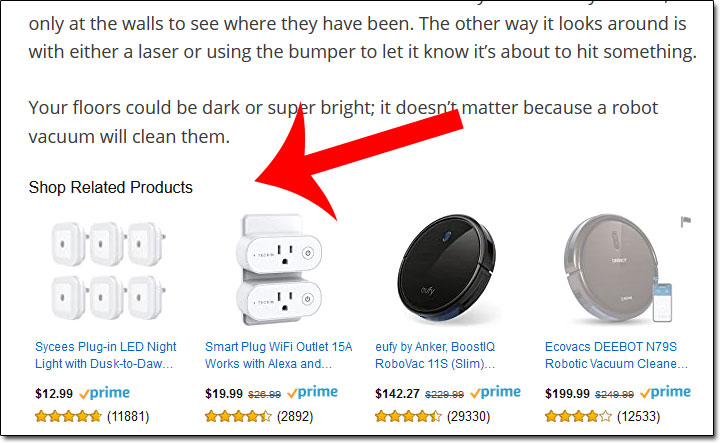 And all of those links are Amazon affiliate links, which means that if I was to click through one of those links & then make a purchase, the creator of that website would get paid a commission – at no extra cost to me whatsoever.
So from a one-time effort of producing that very simple piece of content about robot vacuums working in the dark, the creator of that website will now be earning a passive stream of income.
Pretty awesome, right?
With Great Power, Comes Great Responsibility
The truth is that making money through affiliate marketing is pretty darn easy. You could build a website today, create a piece of content tomorrow & begin earning money as soon as the search engines rank it.
And with step-by-step platforms like Commission Academy literally anybody could do that (yes, even you!).
But the most important thing, in my opinion, is to always promote things with integrity.
For example, I run this website with the core focus of providing information to help people & I would never let commissions or affiliation affect my review or rating of a product or service.
If something is good, I will tell you (regardless of whether it has an affiliate program or not)… But if something is bad, I will also tell you just the same. I believe integrity is very important.
And if you truly put helping people at the forefront of your business, that's when you'll see the greatest success as an affiliate… Which is why I believe it's a key point to mention here in this article.
So, How Much Money Do Affiliate Marketers Make?
You now understand the process and understand that it's pretty straight-forward to get started with… But just how much money do affiliate marketers actually make?
Well, obviously there is no real "one size fits all" answer since there are so many variables (such as the level of effort the person is actually willing to put in, to begin with)… But there is also no limit on the amounts you can earn, either.
So essentially, it's up to you as to how much money you make.
One affiliate, for example, Jason Stone, generated a whopping $7 million in a single year just from Instagram.
And statistically, across the board, it's reported that 35% of affiliates earn over $20,000… Which I think you'll agree is a pretty nice statistic indeed, especially when you take into account the fact that many affiliates only work on their businesses part-time.
And here are also some other success stories from affiliates worldwide:
How Can You Get Started With Affiliate Marketing?
To be honest, there are several ways that you can get started with affiliate marketing.
If you wanted to, you could literally go ahead & sign up to an affiliate program right now then attempt to start promoting your links online… But that's probably not a good idea.
A better idea, especially if you're new would be to take advantage of some free training.
And the good news is that when it comes to getting started with affiliate marketing there's plenty of free training readily available… Such as my very own free guide that I've put together right here.
That guide will explain how affiliate marketing works in more detail & it'll also provide you with access to the tools & resources that you need in order to actually begin making money.
Or you could also check out Wealthy Affiliate, which is the world's largest affiliate marketing platform.
At Wealthy Affiliate, you'll be given step-by-step training, access to a community over 1 million+ people & everything else that you need to begin seeing success as an affiliate.
So, to summarize, your best options from here if you'd like to actually get started with affiliate marketing (in my personal opinion) are either Commission Academy, Wealthy Affiliate or my free guide.
But whichever option you decide to take, I really hope that this post has given you a good insight into affiliate marketing & helped you to better understand the process of how money is made online.
You can also feel free to leave any additional questions or comments below, too.
And remember, some of the links right here on this website are affiliate links… So if you happen to purchase something as a result of clicking them then at no extra cost to you I may earn a commission. It helps me to provide all of this information for free & I always greatly appreciate your support. 🙂