AffiliStores has recently emerged as a potential affiliate income generating program & it has been introduced by Rod Beckwith and Glynn Kosky.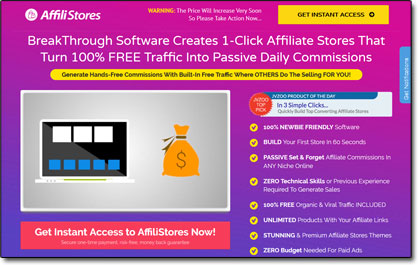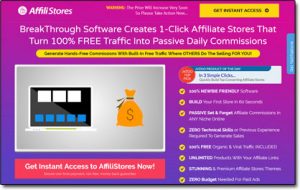 Both claim it to be the working solution for anyone looking to generate an income from eCom affiliate marketing.
We have decided to come up with an honest AffiliStores review because it seems that the promoters of this platform have invested a significant amount of money in paid reviews.
We are going to reveal the truth behind AffiliStores and will let you know what exactly is happening behind the curtain.
What Is AffiliStores?   |   How Does AffiliStores Work?   |   Is AffiliStores a Scam?   |   A Better Alternative
What Is AffiliStores?
Rod Beckwith and Glynn Kosky are the individuals who introduced this affiliate income generating program. AffiliStores package comes in a couple of variants. The Lite Package version costs $42 and the Pro Package version costs $47.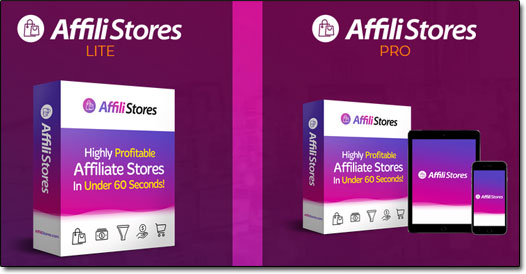 We have reviewed scores of platforms and have never seen this sort of thing. The price difference between the Lite and Pro package is nearly negligible…
Generally, if the Lite package is worth $47 then the Pro Package is no less than $70. We found it strange however it could only be a misunderstanding or we are not able to figure out the strategy behind this kind of pricing.
The idea is that AffiliStores helps you to create 1-Click eCom stores and this software is cloud-based. It is based on the affiliate model to help you generate more sales.
You basically don't have to worry about inventory management because this program works like a "bridging" platform that redirects visitors through your affiliate links to the main websites, for instance, Aliexpress, eBay, and Amazon who then handle the sales.
You simply then get paid a commission if the person that clicks via your link actually goes on to make a sale… And I will point out here that affiliate marketing, in general, is actually a great way to make money. It's the same way I myself personally make most of my own money online.
Here's a visual rundown of the process to help you gain a better understanding: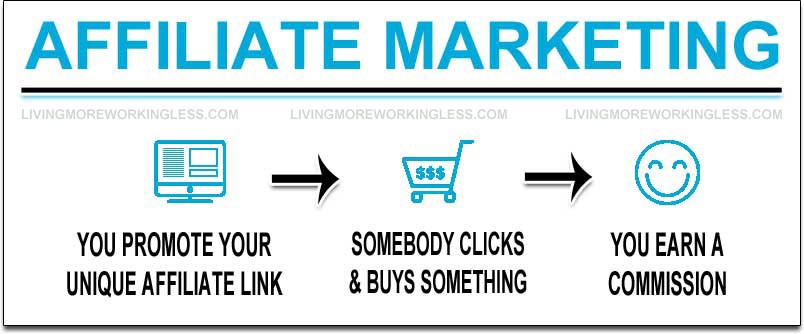 The AffiliStores reps claim that it takes less than a minute to create an eCom store through their software and that all you need is to insert your affiliate link. Well, that seems crazy because we have never actually seen something work automatically at such an incredible pace.
We have already reviewed a number of affiliate sales generating tools and none of them, with such claims, has ever managed to impress.
Will AffiliStores be any different? Let's take a closer look at the inner-workings to find out…
How Does AffiliStores Work?
The above claims are those presented by the developers of AffiliStores but the real story is different. The software apparently looks clean. The dashboard looks professional and it is user-friendly. We have also found that this software doesn't require coding…
First, you select the name for your affiliate store and then choose the theme from the available options along with a few customization settings. And then you simply add products from different stores. The software is also capable of automatically adding new products on a daily basis.
Then you need to work on some settings including Facebook Page, and exit popup, etc. These things keep the visitors on your page to increase the conversion rate.
Then there are some SEO settings for free traffic. You can use content from the affiliate sites or you can come up with your own blog posts. The software also comes with a training session. But the training doesn't offer too much with regards to that, especially if you are a beginner.
In addition, the duplicate content from the affiliate sites is not going to rank your page on the search engines. The training doesn't teach you anything about keyword research which in my opinion is a HUGE downside.
As far as I'm concerned there is no way this program could enable you to attract significant traffic to your sites. You will ultimately have to rely on paid traffic through ads… And these days, you need to invest from $500 to $2,500 if you want to stand any chance of generating considerable traffic through ads on social media.
And then AffiliStores features upsells and the price may rise up to $297 for each upsell. This strategy is very frustrating because you are buying a program in the anticipation of getting what the developers claim to offer. But then you realize that you have to pay much more in order to get the desired results.
Another major drawback is that your store will not have its unique domain name, e.g. abcxyz.com. Instead, it will be a subdomain such as "abcxyz.aliexpress-affilistore.com" or whatever your affiliate store is. People simply don't trust such domains and they prefer to go straight to the actual store.
These types of subdomains are also much harder to rank in search engines, so couple that with the fact that AffiliStores sites are launched with duplicate content it is going to be next to impossible to get good search rankings. That's a big problems because search engines provide one of the best sources of free traffic available.
In my opinion, you would be much better of just following my free guide on launching a money-making website found here.
It seems that AffiliStores makes a lot of bold promises on its sales page but doesn't really deliver on them when you actually hand over your cash… You'll likely just be left to find yourself disappointed which brings me onto…
Is AffiliStores a Scam?
By the end of this third-party AffiliStores review, we have come to the conclusion that it is not a scam. The product is real, it has some good features however it isn't capable of generating the results you have been anticipating.
We recommend you to stay away from AffiliStores because it is not for the beginners. The training session is going to lead you to nowhere. And you will still have to make huge investments monthly in paid traffic.
It's unfortunate really because with a little bit more effort from the product creators AffiliStores could have had some solid substance, but as it is there is simply no way I can recommend it. I believe its claims are extremely misleading.
Instead, if you truly want to find good success with affiliate marketing I would suggest you join a proven & legitimate program like Commission Academy rather than some sort of "1 click" push-button gimmick like AffiliStores.
It seems to me that as it is right now AffiliStores is basically just taking advantage of people, similar to a get-rich-quick scam. They are promising that people will make money quickly & easily but then after they hand over their cash they are leaving to find out the reality is much different.
Don't forget though alongside affiliate marketing there are also several other ways to make money online – though I have to point out that I do believe affiliate marketing to be the best because that is actually the same way I personally make money online.
But whatever you decide to do I simply hope that my review of AffiliStores here has given you a good insight into what you can expect from this program & hopefully it has helped you decide if it's really right for you or not.
If you still happen to have any questions or comments then don't hesitate to leave them below. 🙂
A Better Alternative
The sad truth is that unfortunately most of the programs promising to help you make money online are scams. I can say that confidently after exposing over 500+ of them here on this blog.
But the good news is that even though most of them are indeed scams, there are actually some very good programs in amongst them - some programs that can truly help you to earn money.
And out of all of the legit programs I've seen, the one I would recommend the most to anybody looking to get started online is Commission Academy. In my own opinion, that's the best place to start.
At Commission Academy, you'll be provided with everything you need (including the training & tools) to begin earning real money by promoting products or services for companies like Amazon online.
The best part is that there's literally no limit on the amount you can earn with it & the process is pretty simple which means that it's absolutely perfect for people that don't have much experience.
Some wealthy affiliates even earn as much as 5-figures per month... Or more!


I mean don't get me wrong, that kind of money won't just fall into your lap without doing any work... But the harder you're willing to work at it, the more you stand to earn with it.
So if you're looking to get started but don't know which route you should go down or which program you should join (and don't want to waste money on bogus things that don't actually work), then I'd highly recommend checking out Commission Academy first. You can learn more about it here.