In this review, I'll be taking a look at the American medical plan company AmeriPlan to find out if it's legitimate, if they provide value for money & if you can actually make money through their attached business opportunity.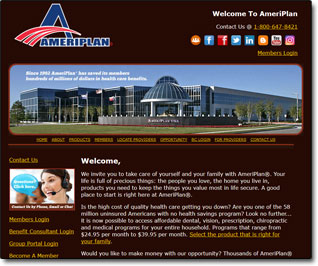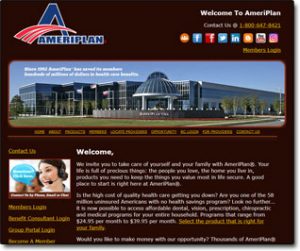 So if you've been pitched AmeriPlan & you're wondering what it's all about you can rest assured that you've landed in the right place to find out everything you need to know.
Plus, I'll also point out that I'm not an affiliate so you'll be getting the honest unbiased truth.
What Is AmeriPlan?   |   The Product Line   |   The Compensation Plan   |   Should You Join AmeriPlan?   |   A Better Alternative
What Is AmeriPlan?
AmeriPlan USA is a network marketing company that sells various medical-related products & was founded back in 1992 by two identical twin brothers named Daniel & Dennis Bloom.
Now when I say AmeriPlan sell products, their products are basically savings plans – so you'll sign up to one of AmeriPlan's memberships for a monthly fee & the membership will give you access to a bundle of various discounts.
And as the name suggests the company is based out of Texas USA with the plans/products they offer are limited to residents of the USA too. Whilst it was a LOT more popular back in the day AmeriPlan does still have a pretty strong customer base to this very date.
With AmeriPlan being a network marketing company, alongside providing medical/healthcare-related products they also provide people with the opportunity to join the business as a distributor giving them the ability to earn an extra income by reselling their products.
And in typical network marketing fashion, you can also make money through AmeriPlan by recruiting people into the business & getting them to resell the products too – this is what's known as building a downline & it's where the "real" money lies with this kind of opportunity.
I'll give you more details on the business opportunity in just a moment but firstly let's take a look at the actual products…
The AmeriPlan Product Line
As mentioned above the AmeriPlan product line consists of various membership packages & each membership basically gives you access to a bundle of various medical-related discounts.
In total, they have 3 different membership options – AmeriPlan Dental Plus, AmeriPlan MED Plus & AmeriPlan Deluxe Plus.
AmeriPlan Dental Plus – $24.95 Per Month (+$20 Registration)
This is AmeriPlan's lowest-priced membership & it is designed to give you savings on dental, vision, prescription, hearing and chiropractic services. There are also some additional non-medical discounts included with this membership too.
The plan covers not just you but your entire household & you are said to be able to use the discounts at 75,000 dental providers, 12,000 optical providers, 56,000 pharmacies & 7,500 chiropractors which seems fairly good.
AmeriPlan MED Plus – $24.95 Per Month (+$20 Registration)
Coming in at the same price as the Dental Plus plan rather than focusing on your teeth this plan is designed to give you discounts on your overall health. It includes telemedicine discounts, prescription savings, ancillary services and hospital advocacy.
This plan also covers your entire household & through the telemedicine service you're said to be able to get 24/7 access to professionally certified doctors via telephone, email or video calls.
AmeriPlan Deluxe Plus – $39.95 Per Month (+$30 Registration)
The Deluxe plan basically incorporates the two other plans I've just mentioned above as a bundle. It claims to also include additional non-medical discounts too but there are none that aren't already included in the Dental Plus package.
And again just to confirm this package also covers your whole household, the same as it would if you were to buy both packages separately.
What's The AmeriPlan Compensation Plan?
As I discussed at the start of this review AmeriPlan is a network marketing company, which means you can sign up as a distributor & earn money by reselling their products. You can then earn additional commissions by recruiting other people into the business as if they go on to resell products themselves you'll be able to earn money from their efforts as well as your own.
So no doubt if you're interested in becoming an AmeriPlan distributor you probably want to know how it all works & how much you can earn, which is exactly what I'm going to run through right now.
Qualifying To Earn
The first thing you need to know is that in order to be eligible to earn commissions through AmeriPlan you must either be personally subscribed to one of their plans OR sell at least one plan per month.
And on top of that, you must also pay a $24.95 annual "enrollment" fee which gives you access to their online business e-kit. This is a mandatory requirement if you want to join the opportunity & resell their products.
The Commissions You'll Earn
I'm not going to lie, the AmeriPlan compensation plan is very complicated – however, this is something that's very common throughout network marketing companies as for some reason they don't like to make things easy to understand.
So basically to try & simplify things, AmeriPlan pays a 40% residual commission on all business you personally give them. You sell a plan, you get a 40% commission for as long as that person stays subscribed…
Then on top of that, they also give you the opportunity to earn commissions on the sales that the people you bring into the company make. So you bring Dave in & Dave goes on to start selling AmeriPlan's memberships – you then have the opportunity to earn from his efforts too.
Similarly, if Dave then goes on to introduce somebody & they then also go on to start selling memberships you can even earn from their efforts too… but don't get too excited because it's not quite that simple.
To qualify to earn commissions on these extra levels you'll have to meet certain criteria – and that basically means you'll be required to sell a certain amount of memberships yourself before you're given the opportunity to earn on extra levels.
Here's the maximum you can earn if you're fully qualified:
15% on Level 1 (the people you personally recruit)
10% on Level 2 (the people your level 1 recruit)
5% on Level 3 (I'm sure you get the idea)
3% on Level 4
1% on Level 5 & everything below
You Might Also Like:
Should You Join AmeriPlan? My Final Verdict
I'm not going to be recommending AmeriPlan to you & there's a couple of reasons for that, with the main one being that the company seems to be really losing popularity (I mean just take a look at the graph below):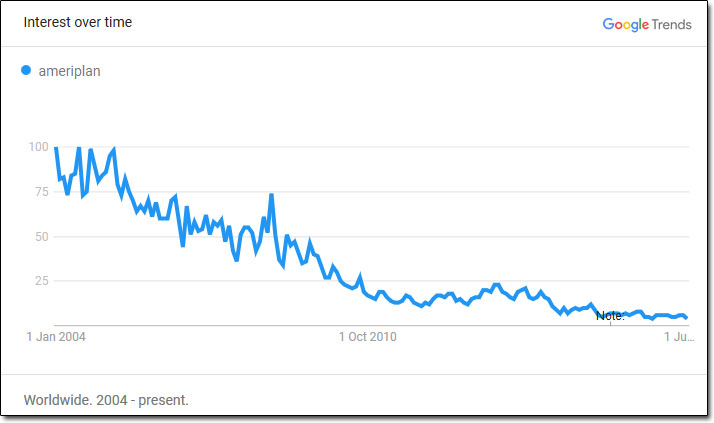 Once upon a time, the company was really booming, but now – clearly not so much. Don't get me wrong there are still people subscribed to AmeriPlan & people promoting it, but far fewer than there ever was before.
On top of that AmeriPlan is a network marketing company which is something that will see you spending a lot of your time trying to recruit people into the business, something I personally don't like… Especially when there are ways you can make money without recruiting because let's face it – recruiting sucks!
But also in my opinion whilst AmeriPlan might not be as expensive to start out with as some other network marketing opportunities, it's still pretty expensive. You'll have to pay a yearly fee of $24.95 plus you'll have to subscribe yourself to one of their plans until you start making sales.
And finally, I feel that there is a real lack of training when it comes to promoting the business – I mean yes there is some, but it's more geared towards pitching the business to your friends & family (something you really shouldn't be doing).
In my opinion, if you join AmeriPlan you'll see yourself spending a lot of money, wasting a lot of time & earning very little. The only benefit is that if you happen to fall ill due to the stress of promoting it you'll have some discounts for your treatment.
A Better Alternative
The sad truth is that unfortunately most of the programs promising to help you make money online are scams. I can say that confidently after exposing over 500+ of them here on this blog.
But the good news is that even though most of them are indeed scams, there are actually some very good programs in amongst them - some programs that can truly help you to earn money.
And out of all of the legit programs I've seen, the one I would recommend the most to anybody looking to get started online is Commission Academy. In my own opinion, that's the best place to start.
At Commission Academy, you'll be provided with everything you need (including the training & tools) to begin earning real money by promoting products or services for companies like Amazon online.
The best part is that there's literally no limit on the amount you can earn with it & the process is pretty simple which means that it's absolutely perfect for people that don't have much experience.
Some wealthy affiliates even earn as much as 5-figures per month... Or more!


I mean don't get me wrong, that kind of money won't just fall into your lap without doing any work... But the harder you're willing to work at it, the more you stand to earn with it.
So if you're looking to get started but don't know which route you should go down or which program you should join (and don't want to waste money on bogus things that don't actually work), then I'd highly recommend checking out Commission Academy first. You can learn more about it here.