The Auto Money System claims to provide a risk-free way for you to earn tens of thousands of dollars online without doing any work. Allegedly, you can just "plug-in" and start profiting right away, even without prior experience.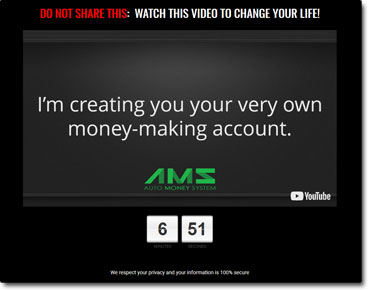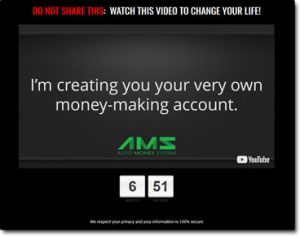 But is it actually legit? Or is the Auto Money System a scam that's merely out to part you with your hard-earned cash? And if it does really work then where the heck is the money supposed to come from?
Those are exactly the things I'll be uncovering right here in this Auto Money System review where I'll be taking a closer look at it to find out what it's about, how it's supposed to work & whether you can really make any money with it or not.
What Is The Auto Money System?   |   How It Really Works   |   What Do You Get For Your Money?   |   Is The Auto Money Systema Scam?   |   A Better Alternative
What Is The Auto Money System?
As I briefly touched on above the Auto Money System is something that claims to provide you with a "done-for-you" online business that will immediately start generating you profits.
You're told that you don't need to have experience & you don't need to do any work any more than an hour a day on the business to keep it running, yet you can still generate tens of thousands of dollars.
However other than that the promo video that you're shown on the website doesn't really go into a great deal explaining about how it all works or what you'll be required to do, it just hypes up on the idea of making easy money online.
To be honest I'm immediately sceptical about this system (as I'm sure you probably are too) because not only does it make ridiculously bold claims but it also closely resembles two other get-rich-quick scams I recently exposed – the Push Button System & My Online Dream Biz.
How The Auto Money System Really Works…
Whilst it would be great if the Auto Money System did provide us all with an easy way to make cash like it makes out it does, sadly, in reality, it doesn't – in fact, it actually does quite the opposite to be honest.
My suspicions were correct & the Auto Money System is indeed just another get-rich-quick scam that is set out to part you with your hard-earned cash, making the creator wealthy at your expense.
After watching the video you're taken to a page where you're told that you can get lifetime access to the system for just $37 (or $27 if you go to exit the page) & this was a huge red flag for me.

I mean after all, if this system can make the money it claims it can so easily then why is the creator having to charge you money for you to get access to it? Sounds like a classic get-rich-quick scam to me!
What Do You Get For Your Money?
Whilst the video & website leads you to believe that you'll be getting access to some sort of system where you can simply hit a button & get your own "done-for-you" online business that's already making money, unfortunately, that's not the case.
After handing over your $37 (or $27 if you try & exit) what you'll actually get is some low-quality training that is supposed to teach you how you can make money through affiliate marketing – which is where you promote other peoples products online for a commission.
Affiliate marketing is indeed a genuine way to make money online, however, the problem is that the training provided by the Auto Money System is so poor that you most likely wouldn't make a penny even if you followed it to the letter.
There are reputable (and free) training companies like Commission Academy where you can learn all about affiliate marketing & get the tools that you need to get started, with their training giving you a much more likely chance of making money.
But no matter how great the training is affiliate marketing won't provide you with an internet overnight – it's something you need to work towards, therefore the Auto Money System is selling you on a complete pack of lies.
Basically, this system is just saying anything it can to part you with your cash, and whilst you're told you get a "60 day refund period" I would take that with a pinch of salt because there's no way you can believe it.
You Might Also Like:
Is The Auto Money System a Scam?
In my opinion yes, this system is a flat-out scam. The video & website make outrageous claims stating that you can begin making thousands of dollars almost immediately after signing up but this simply isn't true.
Whilst the internet is a great tool it isn't magical & therefore there are no methods that can see you generating lot's of money without doing anything – if there were then everybody would be doing it.
As you know if you were to start a business offline it would take time & hard work before you started making money – it's no different online, it's just that the start-up cost online is generally much lower since you don't need to rent a physical location like you would do if you were trying to build a brick and mortar business offline.
It's clear to me that this system is just trying to take advantage of people who are new to making money online & don't really know how it works, or are in a desperate situation & just willing to try anything.
It's quite sad really but unfortunately, there seem to be more & more of these systems launching every week & I can only assume it's because many people don't bother looking for reviews before they sign up.
Hopefully, you were able to come across this review before handing your cash over & managed to find out how it really works. As you can see it's getting a thumbs down from and I don't recommend it.
A Better Alternative
The sad truth is that unfortunately most of the programs promising to help you make money online are scams. I can say that confidently after exposing over 500+ of them here on this blog.
But the good news is that even though most of them are indeed scams, there are actually some very good programs in amongst them - some programs that can truly help you to earn money.
And out of all of the legit programs I've seen, the one I would recommend the most to anybody looking to get started online is Commission Academy. In my own opinion, that's the best place to start.
At Commission Academy, you'll be provided with everything you need (including the training & tools) to begin earning real money by promoting products or services for companies like Amazon online.
The best part is that there's literally no limit on the amount you can earn with it & the process is pretty simple which means that it's absolutely perfect for people that don't have much experience.
Some wealthy affiliates even earn as much as 5-figures per month... Or more!

I mean don't get me wrong, that kind of money won't just fall into your lap without doing any work... But the harder you're willing to work at it, the more you stand to earn with it.
So if you're looking to get started but don't know which route you should go down or which program you should join (and don't want to waste money on bogus things that don't actually work), then I'd highly recommend checking out Commission Academy first. You can learn more about it here.