In this review, I'm going to be taking a closer look at the Push Button System which is something that's just recently launched with claims that its members can generate commissions in excess of $20k just by "pushing one button" (their words, not mine).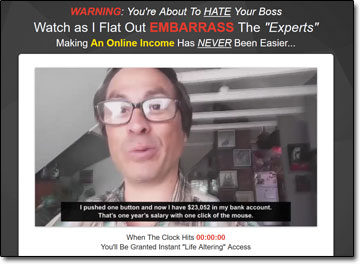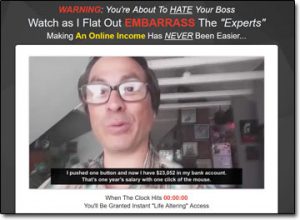 The promo video for the system consists of several more hyped-up claims with no real explanation as to how the system actually works, so what's the deal?
Is it legit? Or is the Push Button System a scam that's merely out to part you with your hard-earned cash? And if it is legit where does the money actually come from?
Those are exactly the things I'll be covering right here in this Push Button System review, meaning if you've been thinking about buying into this system then you can rest assured that you've landed in the right place to find out everything you need to know about it before you do.
What Is The Push Button System?   |   How The Push Button System Really Works   |   Is The Push Button System a Scam?   |   A Better Alternative
What Is The Push Button System?
To be honest the Push Button System is exactly as it sounds – it's a system that claims it can enable people to earn money online by simply pushing one button, even if they have no previous experience.
And I'm not just talking about any kind of money – the Push Button System claims that it can generate it's members profits of over $20,000 in just 3 hours which I think you'll agree is a pretty bold claim.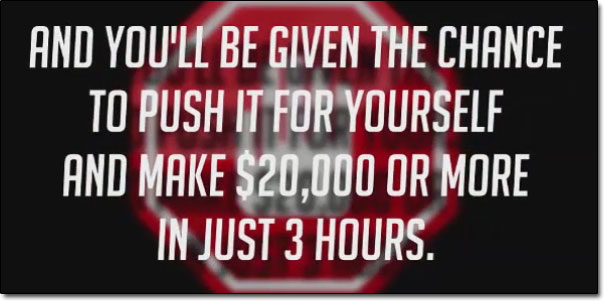 You're told that after watching the 6-minute video on the homepage you'll then be given access to "the button" which you can simply push to start generating profits – but in reality, it's not quite like that.
Instead, after watching the video (or when you try and exit the page) you'll be taken to a sales page where you're told that to start generating commissions through the system you'll need to buy in for a fee of $37, which is said to be a 30% discount off the price they usually charge.
On this page, you're also shown a bunch of photos of people who are apparently "enjoying success" through the system & you're promised a 60 day refund period if it turns out you decide the program isn't for you.
So… should you do it?
Should you hand over your $37 & will it really be as easy to start making money through this system as they make out (if you can in fact make any money with it at all)? Let's take a look…
How The Push Button System Really Works…
I'm confident that you, like me, will have pretty sceptical about this system right from the start – therefore you probably won't be too surprised when I tell you that sadly it's not quite as it seems and it doesn't work as promised.
It's clear to me that this system is nothing more than a get-rich-quick scam that's out to part you with your hard-earned cash, similar to the others I've reviewed on this blog like the 7 Figure Profit Code & My Online Dream Biz systems.
Sadly I see these things quite a lot & they're basically looking to target people who don't have a great deal of experience when it comes to making money online & don't really know how it works.
So let me first start out by telling you that yes it's possible to make money online, but the internet is not magical & therefore you cannot simply start making money by "pushing a button".
If you could then everybody would be doing it.
To make money online, anything close to a full-time income at least, you would need to put in the work just like you would if you were starting a traditional brick & mortar business online. The internet is no different, it's just that it gives you the ability to reach more people & generally since you don't need to rent physical locations the start-up costs are much lower.
You can actually get started for free at Commission Academy which is a place where you can learn exactly how money is really made online – and they even give you the tools so that you can start making money yourself.
Anyway back to the Push Button System…
Basically, this isn't a "push-button system" at all like it makes out – instead, after handing over the $37 what you're actually provided with is some very basic low-quality affiliate marketing training.
There is no button to push & there is certainly no way that you will begin making money within your first 3 hours of signing up – the system is just feeding you lies in an effort to get you to hand over your cash.
The other issue is that whilst you can potentially make money with affiliate marketing, unfortunately, the training provided through this system is so poor that it will be unlikely for you to earn any money at all even if you were to follow it to the letter.
It's basically just been designed to hype you up about the opportunity of earning some easy money in an effort to get you to hand over your cash then once they've got your cash they just fob you off with a rubbish product.
A product which is totally different from the one that you were expecting to be buying.
You Might Also Like:
Is The Push Button System a Scam?
In my opinion yes, the Push Button System is a scam. You're being sold on a complete pack of lies & it's therefore clear to me that this has been purely designed to make the creator rich at other peoples expense.
I can confidently say that if you do happen to buy into this system then you will find yourself thoroughly disappointed with the product that you receive, and even though there is a "60 day refund period" offered the creator will still make it very difficult for you to get your money back.
Like with the other similar get-rich-quick programs I've seen they will claim that they did indeed send you something in return for your money (even though it was just some poor-quality training) & that as a result, they cannot honour the refund period because you've technically "used" the product.
The only positive I can see is that the payment processing is handled through ClickBetter meaning that if you take the issue up with them directly then they may be able to help you get your money back.
But ultimately I don't believe this is something that you should be paying money into anyway. Overall I don't recommend this product & I'm actually going to advise that you stay away from it.
A Better Alternative
The sad truth is that unfortunately most of the programs promising to help you make money online are scams. I can say that confidently after exposing over 500+ of them here on this blog.
But the good news is that even though most of them are indeed scams, there are actually some very good programs in amongst them - some programs that can truly help you to earn money.
And out of all of the legit programs I've seen, the one I would recommend the most to anybody looking to get started online is Commission Academy. In my own opinion, that's the best place to start.
At Commission Academy, you'll be provided with everything you need (including the training & tools) to begin earning real money by promoting products or services for companies like Amazon online.
The best part is that there's literally no limit on the amount you can earn with it & the process is pretty simple which means that it's absolutely perfect for people that don't have much experience.
Some wealthy affiliates even earn as much as 5-figures per month... Or more!


I mean don't get me wrong, that kind of money won't just fall into your lap without doing any work... But the harder you're willing to work at it, the more you stand to earn with it.
So if you're looking to get started but don't know which route you should go down or which program you should join (and don't want to waste money on bogus things that don't actually work), then I'd highly recommend checking out Commission Academy first. You can learn more about it here.