In this review I'm going to be taking a closer look at the 7 Figure Profit Code system (found at sevenfigureprofitcode.com) which claims it can enable you to turn the tables on your boss by generating you daily commissions of $1076.74 online & making everybody you with super jealous (their words, not mine).
Naturally when I see bold & silly claims like this I become immediately skeptical as I'm probably sure you do too – so is this system legit or is the 7 Figure Profit Code a scam? And how's it all even supposed to work?
Those are exactly the questions I'll be answering in this 7 Figure Profit Code review meaning if you've been thinking about trying it out then you can rest assured that you've landed in the right place to find out everything you need to know before you do.
And it's worth pointing out that I'm not affiliated with this system in any way shape or form so you'll be reading a 100% honest review as opposed to some nonsense that's been put together by an affiliate who's only really interested in getting you to sign up so that they can earn themselves a commission. 🙂
What Exactly Is The 7 Figure Profit Code System?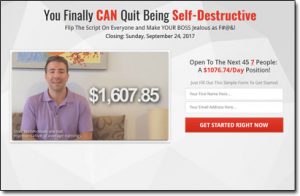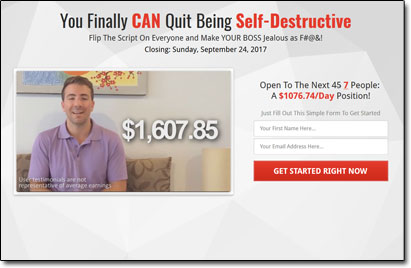 The 7 Figure Profit Code system is something that's supposedly been launched by a guy named Mike who claims he has discovered a secret method which enables him to generate traffic from all over the internet that he can then send to various affiliate offers & earn massive daily commissions.
At the start of the video on the 7 Figure Profit Code website Mike claims to supposedly create a brand new affiliate account for you which starts of at $0, he then claims to track the account "live" as the video progresses & he shows the commissions increasing in the account.
He claims that this account is your account & that by the end of the video he'll give you access to it & it will still be generating commissions, meaning that you can literally sign up & start earning immediately… Theoretically.
However the truth is it's not live at all & you can easily figure that out by refreshing the page – you'll see the video play again which clearly shows that it's all been recorded & that it's just a trick.
The other red flag here is the use of fake testimonials throughout the video which you can see an example of in the screenshot below: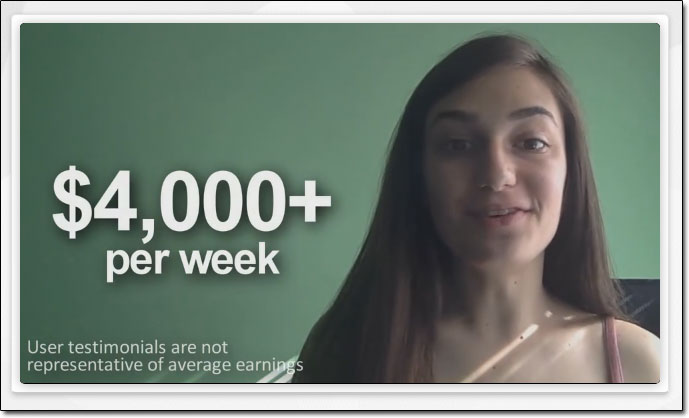 There are several of them throughout the video & each person claims to be making thousands through the 7 Figure Profit Code system but in reality they're not making a penny. These people are actually paid actors from the website Fiverr & they are recording videos for people for $5 a piece.
If you were really earning $4,000 per week through Mike's system would you really need to waste your time recording videos for people to make an extra $5 here or there? I don't think so!
Here's How It Really Works…
I've reviewed literally hundreds of scams similar to this one already on this blog such as the My Online Dream Biz system & I don't even have to go too deep into this particular system to detect that it's a scam.
There are several alarming factors that I mentioned above which immediately make you feel very skeptical but then to "seal the deal" I noticed that this product was being promoted through the ClickBetter network which has recently been renowned for hosting get-rich-quick scams.
I mean don't get me wrong I don't have anything against ClickBetter themselves as over the years they've proved to be a reputable company but I just don't understand why lately they're allowing people to promote things like the 7 Figure Profit Code through their website which is blatantly just out to part people with their hard earned cash.
Recently I've also seem the following systems promoted through ClickBetter (which also all turned out to be scams):
The only positive thing about the product being on ClickBetter is that generally they're fairly good at handling refunds so if you've already fell victim to this system then hopefully you should have a fair chance of getting your money back.
Anyway back onto how it works…
Basically the 7 Figure Profit Code is what I tend to call a "hype-scam", it's not a very technical scam but it parts plenty of people with their cash all the same. Basically it just hypes up the idea of being able to make money quickly & easily then charges you a fee to get access to the "secret method".
Then once you hand over your cash you're left to find out that it's not quite as promised, and instead of some "turn-key money making system" you're actually just given access to some junk training course.
The training course teaches you how to make money through affiliate marketing, and whilst you can make a full-time income through affiliate marketing it's something that you have to work towards – it doesn't happen overnight.
Plus the quality of the training provided through these types of systems like the 7 Figure Profit Code is generally so poor that you even if you followed it to the letter you probably wouldn't make a dime.
In my opinion if you want to learn how to make money through affiliate marketing then you should check out Wealthy Affiliate instead as that's a well known reputable company & it's actually free to get started.
So ultimately the 7 Figure Profit Code system is just mis-selling you & then once you've handed over your cash you'll find out it's not what it seems but by then it's generally too late – you've been scammed.
The "trick" is that whilst the training they provide you with poor, they did technically provide you with something – so when you ask for a refund they'll claim that they did provide you with the product.
I know it's not right but that's how they're getting away with it, purely through a technicality.
Final Verdict – Is The 7 Figure Profit Code a Scam?
I'm not gonna hold back on this one, I gonna come straight out & say that yes in my opinion this system is your common get-rich-quick scam, preying on people who are new to making money online.
You see whilst the internet provides you with great opportunities to make money unfortunately there are no turn-key or push-button systems – you've still got to put in the work if you want to get results.
The claims made by this system are just totally unrealistic & there's no way you'd be able to generate the kind of income that they're promising you as a result of buying into their $97 program.
My advice is simply to stay away from this website because it's clear to me that they're just mis-selling you on false information & if you do happen to buy the product you'll find yourself thoroughly disappointed.