In this review, I'm going to be taking a look at the Your Home Biz system (found at yourhomebiz.info) which claims it can see you earning over $2,740 per day working from home, even with no prior experience.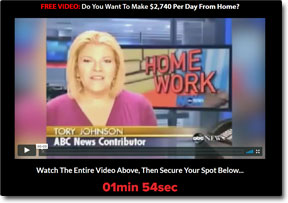 Obviously right from the off I'm immediately sceptical because that's an outrageously bold claim & I'm almost certain there's no way you can earn that amount so easily, but the question is can you actually earn any money at all with it? Or is Your Home Biz a scam?
Well, you've landed in the right place to find out because I'm about to uncover everything you need to know.
What Is Your Home Biz?   |   How Does Your Home Biz Work?   |   What I Believe Is Happening   |   Is Your Home Biz a Scam?   |   A Better Alternative
What Is Your Home Biz?
To be honest, when I first landed on the homepage of the Your Home Biz system I recognized the page – it looked almost identical to the Profit Countdown system which I recently reviewed on this blog & therefore like the Profit Countdown system I assumed this system was also going to be yet another sales funnel for the Digital Altitude business opportunity… But it turns out it's not.
It does definitely look like the owner of the Your Home Biz system has copied the Profit Countdown sales page though because they are just way too similar, only it seems he's changed the video & is attempting to get you to buy into something else…
One thing I want to point out straight away though is that I regularly expose scams on this blog & the website for the Your Home Biz system definitely shares all the common traits of a scam.
The first red flag is the use of various tactics to rush you through the buying process – such as the "limited spots available" counter, the "discount expiration" counter (shown below) & the random new member just joined notifications that keep popping up in the bottom left-hand corner.

Whilst there are rare occurrences when these tactics are legit, they are generally used by scammers to rush you through the buying process so that you don't have chance to read the reviews – because they know if you read the reviews then you'll find out it's a scam & won't get sucked in.
The other problem is that they've used clips of unrelated news broadcasts to try & legitimize their platform and make it seem like it's legit. A real, genuine company wouldn't need to use such tactics.
If you watch the start of the video carefully you'll see that all these news broadcasts talk about the opportunity of working from home (which in itself is entirely possible) but none of them mentions or endorses the Your Home Biz system specifically. The creator of the system has just shown you those clips in an attempt to make you think that they're endorsing his system but in reality, they're not.
I assume this must be quite an effective tactic for getting people to put their trust in things because 2 other scams I recently exposed also used similar fake news endorsements – those where the Secure Job Position & Home Job Source systems (which you may also have seen).
How Does Your Home Biz Work?
The video doesn't really do much explaining as to how the system is supposed to work, instead, it focuses on just getting you hyped up about the possibility of being able to work from home.
Rather than explain what you'll actually be doing or how you'll be earning money (and where the money is supposedly going to come from) it just talks about how you'll be able to spend more time with your family & won't have to answer to a boss any more… That's cool & all but when a system doesn't talk too much about what you'll actually be doing usually it's because it isn't actually legit.
It Becomes Clear When You Reach The Checkout…
After you finish watching the video a box appears which prompts you to enter your email address, and when you do that you'll then be forwarded to the checkout page which is where you'll realize that you're actually buying a product named Affiliate Assassin.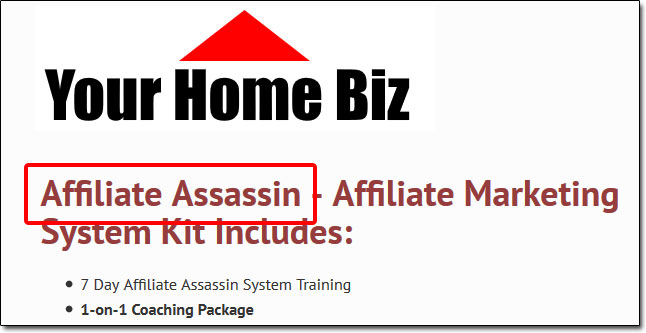 So whereas Profit Countdown (the other system that looked exactly the same as this one) was a sales funnel for Digital Altitude, this Your Home Biz seems to be a sales funnel for Affiliate Assassin.
Now I'm not going to lie Affiliate Assassin isn't a product I've come across before, but when I looked for reviews of it to find out more about it the only related product I could find was one that was released several years ago.
Through Your Home Biz, the Affiliate Assassin product costs $97 (which is said to be a reduction from its original price of $497) however elsewhere it seems that the product is available for sale at just $5.
The price of $5 sounds much more appropriate to me because apparently according to the Your Home Biz website it's only a 7-day course. They do also claim you'll get 1-on-1 coaching but since the owner isn't even willing to put contact details for support on the YHB website I would take this with a pinch of salt.
Here's What I Believe Is Happening…
Lately, I've seen a lot of very simple scams launching whereby people have been creating really hyped up websites promising that you can make lot's of money very easily by following their training but then after hitting the purchase button & making the payment you're left to find out the hard way that it was all a pack of lies.
In my opinion, it looks like that is exactly what is happening here with the Your Home Biz system. They've put together a really hyped up sales page which promises you easy riches & then once you've made the payment of $97 it looks like they're going to fob you off with some bogus training that really isn't worth the money.
You see it makes me very wary that they don't use a 3rd party payment processor like ClickBank or ClickBetter – instead, it seems like they're handling payments themselves which means they could make it very difficult for you to obtain a refund once you find out they aren't delivering on their promises.
I mean don't get me wrong there are still some scams floating about on the ClickBank/ClickBetter networks (like Legit Flex Job Academy which I just reviewed today) but usually, they are pretty good with providing refunds to dissatisfied customers if you contact them directly.
With the Your Home Biz system, you don't have any protection like that, you're merely left to take their word for it & based on all the fake scammy tactics they used on their sales page I don't think I could trust them.
You Might Also Like:
Is Your Home Biz a Scam?
I'm actually going to come straight out & say that yes I do believe Your Home Biz to be a scam. It consists of over-hyped unrealistic income claims, doesn't go into great detail as to what you are getting for your money & it uses various underhand tactics to get you to buy into the program in the first place.
Whilst the method that they teach (affiliate marketing) is a legitimate way to earn an income online there is no way on earth that a 7-day course is going to see you earning $2,740 per day as you're promised prior to purchasing. On top of that in my opinion there is absolutely no need to pay $97 for such a course when you get access to free affiliate marketing training elsewhere.
Maybe if the Your Home Biz creators dulled down the sales pitch & actually explained what the product consisted of then I could recommend it, but as it is at the moment I feel like you're being sold on lies so there's absolutely no way I could recommend it to you. If you're looking for a legitimate place to get started making money online Your Home Biz is not the answer & I'd recommend something like Wealthy Affiliate instead (which is actually free to join).
A Better Alternative
The sad truth is that unfortunately most of the programs promising to help you make money online are scams. I can say that confidently after exposing over 500+ of them here on this blog.
But the good news is that even though most of them are indeed scams, there are actually some very good programs in amongst them - some programs that can truly help you to earn money.
And out of all of the legit programs I've seen, the one I would recommend the most to anybody looking to get started online is Commission Academy. In my own opinion, that's the best place to start.
At Commission Academy, you'll be provided with everything you need (including the training & tools) to begin earning real money by promoting products or services for companies like Amazon online.
The best part is that there's literally no limit on the amount you can earn with it & the process is pretty simple which means that it's absolutely perfect for people that don't have much experience.
Some wealthy affiliates even earn as much as 5-figures per month... Or more!

I mean don't get me wrong, that kind of money won't just fall into your lap without doing any work... But the harder you're willing to work at it, the more you stand to earn with it.
So if you're looking to get started but don't know which route you should go down or which program you should join (and don't want to waste money on bogus things that don't actually work), then I'd highly recommend checking out Commission Academy first. You can learn more about it here.