In this review, I'm going to be taking a look at the Home Job Source system which claims it can teach you how to build a full-time income just by posting links online, a pretty bold claim, I think you'll agree.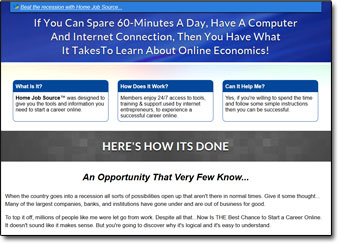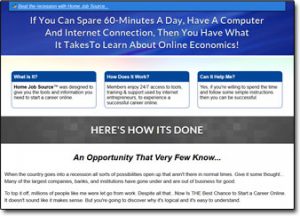 According to the Home Job Source website itself, providing you have just 60 minutes to spare per day & a computer with an internet connection you can begin profiting through this system, even without experience.
But is it really legit? Or is it just another work-from-home scam? And can you really make money with it?
Those are the exact things I'll be revealing in this review so if you've come across the Home Job Source system & you're wondering if it really works then you can rest assured you've landed in the right place to find out.
What Is Home Job Source?   |   How Does Home Job Source Work?   |   Is Home Job Source a Scam?   |   Should You Join?   |   A Better Alternative
What Is Home Job Source?
The Home Job Source system claims to be everything you need to start a career online, and it says that providing you're willing to follow some simple step-by-step instructions it can help you find massive success online.
However whilst that all sounds fair & well the Home Job Source system actually looks & sounds very similar to a system named Home Job Placement which sadly turned out to be nothing but a scam.
Therefore I wouldn't advise you go hitting that "purchase" button on the Home Job Source system just yet because I have a strong feeling that just like the Home Job Placement system, this one may also be a scam.
How Does Home Job Source Work?
Unlike typical online scams, the website for the Home Job Source system actually goes into quite a bit of detail on how you will allegedly make money if you decide to go ahead & buy-in for the $97 fee.
It claims that once you sign up you'll be given access to a training centre through which you'll learn how you can get paid commissions by various big-name companies simply for posting links online.
This is what's known as affiliate marketing, and whilst it is actually a legitimate way to make a lot of money online there is a big problem with the Home Job Source training & that's the fact that it's really low quality.
You see as per my suspicion the Home Job Source system isn't any different to the other link posting scams that have come before it. The intention of the website is to make you feel that after paying the $97 you'll get access to some sort of proven method which will almost instantly enable you to start seeing results but that couldn't be further from the truth.
Firstly I've seen the training provided by the Home Job Source system & it's extremely poor quality – there's no way that as a newcomer you'd be able to make any money as a result of following it, especially not the kind of income levels that the website makes out.
Secondly, I feel that the Home Job Source over hypes everything just to get you to part with your $97. Whilst you can make money with affiliate marketing it takes quite a lot of work & certainly doesn't happen overnight.
The Home Job Source system makes out that you can just post a couple of links and then "sit back & relax whilst the money comes in" but being in this industry for over 5 years I just know that absolutely isn't true.
Is Home Job Source a Scam?
I'm going to come out & say that yes, I feel that the Home Job Source system is indeed a scam. Whilst the core method (affiliate marketing) may be genuine in my opinion there is no way you're going to make money as a result of following the Home Job Source training, and it certainly isn't worth paying $97 for.
On top of that, they have really hyped everything up & as mentioned above you're led to believe that after you hand the $97 over you'll be provided with some sort of method that will give you almost instant results which couldn't be further from the truth.
Basically, I believe that no matter who you are or what level of online experience you have you will find yourself disappointed after buying into the Home Job Source system and then they will make it very difficult for you to obtain a refund, which in my opinion is a trait of a scam.
The other big issue is that after entering your email address on the initial page you'll find your inbox getting bombarded with spam emails promoting various other systems & make-money opportunities. This means that whilst this system only costs $97, over the long-term you could see yourself getting drawn into several other scams as a result of putting your email into this system.
And on top of that, the fact that this system has decided to operate under several different names (such as Home Job Position & Home Job Placement) is a MAJOR red flag. That's a common trait for a scam as they usually do it in an effort to try & escape negative reviews.
You Might Also Like:
The Bottom Line – Should You Join?
I'm not going to be recommending that you join Home Job Source, in fact, I'm actually going to be doing the opposite & advising that you stay away from it because, in my opinion, it's just another work from home scam looking to part you with your cash.
They've incorporated affiliate marketing into it to try & make you believe it's a genuine training program that will enable you to build a legitimate income but in truth, they're just trying to suck $97 out of you.
It's unfortunately really because it puts a bad name on affiliate marketing, but let me make it clear that affiliate marketing, in general, is a 100% legitimate way to build an income online & it's the method I personally use to generate my own income.
If you're still interested in learning how to build an income online the right way then my advice would be for you to check out Wealthy Affiliate instead which is a reputable company that gives you genuine affiliate marketing (for free).
A Better Alternative
The sad truth is that unfortunately most of the programs promising to help you make money online are scams. I can say that confidently after exposing over 500+ of them here on this blog.
But the good news is that even though most of them are indeed scams, there are actually some very good programs in amongst them - some programs that can truly help you to earn money.
And out of all of the legit programs I've seen, the one I would recommend the most to anybody looking to get started online is Commission Academy. In my own opinion, that's the best place to start.
At Commission Academy, you'll be provided with everything you need (including the training & tools) to begin earning real money by promoting products or services for companies like Amazon online.
The best part is that there's literally no limit on the amount you can earn with it & the process is pretty simple which means that it's absolutely perfect for people that don't have much experience.
Some wealthy affiliates even earn as much as 5-figures per month... Or more!

I mean don't get me wrong, that kind of money won't just fall into your lap without doing any work... But the harder you're willing to work at it, the more you stand to earn with it.
So if you're looking to get started but don't know which route you should go down or which program you should join (and don't want to waste money on bogus things that don't actually work), then I'd highly recommend checking out Commission Academy first. You can learn more about it here.