This morning I was inundated with emails from my readers asking me about a new system that's launched named Home Job Placement which claims to be the number 1 work from home system.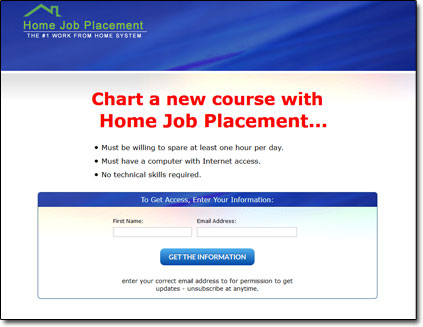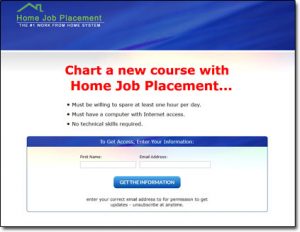 Allegedly, if you've got a computer with internet access & are willing to spare 1 hour per day they claim they can provide you with everything you need to get your "rare big break to starting online" – their words, not mine.
Unfortunately, I can tell you immediately right from the off that their claims are simply not true and the reason I can say that so confidently is because I've previously seen this exact Home Job Placement scam launch under several different names prior to this one.
Some of the names it's previously launched under include Home Job Position, Automated Daily Income & The Xtreme Home Paycheck System. If you click on any of those links you'll be taken to the reviews I've written on those systems & you'll see that they are almost identical to the Home Job Placement system.
Basically, the guys behind these systems are pretty much just changing the logos & relaunching them under different names every couple of weeks in an attempt to escape the bad reviews & continue to scam even more people. Sad but true.
What Is Home Job Placement?   |   Can You Make Money With It?   |   The Money-Back Guarantee   |   My Final Verdict   |   A Better Alternative
What Is Home Job Placement?
Well, the first thing we've established is that it's definitely a scam (just making that clear), but for those of you still interested in finding out how it's actually supposed to work & why I've classified it as a scam – let me explain…
The Home Job Placement scam is actually quite simple – they're taking advantage of newcomers looking to make money online by selling them hyped up, overpriced affiliate marketing training… Training that almost certainly won't provide you with any value, let alone see you making any money.

Now before I continue I want to make it clear that affiliate marketing is a legit (and actually a very, very good) way to make money online. The problem lies with the poor quality training that is provided by Home Job Placement & the massively over-hyped claims.
You're basically being misled & sold on something that they are not going to deliver.
There are many other alternative places where you can learn how to make money through affiliate marketing for free – such as this place here.
Basically, after paying $97 to get access to the Home Job Placement revolutionary platform, you'll merely be provided with a link which you're told to post in as many places as you can, and that you'll earn commissions when somebody clicks the link and buys the products.
This is pretty much as far as the training goes… "here's your link, now go and post it places online"…
You don't get the tools to create a website or anything like that – you just get a link to promote junk products (like sunglasses etc) which you'll be told to promote to family & friends on Facebook, as well as spamming strangers on Facebook pages & groups too.
Can You Make Money With Home Job Placement?
Whilst the method of affiliate marketing is proven, unfortunately, in my opinion, the training provided by the Home Job Placement system won't see you earning a penny – and I certainly wouldn't recommend paying $97 for it as you'll find yourself thoroughly disappointed.
Yes, you can sign up for affiliate programs & earn money when people purchase products through your links – but without proper training, you're simply not going to know the effective methods for actually getting people to click/purchase through your links… And no purchases means no money.
The chances are if you sign up to the Home Job Placement system you're just going to find yourself out of pocket by $97 like all of the others have who've signed up to all the other versions of this scam that came before it as mentioned above.
What About The Money Back Guarantee?
The money-back-guarantee is bogus – at the end of the day Home Job Placement is a scam & once they've got your money you ain't getting it back, it's as simple as that. The guarantee is irrelevant as it's just a trick to actually get the money off you in the first place.

You're told you can "test-drive it for 60 days without risking a penny" but this isn't true at all. If they were serious about their methods & genuinely believed you would find success with them then I'm pretty sure they'd give you a free trial to find out just how great it is knowing that you'd be happy to stick around & pay.
Instead in classic scam fashion, you've got to pay the money upfront only to find out it's not as great as they say it is afterwards.
You Might Also Like:
My Final Verdict
There's not a lot left to say about this system as in my opinion it's simply a flat out scam, hence why it's having to keep re-branding under different names every couple of weeks in an attempt to escape the negative reviews.
It's possible to make money with affiliate marketing & a lot of money at that – but it takes work & I believe that Home Job Placement is completely misleading. You're led to think that it's easy & that you'll be able to profit almost instantly which simply isn't the case.
So please do take my advice & give the Home Job Placement system a wide berth as it's set out to do nothing other than suck your wallet dry. If you're interested in learning more about affiliate marketing then I'd recommend you check this out instead.
Anyway, hopefully, you appreciated my review & more importantly hopefully I was able to prevent you from parting with your hard-earned cash. If you do happen to have any additional comments or questions don't hesitate to leave them below – I always do my best to respond as quickly as possible.
A Better Alternative
The sad truth is that unfortunately most of the programs promising to help you make money online are scams. I can say that confidently after exposing over 500+ of them here on this blog.
But the good news is that even though most of them are indeed scams, there are actually some very good programs in amongst them - some programs that can truly help you to earn money.
And out of all of the legit programs I've seen, the one I would recommend the most to anybody looking to get started online is Commission Academy. In my own opinion, that's the best place to start.
At Commission Academy, you'll be provided with everything you need (including the training & tools) to begin earning real money by promoting products or services for companies like Amazon online.
The best part is that there's literally no limit on the amount you can earn with it & the process is pretty simple which means that it's absolutely perfect for people that don't have much experience.
Some wealthy affiliates even earn as much as 5-figures per month... Or more!


I mean don't get me wrong, that kind of money won't just fall into your lap without doing any work... But the harder you're willing to work at it, the more you stand to earn with it.
So if you're looking to get started but don't know which route you should go down or which program you should join (and don't want to waste money on bogus things that don't actually work), then I'd highly recommend checking out Commission Academy first. You can learn more about it here.