These days more & more people are searching for ways to work from home since they're now realizing that it is actually possible, resulting in an increasing number of so-called work from home "systems" launching claiming to provide the best way to get started.
However, whilst it is indeed possible to make money online & build an income from home as you can imagine there are many systems which are launching purely to take advantage of people, parting them with their hard-earned cash.
Over the past couple of years, I've seen literally hundreds, if not thousands of systems which have been nothing but flat out scams so it's safe to say that when you're looking into work from home opportunities you've got to tread very carefully indeed.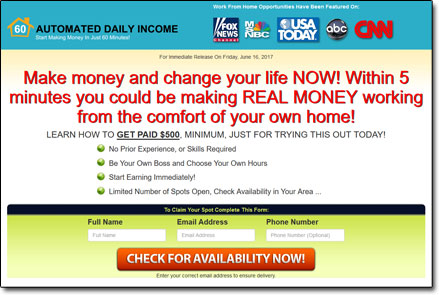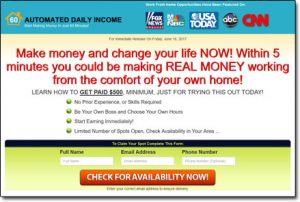 Recently I've noticed that one particular website named the Automated Daily Income System has been attracting a lot of attention so I've decided to take some time out to see what it's all about.
The website makes some extremely bold claims which immediately makes me very sceptical & I've already found several other negative reports about this company so no doubt if you've visited the Automated Daily Income system you're probably curious as to whether or not it actually works…
Well if you are you're in luck because in this review I'm going to uncovering literally everything there is to know about the Automated Daily Income system, determining if it's legit & figuring out once & for all if you can really make money with it. So basically if you've come across the ADI system you've definitely landed in the right place to find out everything you need to know.
What Is The Automated Daily Income System?   |   How Does The Automated Daily Income System Work?   |   My Final Verdict   |   A Better Alternative
What Is The Automated Daily Income System?
The Automated Daily Income system claims to be the go-to site for anybody looking for a work from home position. The homepage makes some extremely bold claims, such as that you can;
"Start making money in just 5 minutes"
"Get paid $500 minimum just for trying it out"
"Only a limited number of spots are available"
And of course the classic line – that no prior experience or skills are required.
Now immediately this reminds me of the good phrase "if it sounds too good to be true, it probably is"…
In this particular instance, it almost certainly is & I can tell you that right from the off because I've actually seen this exact same before launched under several different names. Two names that spring to mind are Countdown To Profits & The Automated Millionaire.
Generally, when companies start launching under several names like this it's because there's something untoward going on. Often it's to try & escape bad reviews so that they can continue scamming victims which is what I suspect to be happening here.
Now as I mentioned at the very start of the review it certainly is possible to make money online, however generally it takes time & hard work – there is no 2 ways about it. The internet is not magical & starting a business online is just like doing it offline.
As much as we wish there were ways to start making hundreds or thousands of dollars overnight unfortunately there is not & never will be any way for this to happen (at least not without being involved in something illegal at least which I'm certainly sure you wouldn't want to do!).
So with that being said when systems make hyped up claims like this it makes me very suspicious indeed.
How Does The Automated Daily Income System Work?
Judging by the name you would probably expect that you can simply sign up & start receiving payments – after all, it is supposedly the "Automated Daily Income" system right? Well unfortunately this is not the case…
When you buy into the Automated Daily Income system for $97 what you will actually receive is some affiliate marketing training & this will be delivered to you in segments each week.
Now it's worth pointing out that affiliate marketing is a genuine method to buy an income online (and it's the same way that I do it) however I don't believe the training provide by the ADI system will help you make any money. In my opinion, it lacks substance, especially for $97 & I believe it's heavily geared towards pushing you towards buying into something named MOBE.
MOBE is a separate business opportunity that I have already reviewed on this blog & it was created by an Australian entrepreneur named Matt Lloyd. Whilst you can potentially make money with MOBE very few actually do & it's received a lot of negative criticism as a result.
Since I've already reviewed MOBE on this blog I won't be going into great detail on it here, but the important thing for you to note is that it's a pay-to-play program which means that in order to make money from it you must invest your own money to get started (and it can cost around $50k in total).
So you're probably wondering what MOBE has to do with the ADI system – well let me explain…
Essentially you make money from MOBE by getting new people to sign up MOBE as it's a network marketing company – this means many of the affiliates are constantly trying new & innovative ways to get people to sign up… The more people they get to sign up, the more money they will make.
Lately it seems that the big affiliates have found a "tactic" to get large numbers of people to sign up, and that's by creating systems like this ADI system & then listing them on various affiliate networks for other affiliates to promote.
So now the affiliate of MOBE no longer has to do promoting in order to get people to join – they just create a system like the ADI system (which is designed to get you to sign up to MOBE) then they list it on affiliate networks for other affiliates to promote.
The other affiliates are happy because they get a percentage when you buy in for $97 & the creators of the system are happy because the system is designed to get you to buy into MOBE so eventually they will make money as you upgrade through the higher-priced options.
Hopefully, that makes sense?
You Might Also Like:
My Final Verdict
In my opinion, the training provided through the ADI system lacks substance & it's clear that it's been designed purely to push you towards buying into the MOBE opportunity which could see you spending thousands of dollars.
I'll agree that you can potentially make money with MOBE, however, I believe the ADI system promotes the opportunity in a very misleading way. To make money with MOBE you are going to have to be prepared to invest a lot of money (with no guaranteed return) and put in a LOT of hard work. You've also got to be willing to talk to other people & persuade them to buy into MOBE as this is basically how you will be making your money through this opportunity.
For those reasons, I will NOT be recommending the Automated Daily Income system (or MOBE for that matter) & I hope you can appreciate why.
Now a lot of people have been asking about the $500 guarantee so I want to clear that up too before I finish this review. The first important thing is that the guarantee is a guarantee offered through MOBE, not the ADI system… Meaning if you spend $97 on the ADI system you have no guarantee in force to get it back.
Secondly, the guarantee through MOBE comes with a lot of strings attached, to say the least! In fact, I have not even seen reports of a single person managing to claim $500 through the guarantee as MOBE usually claim that the claimants "didn't follow the steps properly" or "didn't put in the required time/effort".
Basically what I am saying is that you are best off approaching this opportunity as if there were no guarantee in place at all.
Anyway, hopefully, this review gave you a good insight into this system & provided you with everything you need to know. If you do still happen to have any questions don't hesitate to leave them below & I'll do my best to answer them as quickly as possible.
A Better Alternative
The sad truth is that unfortunately most of the programs promising to help you make money online are scams. I can say that confidently after exposing over 500+ of them here on this blog.
But the good news is that even though most of them are indeed scams, there are actually some very good programs in amongst them - some programs that can truly help you to earn money.
And out of all of the legit programs I've seen, the one I would recommend the most to anybody looking to get started online is Commission Academy. In my own opinion, that's the best place to start.
At Commission Academy, you'll be provided with everything you need (including the training & tools) to begin earning real money by promoting products or services for companies like Amazon online.
The best part is that there's literally no limit on the amount you can earn with it & the process is pretty simple which means that it's absolutely perfect for people that don't have much experience.
Some wealthy affiliates even earn as much as 5-figures per month... Or more!


I mean don't get me wrong, that kind of money won't just fall into your lap without doing any work... But the harder you're willing to work at it, the more you stand to earn with it.
So if you're looking to get started but don't know which route you should go down or which program you should join (and don't want to waste money on bogus things that don't actually work), then I'd highly recommend checking out Commission Academy first. You can learn more about it here.