A new week & a new system launches promising the world – this time it's the turn of the Xtreme Home Paycheck system (or Extreme Home Paycheck system depending on how you want to spell it).
In typical fashion, the homepage for this website features several bold claims of how you can receive untold riches just by simply signing up & "activating" the system.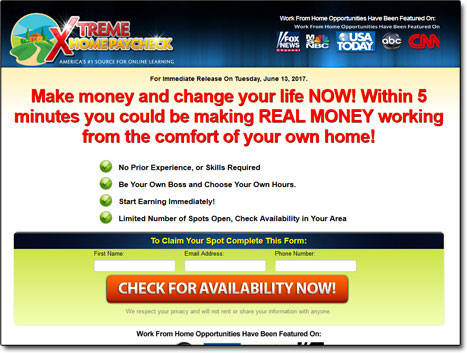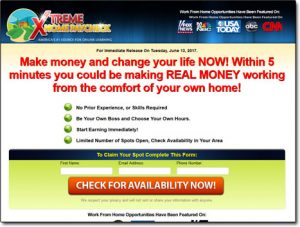 Allegedly, within just 5 minutes of signing up, you can begin earning life-changing amounts of money, and you'll be glad to know that you don't need any special skills or prior experience.
I think the good old phrase "if it sounds too good to be true it probably is" comes to mind here.
However, whilst the system does pretty much scream scam from the off I've still been getting several requests for me to check it out & see what it's all about. So for that reason, I've decided to put this review together today to get to the bottom of it & find out if it really works.
Meaning if you've come across the Xtreme Home Paycheck system (or Extreme Home Paycheck system) and are looking to find out if you can actually make money with it then you've landed in exactly the right place. I'm going to be digging deep into this system & literally uncovering everything you need to know.
What Is Xtreme Home Paycheck?   |   Fake Endorsements   |   How Does Xtreme Home Paycheck Work?   |   My Final Verdict   |   A Better Alternative
What Is Xtreme Home Paycheck?
The Xtreme Home Paycheck system appears to be the classic work-from-home scam that promises the world but after handing over your money leaves you to find out the hard way that it lacks any real substance.
This type of thing is nothing new, in fact, the Xtreme Home Paycheck system appears to actually be nothing but a re-branding of a system which was previously named the Home Online Profit Education system (or HOPE for short).
The systems make out like they're offering some sort of job where you will be getting paid directly for your time but this simply isn't the case. What you're actually getting is "training" on how to make money from home through something called affiliate marketing & this training comes at a cost of $97.
Now there are 3 big problems with this…
Firstly, it's very misleading. As I mentioned above they are making out as if you are applying for some sort of job through which you will be guaranteed money in return for completing tasks but this isn't the case – and there is absolutely no guarantee that you will make any money at all.
Secondly, the training lacks substance & the methods taught will certainly not generate you anywhere near the amounts of income that you're promised.
And thirdly, the training is flat out way overpriced at $97 – especially considering you can get access to much higher quality training for free.
Fake Endorsements
The Xtreme Home Paycheck website claims that it has been endorsed by several high profile media outlets such as Fox News, CNN & USA Today. This is simply not true & you should take these claims with a pinch of salt.
Unfortunately, many people see these claims & dive straight in without a second thought because they believe that if these high profile companies are endorsing it then the method must work – especially since they've even sneakily edited a video to make it seem like real presenters are endorsing the system too.
Here's the deal – if you look carefully you'll see that it says "Work From Home Opportunities Have Been Featured" not that the Xtreme Home Paycheck system has been featured. This is a common trick that scammers use to make these claims whilst technically keeping themselves out of trouble… well, kind of.
You see work from home opportunities have indeed been featured because there are certainly some legit ones, but the Xtreme Home Paycheck system is not one of them.

How Does Xtreme Home Paycheck Work?
Firstly, just in case you don't know what affiliate marketing is it's basically where you get paid a commission for promoting other peoples products. You'll get a unique tracking link & then if somebody clicks through that link & goes on to make a purchase you'll earn a commission.
As a stand-alone method it's a legitimate way to make money & many of the big-name brands like Amazon etc all run affiliate programs meaning you can sign up for free, promote their products & earn an income on the side.
However, making money effectively from affiliate marketing does take a bit of skill – you can't just expect to spam your links on social media & start raking in the case. Generally, you need to start your own blog & write reviews or run paid advertising if you want to see healthy long-term profits.
To cut a long story short Xtreme Home Paycheck basically sells you a duff affiliate marketing method. Yes, you can make money with affiliate marketing but the chances you'll make money with the methods taught by the Xtreme Home Paycheck training are very slim.
In fact, I'm almost certain that you will NOT make money as a result of purchasing this product. It's way too over-hyped as they are simply just interested in parting you with your hard-earned cash (sadly).
My Final Verdict
It's clear to me that this is just the Home Online Profit Education system re-branded under a different name in an attempt to scam even more people out of their hard-earned cash.
Whilst it might give out great promises & seem to be endorsed by reputable networks unfortunately it lacks any real substance. For that reason, it's safe to say that I'll be giving the Xtreme Home Paycheck system a big thumbs down and advising that you avoid it.
I also want to warn you that if you're still potentially interested in "trying it out" just to make sure that these companies make it very difficult (almost nearly impossible) to get your money back. Meaning if you do decide you want to try it out you should do it with the expectation that you will be losing your money and not be able to get it back.
If however you, unfortunately, happened to land on this review after falling victim to this system then you'll be glad to know that I've put a guide together which will show you the best steps to try and retrieve your money. I originally wrote the guide to help people get money back from binary options scams but it is still relevant to this type of scam too. You can get access to the guide by clicking here.
So hopefully that answered all your questions & helped you make up your mind as to whether or not you should get involved with this system. If you still have any further questions or comments you'd like to add don't hesitate to leave them below – as always I'll do my best to respond as quickly as possible.
A Better Alternative
The sad truth is that unfortunately most of the programs promising to help you make money online are scams. I can say that confidently after exposing over 500+ of them here on this blog.
But the good news is that even though most of them are indeed scams, there are actually some very good programs in amongst them - some programs that can truly help you to earn money.
And out of all of the legit programs I've seen, the one I would recommend the most to anybody looking to get started online is Commission Academy. In my own opinion, that's the best place to start.
At Commission Academy, you'll be provided with everything you need (including the training & tools) to begin earning real money by promoting products or services for companies like Amazon online.
The best part is that there's literally no limit on the amount you can earn with it & the process is pretty simple which means that it's absolutely perfect for people that don't have much experience.
Some wealthy affiliates even earn as much as 5-figures per month... Or more!

I mean don't get me wrong, that kind of money won't just fall into your lap without doing any work... But the harder you're willing to work at it, the more you stand to earn with it.
So if you're looking to get started but don't know which route you should go down or which program you should join (and don't want to waste money on bogus things that don't actually work), then I'd highly recommend checking out Commission Academy first. You can learn more about it here.