Okay, so today just got a little bit weird…
About a couple of hours or so ago I published a review I'd written for a system named Countdown To Profits (which I ended up giving a huge thumbs down) & then shortly afterwards I somehow ended up landing on another "make money system" named the Home Online Profit Education system.
It might not immediately sound too strange – but when I tell you that both websites are pretty much identical… Yup, it becomes pretty weird!
I mean what's the odds, the whole of the internet and I land on 2 websites which are near enough identical?
Take a look…
Here's a screenshot of the Countdown To Profits homepage: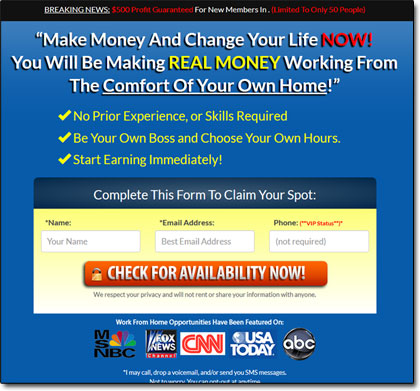 And here's a screenshot of the Home Online Profit Education System: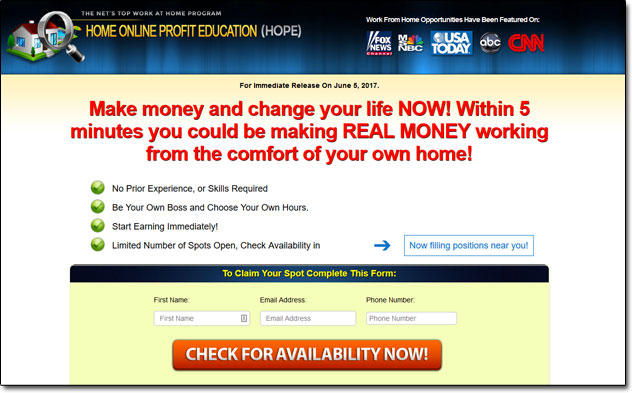 Sure – they're not completely identical but take a close look and you'll see they are very, very similar.
Anyway, since I'd just recently done a review for the Countdown To Profits system (which turned out to be a borderline scam) I figured I may as well take a look into this "HOPE" system as well to find out what it's all about.
So with that being said if you're looking for a Home Online Profit Education review you're in the right place.
In this post I'll be revealing everything there is to know about the system so that you can make an informed decision as to whether or not you want to get involved based on the facts (as opposed to the BS that's written on their homepage).
It's also worth mentioning before I start that I am not affiliated with the Home Online Profit Education system which basically means that you can rest assured that the information you'll be getting here is the truth written by a third-party outsider (as opposed to an affiliate who's just trying to get you to sign up to make a quick buck).
And with all that being said let's get rocking & rolling…
What Is Home Online Profit Education?
I know one thing it definitely is & that's a mouthful – which is why it seems the creators have decided to nickname it "HOPE" for short. However, I'd probably warn you against getting your HOPEs up because as you'll find out in this review this system ain't quite what it's cracked up to be.
The website makes it seem like you can simply sign up & start earning straight away – almost as if it's some kind of online job that you're applying for, unfortunately, though it's not quite as easy as that.
The HOPE system is actually an educational course that claims to teach you how to make money through affiliate marketing & it comes with a whopping price tag of $97. Whilst they do supposedly offer a "make money or it's free" guarantee, there are several other similar (and in my opinion better) programs that you can access for free.
Based on the other false promises made by this system I also feel a little sceptical as to how well the "guarantee" is operated. Once they've got your money they could potentially take it and run so it's a little hard to trust them based on the overall vibe the website gives you prior to purchasing.
The other thing that leaves me feeling sceptical is not just the fact that this system seems to be a copy of the Countdown To Profits system, but the fact that after doing a little digging I discovered that this system has previously been launched under several different names.
Some of the names it's previously been launched under include:
Complete Profit Code
Home Jobs Now
And all of these sites look identical so it doesn't appear that they've changed any of the course content, literally just the name itself.
This is a common trait of a scam as eventually, the bad reviews catch up with them so they're forced to relaunch under different names to keep on parting people with their cash. I feel like that's what's happening here at Home Online Profit Education as if you run a search for it under its previous names you'll find some pretty shocking reviews.
Basically, it looks to me like they've put a LOT of effort into creating the hype of the sales page, but very little effort into creating the course itself. Therefore they're getting tons of people to part with their $97 but then these people are finding out that the course itself gives very little value.
One thing I noticed whilst doing some digging is that the HOPE system is listed on an affiliate network & the creators are paying the affiliates $120 for each new sale they generate.
So they're paying out $120 commissions to affiliates for generating sales on a product that costs $97 which means one thing…
Upsells
Yes, once you pay the $97 you'll be immediately subjected to more and more upsells promising you bigger & quicker riches.
Again all of the upsell pages are super hyped & they are designed to play on your excitement to pull extra cash from you – in fact, you could quickly see yourself parting with hundreds if not even thousands of dollars… and this is before you've even got started!
Then, once you do finally get around to getting started you'll realize that the course isn't actually all it's cracked up to be, the hype will die off & you'll realize that you're left massively out of pocket.
You might decide to try & reclaim your money through the guarantee they offer, but in typical scam fashion, it's unlikely that they will honour it.
You Might Also Like:
Is Home Online Profit Education a Scam?
In my opinion, this system looks like the traditional internet marketing "get rich quick" style scam. The methods they teach work but they don't give you enough substance in the training for you to gain any actual momentum, and the course itself is way overpriced.
Knowing that internet/affiliate marketing is becoming increasingly popular they are preying on newbies who are looking for a quick way to get started. The product is way over-hyped & seriously doesn't deliver.
As I mentioned earlier in this post you can actually get free affiliate marketing training so there is really no need to pay $97 for what's basically nothing more than an introductory course.
Don't get me wrong, the HOPE system isn't the only system that's preying on newbies this way – there are literally thousands of them so my advice whenever you're looking for anything related to affiliate marketing training is to really go all out on your due diligence so that you don't end up getting burned.
To be honest you could actually learn affiliate marketing without ever spending a penny on training since there are so many bloggers writing about the subject (including myself) however doing it this way would take much longer since it'd be leaving you to connect the dots yourself. My advice would be for you to join a trusted program like Wealthy Affiliate which is free, and where everything is laid out for you step-by-step.
Hope you appreciated the insights & if you have comments or questions feel free to leave them below! ? Peace out my friend.
A Better Alternative
The sad truth is that unfortunately most of the programs promising to help you make money online are scams. I can say that confidently after exposing over 500+ of them here on this blog.
But the good news is that even though most of them are indeed scams, there are actually some very good programs in amongst them - some programs that can truly help you to earn money.
And out of all of the legit programs I've seen, the one I would recommend the most to anybody looking to get started online is Commission Academy. In my own opinion, that's the best place to start.
At Commission Academy, you'll be provided with everything you need (including the training & tools) to begin earning real money by promoting products or services for companies like Amazon online.
The best part is that there's literally no limit on the amount you can earn with it & the process is pretty simple which means that it's absolutely perfect for people that don't have much experience.
Some wealthy affiliates even earn as much as 5-figures per month... Or more!


I mean don't get me wrong, that kind of money won't just fall into your lap without doing any work... But the harder you're willing to work at it, the more you stand to earn with it.
So if you're looking to get started but don't know which route you should go down or which program you should join (and don't want to waste money on bogus things that don't actually work), then I'd highly recommend checking out Commission Academy first. You can learn more about it here.