In theory Secure Job Position which claims to be the #1 work from home system sounds absolutely ideal as providing you have a computer with internet access & at least 1 hour to spare per day they can apparently help you to generate a full-time income 100% online…
However before you go rushing into signing up let me tell you that in reality things aren't quite as they're made out to be, in fact the Secure Job Position is actually an identical copy of a website I previously reviewed named Home Job Source which turned out to be a complete utter scam.
So I've decided to take a closer look at the Secure Job Position system to find out if it's any different to the similar scams that have came before it & if it can really help you to make any money.
Meaning if you've come across the Secure Job Position system & have been thinking about joining then you can rest assured you've landed in exactly the right place to find out all the information you need before you do just that.
And it's worth pointing out that I'm NOT affiliated with the Secure Job Position system so you'll be getting the honest unbiased truth as I have absolutely no interest in getting you to sign up (unlike many other reviewers who are getting paid commissions for getting you to join).
What Is The Secure Job Position System Then?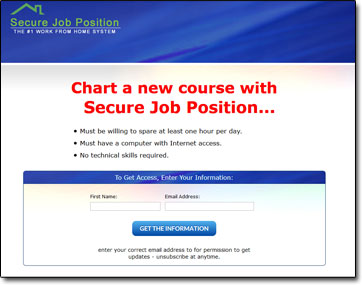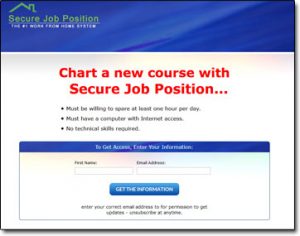 The Secure Job Position system is a very hyped up system which claims it can help you to generate a full-time income online quickly & easy… For a newcomer I'd imagine it's sound like the dream system.
However as I always say whilst the internet is certainly a powerful tool it's not magical & when it comes to making money just like in the offline world there are no shortcuts (no legal ones at least anyway).
So whenever a system promises these sorts of easy riches it always makes me immediately skeptical, and even more so when the website I'm looking at is a duplicate of a scam I've already reviewed but with a different name.
Like the other work from home scams similar to this one that I've already exposed the Secure Job Position system claims that you can earn tremendous amounts of money just by posting links online.
They claim that there are several companies out there which will pay you commissions for promoting their products through special tracking links & that you can earn money when you post these links & someone clicks on them & then makes a purchase.
To be honest that bit is true – it's what's known as affiliate marketing and it's actually a pretty good way to make money online, but the problem is that the Secure Job Position is selling you a bogus method which won't see you earning any money at all.
You see whilst you can earn commissions from companies for referring people to them through affiliate links, it's not as straight forward as just "posting links then sitting back & watching the money come in" like the Secure Job Position system makes out.
Whilst you can potentially generate a full-time income from affiliate marketing (as I do myself) it initially takes quite a bit of effort to get started & it could take you a couple of weeks or months before you even see your first commission.
So Is The Secure Job Position System A Scam?
In my opinion it is because you're being misled into purchasing a product for $97 that you're going to be disappointed by – it's not going to enable you to generate the money they claim it is & in my opinion if you're being sold on lies then you're being scammed.
And whilst they claim that they offer various different money back guarantees, in reality they don't – in fact they actually make it very difficult for you to get your money back. Essentially they're just getting you really hyped up about the opportunity to make money from home & then as soon as you pay the $97 they're just ditching you with some bogus training.
But It Doesn't End There…
If you do happen to buy into the Secure Job Position system you might think you can just cut your losses since it's only $97 – I mean I know it's still a lot of money but ultimately it's not the end of the world.
However that's just where it starts, because once you've signed up to the Secure Job Position system they'll then start sending you emails & even calling you up trying to sell you into higher priced systems claiming that they give you the "missing piece of the puzzle" to enable you to succeed.
You might think that there's absolutely no way you'd be drawn into something like this but the salespeople they use are very good at using mind techniques to trick people into thinking they can find massively success online by just "upgrading" to the next level.
They'll promise you all sorts of different things & pull on your emotions to get you to buy-in, but then once again when you do you'll find you're no better off – just that you've spent more money & once again they'll make it very difficult for you to get any of it back.
My Honest Verdict On The Secure Job Position System…
In my opinion the Secure Job Position system isn't going to help you at all & it's clear to me that it's been designed with the pure intention of making it's creator wealthy, not you, so for that reason I won't be recommending you join.
Whilst the core method (affiliate marketing) is genuine, the training you get through the Secure Job Position system is absolutely garbage & certainly not worth the $97 price tag. You can get genuine training which is 100x better right here at Wealthy Affiliate & it's completely free… Do the maths. 🙂
And also the fact that this same system is launching under different names each week is worrying enough too – that's not the trait of a genuine system so there's definitely something untoward going on. Stay away!