The EZ Money Team system claims to be a re-released "foolproof" system that can see it's members generating profits of up to $5,000 per week from the comfort of their homes.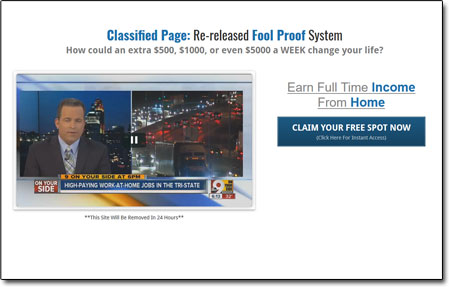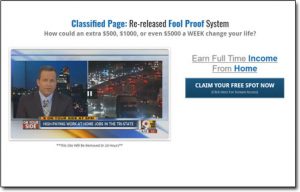 And obviously, that's a pretty crazy claim – especially since you're told that you can make all that money without actually doing anything, so I've decided to take a closer look at this system myself to find out if there's actually any truth to it at all.
Meaning if you've landed here because you're looking to find out if you can really make any money with the EZ Money System you can rest assured that you're in the right place to find out.
What Is EZ Money Team?   |   The Red Flags   |   Should You Join?   |   A Better Alternative
What Is EZ Money Team?
The EZ Money Team is a system that provides you with a supposedly "done-for-you" internet business & it's being promoted through a network named ClickBetter. For me personally, this was an immediate red flag as ClickBetter has gained a pretty bad reputation lately for pushing crappy, or should I say scammy products.
Basically, after buying into the EZ Money Team system you're supposed to be able to duplicate the creator's results by simply copying what he shows you – however whilst this sounds enticing I can tell you that the EZ Money Team is a typical marketing scam & you will not make any money as a result of joining.
I know you might wonder how I can be so certain right from the off & that's understandable, but I've reviewed literally hundreds (if not thousands) of similar scams & I have gotten to know all of the telltale signs. Some recent similar scams include the likes of the Home Job Placement system & the Freedom Cash System.
These scams aren't actually all that technical… In fact the way they operate is quite simple. They just attempt to lure you in through the prospect of being able to make easy money from home and then they sell you on some junk training & make it difficult for you to get your money back.
Whilst it is possible to make money online, it isn't as easy to do as these types of scam systems make out & therefore ultimately they're selling you nothing but hype.
If you're interested in learning the real way to build an income online then I suggest you try something which has a proven reputation (and is free to join) like Wealthy Affiliate for example – which is actually one of the best training programs I've come across to date.
The Red Flags
The reason I was able to tell that the EZ Money Team product is nothing but total junk so quickly is that there are so many red flags on the website itself, some of which you may not be too familiar with if you're inexperienced when it comes to making money online.
Firstly you need to understand that making money online is no different to doing it offline – the internet is not magical & if you want to make money you must be prepared to do some work, so any system that promises easy money with no work should raise major red flags.
Secondly, you're told that you've been given access to a "classified page" that will be taken down in 24 hours. That's a total gimmick & it's just an attempt to rush you through the buying process so that you feel you have to jump in quickly without doing your research first… The reason they don't want you doing your research is that they know for a fine fact that you'll find out the truth about the system (scam).
Thirdly they spend very little time explaining how it actually works, in fact, they barely touch on it at all – they merely use unrelated videos (such as news broadcasts) to build hype and increase your trust. The problem is that the news broadcasts they show you are not talking about this system, they are talking about working from home in general… Which as mentioned above is possible (hence why they're broadcasting on it) but the EZ Money Team scam will not make it happen for you.
And here's the MAJOR red flag…
If you scroll right down to the bottom of the page on the EZ Money Team website you'll see a disclaimer paragraph & inside of that paragraph there is 1 sentence that gives the game away – "The typical purchaser does not make any money using this system".

Need I say more?
Whenever considering joining something like this it's always a good idea to check the bottom of the page & look for any sort of disclaimers.
Should You Join EZ Money Team? My Final Verdict
As I mentioned at the start of this review I am not affiliated with the EZ Money Team system & therefore it doesn't matter to me whether you join or not – but I will advise that you stay away from this system because in my opinion, it is a complete scam.
The EZ Money Team website does nothing other than attempt to build you up on false hype & after handing over your credit card details you'll find that you've pretty much been sold thin air. Yes, you do get a little bit of "training" if you can actually call it that but it massively lacks substance and it certainly won't see you making any money.
My advice is for you to keep hold of your cash & don't get sucked in by the false promises the EZ Money Team scam makes. If you have already happened to have bought into the EZ Money Team system then there is only 1 small positive thing, and that's the fact that generally, ClickBetter (who handle the payment processing) are usually fairly good at dealing with refund requests… Meaning if you contact them directly then there's a good chance you'll be able to get your money back.
A Better Alternative
The sad truth is that unfortunately most of the programs promising to help you make money online are scams. I can say that confidently after exposing over 500+ of them here on this blog.
But the good news is that even though most of them are indeed scams, there are actually some very good programs in amongst them - some programs that can truly help you to earn money.
And out of all of the legit programs I've seen, the one I would recommend the most to anybody looking to get started online is Commission Academy. In my own opinion, that's the best place to start.
At Commission Academy, you'll be provided with everything you need (including the training & tools) to begin earning real money by promoting products or services for companies like Amazon online.
The best part is that there's literally no limit on the amount you can earn with it & the process is pretty simple which means that it's absolutely perfect for people that don't have much experience.
Some wealthy affiliates even earn as much as 5-figures per month... Or more!


I mean don't get me wrong, that kind of money won't just fall into your lap without doing any work... But the harder you're willing to work at it, the more you stand to earn with it.
So if you're looking to get started but don't know which route you should go down or which program you should join (and don't want to waste money on bogus things that don't actually work), then I'd highly recommend checking out Commission Academy first. You can learn more about it here.