In this review I'm going to be uncovering everything there is to know about a system that's just recently launched named The Freedom Cash System, meaning if you've arrived here looking for the low-down & to find out if it really works then you can rest assured you've landed in the right place.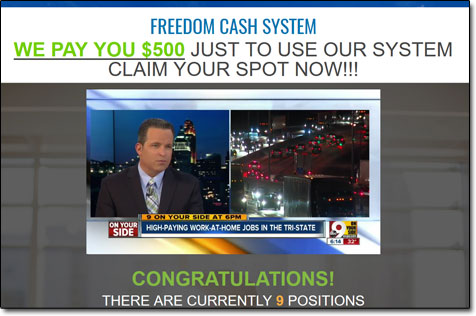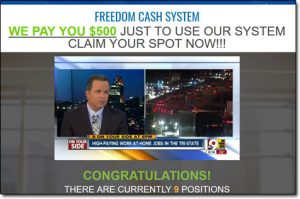 It's also worth mentioning that unlike many of the other reviewers who've written about The Freedom Cash System I'm not affiliated with it – so I'm not getting paid commissions for getting you to sign up.
This means that basically, you can sit back & relax knowing that the information you'll be reading here is the honest truth written by a third party "outsider".
What Is The Freedom Cash System?   |   Getting Secret Access   |   How It Actually Works   |   Is The Freedom Cash System a Scam?   |   A Better Alternative
What Is The Freedom Cash System?
From the moment I landed on the FCS website & seen the $500 promise, they were making I immediately suspected it had something to do with the MOBE business opportunity as I've seen several other programs launch with similar guarantees which all end up being tied back to MOBE business opportunity.
Unfortunately, I was unable to confirm whether it was tied to MOBE or not but one thing I would like to add is that the $500 guarantee seems very suspicious indeed & made me become instantly sceptical about this system.
You see what I don't understand is you're told you can signup for $97 and then "get $500 instantly deposited into your account" – so if that's truly the case then why are they asking you to pay any money upfront? It just doesn't make sense.
And more importantly where is this supposed $500 coming from that they're going to give to you? Are they just magicking money out of thin air?
It doesn't add up, which leads me to believe there is some foul play going on & that they're using it as a marketing tactic in an attempt to get desperate people to buy into their product (or should I say scam)… which is something that unfortunately happens a lot more than it should.
You see whilst the internet is a powerful tool that can enable you to connect with millions of people all over the world, unfortunately, it's not magical & it's not going to provide you with easy money. Sure you can make money, but just like you would do offline you're going to need to put in some work to make it happen – and it's going to take time.
Anything that promises or says otherwise is simply lying and is potentially set out to part you with your hard-earned cash.
Thankfully I Managed To Get "Secret" Access…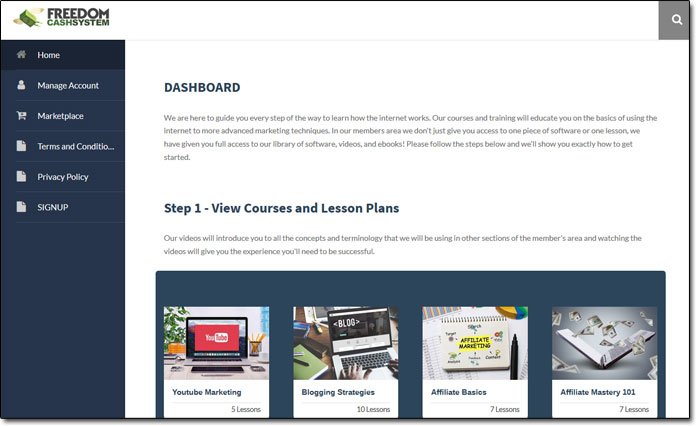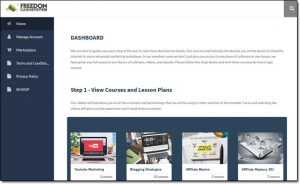 It was kind of a fluke really, but whilst I was attempting to exit the Freedom Cash System website I ended up landing on a page which basically told me more about what it actually entailed.
Basically, The Freedom Cash System is merely overpriced marketing training – and in their own words, they claim their training will "guide you every step of the way to learn how the internet works"… Which is pretty weird.
The course consists of 4 modules which are as follows:
YouTube Marketing (5 lessons)
Blogging Strategies (10 lessons)
Affiliate Basics (7 lessons)
Affiliate Marketing 101 (7 lessons)
However, whilst this might initially seem legit – let me tell you that in my opinion, the courses are very poor. They lack any real kind of flow or direction, and some of them actually seem to be left unfinished.
I mean just look at the screenshot below for "Step 2":

Basically, they're just giving you a bunch of videos and saying "go ahead & get on with it"…
I did run a Google search of the number too & that brought up a LOT of scam complaints, apparently, the guys behind this system have launched other systems in the past & parted people with their money so if it's still the same guys then be warned they've got a pretty bad reputation.
How It Actually Works
Basically in my opinion the Freedom Cash System is nothing more than a scam, and there are a few reasons that I've come to that conclusion.
Firstly, the $500 guarantee is total nonsense. If you buy into this system you will NOT get $500 immediately deposited into your account like you're led to believe – they are indeed clinging onto the guarantee offered by MOBE which I touched on above, but in order to qualify for that guarantee you'll have to first deposit literally thousands of dollars upfront.
The creator of the Freedom Cash System is an affiliate of MOBE (a borderline legit network marketing opportunity) and in an attempt to get more people to sign up to his MOBE opportunity so he can make money he's created this Freedom Cash System. He has listed this system on various affiliate networks & is getting people to promote it for commissions – he's paying them a percentage of the fee he earns when people buy into the system & then he's upselling these people into MOBE on the backend.
The Freedom Cash System itself costs $97 (or $47 if you try and exit the page) & that's WAY overpriced for the training you're provided with as it is, but then it just gets worse as the people behind this system will push you into upgrading with MOBE which could see you parting with tens of thousands of dollars.
This is a classic technique for scammers to use because they know that once they've got a little bit of money out of you they can keep pushing you "up and up the levels" promising you bigger and better things which of course don't turn out to be true, but it's easy to get caught up in the hype… After all, these guys are professional scammers.
Some similar scams I've seen recently include systems like Home Job Position, Home Job Position & Home Job Position. These are all products which start out with low front-end offers but then gradually push you into higher & higher levels until you're eventually parted with all of your cash & left with nothing to show for it.
But It Is Possible To Make Money…
Maybe not with The Freedom Cash System – in fact definitely not with The Freedom Cash System, but it is definitely possible to legitimately make money online & there are various different methods you can do so.
Though you must remember what I said at the start of this post – whilst making money online is definitely possible, it's going to take work… and it's not going to happen overnight. The main thing is though that if you really want to make it happen then it definitely is possible and anybody can do it.
One of the best ways to start building a real income online is through something called affiliate marketing, which is basically where you promote other people's products & earn commissions when people make purchases. It's actually a lot easier than it sounds & it's a method that many people use to generate incomes of over $100 per day. If you'd like to learn more about affiliate marketing & how to get started you can do so by clicking here.
You Might Also Like:
Is The Freedom Cash System a Scam?
After reviewing literally hundreds (if not thousands) of products online I can tell you that you should definitely give The Freedom Cash System a wide birth. It's nothing but overpriced junk that's sucking people in & parting them with their hard-earned cash through false hype & misleading claims.
If you do buy into The Freedom Cash System then you'll definitely regret it once you've seen what's inside because based on my experience the training they provide will give you absolutely no value whatsoever & the lack of direction will just leave you feeling confused.
What's even worse is that you'll be pressured into the upsells & could quickly see yourself parting with thousands of dollars based on promises of easy riches which simply won't materialize. The best thing to do is to stay away!
So anyway with that being said I hope my review here provided useful to you & I hope you were able to find the information you were looking for regarding this system. More importantly, I hope I was able to prevent you from parting with your hard-earned cash! Feel free to leave any comments or questions below.
A Better Alternative
The sad truth is that unfortunately most of the programs promising to help you make money online are scams. I can say that confidently after exposing over 500+ of them here on this blog.
But the good news is that even though most of them are indeed scams, there are actually some very good programs in amongst them - some programs that can truly help you to earn money.
And out of all of the legit programs I've seen, the one I would recommend the most to anybody looking to get started online is Commission Academy. In my own opinion, that's the best place to start.
At Commission Academy, you'll be provided with everything you need (including the training & tools) to begin earning real money by promoting products or services for companies like Amazon online.
The best part is that there's literally no limit on the amount you can earn with it & the process is pretty simple which means that it's absolutely perfect for people that don't have much experience.
Some wealthy affiliates even earn as much as 5-figures per month... Or more!


I mean don't get me wrong, that kind of money won't just fall into your lap without doing any work... But the harder you're willing to work at it, the more you stand to earn with it.
So if you're looking to get started but don't know which route you should go down or which program you should join (and don't want to waste money on bogus things that don't actually work), then I'd highly recommend checking out Commission Academy first. You can learn more about it here.